Posted by Mike Belk on Jan 18, 2021
Like the kitchen backsplashes stop the cooking spills and splatters from running your space, the bathroom backsplashes guard your wall space from water. However, the hardworking finishes offer a great chance to display a style flair as they play with materials, textures, colors, and patterns. Let us discuss the importance of backsplashes and the tiles and how they can practically save your day.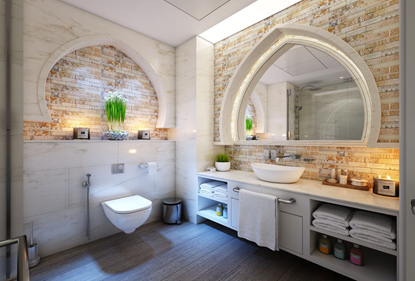 THE IMPORTANCE OF BATHROOM BACKSPLASH
A bathroom backsplash is not one of the house's fundamental requirements; however, it may be a practical design that can quickly make a good impression. Traditionally, one thinks of a kitchen if they imagine backsplashes—the sink and the stove, a backsplash that can go all the way to the ceiling. You may even want to check for easy and inexpensive kitchen backsplash ideas. But for now, let's learn why we must consider getting bathroom backsplashes and why to consider a bathroom design alongside.
A backsplash is what you see behind the countertop in the bathroom that helps reduce damage to the walls behind the sinks. You can even add a personal touch with the backsplash to your bathroom or powder rooms. The materials used vary from stone to glass to tile, making the choices limitless. Backsplashes are what we plan for the cooking area. We often overlook the point that the bathroom requires one too. Now the question is, are bathroom backsplashes different from kitchen backsplashes? The answer to this is Yes, and No.
A well-chosen backsplash sets the ambiance, tranquility in the room altogether. Your backsplash works as a focal point of the bathroom, which can toil in multiple ways. Start by thinking of your bathroom backsplash as more than merely a defensive board for the wall. It can also come in handy as a decorative element, and you can get creative with the layout!
How does one figure out if one particular bathroom décor idea should go only behind the bathroom vanity or sink? The conventional is, or should it be extended around the space. When you see beautiful tile floors, innovative storage solutions, and modern backsplashes combined, you know that there is a thought process behind the beauty.
With all those chic layouts and contemporary designs, you can direct the optical path of an area. It offers your small bathroom a useful measure of style and sophistication.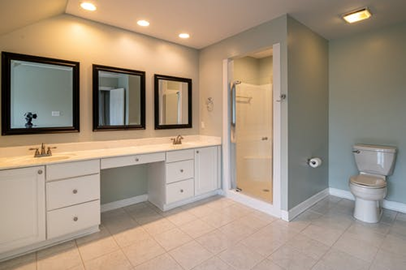 THE RIGHT MATERIAL FOR BATHROOM BACKSPLASH
Tile backsplashesoffer a useful purpose by protecting the walls from splatters. They have become an immensely popular way to include eye-catching designs in the bathroom. Get the ideal canvas and enjoy trendy designs. Experience the limitless variety of materials, colors, and patterns offered at stores so that you can personalize your backsplash as per your taste and preference.
Whatever materials you pick, make sure they are moisture-resistant for the safety of your family and health.
A material that works well with your fixtures, cabinetry, paint, flooring, and appliances can seem like a tall order. Quartz, marble, and granite are necessary after the stone types of bathroom spaces. You can play with pattern types, different options, colors, grain, and combinations for natural and contemporary appearances. You can conveniently couple them with alternative components to get a custom look. Above all, go with a stylistically, versatile backsplash material – something that offers you multiple choices so you can discover the ideal backsplash designs for your bathroom.
No material can compete with the advantages of ceramic tiles. Ensure your backsplash tile is antibacterial. Ceramic floor tiles are inhospitable to the development of bacteria. Some options may be available with antimicrobial properties that suppress and eliminate harmful microorganisms like bacteria, mold, viruses, and fungi. Also, it should be scratch resistant. Your material choices must easy to clean because if not, things can get pretty tricky.
Ceramic floor tile is scratch, dent, and cut-resistant. When messes occur, wiping water is all you need, making zero need to use strong chemicals.
Go with a material that has a versatile style option. Choose a regular style or an incorporate design that contrasts and also complement one another.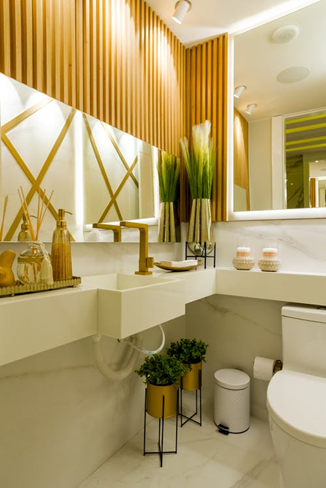 MODERN PATTERNS FOR BATHROOM BACKSPLASH
Hexagons give you a playful honeycomb feeling to your vanity backsplash, creating a satisfying and organized look. The manufacturing improvement enables one to take their black backsplash to a whole new level and add a textured look to the area.
Most homeowners consider getting a backsplash in their kitchen but confuse with the choices they find when it comes to bathroom backsplashes. It's only a question of determining your taste and how much you would like to include it. You'll find many backsplash materials, designs, trends, and colors to choose from when you begin going shopping.
Stone rive rock and natural stacked stone tiles create a textured and a standard appearance in the bathrooms. Ceramic floor tiles have always been a popular alternative with homeowners since it's cost-effective and eco-friendly to keep and clean. But, if you are looking for something a bit more attractive, Corian is a great surface material option. It's visually stunning, relatively easy to clean and wash, plus designed to last a lifetime.
ENHANCE THE APPEARANCE OF YOUR BATHROOM
If you think you can enhance color and add life back to your bathroom by getting a backsplash – you are right! Make a cheerful presence with shades of green, yellow, and blue. If you want to create a statement, choose something bold and vibrant like purple or deep red. While utilizing red or dark blue tile may be a brave move, it will be unique and eye-catching.
Do not underestimate the importance of utilizing a gray color scheme or installing neutral mosaics for getting a clean and classic look. Trust us; these suggestions are anything but boring. If anything, they will create a trendy and calming ambiance in the bathroom. If you want it a little more flair, consider adding something for texture or working with different shades.
Do you want to make things funkier, hunt for a distinctive style like an inventive mosaic or an octagonal design? Trends are not for everyone, you may get a few outlines here and there for directions, but most prefer classy and basic. Subway tiles are everywhere appearance that could be considered trendy as well as popular. The possibility of adding the tiles horizontally or vertically is something that you can decide for yourself. Many homeowners make use of the grout color to generate a contrasting look against tiles.
Geometric designs, patterns, stone, wood, and glass backsplashes are trending this season. Numerous designers are taking the tiles right from the floor to the ceiling in the standard bathroom part. Have fun with it! Setting an entire bathroom backsplash is a cost-effective way to jazz up your space.
Please take it as an opportunity to add your touch and style that describes you in your area!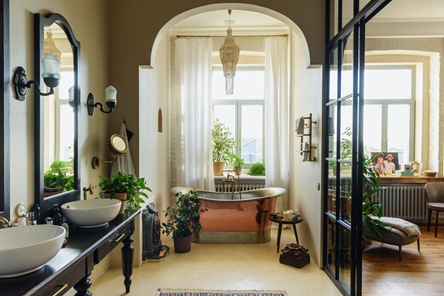 YOU MAY BE INTERESTED IN…
Now, sit back and imagine what your bathroom would look like with the following ideas:
MATCHSTICK TILE is an idea where you can place it behind a trough sink that allows recessed lighting from the above.
PAINTED SHIPLAP is a white subway tile that blends perfectly with the countertop and causes dark painted shiplap over to pop.
FAUX WINDOWS, mirrored cabinet inset into wall trimmed and window casing, creates a complete window look.
ARABESQUE TILE unique shapes with contrasting grout color produce just the touch you need behind the sink.
WALLPAPER, with this added above a white wainscot wall panel, you can coordinate with the custom color vanity.
THE BORDER is a liner piece in contrasting colors from visuals and bands' interest with an overall chic appearance.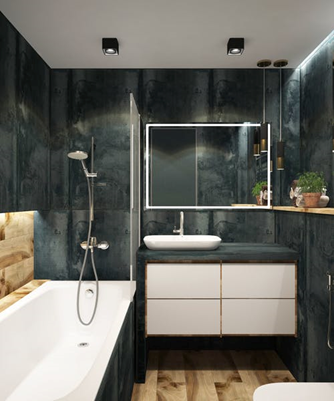 WRAPPING UP
Backsplashes can be the perfect addition to your bathrooms or even kitchens. Explore all the available options and select the type, size, color, and pattern that will bring out the best in your bathroom. Whether you are renovating your home or getting a new one built, it is good to know your options. After all, you are investing a large sum of money, and you should ensure that you make the most of it. Tiles can make all the difference in your home or other property. If you are interested in expert advice, do not hesitate to reach out to us! We are always here to help you!