Posted by Mike Belk on Feb 10, 2020
The hexagon tile shape has been a constant in both architecture and interior design.
The hexagon is the basic template for the honeycomb, which is one of the most beloved design inspirations, and is found in building facades, floor plans, garden layouts, furniture forms, toys, textiles, home décor and accessories, and hexagon tile patterns.
The hexagon is also timeless, with the six-sided shape used in the design world since the Middle Ages, and even during the ancient Roman Period. Early Christians believed the hexagon channels departure from life.
Other religions believe the hexagon represents the six Creation days, then God rested on the seventh. As the centuries passed, the hexagon soon appeared in architectural detailing and the shape of cupolas.
The hexagon is also popular in interior design, particularly in tile hexagon patterns and designs. Hexagon tiles can be used anywhere in the house. They can be used in the kitchen as backsplashes to add character and inspiration when you prepare your food. You can also use them to spruce up your hexagon tile fireplace for when you want to cozy up by the fireplace on a chilly night. You can even use such tiles to create your ceramic hexagon tile shower floor that is non-slip.
Advantages
Hexagon tiles are timeless and versatile because they can be used in contemporary and traditional interior design settings. The hexagon shape is classic geometry; thus, using the six-shaped tile can only enhance your home's aesthetic. You have nothing to fear when using hex tiles.
The tiles have a sensational appearance that can no doubt step up your interiors. While the tiles look delicate, the addition of more tiles on each of the tile's sides comprises a honeycomb shape, which is one of the natural and man-made design world's most durable structural compositions. The honeycomb pattern is also budget-friendly as compared to more intricate multi-tile patterns.
The tiles are hard-wearing and durable, especially if they're made of porcelain or cement. The six-edged hexagon offers builders and renovators a lot of options it comes in various finishes, colors, sizes, and materials. Moreover, hexagon tiles are appropriate for your desired style, regardless of how subtle or bold your style may be.
If you want a Moroccan- or Mediterranean-style interior, a hexagon floor pattern would look lovely on your entrances, kitchen walls, and bathroom walls. If you desire a contemporary look, hexagonal tiles nevertheless cut through the straight lines characterized by modern interiors. Hexagonal tiles add a splash of dynamism to your modern kitchen or they can be used to accent wall portions of your living room or dining room.
Small cream-colored or white hexagon tiles combined with a light-colored grout assume a feminine, delicate, and classic aesthetic. If you use the same tiles, but with a darker grout color, you can come up with a vintage interior look. If you want a more contemporary affair, choose oversized, dark hexagonal tiles. With such look, your guests would be delighted with the surprisingly classic interiors.
Do not be afraid to use hexagonal tiles. Don't listen to what others have to say that such tiles are not adaptable in modern settings. You can use hexagon porcelain tiles and even hexagon glass tiles almost anywhere. From the kitchen, bathroom, patio, and even in the laundry room, hexagonal tiles are versatile as feature walls, and hexagon tile backsplash or kitchen wall accents.
Disadvantages
The major disadvantage of hexagonal tiles is that installation can be a challenge. If you're into DIY who is pressed for time and want to install these tiles on your own, it's better if you hire a professional tiler to do the job. While you can still install the tile hexagon patterns on a DIY basis, you need to have more time, be mindful of the details, and be patient. Even if you hire a pro, expect the tiling process to be more time-consuming and more intricate than square or rectangular tile installation.
Whether you hire a profession or do the work yourself, talk to an expert and have him estimate the number of tiles you require. If you need the help of a professional, take into consideration extra professional fee costs as well.
Generally, tiles are some of the more cost-effective alternatives, especially for walls and floors, as they don't need much maintenance and are extremely durable. Upon installation of the tile, putting in the grout, and cleaning it up, you are virtually done.
The operation takes no longer than a few days, depending on the size of the tiling area. This compares to painting walls or floors, which entails a number of steps, and takes into consideration the drying time before adding another layer of paint.
Hexagon Kitchen Backsplashes
A hexagon tile backsplash is an easy and affordable way to update a tired-looking kitchen. What kind of hexagonal tile should you use for your backsplash?
Light tiles make the kitchen appear cleaner and brighter, although lighter tiles can give the kitchen a more washed-out look, especially if you're using light-colored countertops and floors. One way for the hexagonal tile backsplash not to appear washed-out is to use other colors.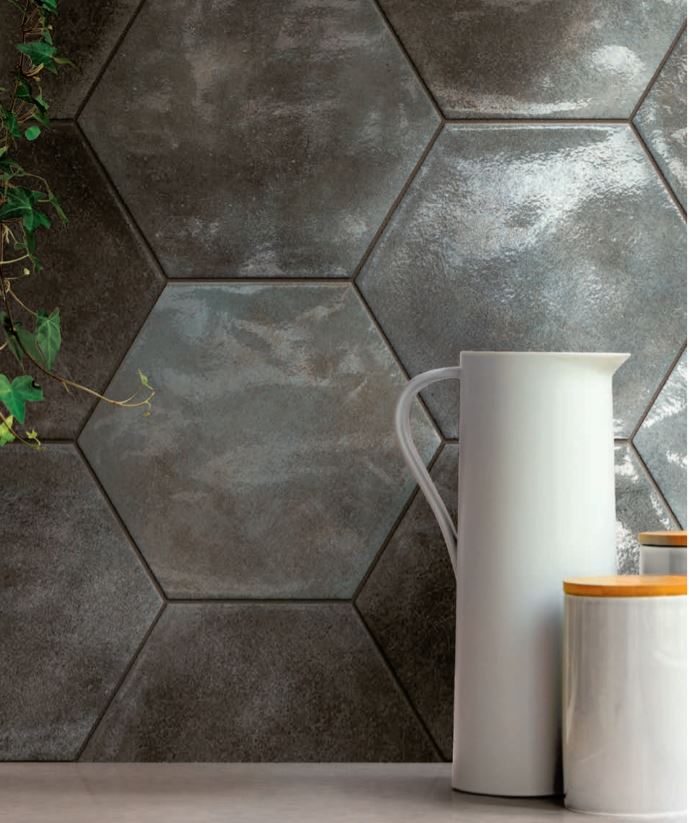 If your backsplash is light cream in color, use beige or light brown colors for your countertops. To add contrast, you can even use dark-colored tiles for the floors.
If you want to add class, character, and drama to your home's looks, use dark hexagonal tiles, which are available in almost every color and material. If you have a light-colored kitchen floor and if your countertops and cabinetry are dark in color, the dark hexagon tiles for your backsplash would easily blend. However, consider the natural light in your kitchen too. If your kitchen does not have direct sunlight, you may want to reconsider using darker tiles.
Hexagon Fireplaces, Bathrooms, and Showers
The hearth or fireplace is one of your home's essential features. Thus, you need to give your fireplace the honor it deserves by cleaning it periodically and sprucing up its appearance. As a focal point in your living room, the fireplace should be accented. In this case, you can use hexagonal tiles to create the hexagon tile fireplace of your dreams.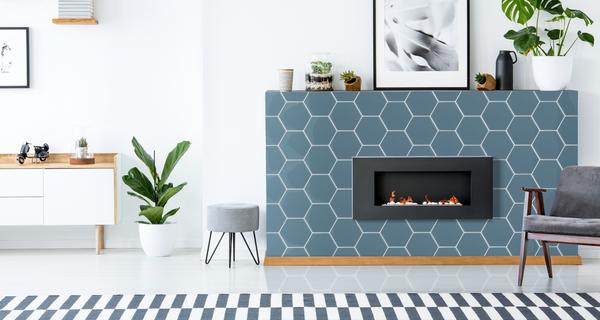 If your space is modern, you can use smooth-textured granite hexagonal tiles or marble hexagonal tiles. Make sure to use relatively smaller tiles so you won't have to worry about the tiles falling off. Make sure to install the tiles properly. Hexagonal tiles placed too close to the fire may tend to fall off. For a traditional fireplace, use rustic-textured tiles. The addition of such tile makes the fireplace more inviting.
In the case of bathroom shower floors, geometric shapes like the hexagon are making a contemporary comeback. Hexagonal tiles are back in use on the shower floor in all colors, sizes, and textures.
To make your hexagon tile shower floor more beautiful and dynamic, use various-colored tiles, create different patterns, and repeat the patterns all over the space. If your bathroom shower space is smaller, it's best to use smaller tiles to accentuate the space. If your shower space is relatively large, you can use larger tiles. However, bear in mind that shower areas should be non-slip. Glossy glass tiles are highly inappropriate for bathroom floor settings. Make sure to use a non-slip hexagon tile pattern and material that is appropriate for your bathroom setup and function.
Popular Materials
Hexagon tiles come in various sizes, colors, and materials. Hexagon porcelain tiles and ceramic tiles are popular as they can easily resist grease, water, and grime. Porcelain and ceramic tiles come in various colors, edge treatments, finishes, and textures. For your contemporary setting, use glossy tiles. For your traditional setting, use rustic-textured and matte-colored tiles.
Hexagonal tiles also come in materials like metal and glass. While popular, these materials are more expensive then ceramic or porcelain. However, glass and metal can easily scratch and there's no option to restore the tile to its original texture. The best that you can do for this kind of tile is not to scratch it with any sharp object like scissors or a knife.
For a classier look, you can always use a travertine hexagonal tile pattern. This pattern works best on floors if your tiles are large. Smaller tiles can also work well on walls. However, bear in mind that travertine is heavier than ceramic or porcelain. If not mounted properly with the right amount of tile adhesive, your hexagon tile backsplash or hexagon tile fireplace could easily fall apart. While travertine mimics natural stone's look, the material has to be frequently resealed. Travertine is also expensive.
You can mix and match various textures of hexagonal tiles to come up with an eclectic setting. For example, you can use a combination of rustic and smooth tiles in your bathroom walls. For the hexagon tile shower floor, however, you need to use textured and non-slip tiles for your bathing peace of mind.
Hexagon Tile Budget
Design and tile choice can only take you so far in the realization of your dream kitchen backsplash, fireplace, bathroom, and floors. You cannot possibly use marble hexagon tiles on your home's entire floor if your budget would not allow it.
Consider your project's proposed budget, including obtaining materials, what hexagonal tiles to use, supplementary materials to use like grout and tile adhesive, shipping costs, labor, and installation fees. If you want to do a DIY endeavor, it may be cheaper for you, but be prepared to spend a lot of time on the hexagon tile installation.
If you're not comfortable with installing the tiles on your own, consider the cost of hiring professional tilers. It may be more expensive, but the extra time you have allows you more time to do other things right up your alley.
Do not consider only one contractor, unless you have worked with that contractor before and you trust him fully. Get quotes from at least three specialized contractors. A hexagon tile fireplace can be trickier to materialize, which means you may need to spend more for the specialized installation labor.
The cost of the installation of hexagonal tiles can rise if it entails customizing multiple materials and tiles. Inquire about the kind grout to be used. Also ask about the installation process's quality control methods. You may be disappointed if the tiles were not laid out properly, and you may have to remove them and do the process all over again. This can lead to even more costs. Thus, it always pays to work with an experienced and competent hexagon tile installation expert.
Conclusion
Hexagon tiles are beautiful, yet they are challenging to install. A hexagon tile pattern would look amazing in any part of the house. Such tiles can be used to form a functional kitchen backsplash, giving you a perfect backdrop to work on your meals. The backsplash is not only for aesthetic purposes. It protects your wall by preventing you from splashing water, oil, or any other kitchen liquid on to your porous kitchen wall.
Tiles are great for a hexagonal tile fireplace or wall accent. The living room is one of the home's most important spaces, and the addition of special aesthetic tiles would certainly do the room justice. For your contemporary fireplace, you can use glossy and dark-colored hexagon porcelain tiles that are durable and fireproof.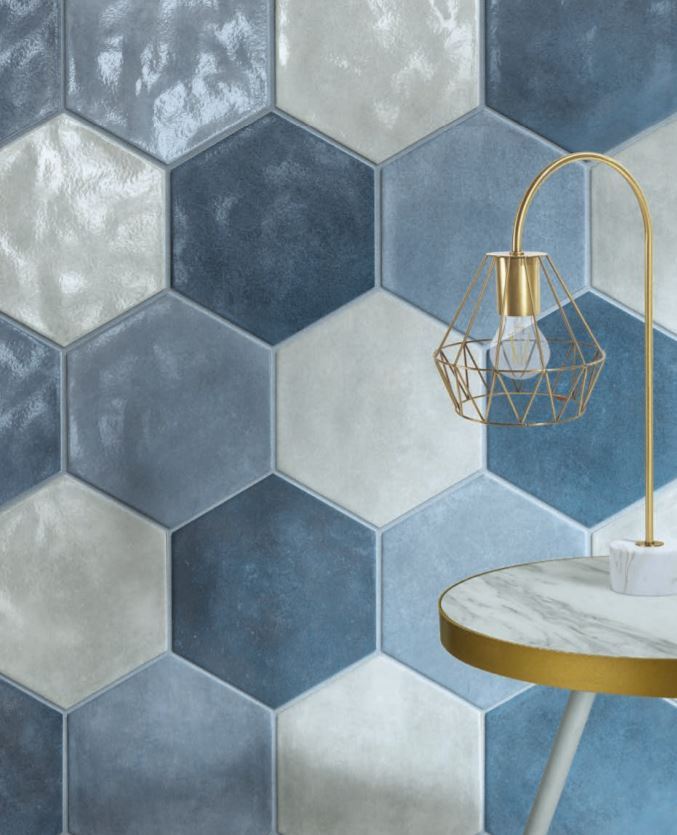 If you want a more traditional Mediterranean, exotic, or Colonial look for your fireplace, use terracotta or rustic-looking ceramic hexagonal tiles. Such traditional tile textures offer a more cozy appearance and would entice you more to stay by the fire longer to keep you warm.
The bathroom is perhaps the most important space to mount your wall or floor tiles. Your hexagon tile shower floor should be non-slip so you can take a shower, knowing that you are safe on the floor you're stepping on. If you need to use glossy hexagon tiles, make sure such tiles are only to be used on the walls. You can use the glossy tiles on both traditional and contemporary bathrooms.
To add character to your floors, use large hexagon porcelain tiles and notice the transformation such tile does to your interior space. Larger tiles can open up your space and make it larger. Smaller tiles, especially mosaic tiles, offer you a more rustic and contemplative feel. The room may not feel larger, but you can certainly admire the aesthetic the colorful hexagonal tiles offer you.
You are not bound by any rules when it comes to using hexagonal tiles. All you need is a vivid imagination to realize your interior design dreams. You can check online or go directly to a dedicated tile store or hardware to see the possibilities of what a hexagon tile pattern can do for your home's floor and wall treatments.

Share this Image On Your Site