Posted by Mike Belk on Jul 11, 2020
Is it Time to Upgrade Your Bathroom Tiles After Covid-19?
You've been home quarantined for more than eight weeks and you have literally memorized every nook and cranny of your house. With Covid-19 showing no signs of disappearing any time soon, you've set your focus on what you can still do inside your home. A modest renovation could be in order and you can start with your bathroom tiles.
If you're looking for ceramic tile bathroom ideas, you don't need to look further because there are a lot of things you can get from this article.
There are some bathroom deigns that seem to not go out of style because of their classic color scheme and timeless fixtures. Still, there are those that belong to the bygone eras that can be quite challenging to the eyes with their aqua, pink, or mint tiles and matching fixtures.
There are a lot of ways to update your bathroom without undergoing extreme makeover. The changes in the details can actually make the difference.
Tip #1 Update bathroom fixtures.
If budget is tight because you can't work because of the pandemic, there are ways to make changes in your bathroom without having a big budget. If you have a pedestal sink, then you don't have to replace that if it is still in good shape. However, a leaky faucet might be an issue. Also, out-of-date sconces may need replacement. The styles of these two fixtures can easily transform your bathroom without having to make major changes on your bathroom tiles.
If you have a colored tub, it might need to be resurfaced.
Tip #2 Paint the walls.
Paint bathroom walls with white (if your bathroom has a different color scheme). With a cleaner background your existing colored tile will be made to shine. Even if you decide to rip out the existing tiles and replace them, you can still keep them should you decide to have a need for them. If the tiles are still in good condition, it is more practical to reuse them.
Tip #3 Consider adding backsplashes for bathrooms.
Another way of updating your bathroom design without making major changes is the use of backsplashes.
A backsplash design is a vertical extension to the bathroom counter. It serves as protection for the walls from unintended splashes of water. Simple projects would only take you a few hours and with very minimal tile cutting. This project is not messy since it makes use of little thinset. Tiles will be completely dry with the use of a dry adhesive tile mat.
Backsplashes can extend to just a few inches high or can go as high as the bathroom ceiling.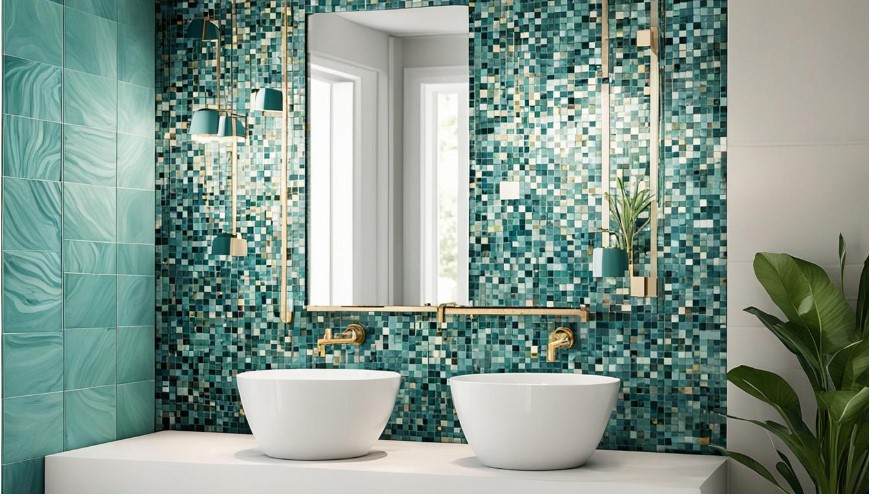 Backsplash design is considered an ideal canvas that creates huge changes in an otherwise boring bathroom. You can use different materials from glass mosaic tile to traditional subway tile. Yes, you can find a variety of glass bathroom tiles to choose from. You'll find the simplest styles to the most elegant ones.
The most common materials for backsplash projects are ceramic tile and stone. Ceramic tile (or glass) gives an easy wipe-down ability. Natural stone material is not as easy to clean because it is thicker.
Choosing a glass tile gives your bathroom a sleek urban vibe. It is important to note that glass tiles never go out of style, but a mosaic glass tile may give off a mid-2000 vibe.
When deciding on the materials, make sure that they will fit what you are envisioning how your bathroom would look like, post Covid-19.
You may check out an online ceramic bathroom tile store to get an idea of pricing. Plus during this challenging time, purchasing online would be the best option. Most of these online retail stores have virtual showrooms, hence you will still be able to see their designs. It's easier doing online shopping since you'll have more time to choose, there won't a need to rush because there are no salespersons hovering over you waiting for your decision.
Backsplashes can also be done on your kitchen tiles.
Tip #4 Consider adding artworks.
This is one of the easiest way to update the look of your bathroom without having the need to completely redo the tiles and replace fixtures. Another element to consider is the color of the artwork you are choosing.
A small bathroom would usually have space for at least one or two art pieces. The artwork may be able to draw attention away from an old bathroom tile. This means that you have to choose a piece with something that you love, and which features more vibrant colors that you like. A splash of the color peach, teal, pink, purple, or yellow may enhance an otherwise vintage-looking bathroom.
A metallic or wood frame would be your best choice.
Tip #5 Paint bathroom tiles.
If you are tired of the outdated bathroom tiles or you really want to enhance your bathroom's vibe, but you don't have the budget for replacements, you might want to consider painting the tiles instead. Painting those bathroom tiles may not be a long-lasting option compared to replacement the tiles, but it will still serve its purpose until you have raised the funds for a full renovation.
You have to choose a good primer that is oil based rather than water based, according to professional painters. Even if you plan to do the work yourself, it is still important to consult with a professional painter. This is t make sure that you purchase the right materials. It is also imperative to assess your bathroom's specific wall conditions as professional and experienced painters would be able to give you accurate assessment.
You have to realize that no two projects are alike. Consulting with a professional ensures that you produce good quality results. Remember there is no eraser that you can use if you botch the tile-painting project.
If you opt not to paint all of the bathroom tiles, you may paint accent tiles that is in contrast with the existing tile color.
Tip #6 Don't be afraid to "liven up" your bathroom.
There is no rule in home decorating that you cannot add ordinary curtains, a fun wallpaper, or add a new ceiling fixture. You can personalize the bathroom if you have the only access to it, like it is inside your huge bedroom.
There are people who use their bathroom time to relax and remain calm before taking a shower. Some add scented candles or oil diffusers and turn their bathrooms into their own personal spa where they can relax while soaking in the bathtub.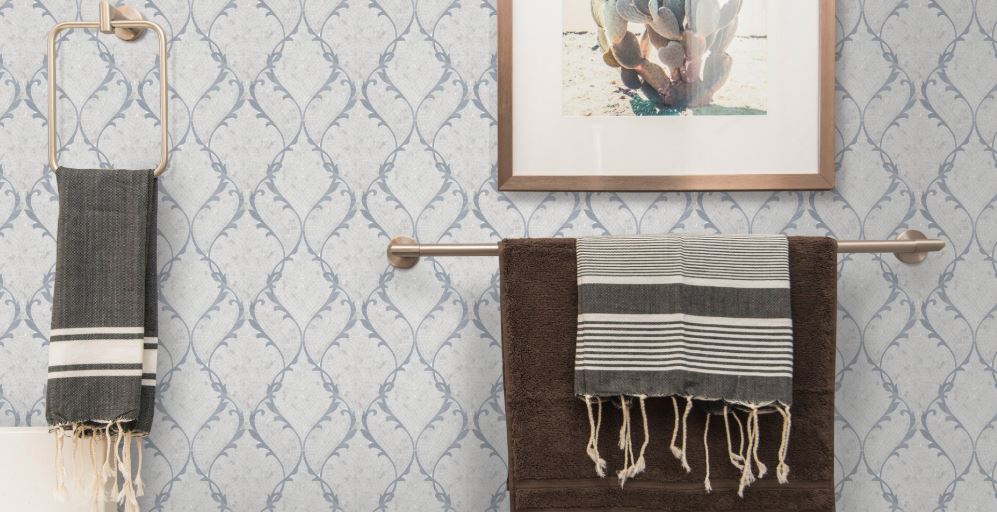 Some add curtains which complement the color of their walls or tiles. You don't need a huge budget to create a new look for the bathroom with these simple additions.
You can choose to make your bathrooms look fun or daring. It's a matter of choosing the right colors and/or pattern designs. If you're the adventurous type, you may choose printed and color curtains just to make the bathroom come alive. You might be able to find a cute wallpaper design online. You may also opt for the classic designs as long they will enhance your bathrooms.
Tip #7 Work with the current design of the bathroom.
Some vintage bathrooms have intense color combinations. Adding a curtain in pastel color could make the difference. If you don't like to use drapes, you may look for a shower curtain with softer color/design. Use white towels because these will help keep things a littler calmer and can bring down the color of the wall into the tile field.
Tip #8 Add shower shelves.
Improve the appearance of your bathroom by constructing additional shower shelves. This allows you to create more compact and handy storage nooks for all of your bathroom needs like soaps, shampoos, and conditioners. This is an inexpensive way of enhancing your outdated bathroom plus adding functional add-ons.
Tip #9 Have a vanity makeover.
If your bathroom vanity is still in good condition, then you don't need to buy a new one. You can just have it refurbished or repainted. You'll be surprised at how a repaint can make a whole of difference.
Tip #10 Add a simple bathroom cabinet.
Probably a small painting/picture or a tiny shelf occupies the wall space above the toilet. There is a better way to make the space more functional – by building a cabinet that may give you twice or thrice the amount of storage space a typical medicine cabinet gives. There are a lot of online stores that offer ready-made cabinets or materials needed to make a simple kitchen storage.
Tip #11 Install a curved curtain rod.
This is a departure from the traditional straight curtain rod. A curved curtain rod can instantly give your bathroom a sleek look. It also provides more elbow for you inside the shower. You may just use your current shower curtain if it is still in good condition or you can buy a new set of curtain and rings to complete the new look of the shower.
Tip #12 Create wallpaper diversion.
If you want to take the attention away from your ordinary-looking white tiles, add a wallpaper with a dramatic darker design. The darker motif would serve as black accents on the ordinary tilework. The design also makes the space more interesting. It also gives an illusion of a moving space.
The idea is to purchase a wallpaper design that will contrast the color pattern of your existing bathroom tiles. If you don't like the darker motif, you may look for a wallpaper with more color and pattern. Complement the wallpaper design with a plain shower curtain.
Your aim is to make the wallpaper the main focal frame of the bathroom.
Adding a wallpaper is cheaper than replacing your existing bathroom tiles. One important consideration, though, the bathroom should have sufficient ventilation so as to avoid the wallpaper from peeling off the walls.
Tip #13 Replace the tiles.
If you are left with no option than to replace the tiles, consider herringbone tile shower. This unique style pattern can provide a stunning accent on the wall in the shower stall. This design draws the eye straight back. It's simple, yet unique and can give life to the shower stall. This would also look good if the shower is in an all-glass enclosure as it creates drama inside the bathroom.
Tip #14 Consider waterjet bathroom tiles.
The waterjet technology cuts precisely, and it is often use in manufacturing machine parts. The same principle can be applied with cutting tiles in repetitive patterns. With the waterjet technology, you get identical patterns without cutting through the substances. This also helps create intricate curves which are hard to achieve with other types of cutting tools.
There are also different styles and patterns that can be created. One popular design are the scrolls because of their elegance. This is a classic black and white color scheme of hart stone tiles.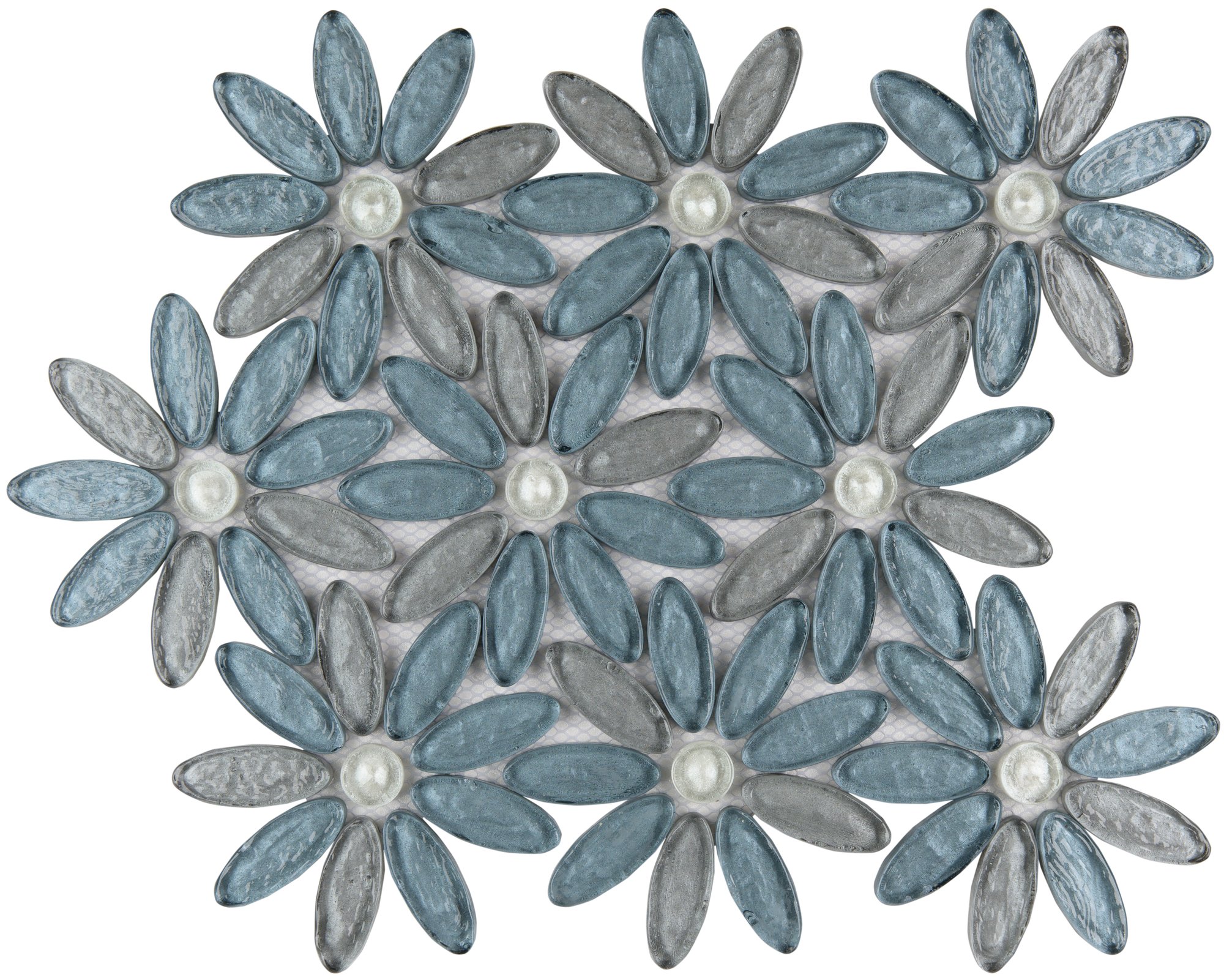 If you are looking to add more color to your bathroom, you may choose the multi-colored curves pattern wherein different stones can be used. You can choose which color you'd like accented.
If you are someone who loves curves, swirls, and circles, then you'll love the colorful abstract mosaic variety. You may opt to keep everything classic or abstract. You can make your bathroom a work of art.
Another popular design are the shimmery tile patterns which use materials like glass or mother-of-pearls. With such fragile materials, the waterjet technology can be used to create precise cuts and patterns. These can create a dreamy vibe in your bathroom.
Some people love floral patterns, with waterjet tiles, you can also get them. You can even get mother-of-pearl tiles with the floral patterns that you love.
If the Covid-19 pandemic brought about your artistic side and you suddenly felt the need to make major changes in your bathroom tiles and overall design, you need not worry because you can find many online suppliers where you can purchase accessories and other items you need. Kitchen makeovers may be great project to accomplish during this pandemic.
Designation: Founder & CEO
Bio: A graduate of Ohio State University with an MBA in Business, Mike Belk has been in the tile and stone industry for over 20 years. Mike is the owner and founder of Belk Tile. He has become one of premier tile experts in the nation. Not only does Mike love every aspect of his job, he strives ensure your experience is the very best. He runs a successful blog and, when not immersed in the world of tile, is an avid golfer and wine maker. Mike enjoys interacting with customers and wants to hear from you today. Make sure to check out his podcast of Tile Talk by Mike Belk.
---