Posted by Mike Belk on May 07, 2020
Waterjet Tiles: What can they do to turn homes into luxurious spaces?
Tiles binds the entire room décor. It creates a background that creates that distinct character and makes the rest of the fixtures. Waterjet tile designs are the rage nowadays. Patterns are more exquisite, taking tiles to whole new level of sophistication.
What are waterjet cut tiles?
These are tiles are cut using a concentrated, highly pressurized stream of water mixed with mineral cutting abrasives. This cutting method allows for more elaborate patterns and curves to the tiles.
Unlike conventional cutting techniques, waterjet cutting allows for greater control over the cutting and design process. The tiles do not have heat-affected zones where pattern and durability might be different from non-heat affected areas. Hence, the tiles are uniform in terms of strength and design all throughout.
This technique also allows for more complex cuts. Non-conventional shapes are also possible. Waterjet cutting also allows the creation of manifolds, multi-textured surfaces or 3D even layers. All these make possibilities for design endless.
Let's delve a bit into the technical details of waterjet cutting.
As mentioned, water and mineral cutting abrasives are applied to the tile in a concentrated and highly pressurized stream. The water pressure can reach as much as 60,000 to 94,000 psi (pounds per square inch).
The pressure is adjusted depending on the detail of the tile. Lower pressures allow for very fine lines on tile designs. The pressure adjustments allows for more elaborate designs, including curves and other fine details.
One surprising thing, though, is that it is not the pressure that allows for cutting. Rather, it's about the velocity of the stream of water, aided by the presence of the mineral cutting abrasives. High pressures allows for the stream of water to pass through quickly making the desired cut.
As mentioned, the design possibilities are endless. There are multi-layered surface effect, multi-textural effect, precise design details like sharp corners and fine, tight curves, as well as large bold designs with whisper-fine lines.
Another good advantage with this cutting technique is precision and consistency. No matter how intricate the pattern is, every tile gets the exact pattern it is meant to have. This allows not just for elaborate tile shapes, but for cuts right on the surface of the tile material. No more flat surface. Designs can now be multi-textural. Layers can be etched on the surface of the tile to create even more bold designs. Tiles can even be created to have 3-D designs.
Glass tiles are now also possible to be cut in many ways with less wastage due to cracking and other damage. Waterjet is not limited to cutting glass tiles into circles, elaborate curves or any other shapes. It also allows for making surface cuts, such as dimples. The dimples can catch and play light as it hits the glass tile surface. Multiple reflections creates a dramatic effect.
Raised dimensions on stone or ceramic tile surfaces is also another way to bring more character to tiles. This effect can draw the eyes towards the area, which makes perfect choices for projects such as statement walls.
Baroque themes can be accentuated further through etching. Waterjet can be used for shallow etching tile surfaces. This can heighten the tile design and add more character once installed.
The key here is computerization. The cuts are directly controlled by a computerized water jet system. This ensures that every pattern created once the tiles are laid out are repeated in the most precise pattern that would satisfy even the most discerning eye.
Computerization also helps to gain greater control on the depth of the cuts, as well as the direction of the cuts.
Waterjet cutting technology allows for precise cutting of various materials with reduced risk for chipping or cracking. With this technology, manufacturers can now use non-conventional materials. Examples include metal, glass, even a few natural materials like mother of pearl and moonstone. People can choose to work with more diverse materials for tile installation without worrying about getting the material damaged in the cutting process or compromising the strength and pattern.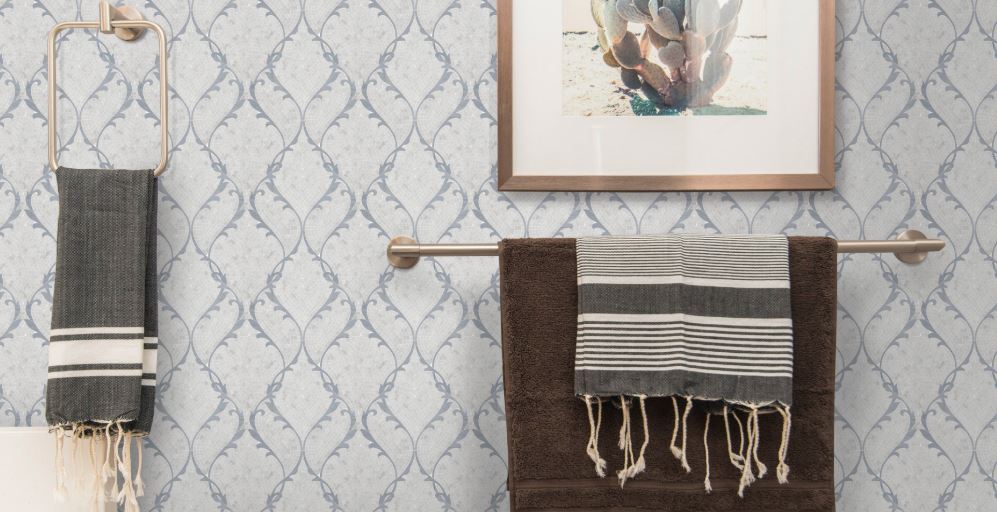 Waterjet marble mosaics
Marble has an intrinsic classic elegance that creates a clean and sophisticated look. For instance, marble in the bathroom creates a luxurious feel. In the kitchen, it gives a timeless and clean form without looking boring. A marble countertop and backsplash looks very pleasing. It draws the eye towards this small, often overlooked area. It may just be a short strip in the kitchen but its presence can radiate a certain character to the rest of the room.
As a flooring material, marble can lend an elegance even if the rest of the décor is simple and minimal.
It's natural colors and veins carries a timeless elegance that can match many kinds of interior decorations. Many still prefer this material for their floors, outdoor walls, kitchen countertops, backsplash, bathroom and shower floors, as well as accents to bathroom and shower walls.
The thing is, marble can be expensive. It is even harder to work with as it is prone to damage with other cutting methods.
Cutting using heat can damage marble. It can cause zones exposed to heat more prone to cracking. Heat exposure can also damage the design, cause cracking, fading, or make the heat-affected zone more prone to staining, scratching or breakage.
The waterjet technology creates amazingly beautiful cuts on marble without damaging it. With waterjet marble mosaic tiles, the elegance of marble can be maximized. Marble's natural beautiful design can be enhanced Waterjet cutting technology is able to help cut marble to better bring out the natural beauty of this exquisite stone.
Waterjet can cut marble more precisely in order to reduce damage to edges by reducing heat-affected zones.
Choosing Waterjet bathroom tiles
The bathroom is one of the best places to use waterjet tiles. The possibilities for design and effect are endless. Take marble. Cut in different shapes then install in unconventional patterns to use a classic natural marble design into a more modern pattern.
Waterjet is also a good way to cut tiles in elaborate scrolls. There is a certain elegance from scrolls that reminds one of Arabian opulence. The high precision waterjet cut makes it easier for seamless installation of the elaborate tile shapes.
Shower walls can be turned into something as exquisite as the ancient Roman or Turkish bath houses. Another good choice is the Greek Key pattern, which can be made glossier by using waterjet glass tiles. The Greek Key design can be produced as a raised etch or a 3-D effect on the tile surface. The e ire tile can be cut into this pattern, if so desired.
Multi-colored curved tiles in different materials can further add dimension and character, as well as a dynamic visual appeal. Portions of the mosaic can be cut in glass tiles while other elements are done in a different type of material. This multi-material mosaic effect can turn even the most modest and small bathroom into a luxurious bath.
Bathroom tiles are not limited to ceramic, stone or marble. Fragile materials may also be used such as mother-of-pearl. Waterjet cutting can turn these softer, fragile materials into exquisite shapes to serve as accent pieces. For example, mother-of-pearl has a certain unique sheen. It may be a subtle effect but it can enhance the bathroom wall tile design. It can be cut into something as elaborate as tear-drops, thin-ribbons or curvy large globes.
The bathroom floor can be just as artistic and visually appealing as the walls. The floor can be done in a myriad of designs, from scrolls, curves and other elaborate rounded shapes. Modern designs can also be incorporated with some abstract shapes.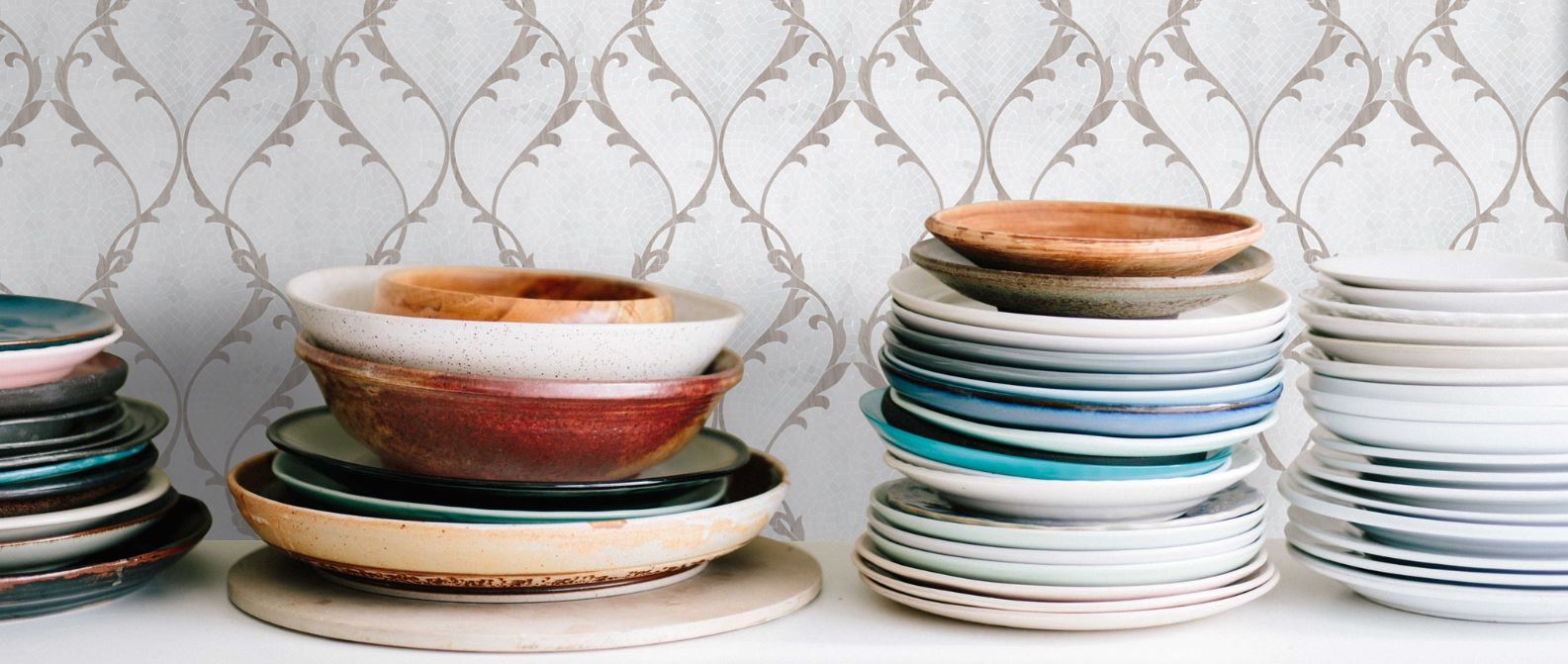 More ways to use waterjet tiles
Aside from using the tiles as a more practical alternative to marble for floors, walls and kitchen countertops, waterjet tiles also come in various uses.
Some of these include:
Just like in the ancient times, tiles can be used to adorn walls. Instead of having to be extra creative to cut and piece together small and large pieces of tiles to form the design, waterjet cutting technology can do the job.
Use the computerized system to input the desired design. Have the system create the designs on the tiles. Each tile carry a consistent, precise pattern called for.
However, this customization can be expensive. There are other, less expensive options. Simply choose from the hundreds of designs already available among many tile companies.
Examples include special shapes like teardrop and petals shapes in different colors to create a floral wall design in the bathroom. There are also tiles waterjet cut in curved shapes, that look like art glass when installed on the walls.
These decorations can be used in the bathroom, in the kitchen, as a backsplash, in bedrooms, living rooms, outside or even the floors. It will be much easier to create circular or wave patterns for create the desired illusion or theme anywhere.
The walls can be done in muted neutral colors arabesque pattern or bolder colors in more avant garde shapes and patterns.
Outdoor walls can also be upgraded from red bricks or plain concrete into something more festive or artsy. Tile choices are extensive, which includes medallion style tiles, florals, mosaics or even multi-layered textured tile designs.
Kitchens can now go from the classic white square tiles to something that suits better with what the kitchen stands for. It can be transformed into a soft, classic arabesque mosaic tiles in neutral colors. Some may find bolder shapes and patterns for kitchen walls, such as glass and marble mosaic tiles, circles, hexagons or multi-textured surface. The classic scale or scallop design can now be elevated with various color schemes, as well as different tile materials like mother-of-pearl.
Goodbye boring white tiled or checkered floors. Floors are no longer constrained to boring squares or rectangles in unexciting colors and patterns.
With waterjet tiles, even floors can take on a new character. There are so many types of finishes, materials and designs to choose from.
Examples of floor designs include classic mosaic tiles and marble mosaic patterns. Waterjet has now made floor design even more extraordinary. This technology has enabled the creation of more elaborate floor inlays.
Examples include creating more exquisite medallions to create a stunning floor designs for entrances. Accent floor tiles can also be made even more attractive with waterjet tiles.
Many people overlook the backsplash area in kitchens. This may be a short length in the kitchen but with the right design, the backsplash can just be the key element to elevate the kitchen design.
A mother-of-pearl backsplash creates a nice, clean and sophisticated look. Neutral color marble waterjet tile patterns are also good ideas for getting the marble effect without the disadvantages of using actual porous, easy-to-stain/fade marble tiles.
Glass tiles for backsplash also creates a nice bright spot that radiates to the entire kitchen. Single cool colors to match the kitchen design.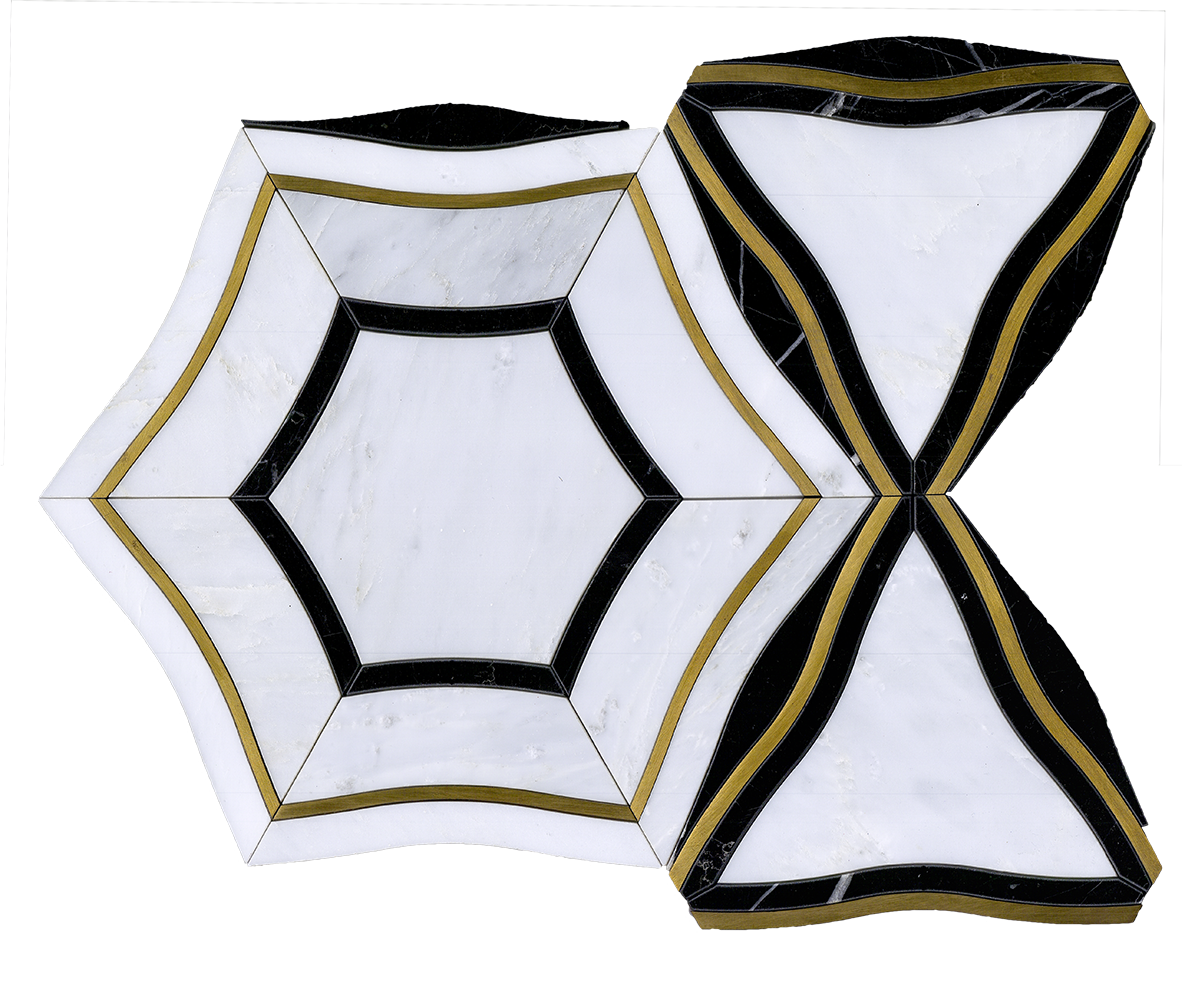 Houndstooth pattern can bring a preppy vibe to the kitchen. Herringbone pattern with waterjet marble mosaic tiles can make a small space look much larger.
How to use waterjet tiles
These tiles are made even more attractive and elaborate with the use of waterjet cutting technology. Question is: Is it more difficult to work with waterjet tiles?
It depends on the tile material. However, using waterjet tiles do not mean taking extra precautions, skills or equipment. Handling, care and installation all depend on the type of the material. For example, handling glass tiles is the same whether it is waterjet or not.
Materials used to install also depends on the type of tile.
Waterjet tiles bring more designs to life. This technology helps in turning design visions into reality. This technology allows for more types of materials to be used when choosing tiles to decorate rooms, whether it's entire walls, a statement wall or even the floors and walkways.
Conclusion
Waterjet cutting technology has been around for decades. Its application in cutting various materials in the tile industry has seen a rise in popularity only in the last few years. As more people discover more design concepts, waterjet technology has become a key tool in realizing these concepts.
Waterjet tile designs has truly started to turn from simple patterns into luxurious designs that anyone can use to turn houses into dream homes.