Posted by Mike Belk on Feb 03, 2020
Create an Oasis with backsplash glass tiles for master bathroom!
Whether your bathroom has a quaint or rustic motif or looks modern and sleek, your use of glass tile backsplashes will enhance its look. This is regardless of whether your bathroom is a simple shower, a combination toilet bath or a classy affair with a Jacuzzi centerpiece.
Your backsplash glass tiles for the bathroom can be designed in such a way that it enhances the bathing experience, allows unobstructed access when cleaning. It can even make your bathroom look more spacious. Even when limiting the use of glass tile, the design of the backsplash can still be elegant and artistic even though the aesthetics is simple or monochromatic.
MIX AND MATCH
Backsplashes do not have to be of a single material to be classy or trendy. Most designers actually mix metal, ceramic or even wood with glass tile and come up with an artistic finished product. Some have the backsplash divided into two: the lower half in ceramic tile and the upper half in glass. Some use metal as borders or an offset band to complement shower doors or toilet seats.
While entire backsplash field of your bathroom doesn't have to be all glass but a mixture of other material, always consider cleaning when coming up with a design. Also if you are planning to do it yourself, carefully choose your mix of materials in order to achieve a harmonious and not a cluttered look.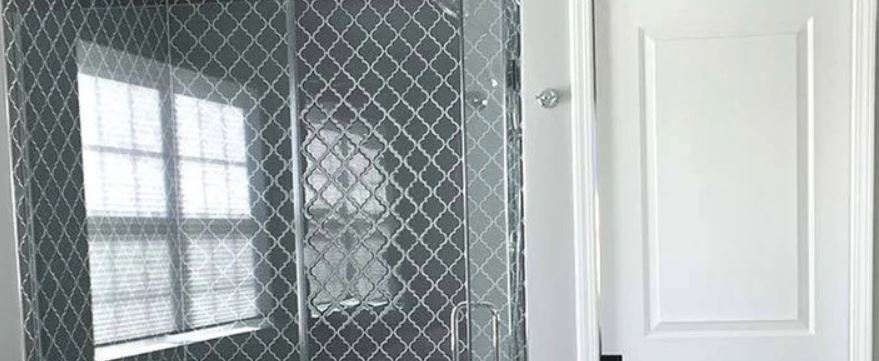 Function and style of backsplash glass tile
Your backsplash could be in a single color or feature a mosaic design. It all depends on your preferences. Just make sure to have a harmonious and complementary blend of materials and colors. Generally for bathrooms, a backsplash is best kept to a minimal monochromatic design instead of a multi-colored mosaic. If you are mixing ceramic with glass, you can keep the lower half of the backsplash in single color ceramic tile and the upper half in single color or mirrored glass tile. Or you can have the backsplash field in alternating frosted and clear glass.
Monochromatic or single color glass works best with metal or glass covered wood. You can also use translucent glass blocks to divide baths from toilets or isolate shower rooms instead of metal. Just ensure adequate support and to consider cleaning and ease of installation. Remember, the key is design where function and style meet.
Standard mounted of glass backsplash tiles
When considering the materials for the backsplash after you have drawn up your design, consider what works best: mounted or unmounted glass tile. If your design is simplistic, monochromatic or you intend to do the job of setting up the bathroom yourself, you might want to consider using standardized mounted glass tile. Mounted glass tiles are easier to install and come in square sizes of ¾" although other larger sizes are available. Some mounted tiles even come with a metal frame that serves as a guide or additional support. And the wire mesh backing can be easily cut with scissors.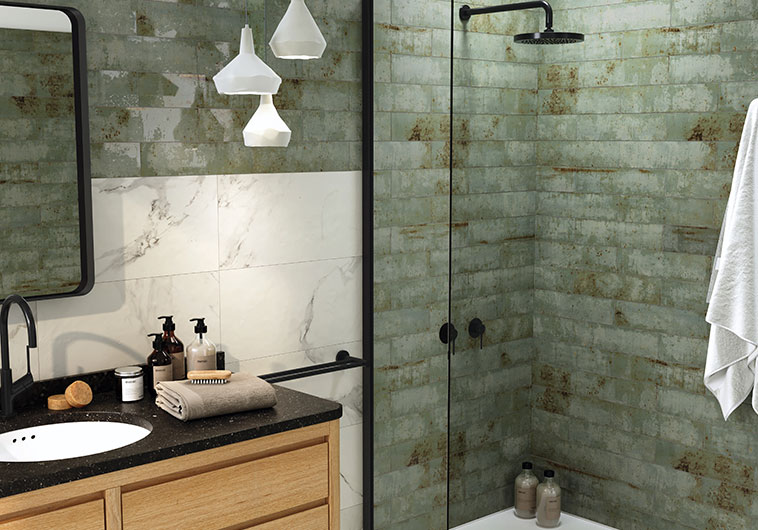 Field Tiles for glass backsplash tile
If you want your backsplash field to have a crazy cut design or a mosaic pattern, use unmounted glass. These have a paper backing that must be soaked then rinsed off and often require the use of a tile saw. It is not recommended for the DIY installations and must be undertaken by a skilled craftsman. Otherwise, the cost of revising and redoing the job after viewing the results could run into several hundred dollars.
If you insist on doing it yourself, you may want to use, mounted glass of varying sizes. This will take a little more skill than just mounting the glass, so carefully plan your design around the sizes you intend to use. Some glass shops carry mounted glass in mixed sizes like a large center glass tile surrounded by smaller tiles or diagonal large tiles alternating with smaller one.
Glass tile backsplash bathroom can be simple, monochromatic or ornate and multi-colored. It can be all glass from floor to ceiling or mixed with other materials. Many designs can work. You just have to choose one that manifests both style and function.
Designation: Founder & CEO
Bio: A graduate of Ohio State University with an MBA in Business, Mike Belk has been in the tile and stone industry for over 20 years. Mike is the owner and founder of Belk Tile. He has become one of premier tile experts in the nation. Not only does Mike love every aspect of his job, he strives ensure your experience is the very best. He runs a successful blog and, when not immersed in the world of tile, is an avid golfer and wine maker. Mike enjoys interacting with customers and wants to hear from you today. Make sure to check out his podcast of Tile Talk by Mike Belk.
---