Posted by Mike Belk on May 24, 2014
With so many types of backsplash tiles in various shapes, colors, sizes, materials, and layouts, there is no shortage of backsplash ideas for your dream kitchen. Here are 10 kitchen backsplash ideas :
1: Make it shimmer.
Glass tiles provide luminosity and an air of lightness in the kitchen. Metal tiles, especially miniature aluminum and stainless steel ones, have an industrial sheen and a contemporary gleam.
2: Go "green".
The best backsplash ideas incorporate "green" principles into the design. Turn the kitchen backsplash into a living wall. Install wood slats where you can plant herbs and small ornamental plants. There are now also backsplash tiles with holes suitable for planting moss and ferns.
3: Go retro.
Backsplash ideas involving graphic checkered patterns are timeless, striking, and beautiful. Use miniature square black and white tiles to create a retro vibe. Keep the rest of the room in solid colors so as not to compete with the backsplash.
4: Try mirrors.
A mirrored backsplash helps make the room seem bigger and serves a double purpose of helping with mid-cooking session touch-ups.
5: Splurge on stone.
Using Carrera marble and Calacatta gold marble as backsplash ideas are good. These stones have distinctive veinings that are rich and natural. Chedar limestone is also gorgeous. When using marble or limestone for the backsplash, consider using them for the countertops as well. Tumbled stone, when paired with stainless steel appliances and granite countertops, looks luxurious and contemporary.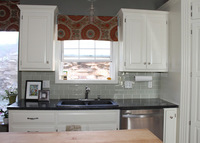 6: Create exotic patterns.
Patterned French tiles create a romantic look while Moroccan-inspired tiles and Turkish-patterned tiles provide bursts of color and graphics.
7: Go up the wall.
Extend the backsplash all the way up to the ceiling and create a focal point in the kitchen. For this effect, detailed tiles like mosaic tiles, laser-cut tiles, and patterned tiles are the most eye-catching.
8: Use optical illusions.
A highly reflective glass tile backsplash in blues or greens gives the illusion of shimmering water and reflects light around the room. When put together in an overlapping manner, curved glass tiles create a basket-weaved pattern. Bright backlighting and a reflective countertop emphasize the effect.
9: Give it a dual purpose.
Backsplash ideas that do double duty: Paint the backsplash with chalkboard paint and use it for to-do lists, grocery lists, recipes, and children's doodles. Install a small ledge for storing bowls, knives, and other things.
10: Light it up.
Use LED lights to light up a glass backsplash or install recessed lighting under cupboards to illuminate an intricately patterned backsplash.