Posted by Mike Belk on Jul 26, 2023
Furnishing or decorating small or irregularly shaped areas in your home can be a challenge. It can be difficult to make them functional and aesthetically pleasing. Wondering how to make the most of a small space?
In this article, we delve into the most innovative tile solutions to solve that problem. With these ideas, you can maximize style in any compact area. Discover light-colored tiles and tile layouts that will give your bathroom an illusion of expansiveness. Plus, with our wide range of tile designs, you'll find endless ways to create beautiful aesthetics for your home.
You don't have to compromise on style or function when it is tight on space. From thoughtful placement suggestions and beyond, get inspired by how you can transform your space.
Make a small space feel bigger with these small space tile solutions. Learn how to maximize your style in compact areas today!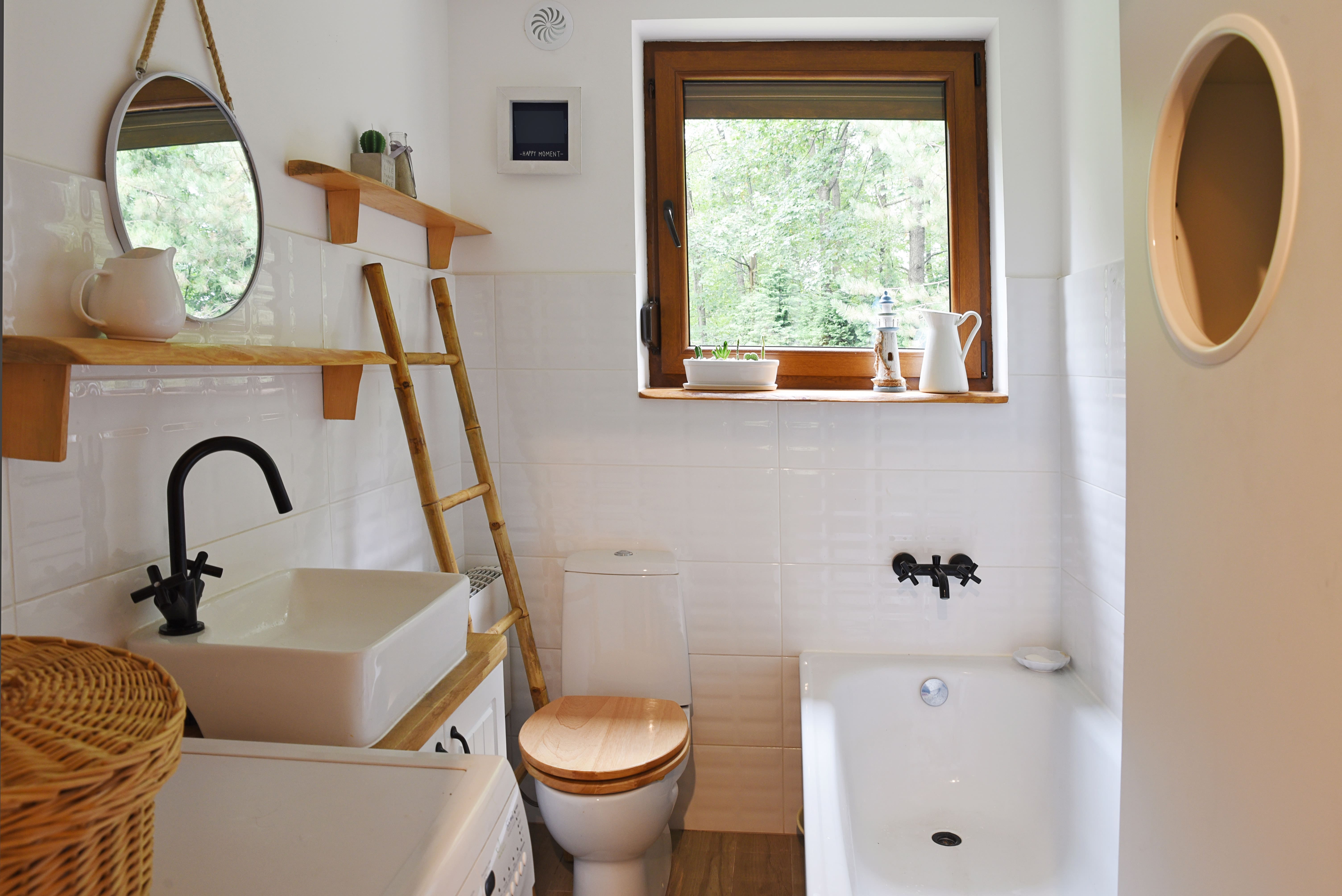 Can Tiles Really Help Maximize Space?
Yes! In small or otherwise awkward-shaped areas, tiles can help to create a sense of order and balance. With the right layout, you can also make a space feel visually larger. For example, lighter-colored tiles reflect natural light to give your room an airy feeling.
Similarly, tile patterns such as vertical stripes will draw the eyes up, creating an illusion of height. And if you're looking to create an even more spacious look, opt for larger tiles with minimal grout lines.
On the other hand, darker tiles can be used to ground a room and provide contrast without taking up too much visual space.
Tile Solutions to Maximize Space
For irregularly shaped rooms, think outside the box. Incorporating geometric patterns and shapes can create a sense of depth, making your space appear more spacious. Unexpected tile placements also break up boring layouts and add interest to any room.
For small square bathrooms, small tiles such as 1 x 3 mosaic tiles are ideal for creating interesting designs without taking up too much visual space. You can use light-colored tiles and tile layouts that will allow your bathroom to create illusions of space.
Also, consider the functionality of your tile placement when it comes to tight spaces. For example, placing tiles vertically around a shower wall can make the space look taller and more spacious, while also providing better protection against moisture.
Color of Tiles
Light colors such as white and light grey are great for making small spaces appear larger. Plus, these tones won't overpower the room and will reflect light around your home.
Darker shades can also be used to add definition and contrast to a room without consuming too much visual space. Shades like navy blue, black, or charcoal can help tie all the elements of a room together and create a dramatic look.
No matter what colors you choose, make sure they're in keeping with the rest of your design scheme and don't overwhelm the space.
Tile Pattern
When it comes to small spaces, avoid making the room look busy with too many patterns. Stick with simple tile layouts such as a grid or staggered plank pattern for a subtle effect that won't overwhelm the space.
If you want to make your space appear larger, opt for a diagonal layout. This is because the eye follows the lines and makes the space appear longer and wider.
Also, consider using a mosaic tile for small spaces as it will create visual interest without taking up too much of the room's space. You can use these tiles to add accents around the room or even in smaller areas like shower walls.
Shape and Size of Tile
Tile size and shape also play a huge role in how your bathroom looks. Smaller tiles are great for creating intricate designs that won't take over the space, while larger shapes can make it look more spacious.
Selecting different shapes for various areas of the room is another way to add interest without overcrowding. For instance, you could use square tiles on the floor and round tiles on the walls to give a dynamic contrast.
Also, consider using texture in your tile design for an extra layer of interest. Textured tiles can help create a more inviting atmosphere that feels cozy and warm.
Tile Layout
The layout of your tile is important to consider. One popular way to lay out tiles is called a running bond pattern, which involves laying the tiles in a staggered vertical or horizontal direction. This creates a clean and modern look that won't overwhelm the space.
If you're looking for something more intricate, try using an Off-Set pattern, which is when the tiles overlap each other in a diagonal direction. This creates a subtle texture and can be used to create visual interest without overdoing it.
The layout you choose will depend on the size of the space you're decorating. Be sure to measure out your space beforehand to get an idea of what kind of layout might work best.
Grouting
Grouting is a crucial step in the tile-laying process and can make or break your design. Make sure to choose the right color grout for your tiles, as this will affect how the finished product looks.
Choosing a contrasting grout color can help create depth and add visual interest. On the other hand, using a similar colored grout will create a more unified look.
Small Bathroom Ideas
If you're working with a small bathroom, try using larger tiles to make the space look bigger. Larger tiles will create fewer grout lines and leave more open floor space, which can help create the illusion of a bigger room.
You can also use mirrored tiles to reflect light and give your bathroom an airy feel. Mirrored tiles not only make the room look bigger but also create a more luxurious atmosphere.
The Best Small Bathroom Tile Designs
No matter what size bathroom you're working with, there are countless tile design ideas to choose from. Here are some of the top suggestions.
Classic Bathroom
Try using subway tiles in a running bond pattern. This timeless look will give your bathroom a bright and airy feel.
When it comes to creating a classic bathroom look, white or light-colored tiles are typically used. These help create a bright and airy atmosphere. Neutral colors like beige and gray can also be used to achieve a more subtle and elegant finish. To add a hint of sophistication, try using metallic accents or glossy tiles.
Modern Look
If you're looking for something more modern, try a herringbone or chevron pattern. This design will add texture and visual interest to the room without feeling overwhelming.
Try using dark-colored tiles. Charcoal gray and navy blue can be used to create a more luxurious atmosphere. To add an extra touch of elegance, you can also use glass or metallic accent tiles.
Graphic Design
If you're looking for something a bit more edgy, opt for geometric patterns with brightly colored tiles.
This will create a bold and eye-catching look that will instantly update your bathroom. You can mix and match different colors to create an interesting pattern that is unique to your bathroom.
Accent Feature
Try an accent wall or a mosaic tile pattern in your shower or bathtub area. The variety of shapes and colors will create a unique look that stands out from the rest of the bathroom.
Mosaic tiles are a great choice for creating an accent wall. A classic example is using hexagonal tiles in various colors to create a honeycomb pattern.
Another popular choice for an accent wall is to use a mix of shapes like rectangles, triangles, and circles in different sizes and colors. This creates a more dynamic look. You can also opt for brightly colored tiles in a wavy pattern to add some movement and texture.
Tips for Maximizing Style in a Small Space
There's plenty you can do to make use of compact or awkward spaces. Here are some useful tips to help you make your design choices.
Choose tiles with a glossy finish to add extra brightness and reflect light in the room
Use lighter colors for walls and floors to open up the space visually
Consider using large-format tiles on walls or floors
Give an illusion of more space with a design that features fewer grout lines
Install patterned tiles or use complementary colored tiles arranged in geometric patterns
Draw attention away from the size of the room and create visual interest
Try installing a feature wall with mosaic to create depth without being overwhelming
Use bold accent pieces such as mirrors, and lighting fixtures
Bring warmth into your small bathroom; choose soft hues like pinky browns and warm beiges
Keep accessories minimal and avoid overcrowding surfaces with too many items
Maximize natural light which can help give the illusion that the room is larger
Looking For More Tile Inspiration?
Now you're armed with some helpful tips on how to maximize style in your small space. With the right tile solutions, you can make a big impact and create an eye-catching design without overwhelming the room.
If you're looking for more inspiration or are ready to start shopping for tiles, visit BELK Tile. We have all of your needs covered! No matter what look you're going for, our team is here to help guide you through finding the perfect tile solution for your next project.