Posted by Mike Belk on Apr 28, 2017
Last Modified: 4th April 2021
The mosaic is an ancient art form. It's been around since the second half the third millennium before Christ.
It was used in temples across the ages to depict gods and rulers. The Romans took the artform wherever they went. Down into Africa and up into Great Britain. It's a beautiful artform and it's survived until today.
Now, you can have a little bit of history in your home. And it can be done with pretty much any little bit of metal or tile lying around.
Which brings us to antique copper mosaic tiles.
You're probably here because you want antique copper in your kitchen or your bathroom, but you need some ideas of how to arrange it.
Well, you've come to the right place. We've got some pretty neat things we can show you, and we hope you'll like them.
1. Why Are Copper Backsplash Tiles So Neat?
Most of us just know copper from the pennies we discard in plastic trays at various stores and gas stations.
But copper is a traditional metal that's found its way into a lot of really awesome applications.
The word copper is derived the Latin word Cuprum, meaning the Island of "Cyprus"
The metal was discovered over 10,000 years ago. It began as a decorative metal and then came to be used in tools and plating.
Time has not tarnished copper's use. We still use it in a plethora of places.
It's still used in current carrying capacities, it still coats domes in buildings, and it's still used in tiles.
And there are moves happening in government to replace the dollar coin with a copper dollar coin.
Oh, and did we mention, copper is good for your health. Your body actually uses it to stimulate your brain activity, it helps with your immune system and various other parts of your body.
So, really copper is pretty neat. And it's pretty...well, pretty. So, antique copper mosaic tiles will go great in your bathroom or kitchen.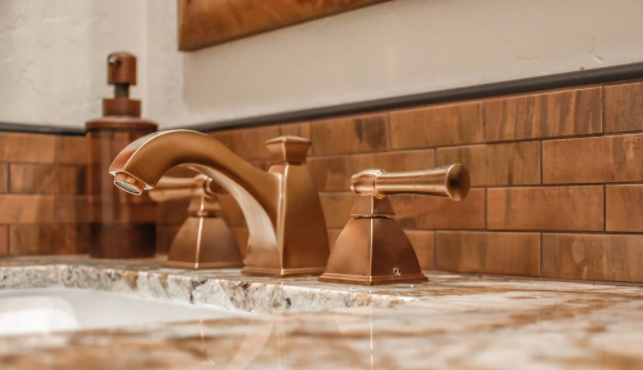 2. What Are The Benefits Of Copper Mosaic Tiles?
Durability
Tiles crack. Don't get us wrong. We love all sorts of tiles, and we'd recommend any kind of tile as long as it's a great tile.
But copper is a pretty awesome tile material.
It's much more durable than regular tile. And it has a protective patina that keeps regenerating.
If you scratch the surface of copper, the underneath will look like new copper. Because it's pretty much "new copper."
Aesthetics
Copper goes with pretty much anything. So, it's a great way to accent your existing bathroom tiles.
Anti-bacterial
Bathrooms and kitchens aren't always the cleanest of places. But copper mosaic tiles will help you keep the bathroom a little bit cleaner.
Copper has some antibacterial and anti-fungal properties. It's been shown to have effect on E. coli, B. subtilis and S. aureus bacteria.
These are some bacteria you find both inside your body and in your bathroom.
Stain Resistant
If you have a hard time getting stains out of traditional tiles, you might want to consider copper mosaic tiles.
Copper is pretty easy to keep stain free. They only require a little bit of soap, warm water, and mild elbow grease (like almost none).
Ideas For Antique Copper Tiles In Your Kitchen And Bathroom
Actual Pennies For The Brave DIYer
First, we'll start out with an option that won't cost you a mint. Actual copper pennies.
Unless you go with rare pennies (we recommend you collect and or sell those if you have them), a penny tile floor won't be too expensive.
If you're the DIY type, you can do everything yourself.
But all you need are fiberglass sheets and pennies and a clear coating of some sort to make the floor covering.
Antique Copper Windmill Tiles
Antique copper windmill tiles are a unique design you don't see very often in tiles.
These copper mosaic tiles fit together like a puzzle. And they are perfect for your kitchen backsplash, a small artistic section on your living room wall, or a unique wall covering for your bathroom.
Cover Your Whole Bathroom in Antique Copper Mosaic Tile Nickels
If you want to experience a strange and wonderous feeling whenever you walk into your bathroom, cover every wall with antique copper mosaic tile.
You can use either square or nickel shaped tile. But you will be making your bathroom glow a golden hue you can't get with other kinds of tile.
And it will feel like a space that belongs in an elaborate 1920's speakeasy.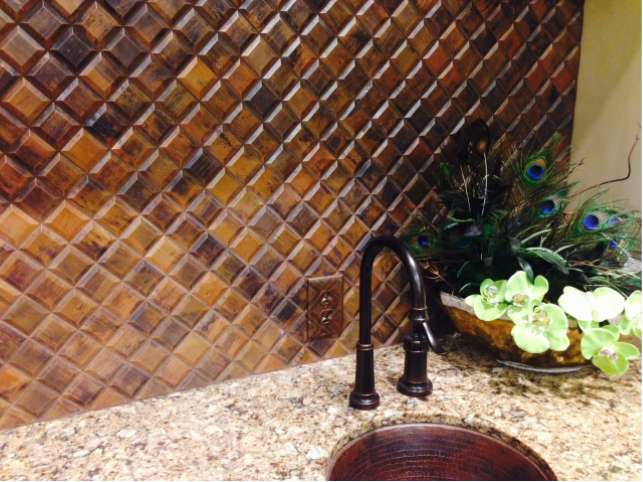 Cover Your Bar or Island In Copper
Antique copper mosaic tiles aren't just for floors and backsplashes. You can use it for other things as well.
Imagine either chopping your veggies or mixing a martini on a bed of pure copper.
Imagine the compliments you would get serving your guests on antique copper mosaic tiles.
Accent A Backsplash With Copper Wall Tiles
You don't have to make the whole backsplash copper. Copper is a great accent when it comes to balancing out a back splash.
If you really want to get creative with your kitchen, create an alcove behind your stove or sink. Build a shelf into it, and place copper tiles on the back of the alcove to balance out other tile colors.
Tile Your Sink With Copper
This is an idea you can take into the bathroom or into the kitchen.
Small bathroom sinks would be ideal for a glazed real penny project.
But with a big kitchen sink, you could actually tile with antique copper mosaic tile.
You would have to pick the right kind of tile or countertop to balance out the copper. But it could be a beautiful addition to your kitchen.
Copper Nickel Tiles Among Subway Tiles
For a unique approach use subway tiles for most of your floor and create a copper mosaic tiles pattern at regular intervals.
This could be great for a bathroom with a clawfoot tub and some vintage fixtures.
Conclusion:
Copper really is an amazing material. And there are so many things you can do with it.
Now that we've shared our ideas on unsung copper mosaic tiles in the home, what are some of your ideas? Let us know in the comments below.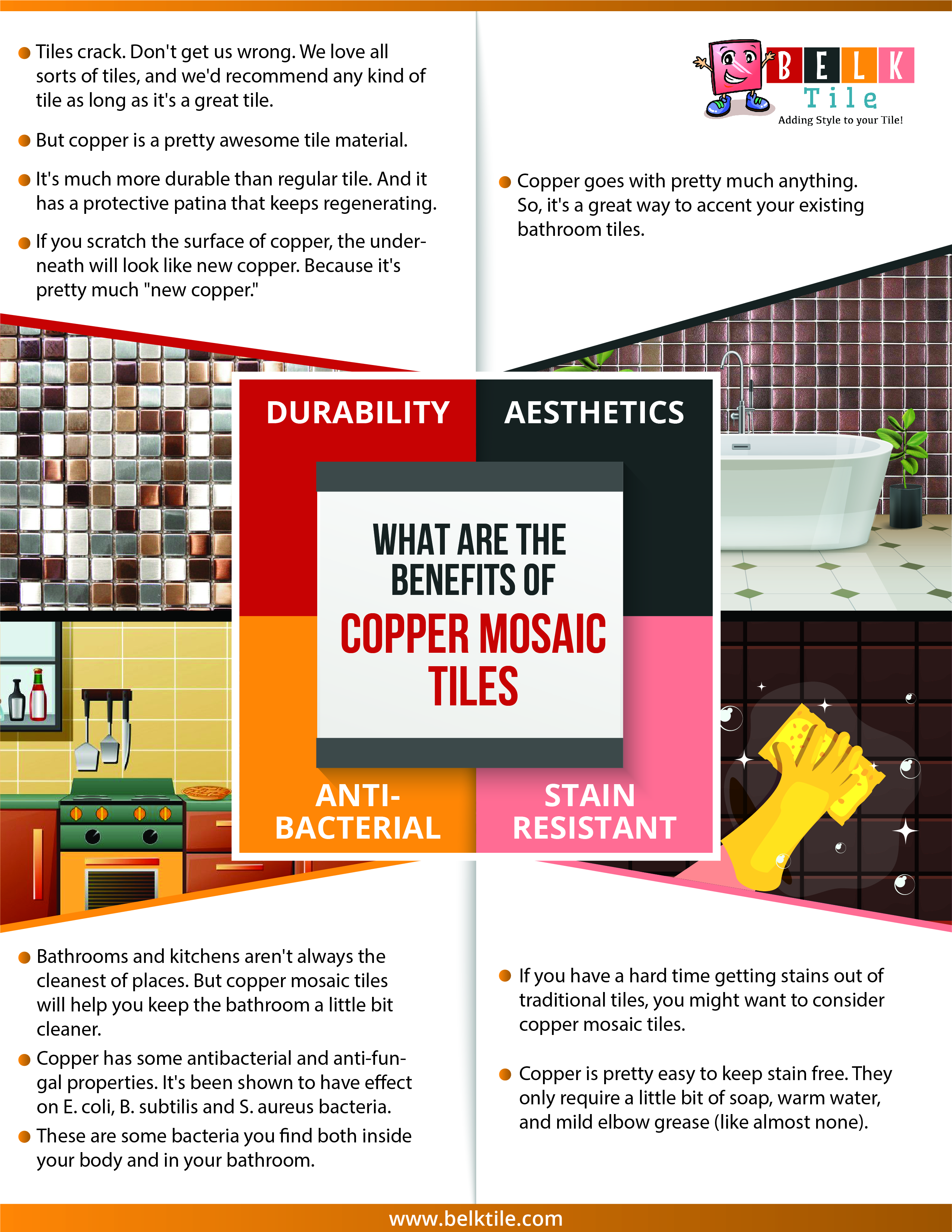 Share this Image On Your Site