Posted by Mike Belk on Mar 06, 2020
Copper tiles are recently slowly gaining popularity though they have been in existent for quite some time. That's because of the rich colour that copper backsplashes tiles add to your entire décor. This actually makes them one of the best backsplashes to use in your living space.
So why do copper tiles age so beautifully? Well, the answer is quite simple. Copper is a natural metal and when left alone it changes color. In its natural state copper oxidizes to develop a patina. Patina is a term that's used to refer to the formation of blue-green corrosion that forms on copper.
The patina can either be induced or natural when the copper tile is exposed to air over time. Some people prefer having a shiny copper backsplash tile while others like the patina look. Regardless, there's still a lot you need to understand about this beautiful tile. Before you buy the copper tile, here are some things that you need to know.
All you need to know about copper tiles
You've probably seen copper tiles in one of your favorite TV shows or simply in a friend's home. Copper tiles are gaining popularity as time passes by and it's for a good reason too. But I'm sure you were freaked out by the idea of copper backsplash tiles. Well, the good news is that there's no need to panic.
With its rich color and deep finish, copper tiles normally evoke a warm-like response in any kitchen design. These tiles come in a wide range of colors and shapes that will definitely suit you. Here are some ideas that will improve your living space décor.
Copper tile ideas for your living Space
One of the best ways to add copper into your living space is by using copper backsplashes accompanied by a copper accent. That way, you will be able to build a solid color in the backsplash that will eventually have a rich and elegant depth in it.
You can also use a decorative copper border tile to give your backsplash a simpler look. Another great idea is you can use three-dimensional accents on a flat surface. In that case, you will get more out of the antique copper backsplash tiles.
2.Decorate your living space with copper tiles
Here's now your chance to get creative with the copper tiles. You can create a more old-fashion look using the tiles in a repetitive pattern. Most manufacturers actually have ceramic-backed copper tiles which makes them lighter and bring out the copper feel in them.
One of the major benefits of using a marble copper tile is that it rarely changes its color. On top of that, this type of tile will not affect your overall design over time. Above all, it will also present a formal look to your living space that will make it feel more welcoming.

3.The type of Copper tile you need
Since you already know that copper ages to different colors, there's a way to stop this change. Therefore, you can have different shades of copper tiles depending on your specific design.
Copper tiles are available in dark antique and brightly polished styles. Each of these designs can make a statement in your living space. Whether you are using these tiles in your kitchen or bathroom, copper tiles will definitely add some flavor to your interior décor.
If your kitchen space is already too dark, then you should consider using the brightly polished copper tiles. However, if your kitchen has a more neutral color, then the antique copper mosaic tile will do the trick.
Also, you can use a more neutral colored tile along with the counters. This will create a bit of balance in your kitchen space while also capturing the attention of any visitor. Trust me, you will instantly fall in love with the end result.
4.Take advantage of Copper Accents
You don't necessarily have to use copper tiles on their own. That said, you can always incorporate new designs to bring out that copper touch. Sometimes copper tiles can be more effective when used as accent tiles.
Copper tiles can pair very well with stone or glass tiles. Therefore, you can consider blending copper as a random mixture or even as a decorative border. You can run a plain copper tile through the plain field to give it a new design. Or simply cut the corners using the copper tiles.
Creating a blend of copper and stone or glass tiles will bring out a more sophisticated yet elegant look. Additionally, it will also help add more depth to the entire interior design.
When copper is added with warm wood, it can establish a dark stylish look in the entire room. The blend of the two will give your room a rustic look that's quite breath-taking. Not to forget that these two colors can be used in different places in the house.
6.Blend with bright colors
Adding color to the antique copper mosaic tiles will increase flavor to your living space. Whether you are a greige kind of person or simply someone who is in love with the pop of anything vibrant, then adding a bit of color will do you good. The best part about copper is that it blends easily with most interior design colors.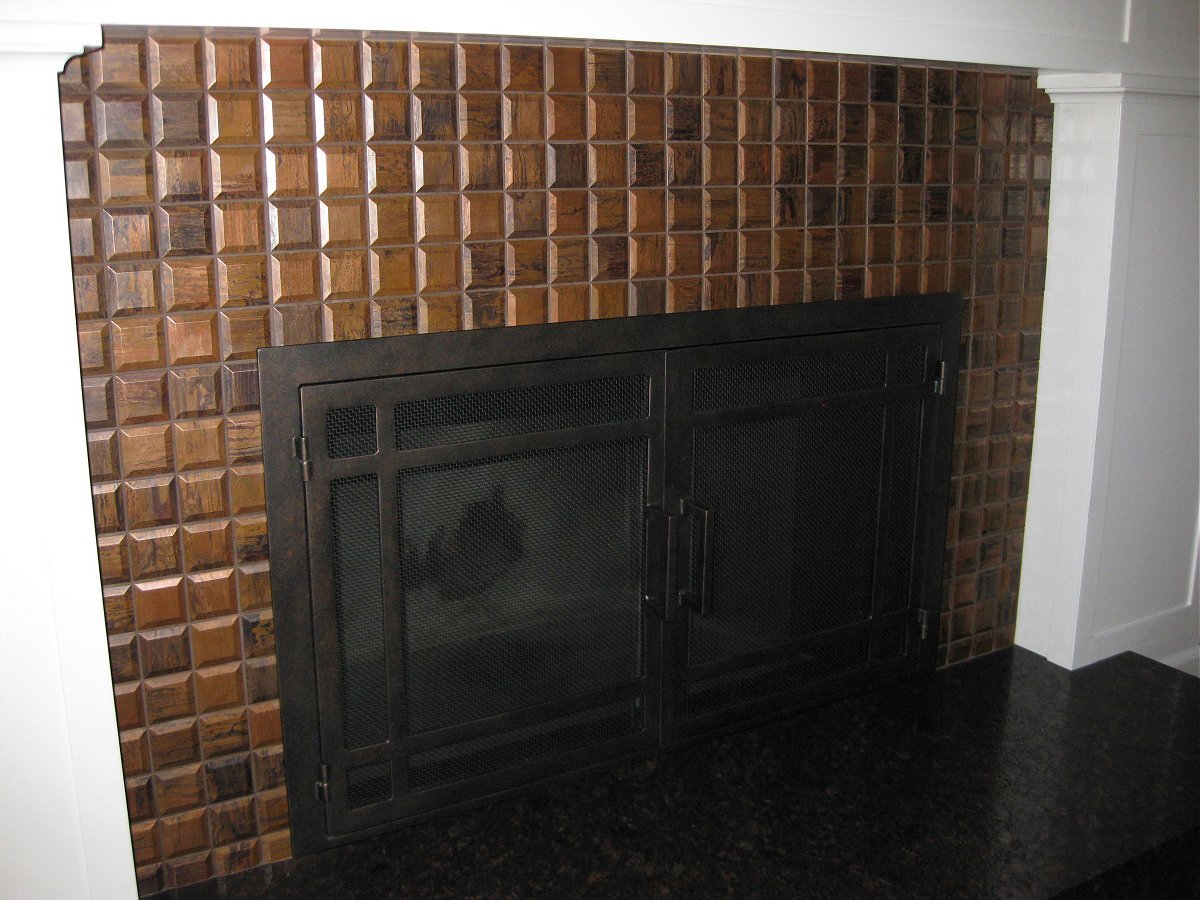 How to beautifully age your copper tiles
As you know by now, copper tiles develop a certain distinct color when the age. That's because they get oxidized over time. However, aging might take years to establish. If you are that patient, I'm sure you won't mind the wait.
But if you want the rustic copper touch as soon as possible, there's a way to fasten the process. Copper tiles can either come as bare or coated with lacquer. The lacquer ensures that the oxidation of copper stops. Therefore, the copper tiles will no longer change their color.
If you want to age your copper tiles on your own, then you need to buy tiles that are not sealed with lacquer. You can easily create an ageing effect on your copper tiles with store-bought patinas. This is usually a solution that's used to develop photos in a studio.
The first step is that you need to clean the copper tile thoroughly with a scrub brush or kitchen spray. Then let it dry in lint-free clothing. Here are some of the colors you can make out of your copper tile using store-bought patinas:
First and foremost, scrub the copper tile using sandpaper and then use ultra-fine sandpaper. You can wipe out the dust with a clean cloth then dry it with a lint-free rag. Next, combine one part of the photo fixer with 2 clean water parts in a dish made of plastic or glass.
The dish should be large enough to fit the entire copper tile inside and still remain submerged. To keep the effects a bit light, you can only use dilute fixer.
Cover the surface of the water with a drop cloth then place the copper inside the dish. You should let this sit in the water for 10 minutes or more. If the solution is low, then you will have to rock the basin from left to right. Watch the copper tile as it changes its color slowly. When it reaches the color you like, then remove the copper from the solution.
Take the blue-green patina solution and add it to the plastic or glass dish. Using a foam brush, apply the solution on the surface of the copper tile. To give it a more stylish look, you can leave some of the parts of the copper tile untouched. Next, let it dry as you watch the color change.
If the color doesn't reach to your liking, then you can add the initial patina into the mix. You can keep repeating this process until the copper reaches the color you fancy. However, if the color becomes too deep, then you can scrub off the finish using sandpaper or scrub brush then start again.
Once the copper tile reaches the color you like, spray the surface with a coat that's specific for metal surfaces. This will prevent any further oxidation from taking place. Therefore, the copper tile will maintain its current look.
A word of advice: remember that when you are working with patina or the fixer detergent, you will need a space that's well aerated. Also, you need to use gloves when handling these products. On top of that, there are numerous types of patina finishes in the market today. Each of these products has a specific way of application. So, always follow the manufacturer's instructions.
Can I buy a copper tile with a rustic look?
Of course Yes! There are a number of different antique copper mosaic tiles that are guaranteed to suit your needs. Stick around and I'll show you where you can get the best antique copper tiles.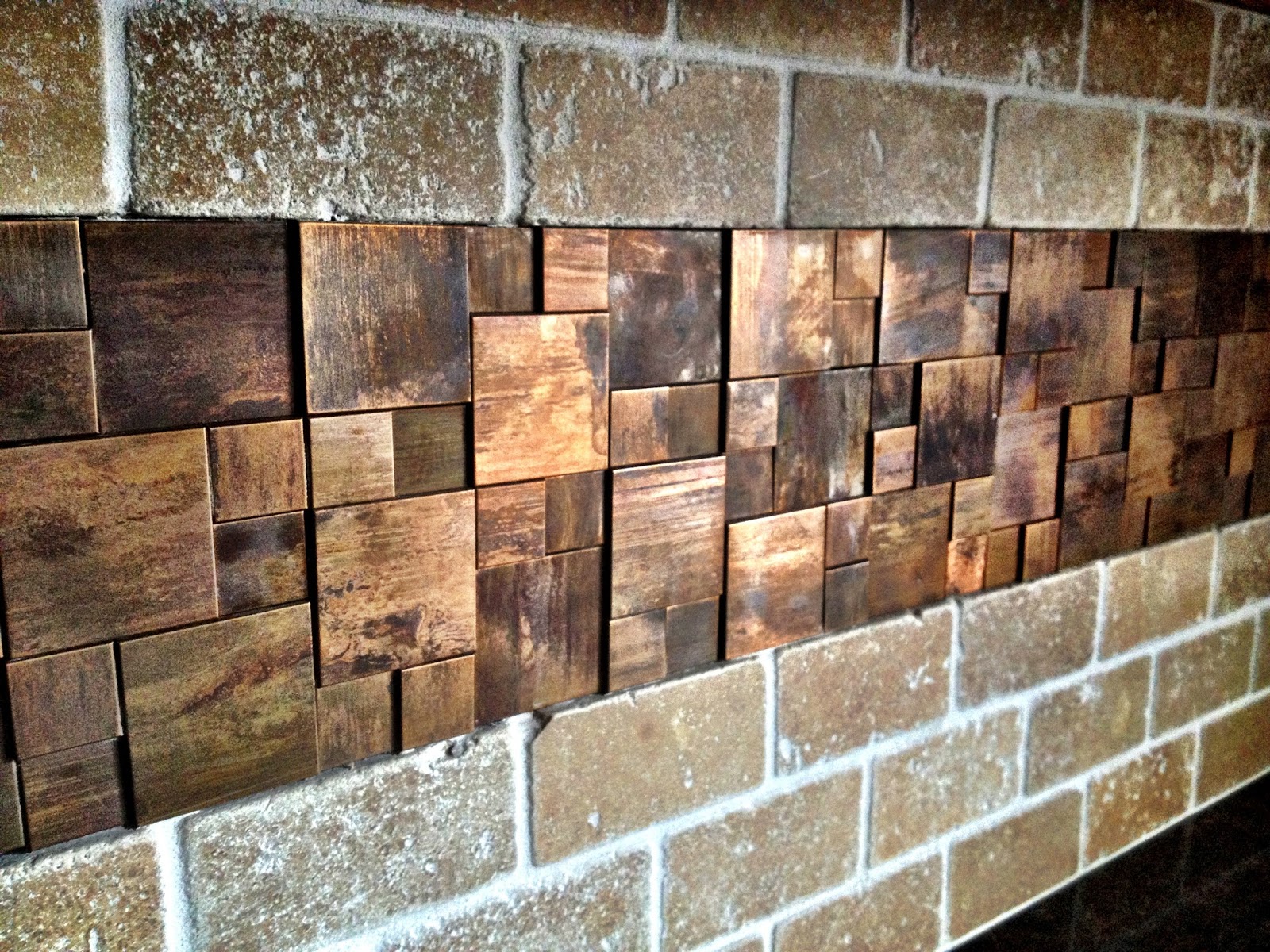 Maintaining Antique copper tiles
Copper tiles are an elegant choice whether for your kitchen space or bathroom. However, before you decide to take the leap and buy copper tiles, you need to know how to maintain their shine.
Don't worry. Maintaining these copper tiles is quite easy. It will, however, need particular attention that's a bit different from your normal backsplash tiles. That's because copper tiles are specifically made out of metal.
The best and most effective way to ensure your tiles maintain their original shine is by properly sealing them. You can apply a suitable sealant that's specifically meant for copper tiles.
However, others choose to leave their copper unsealed because they like the appearance of copper ageing. If the copper is left unsealed, it will likely darken and form patina on its surface. Like I said earlier, you can also buy a pre-aged copper tile.
2.How to clean sealed copper tiles
Sealed copper when it comes to cleaning has a lot in common with regular tiles. You can use a wet rag to adequately remove all the dust particles from the surface of the tiles. Additionally, you can also use soap and water to effectively clean the surface.
However, if you are planning to use soap and water, ensure the soap doesn't have any chemicals that might interfere with the sealant on the surface of the copper tile. The sealant acts as a protective covering that prevents any interactions between the actual copper and the surrounding.
3.How to clean unsealed copper tiles
Typically, unsealed copper tiles age at a faster rate. That said, you can easily clean the surface of the copper tile with basic soap and water. This will ensure all the dirt that has accumulated on the surface is gone. Above all, the soap and water allows the copper tile to age beautifully.
Another great option is to use copper cleaning detergents to clean the surface of the tiles. However, you will have to be careful especially when using such products around the kitchen space. The copper cleaner will significantly slow down the process of ageing. Therefore, it will maintain the original color for a longer period.
The copper cleaning detergents are known to be abrasive which might affect your kitchen space. It's probably a good idea to avoid using these products around your kitchen area.
Bonus Tip
There are several market places where you can get good antique copper mosaic tiles. However, if you are looking for the best copper tiles in the business, then check out Belk tile copper tiles and I guarantee you that you will get something that's worth every penny. BELK Tile offers a range of different copper tiles, each designed for your exquisite taste.
In Summary…
Now that you know where to buy copper tiles, you can comfortably shop your favorite design. Truth be told, copper tiles are only for the elite gentlemen and ladies with a taste for fine products. All the best and stick around for more info.
<