Posted by Mike Belk on Jul 26, 2023
Mosaics have been fascinating designers since their first appearance in Mesopotamia, or present-day Iraq, in the third millennium BCE.
Mosaic tiles are an incredibly versatile decor element. They can be used in many different ways to create stunning works of art. From flooring, and walls, to even countertops, you'll never run out of options.
Unleash your inner artist with these inspirational mosaic tile designs. These artistic tiles are available in various shapes, sizes, colors & textures. Whether it's a random mix of tiles or an intricate pattern, the possibilities are endless.
Are you looking to add this classic design style to your home? Mosaic tile designs can add a unique touch to any room. Discover how to enhance your home's decor with mosaic tiles today.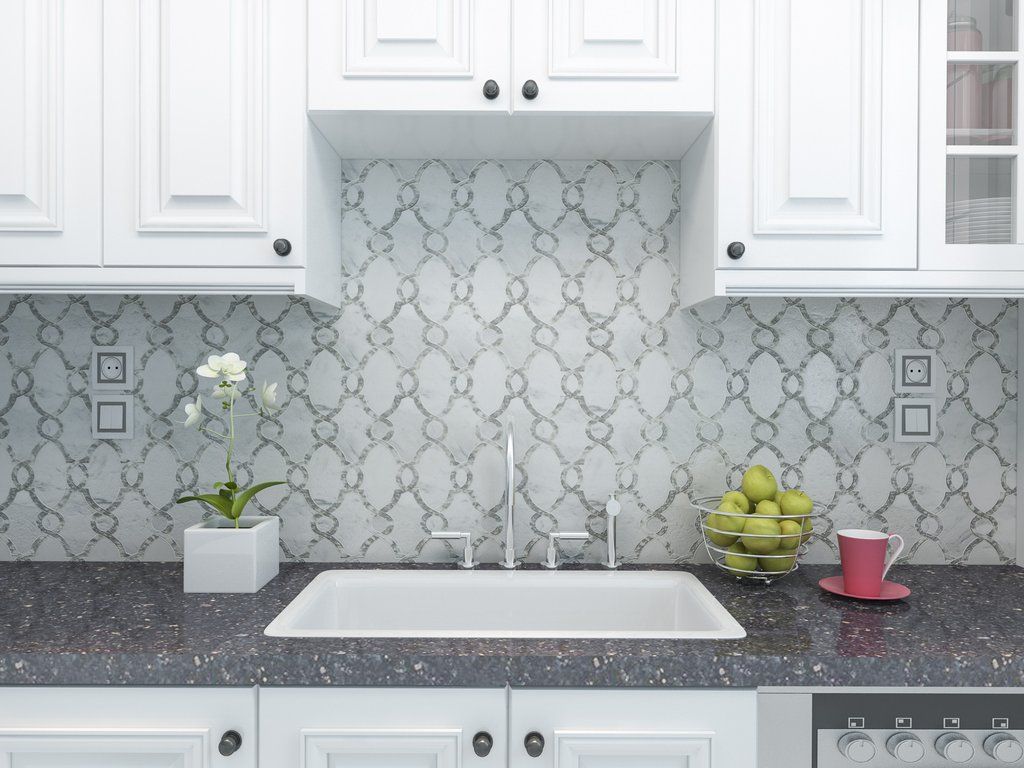 What Are Mosaic Tiles?
Mosaic tiles are pieces of art made from various materials such as glass, stone, and metal. They can be used to create intricate patterns or simple designs in any interior or exterior space.
Tile designs come in a variety of shapes, sizes, colors, and textures and can be used to enhance the look of any room. They provide a durable finish that is easy to maintain and clean.
Mosaic tiles are perfect for flooring, walls, countertops, bathrooms, and kitchens. They can also be used to create beautiful art pieces or mosaic tile murals.
Benefits of Mosaic Tiles
Mosaic tiles are a great way to add a unique touch to any room. Here are some of the benefits of using mosaic tiles:
Durability: Mosaic tiles provide a strong and durable finish that can last for years
Easy to clean: The tiles are easy to maintain and clean, making them ideal for bathrooms, kitchens, and high-traffic areas
Low maintenance: In most cases, mosaic tiles require no special care or maintenance other than normal cleaning
Creativity: Mosaic tiles can be used to create unique designs and patterns that are sure to impress
Cost-effectiveness: Mosaic tiles are an affordable way to add a touch of art and beauty to any room
Different Types of Mosaic Tile
There's an abundance of choices when it comes to choosing mosaic tiles for your home. We've listed some of the main types below.
Natural Stone Mosaic Tile
If you're looking to emulate the iconic mosaics you'll see in Ancient Greece, Italy, and Egypt, then natural stone is the way to go. These tiles are made from real stone such as marble, granite, and travertine. Natural stone mosaic tiles offer a timeless look and are perfect for floors, walls, and backsplashes.
Glass Mosaic Tile
Glass mosaic tiles come in many colors and shapes, making them easy to use for interior designs. They create a sleek finish that stands out in any room. Glass mosaic tiles are ideal for bathroom walls and kitchen backsplashes.
Metal Mosaic Tile
Metal mosaic tile is a great way to add a modern, industrial look to your home. They come in various sizes and shapes such as squares, rectangles, and hexagons. Metal mosaic tiles are perfect for floors, walls, countertops, and more!
Ceramic Mosaic Tile
Ceramic mosaic tiles are affordable and come in a variety of styles, shapes, and colors. They are perfect for kitchen backsplashes, bathroom floors, and even shower walls! Ceramic mosaic tile is water-resistant and relatively low maintenance.
Porcelain Mosaic Tile
Porcelain mosaic tiles offer the look of natural stone without the price tag. They are ideal for both interior and exterior use including walls, backsplashes, showers, and more!
Best Mosaic Ideas for Your Home
We've already hinted towards some of the popular rooms to use mosaic tile designs in. However, don't let that limit your creativity. Mosaic tile designs can be used in any room of your house, here are some inspirational ideas to get your creative side going.
Shower
Using tiles in the shower is a perfect opportunity to incorporate mosaics into your home decor. They enhance the peaceful ambiance during a refreshing morning shower.
Glass mosaics in tones of blue work really well here for a cool and classic look. Bring it up to the modern day, and use a dark metalized tile with matching dark tile grout.
Backsplash
If you want to add some color and pattern to your kitchen, consider using a backsplash. Backsplashes can be used to tie together the colors in your kitchen or add some brightness. You can choose to cover just the wall behind your sink or install it on all the walls surrounding your countertop.
Garden Patios
If you're inspired by the tile work of southern Spain or Morocco, then you'll know how important their enclosed patios are in their design. Use vibrant and differently shaped tiles with a pop of color to create a welcoming outdoor space.
Porcelain is a great choice here because it's the most durable tile available on the market. They are extremely water resistant and last longer than other options.
How to Install a Mosaic Tile
Mosaic tile is easier to install than standard tile because cutting the mesh sheet that the mosaic tile is attached to doesn't require any special equipment.
Whether you're doing a complete remodel of your kitchen or bathroom, or just adding some decorative accents, mosaic tiles are an easy way to instantly add texture and color. Installing the tiles is fairly straightforward if you have the right tools here's how:
Choose Your Tiles
First, gather your materials. Work out how much mosaic tile you will need. It's always worth overestimating a little bit in case of mistakes or any awkward shapes or angles you'll have to get around.
You'll also need grout, tile spacers, mortar or adhesive, and tile nippers.
Cut Your Tiles
Measure the area you're going to cover and cut the mesh sheet with tile nippers to fit it into place. You can also use a utility knife if you don't have tile nippers.
Attach the Tiles
Spread mortar evenly across the surface with a notched trowel. Attach your tiles to the wall one piece at a time. Make sure to leave space between each tile for grouting with spacers.
Grout and Finish Up
Once all your pieces are in place, remove the spacers and fill the gaps with grout. Wipe off any excess grout and let it dry completely.
Add Sealant
Clean the area thoroughly, sweep, and vacuum up any residue left. Then apply a sealant to protect the tile from any future spills.
Mosaic Tile Care and Maintenance
Mosaic tiles are generally quite easy to maintain. The best way to keep them in great condition is to sweep and mop them regularly.
Their low maintenance makes them a popular choice. Follow our easy care tips.
Post-Installation
It's important to clean your tiles immediately after installation. During this time, extra grout, dust, and debris will have accumulated. This debris could potentially scratch your tiles.
Properly Seal Your Tiles
Sealing mosaic tiles will help protect them from absorbing dirt and grime. The sealant should be applied at least once a year to ensure the stability of your tiles.
Cleaning Your Tiles
To clean mosaic tiles, use a pH-neutral soap or detergent diluted with water. Don't use any abrasive tools or cleaning products on your tiles as this will damage their surface
To avoid discoloration of your grout, avoid using acidic cleaners. Be sure to carefully read and follow the instructions provided with the grout cleaner you select.
Mop up Spills
It's important to mop up any spills immediately after they occur. This will prevent staining and damage to the surface of your mosaic tiles.
Re-Grout Your Tiles Regularly
Regular re-grouting is necessary to maintain the strength and stability of your mosaics, as well as its aesthetic appeal. Make sure you use a grout sealer to protect your tiles and prevent discoloration. This is especially important in high-traffic areas, such as a hallway floor, or where the tiles are in contact with water, like a shower.
Regularly Check for Damage
Make sure you regularly check for any damage or cracks in the tiles. If there are any chips or scratches, you can use a matching grout to patch them up. This will help to make sure that your mosaic remains strong and secure.
Don't Drag Furniture
When moving furniture, make sure you don't drag it across the mosaic tiles as this can cause scratches and chips. Use a wide board to spread the weight of the furniture over several tiles if necessary.
It's useful to put felt feet on the bottom of furniture legs so that they don't damage the floor.
Want to Shop for Mosaic Tiles?
Mosaic tiles can be a beautiful addition to any home. They're easy to install and maintain and can enhance the aesthetic of your home.
If you're considering adding mosaic tiles to your next project or renovation, BELK Tile has the largest range of options available online! Shop our selection today to find exactly what you need for your space.