Posted by Mike Belk on Mar 16, 2023
The metal used in interior design has become a modern trend that will always stay in style. Metals provide elegance and warmth to any living environment, whether stainless steel, aluminum, brass, or copper. According to the newest interior design and architecture magazines, metals are important in home décor. Metals are popular among designers because of their ability to lend drama and luxury to any space.
Our newest stainless steel tile line features a wide choice of colors, designs, and textures that will impress. We have seven fantastic ideas you can include in your house, regardless of whether your style is modern, contemporary, transitional, or glam. Each tile is individually created to offer elegance and refinement to your room. Hence, if you want to improve the aesthetic of your home, our stainless steel tiles are an excellent alternative.
Stainless Steel Mirror Mosaic Tile:
Mirror mosaic tiles made of stainless steel are popular for giving an appealing and modern touch to any environment. These tiles are composed of high-quality stainless steel polished to a mirror-like surface for a sleek and sophisticated appearance. The tiles are small and square and may be stacked in various patterns and styles, making them a versatile option for any interior or outdoor design project.
One of the most significant advantages of employing stainless steel mirror mosaic tiles is their extreme durability and resistance to harm. Stainless steel is a tough material that can resist much abuse and environmental exposure without displaying signs of wear or damage. As a result, they are an excellent solution for high-traffic areas or locations prone to dampness or temperature variations.
Stainless steel mirror mosaic tiles are long-lasting and simple to clean and maintain. They are resistant to mold, mildew, and bacteria growth since they are non-porous and do not absorb liquids or stains. Wipe them down with a moist cloth or use a diluted cleaning solution to keep them glossy and fresh. Overall, stainless steel mirror mosaic tiles are functional, fashionable, and durable for any design project.
Stainless Steel Subway Tile:
Stainless steel subway tiles are a timeless and elegant choice for any kitchen or bathroom. The classic brick pattern adds a touch of English charm while providing a calming yet striking backdrop to any space. The metallic silver finish of these tiles creates a stunning contrast in black and white color schemes. Additionally, if you prefer a modern and contemporary look, these tiles will complement your style beautifully. With their versatility and durability, stainless steel subway tiles are a smart and stylish choice for any home renovation project.
Glass Mosaic Linear Copper Tile Design:
This magnificent glass mosaic linear copper tile combines the brilliance of glass, copper, and stainless steel. It's a great choice for a stylish and efficient kitchen or bathroom backsplash and around a fireplace. The tile's deep, rich chocolate brown and copper colors create a warm and inviting ambiance, making it a great choice for any home décor plan.
The tile's straight rectangular shape is one of its most appealing aspects, adding a sense of sleekness to any environment. Its seamless material mix creates a sleek and elegant aesthetic that adds a touch of refinement to any environment. The tile's distinctive color and material combination complements various interior design styles, from modern to classic.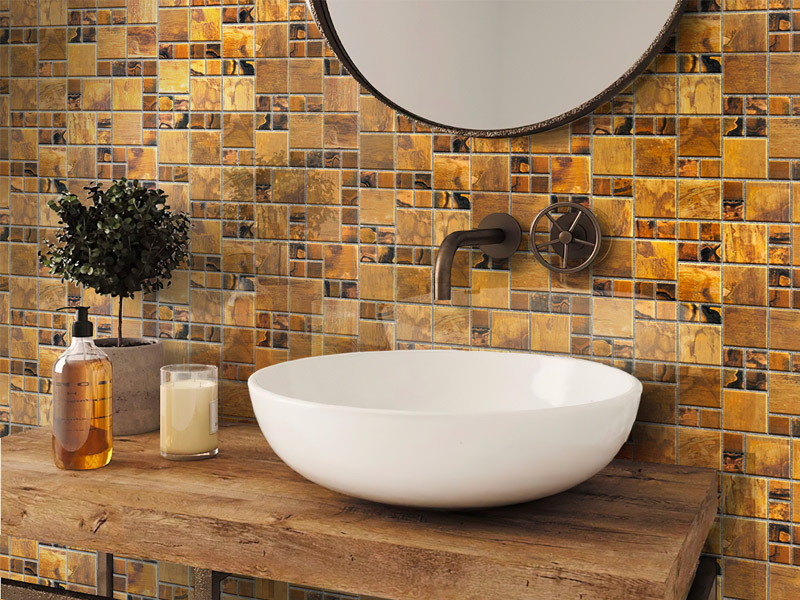 The glass mosaic linear copper tile is a great method to improve the look of your living room. Its beautiful appearance and long-lasting durability make it a perfect choice for high-traffic areas such as the kitchen and bathroom. It is simple to clean and maintain, ensuring it retains its beauty and functionality for many years. It is a wonderful option if you want an attractive and functional tile.
Mini Brick Glass With A Stainless Steel Tile Black
This stunning tile combines glass and stainless steel uniquely, making it a perfect choice for creating a striking and authentic backdrop in any space. The intricate texture and detail of the tile will make a lasting impression on your home. Consider using it in your bathroom for a truly out-of-the-box look that will never grow old. The timeless black color of the tile adds a touch of magic and sophistication to any space. You're guaranteed to be impressed by this tile's bold and beautiful appearance.
Glamorous Rose Gold Penny Round Tile:
The rose gold penny round tile is a glamorous and stylish choice for any room. Its distinctive shape and deep metallic tone inspire creativity and provide a magical touch to your design. This tile's brushed texture gives a modest yet beautiful effect that complements nearby appliances. The rose gold penny round tile is an excellent choice for a kitchen backsplash, bathroom shower area, or living room feature wall.
This tile's penny-round shape provides a visually fascinating pattern, capturing attention and producing a one-of-a-kind aesthetic that will stand out in any environment. The rose gold color adds warmth and richness to the space, making it more inviting. This tile is adaptable enough to fit any style of décor, whether you're using it to give a touch of refinement to a modern environment or complement a more traditional design.
The rose gold penny round tile's brushed finish adds depth and texture to your design, boosting the overall look and feel of the space. The tile's slight metallic shimmer captures the light and produces a sense of richness that is difficult to duplicate with other materials. The rose gold penny round tile is an excellent choice if you want to add a little glitz to your house.
Aluminum With A Glass Mosaic Tile:
The mix of aluminum and glass mosaic tiles provides a visually appealing, low-maintenance choice for enhancing the aesthetic of any room. These tiles are ideal for achieving a contemporary, industrial-style aesthetic in a kitchen backsplash, bathroom, or feature wall. Using aluminum in the tiles ensures their durability and ease of maintenance, while the glass provides a touch of beauty and design. Aluminum and glass mosaic tiles are a fantastic alternative for anyone wishing to create a contemporary and stylish space that does not require substantial maintenance.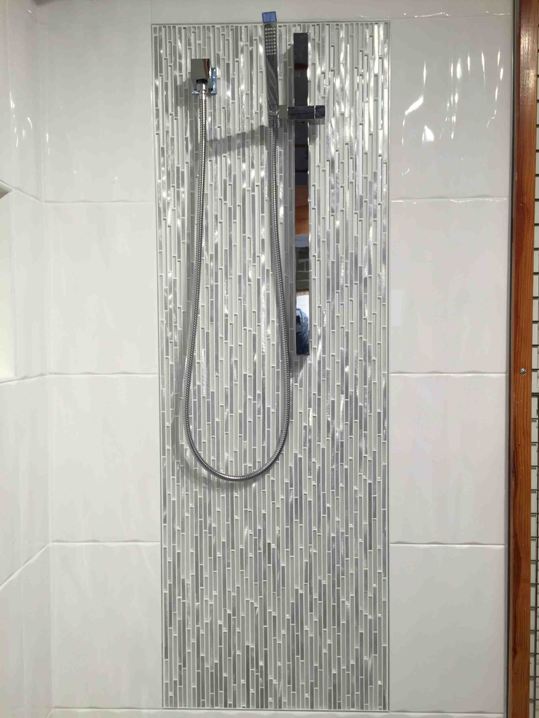 Combining Brass Gold and Marble Mosaic Tile:
The Inlay Brass Gold Triangles White Tile is a stunning and authentic mosaic tile that adds elegance and sophistication to any project. This tile is made using a combination of high-quality natural stone and brass tiles, which results in a unique and classy appearance.
Brass, an alloy of copper and zinc, is used in varying proportions to achieve different characteristics, adding a distinctive element to this tile. This tile's glossy, mirror-like finish gives it a modern and glamorous appeal that will enhance any space. Whether you choose to use it for your kitchen backsplash, living room feature wall, bathroom, or walk-in closet accent, this majestic tile will add a focal point and enchanting touch to your project.
Additionally, note that this tile can be used for all vertical aspects, allowing your creativity to run wild when designing your space. Overall, the Inlay Brass Gold Triangles White Tile is a standout piece from our collection that will elevate the design aesthetic of any project.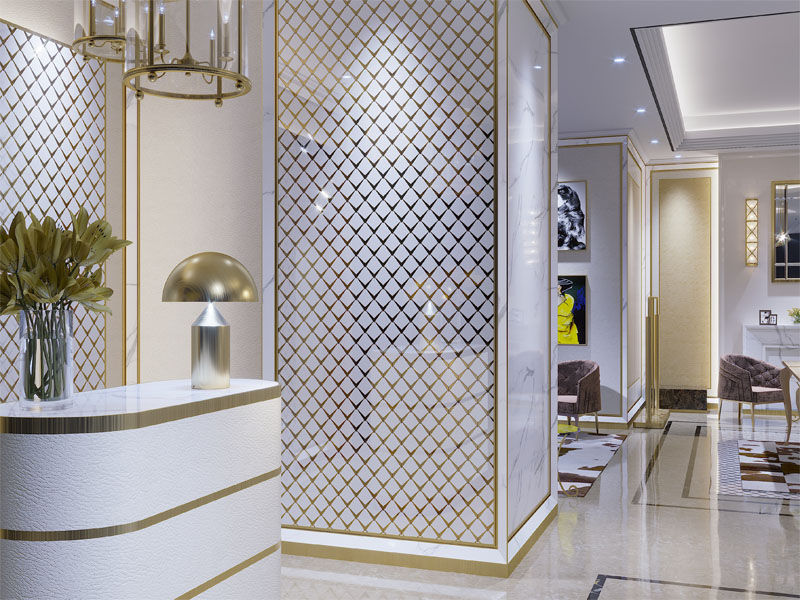 Combination Of Glass and Stainless Steel Blend Tiles:
The glass and stainless steel blend tile may be just what you need if you want a tile pattern that is both unique and eye-catching. This tile has an eye-catching pattern that blends glass mosaic tiles with stainless steel to create a gorgeous blend of hues ranging from turquoise and teal to gray and white. Its design is ideal for those who appreciate blue tones, making it an outstanding choice for beach and Caribbean-style decor.
What distinguishes this tile design is combining two materials to create a visually striking impact. The mix of glass mosaic and stainless steel offers a unique texture to any area and adds depth and perspective. This tile design is sure to wow whether you want to add a bit of elegance to your bathroom, kitchen, or living room.
Aside from its aesthetic appeal, the glass and stainless steel blend tile is extremely durable and simple to maintain. Its non-porous surface makes it stain and scratch resistant, making it an excellent choice for high-traffic areas. Thus, if you're searching for a tile design that's both beautiful and functional, this is a great option.
Bottom Line:
Overall, metal tiles made of stainless steel, brass, aluminum, and copper have become a popular interior design trend. Designers love them because they add beauty and warmth to any living space. Stainless steel mirror mosaic tiles, subway tiles, glass mosaic linear copper tiles, micro brick glass, and stainless steel tiles, rose gold penny round tiles, aluminum and glass mosaic tiles, and brass gold and marble mosaic tiles are some of the metal tile patterns available. Each design is distinct in terms of durability, resistance to injury, simplicity of cleaning, and versatility. Metal tiles are a smart and fashionable alternative for any home renovation project, bringing refinement and sophistication to any living space.