Posted by BELK Tile on Jun 02, 2014
Crackle glass, which is also called "ice glass", is made by submerging molten glass into cold water so that the surface of the glass cracks. It is available in a variety of colors, shapes, and layouts. Crackle glass complements both modern and antique interior designs. A crackle glass tile backsplash in the kitchen or bathroom adds a dramatic effect and contrasts perfectly with modern appliances and furniture.
What you need to know about crackle glass tiles
Crackle glass was popular in the early 20 th century and is once again becoming trendy. Today, it is more affordable and is available in various colors, shapes, mixes, and styles.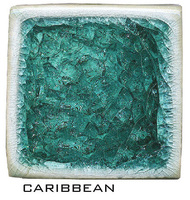 Though it is undeniably beautiful, it does have its limitations. Crackle glass tiles are durable, but because of their nature, there are some areas where they are not suitable. Crackle glass tiles cannot be used on floors and other high traffic areas. A crackle glass tile backsplash in the kitchen should hold up nicely and last a long time, but experts warn against installing crackle glass tiles in the shower, where they will be constantly wet and will have to be repeatedly resealed.
Crackle glass tile backsplash design ideas
Crackle glass tiles lend a fun and luxurious look and feel to any room. A backsplash made of crackle glass tiles looks very avant-garde, adds texture to an otherwise dull surface, and is easy to clean.
Use it as an accent wall.
Create a focal point over the stove, behind the kitchen sink, or above the bathroom sinks. Install a backsplash made of crackle glass tiles in a single color or an entire color family from counter to ceiling. Choose a color that contrasts against the rest of the room. For example, a deep emerald green glass tile backsplash juxtaposes perfectly against a kitchen done up in shades of cream, brown, tan, or white.
Use it in the bathroom.
A backsplash in the bathroom made of crackle glass tiles in aquamarine or seafoam green will make you feel like you're in a spa or a tropical resort. Complement the look with wooden cabinetry and light-colored fabrics.
Use a rainbow of colors.
A fun way of working with crackle glass tiles is to create a backsplash using different tile colors. This kind of backsplash is modern, interesting, and is a sure conversation-starter.