Posted by Mike Belk on Dec 02, 2019
A Homeowner's Guide to Buying, Installing and Maintaining Crackle Glass Tiles
Crackle glass tiles challenge the belief that only smooth, and blemish-free surfaces look good. Moreover, they highlighted the beauty of aged look on the popular backsplash material.
Crackle Defined
Old tiled backsplashes are known for having faded colors and grimy surface. Many have broken pieces, too. If you look closely, you'll also find random, hairline cracks. Those cracks are collectively known as crackle. Aside from tiles, you can also see crackle on old paint and varnish. In the past, it's taken as a sign that the tiles or finishing material needed replacement. These days, many consider it interesting.
The Creation of Crackle Glaze Tiles
Crackle can be achieved by maintaining tiles for decades. If you don't live in an old house, you might want to buy antique tiles with those tiny, attractive cracks. Getting crackle glazed tiles is another option. Crackle glazed tiles save you from waiting for a long time to achieve aged look. They also spare you from the costly antique tiles. Also known as crazed, crackle glazed means a finish that features random cracks. Because it's just a finish, the cracks are only surface-level. In contrast, the cracks in old tiles may go deep and break the pieces apart. Painting is enough to get the crazed finish on furniture and wood panels. For tiles though, manufacturers and artisans carry out a firing process to achieve such finish.
Types of Tile Finishes
Crackle glaze is emerging as a popular tile finish. Since its invention, glossy has been the most well-liked. Matte finish also has good reputation. One of the best things about crazed finish is that it blends well with either of the other two finishes. The cracks are more noticeable in matte finish though. Crackle glaze creates a textured look to both glossy and matte finishes. In glossy tiles, the hairline cracks also add depth. They help emphasize the thickness of the tiles. However, purists may find crazed finish as a daring choice. After all, the tiny cracks may be taken as signs of neglect and substandard material. They may also be seen as eyesores. Consequently, crackle glaze isn't likely to overthrow smooth finish anytime soon. Like the former, the latter matches both matte and glossy finishes. Yet, smooth finish is highly favored because it makes the surface look clean. The problem, though, is that smooth finish is all too common. It's also not as efficient as crackle glaze when it comes to adding character to a tile's surface.
Glass versus Ceramic
The aforementioned finishes can be found in both glass and ceramic tiles. In terms of price, ceramic easily beats glass. The former is more scratch-resistant, too. The durability depends on many factors. The raw materials used, production process, and product dimensions affect the life span of the tiles. Installation, usage and care (or neglect) further play a role on how long the tiles will last. Obviously, the more durable tiles are more expensive. These can be said for both ceramic and glass tiles. The price range for the former tends to be wider though. For as low as $2, you can buy a square foot of ceramic tile. An affordable glass tile can cost $9 per square foot. Artisan-made ones of both ceramic and glass tiles are on the same price range. The cheapest glass tiles are slightly more expensive because their production process is more complex. However, they're worth the price because of their naturally reflective surface. They're also beneficial in adding an illusion of depth. The said features make glass tiles ideal for small spaces. Their reflective surface bounces off light, making a room look brighter. A well-lit room seems wider than a dark one. Unlike ceramic tiles, glass tiles are more resistant to stains and mildew. Allergens can't attach on them, too. These make them ideal materials for kitchens and bathrooms. The slippery surface of glass tiles is an advantage when cleaning. However, such attribute is a disadvantage when the tiles are used for flooring. For years, subway tiles were everywhere. They're usually made from ceramic. Those who wanted to try something new but not too risky opted for subway glass tiles. Today, glass tiles are also seen in many homes. Crackle glaze puts a subtle yet fascinating spin on the popular material.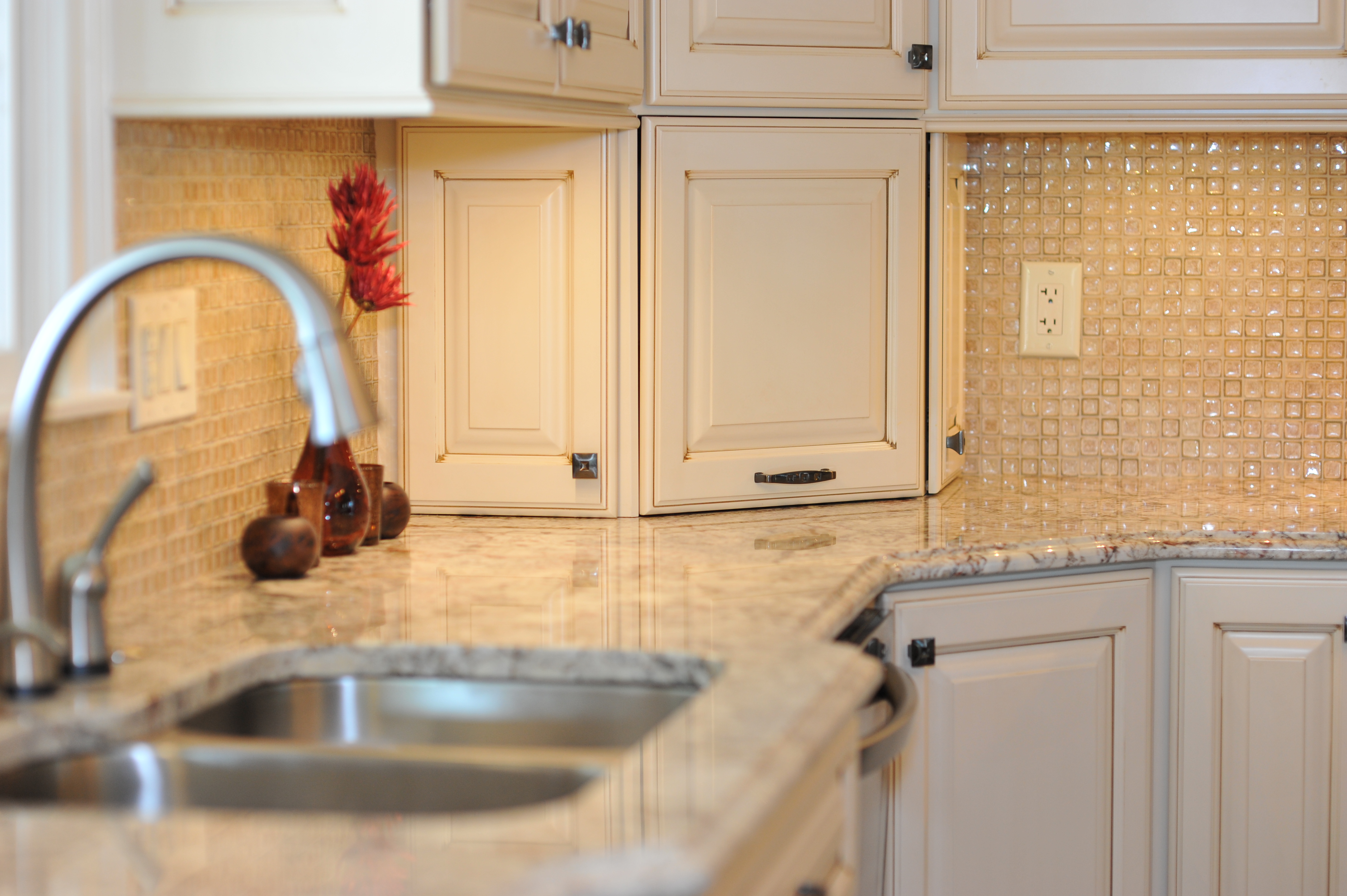 Top 5 Uses of Crackle Glass Tile Backsplashes
1. Kitchen Backsplash
There are many flooring materials to choose from. But in terms of backsplashes, tiles are among the few choices. It's not surprising that many tile trends concern backsplashes. Crackle glass tile backsplash is a proof. From a distance, the crackle on white, gray and light-colored backsplashes isn't that striking. However, they're a pleasant surprise once you come close to your sink and counter. Crackle backsplash gives a great contrast against wood, laminate, quartz and metal countertops. With such material, you can either cover the entire kitchen wall or just the parts adjacent to the countertops and sink. If your kitchen has many intricate details, the crackle on dark-colored tiles may appear too much. Yet, crazed backsplash can match with granite and marble countertops. Just make sure that the crackle glazed tiles are set minimally. Ideally, their colors should also be based on the said countertops.
2. Shower Panel and Backsplash
A framed crackle glass mosaic tile is a statement piece you can put on your shower wall. This can serve as an alternative to a shower panel. To do so, align the mosaic tiles on the tub spout, stop valve and shower head. If you want to emphasize the DIY panel, frame or outline it using a waterproof material. If you prefer seamless transition to the shower backsplash, leave it frameless. Instead of a portion, you can cover the entire shower walls with crazed glass tiles. Water stains and soap suds don't stand out on crackle glaze. If you're too lazy to clean, you can leave such marks for the meantime. But if you're tidying up, it may be hard to find the areas that need a bit of scrubbing.
3. Countertops
The durable granite and marble countertops stand out for their natural, random pattern. They're too heavy though. It's impossible for you to cut and install a panel on your own. With crackle glass tiles, you can confidently build your own countertops featuring random, crooked lines. You can carry each piece by yourself. Unless you ordered custom-made, the biggest glass tile you can use is one square foot. If you like small pieces, mosaic tiles are there to make the installation easier. It's true that regular glass tiles are thinner than 1/2 inch. As such, they're prone to damages from wear and tear. The good news is that there are also thicker options that are made to withstand the hits from countertop use.
4. Tub Surround
Spas and pools commonly sport ceramic tiles with smooth finish. If you don't want your bathroom to look like one of them, consider experimenting with your backsplash and tub surround. Crackle glazed tub surround complements clawfoot bathtub. In case you have the minimalist tub, the crazed finish of the tiles around it offers a lovely contrast. It makes the tub design stand out further, yet it doesn't easily fade on the background.
5. Flooring
When it comes to flooring, the slippery nature of glass tiles makes them less ideal than wood and ceramic tiles. They may also break due to foot traffic. Yet, it doesn't mean glass tiles can't be used as flooring material. Like those used in countertops, glass tiles meant for floors are made thicker and harder. This way, they can withstand heavy foot traffic. Such flooring materials are coated with slip-proof sealant as well. It's worth noting that the uses of crazed glass tiles aren't limited to these five. If you love DIY projects, you can use the said materials to design planters. You can also put them on a birdbath. Glass tiles can be sought for pools, too. However, they're not as easy-to-maintain and cost-effective as pools built using ceramic tiles.
Color Selection
White is undeniably the safest choice even for crackle glazed tiles. However, the said color is too plain for some people. Gray is even deemed more exciting. You can never go wrong with blue if you're using the crazed tiles on a bathroom. The color makes the room feel more refreshing. You might want to try teal-colored, scallop-shaped tiles for a timeless bathroom design. You can also use blue crackle glass tiles on a kitchen. Paint the walls and cabinets with white to further emphasize the color. Having white-colored cabinets can help boost the resale value of your home. Green crackle glazed tiles are ideal for kitchens. Avoid dull green though. Avocado green still has bad reputation up to this day. Black crazed backsplashes can serve as an alternative to granite. The color alone screams sexy and modern.
Shape Selection
The majority of tiles are in rectangular and square formats. If you prefer more stylish shapes, you can go for arabesque and scallops. Hexagon is also one of the current favorite shapes for tiles. Both hexagon and square tiles are commonly featured in mosaic tiles.
Size Selection
Tiles are usually sold in square footage. However, it doesn't mean that each piece is one square foot in size. Subway tiles are traditionally 3"x6". For square tiles used in backsplashes, 3"x3" and 4"x4" are the top choices. Those used in flooring are exactly one square foot. Mosaic tiles can combine pieces as small as 1"x1". They can even feature combinations of pieces of the same shapes but of different sizes. The colors may or may not be the same.
Shopping Tips For Crackle Glass Tile Mosaics
To find out how many tiles you should buy, measure the total square footage of your project. Next, add 15% to the total size. (If you're inexperienced but wanted to DIY, you should add 20% instead.) The excess is intended as backup in case some tiles break during transit and installation. You can also keep them as replacement for broken tiles in the future. Shopping for tiles online gives you more options. You can even order directly from manufacturers. But if you like faster delivery, it's better to buy from retailers that have warehouses on your state. The downside of buying tiles online is that you can't be sure if the appearance is exactly like the one in the photos. Before buying boxes of tiles, order a sample first. This way, you can gauge if the photos and actual product look the same. Also, you get to see whether the color is actually appealing or not. Many manufacturers don't allow small purchases, but the majority of retailers let you buy a piece or two. Some retailers and manufacturers provide samples for free. If you visit a nearby shop or warehouse, you may borrow a piece instead.
Custom-made tiles are always more expensive than mass-produced ones. Moreover, they're harder to replace. If you really want something unique, you can order a piece or two of bespoke tiles. You can incorporate them on the backsplash or shower wall. Make sure you surround them with a series of tiles with the same color, size and shape. Otherwise, your custom-made tiles will turn out to be a waste of money.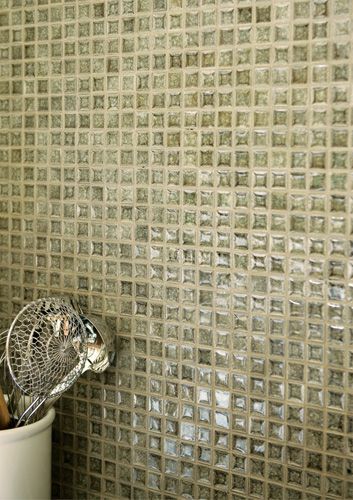 Installation Tips for a crackle tile backsplash
Use a computer program or draw the installation pattern beforehand. You don't have to limit yourself to classics like running bond and stacked patterns. If you're using rectangular tiles, you can try herringbone or basket weave patterns. If you have the diamond ones, you can put three pieces together to form a hexagon.
The grout color can add up to the overall beauty of your crazed tiles. If you prefer something subdued, white and monochromatic grout are the ideal choices. If you want to highlight the pattern and shape, try a contrasting color. You can also go for dark hues. Always clean the surface where you're going to set the crackle glazed tiles. There should be no leftover grout and other grime. Each box of tile has installation guide. Read the instructions and prepare the needed materials before proceeding. If you're unsure about the adhesive you have to use, you can send an email to the manufacturer.
Before and after you install crazed glass tiles, you have to apply sealant. Make sure you use a sealant that's appropriate for crackle glaze.
Maintenance
Wiping regularly is enough to keep the allure of glass tiles. You don't have to use strong cleaners as well. DIY cleaners are enough to deodorize glass subway tiles. You can use peels of citrus fruits for instance. Re-apply sealant on your crackle glaze tile once a year. For non-crazed tiles, you can forego sealing for two or few more years. Replace the grout around your crazed tiles at least once a year. For light-colored grout, you may need to do this once every six months. While crazed glass tiles are trendy these days, they may still appear unappealing. It all boils down to preference. As much as possible, consult an interior designer before you pick designs and start the installation.
Furthermore, if you're planning to use the said tiles for a project, make sure you set a budget beforehand and stick to it. You don't have to buy the most expensive ones. With proper installation, use and maintenance, you can enjoy the beauty of affordable crackle glass tiles in a long time.
Designation: Founder & CEO
Bio: A graduate of Ohio State University with an MBA in Business, Mike Belk has been in the tile and stone industry for over 20 years. Mike is the owner and founder of Belk Tile. He has become one of premier tile experts in the nation. Not only does Mike love every aspect of his job, he strives ensure your experience is the very best. He runs a successful blog and, when not immersed in the world of tile, is an avid golfer and wine maker. Mike enjoys interacting with customers and wants to hear from you today.
---