Posted by Mike Belk on Aug 03, 2021
Remodeling your kitchen with tiles requires a good eye. For the interior of the kitchen, it is extremely important to plan because all the elements in it are interconnected. For example, the placement of furniture and the lighting system will be organized in parallel, according to the principle of functional zoning. That way, the kitchen set not only looks great but also makes the process of preparing culinary masterpieces as comfortable as possible.
It means that a design project is necessary! It will help to competently and effectively implement all your ideas and requirements.
So, if you decide to repair the kitchen in the apartment, there are two ways in front of you. You can either do the work yourself or choose the services of a designer. In the second case, a specialist, based on your wishes, will develop an individual project for you. He will make all the necessary calculations, recommend materials for the kitchen renovation, and oversee the implementation of the project. At the same time, you will be as actively involved in the process as you want. Thanks to this, apartment renovation with the participation of a designer is much easier and faster.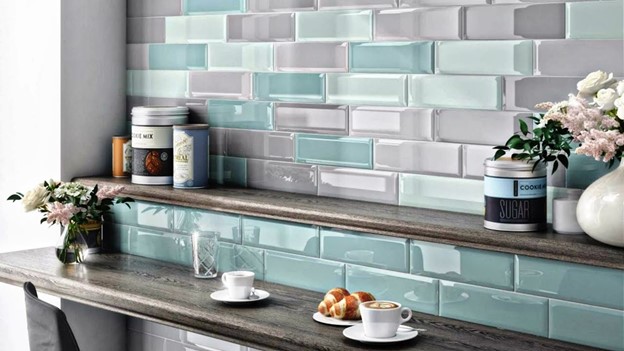 With the advent of new technologies, the trend has completely changed. People are now looking for Kitchen Tiles with different shades and bold and strong colors more than ever. The new ways of manufacturing today offer us many more ranges of tiles, textures, colors, designs, and sizes.
However, there are several things to consider before buying the Ceramics or tiles for your kitchen, since there are many types of tiles available in the market, such as normal rectified tiles and stoneware. One of the best ways to learn about the different types of kitchen floors is through online tile stores.
What aspects to take into account when choosing Kitchen Tiles?
For a perfect choice of tiles for the kitchen, you must consider several aspects like kitchen furniture and the countertop. It would help if you had a style or a general idea of the kitchen you want.
It is very important first to know what furniture is going to be placed, along with its colors and the material for a perfect combination between the furniture and the tiles. A kitchen with rustic furniture looks unique with its 20 x 20 tiles (placed in a diamond or bevel) than a more modern kitchen with smoother and more minimalist furniture. Modern and minimalist designs have larger tile formats with noticeable joints.
Kitchen Countertops
It is also very important to know the types of Kitchen Countertop. They must combine perfectly with the chosen Kitchen tiles. For example, in black countertops (granite or marble), they combine well with tiles with light tones (white, beige, gray, etc.). In kitchens with stainless steel countertops, it is very good to place porcelain stoneware tiles, creating a spectacular contrast.
Remember that tastes are very personal, and each person chooses those combinations according to their needs. The important thing is to feel comfortable and happy with your selection.
Types of Tiles for Kitchens
Porcelain or ceramic tile
Porcelain tiles are a type of tiles made with higher quality material. These are usually non- porous and do not absorb liquid like ceramic tiles. It is a great quality when it comes to cleaning them easily. This type of tile is usually somewhat more expensive than ceramic. The price is usually around $30-60/m2.
In terms of designs and finishes, Porcelain or Ceramic tiles have endless possibilities. They are perfect when it comes to adding a touch of color to your kitchen since there are many ranges of colors and textures. You can buy the size you want, but large format tiles for the kitchen are trending nowadays.
Rectified kitchen tiles
Rectified Tiles are a class of tiles cut differently from traditional tiles. It is usually a porcelain tile, but with a straight cut edge at a 90º angle. It means that in the manufacturing process, the product goes through an additional stage when finishing. This last step cuts the edges of the piece perpendicularly so that it does not have any unevenness on the sides. The product offers higher quality and better possibilities for installation.
These are quite a bit more expensive than normal tiles. However, they are very good and beautiful for aesthetics. Rectified Tiles are manufactured in a way that their design conceals the joints. The good thing about these tiles in kitchens is that with fewer joints, they accumulate less grease and dirt.
Granite Tile
The Granite tiles can be used for both kitchens and bathrooms. It has been one of the latest types of materials, and it is perfect for giving a different touch to your kitchen.
A small drawback of placing the tile in the kitchen is the possible accumulation of dirt and grease due to the high number of joints that this material has.
Normal Stoneware or Porcelain Stoneware for your kitchen
Normal stoneware and porcelain stoneware can be used both for paving floors and for tiling walls. One of the advantages of Gres or Porcelain Stoneware tiles is the variety of colors and textures that we can find. This material can also give your kitchen a very different touch from all the others.
Imitation Hydraulic Kitchen Tiles
Hydraulic tiles have been hitting as a trend very hard in recent years. These are made with stoneware or porcelain. Some tiles recover the essence of old designs but with all the advantages of using new materials. By including the hydraulic tiles in a single wall, you can achieve greater prominence.
Colors, Textures, and Sizes of Kitchen Tiles
Colors
You can choose from a range of colors according to your choice. There is a wide range of ceramic tiles available in the market for the kitchen. Some clients look for bold colors, such as orange or red.
Textures
As for the textures of kitchen tiles, they are usually smooth and non-porous. These tiles are easier to clean (a very important thing for the kitchen). However, there are also kitchen tiles with textured reliefs. In our experience, they are better with a smooth texture, since almost all of the well-designed kitchens are usually smooth. Embossed Textures are fashionable in rectified tiles.
Formats
Many formats of the kitchen tiles are available, but that depends on each manufacturer. There can be from 10 x 10 cm ceramics up to 100 x 100 cm. It all depends on the manufacturer. In recent works, we have seen a certain tendency to tile kitchens horizontally with large-format tiles (60 x 100).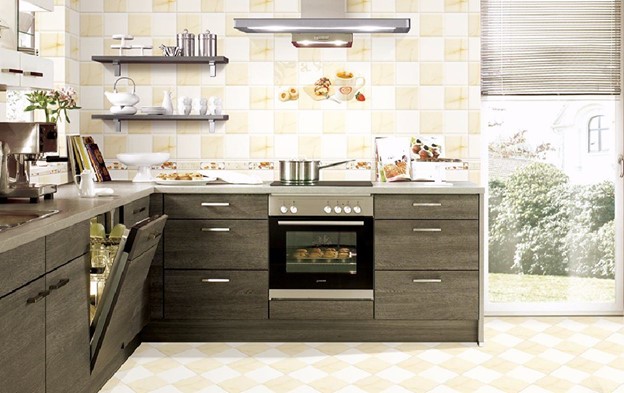 Price of Kitchen Tiles
The price varies according to the manufacturer, sizes, qualities, and finishes. They can range from 3 dollars per square foot to more than 150 dollars per square foot.
It is important to be careful with the price and ask the seller what material are we buying? Is it ceramics porcelain, or rectified? Low prices are often for low-quality products such as red-body un-rectified stoneware. If we want a quality product, we must have a budget of $30 to $60 per ft2.
Choice of Material
Before choosing materials, evaluate how quickly they will get dirty with vapors from cooking food (even if the kitchen has an exhaust hood, fumes from pots and pans partially settle on the walls and ceiling).
You also need to approach the choice of flooring carefully. Fusible materials that look great in living rooms are not suitable for the kitchen. When used on linoleum floors, floorboards, natural parquet, laminate, the surface of the coating will be exposed to the destructive effect of hot water, drops of boiling oil, and fat. You will not be insured against colored drinks falling on the floor, such as wine, decoctions of vegetables (beets, carrots), or freshly squeezed juices (cherry, pomegranate). It is simply impossible to remove stains without damaging the coating.
We recommend that you opt for versatile materials, such as porcelain stoneware and ceramic tiles. With them, you can decorate either the entire room as whole or individual areas that are most exposed to the effects of cooking and eating food.
Simple ideas to remodel the style of your kitchen
Of all the rooms of a house, the kitchen is especially relevant when it comes to domestic tasks. Cooking and cleaning are two of the most common tasks in this space. However, this does not have to need excessive effort. The best appliances in the market have drastically reduced the functions, something that we can complement with an excellent decoration to be more comfortable in the process. We can easily take care of with the best products in the current market.
Taps, functionality, and aesthetics
The components of a kitchen must be oriented to their practical use. However, this does not have to mean a lack of aesthetics in the process. The most modern kitchen faucet comes with the most attractive designs that fit in with all contemporary architectural styles.
Curved, minimalist, low spout, or removable taps are some of the most requested models in online stores for these products. All of them, with the possibility of selecting the color that can complement the design of the environment, fit perfectly with our expectations.
In turn, e-commerce offers great discounts on your purchase. You can choose your favorite tap for a much lower price than expected. If your taps are not working, you must change them immediately.
Accessories for decoration
While it is true that taps are an essential component that we seldom overlook, there are a whole series of elements that can also meet the basics of design that we do not even consider. Among the favorites of many for the kitchen, people buy wall clocks the most. This product can never fall behind when it comes to controlling cooking times in our culinary tasks. It can also be an extra awe-inspiring element in the aesthetics of each room.
Online shops can provide us with all kinds of ideas about today's cutting-edge products. You will be surprised when you see the most outstanding options. It gives you an option to innovate and establish the aesthetic parameters that you want.
The Floor: Basis of the design
We cannot talk about interior design without mentioning the kitchen floor. It is a factor that will drastically determine the style of the home. Tiles are the ideal type of floor for this type of room, given their ease of cleaning and their durability. However, we have to carefully select the color that we are going to choose, as it is the most versatile aspect of these products.
For example, for houses with a minimalist style, matte white is one of the best alternatives in terms of tile color. For a more rustic style, caramel orange or wood brown seem like the more suitable.
Modern lighting
The last factor in kitchen design to be analyzed is lighting. This component can give amazing results with very little effort. Led strips for kitchens create creating a unique and modern atmosphere.
These LED strips are available as one of the cheapest items, so we can buy large quantities to design the light of the space. Of course, not all styles use the same strips, and we will have to consider the offers of the store before finally choosing.
In addition to the aesthetics, it is essential to highlight that this kind of lighting has a lower energy consumption, something that will be great in the long term for promoting daily savings at home.
In summary
It is important to know what furniture, kitchen countertop, and floor we are going to place when choosing kitchen tiles. Tiles porcelain or ceramic is easy to clean and economical. Rectified tiles are more expensive, although they are being used extensively. The granite looks very good aesthetically but can accumulate more dirt. Normal stoneware or porcelain stoneware comes in many colors and textures. They are usually smooth in texture and not at all porous. Prices vary depending on the manufacturer, sizes, and finishes.
Designation: Founder & CEO
Bio: A graduate of Ohio State University with an MBA in Business, Mike Belk has been in the tile and stone industry for over 20 years. Mike is the owner and founder of Belk Tile. He has become one of premier tile experts in the nation. Not only does Mike love every aspect of his job, he strives ensure your experience is the very best. He runs a successful blog and, when not immersed in the world of tile, is an avid golfer and wine maker. Mike enjoys interacting with customers and wants to hear from you today. Make sure to check out his podcast of Tile Talk by Mike Belk.
---