Posted by Mike Belk on Jun 07, 2021
When it comes to the kitchen, tile flooring is always the natural choice. Tiles are ideal for kitchens because they are moisture and dirt repellent and easy to clean. You can create completely different furnishing styles with tiles. Floor tiles are more stable, more scratch-resistant, and more dirt-repellent than wall tiles, as they have to withstand heavier loads. The floor of your kitchen can be transformed into an endless number of ways when you look through the huge array of colors, shapes, and styles available in the market.
For starters, here's the biggest difference between the two. Floor tiles are particular made to tolerate more stress than wall tiles. It's obvious that floor tiles are subjected to more weight and traffic from humans and furniture, so they need to be durable and strong to withstand all that pressure. But here's the fun part, because these tiles are durable, they can be used as wall tiles and countertops too.
The color
The tile gets color from the additives' oxides or a unique glaze. The manufacturer applies this to the raw ceramic tile, which connects in the second firing process. Unique patterns are usually printed, glazed, and fired again.
Be careful when choosing dark tiles! These often make the kitchen look gloomy. Also, limescale residues can be seen more clearly than with light tiles.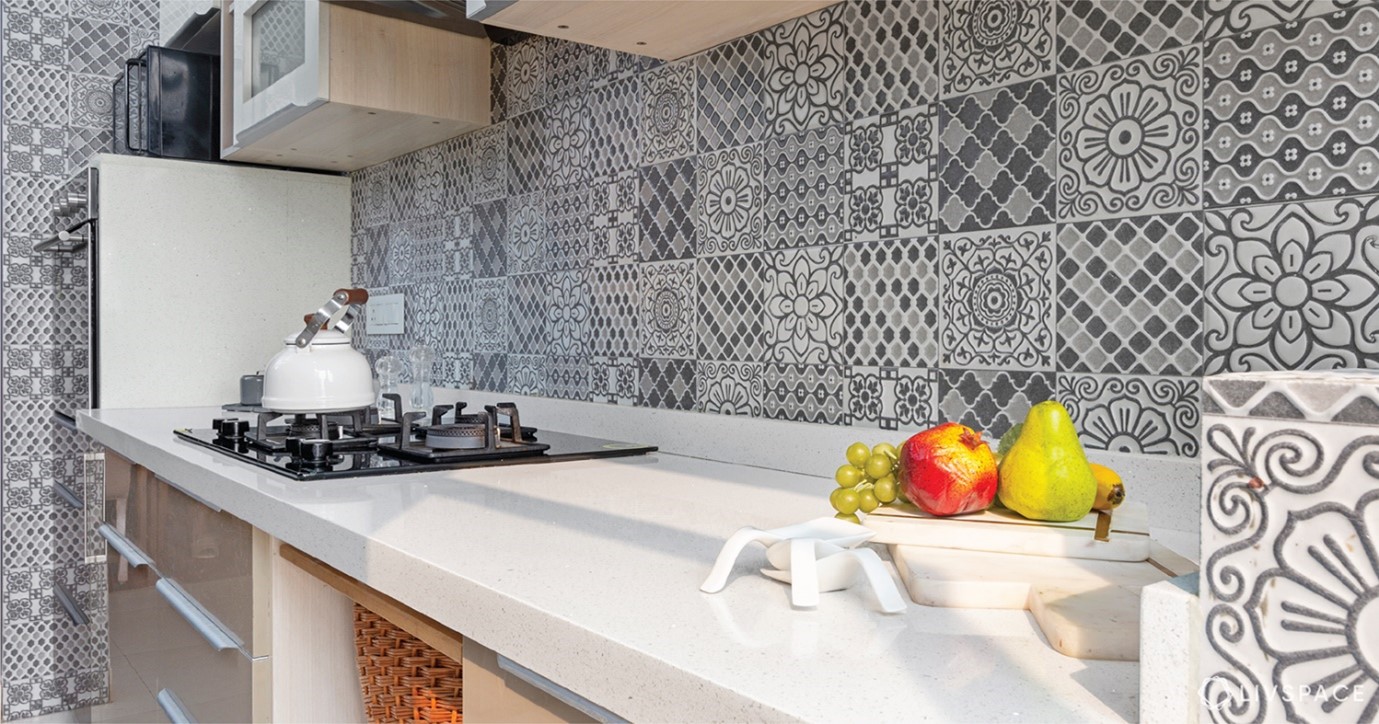 We already are aware that mosaic is used to create backsplashes, which protects it from greasy stains. So, instead of covering the bottom of your cabinets with splash-prone mosaic, why not cover the whole wall with it? It can further amplify your kitchen's beauty, which will enable them to compliment your entire décor. Also, remember to choose a design that exhibits perfection. You don't want your kitchen tiles to look odd and contradict other accessories inside your home. Not to mention the color combination which you must choose for maximum beauty.
Tile Production
The term tile is used in a variety of ways. In general, it is understood to mean plates of various sizes made of ceramic. They are used as floor and wall tiles, both indoors and outdoors. The raw material for the production is clay. Numerous naturally occurring minerals, including quartz, kaolin, and feldspar, are added to this. The shaping is formed either by crushing endless ribbons or pressing them into molds provided for this purpose. The hardness of the tile comes from the subsequent firing process at around 1,000 degrees. And the tile for the bathroom is ready!
Types of Kitchen Flooring
Tiles are divided into floor and wall tiles: The diverse material properties result in numerous areas of application and types. Fine stoneware tiles or natural stone tiles are available in the market. Manufacturers either leave porcelain stoneware's surface in its untreated state or grind and polish it after the firing process. Their low water absorption characterizes these types of tiles, which is usually less than three percent. That is why this type is ideal for areas with heavy traffic.
In comparison, earthenware tiles have a much higher water absorption capacity of up to ten percent. They belong to fine ceramics and are only suitable for indoor use. After the firing process, earthenware tiles are covered with a glaze. It results in more excellent resistance to acids and detergents and a smoother surface.
Porcelain and ceramic tiles are similar in many ways. Both are fired at high temperatures, made from clay mixtures, and are known for their robustness and durability. Both these tiles come in glazed and unglazed. Other than that, there are plenty of distinctions between the two. The problem with tile buying is that there are dozens of tile options available in the market. To help you make the best decision, we have narrowed down the options to the ten best kitchen tiles.
1. Ceramic Tiles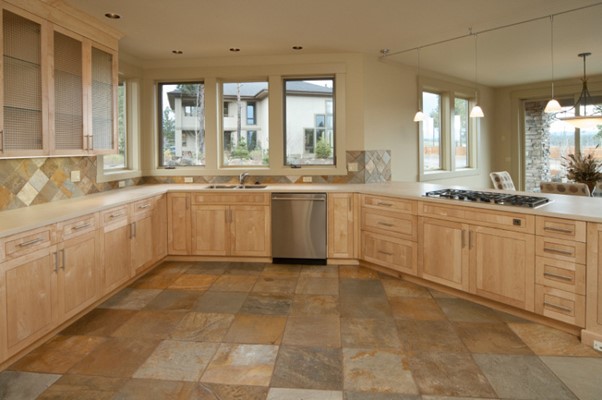 Ceramic tile is one of the most commonly used materials for kitchen floors. One of the main reasons why ceramic is popular is because it's a stain and water-resistant. For even more humidity resistance, you can use "glazed" ceramics. Ceramic tiles are extremely durable. The kitchen is where accidents are common, a dropped plate, pot, or any other object will not likely make any cracks in the floor. However, if, for some unforeseen reason, the tiles do get damaged, replacing them will be painless and cheap.
2. Porcelain Tiles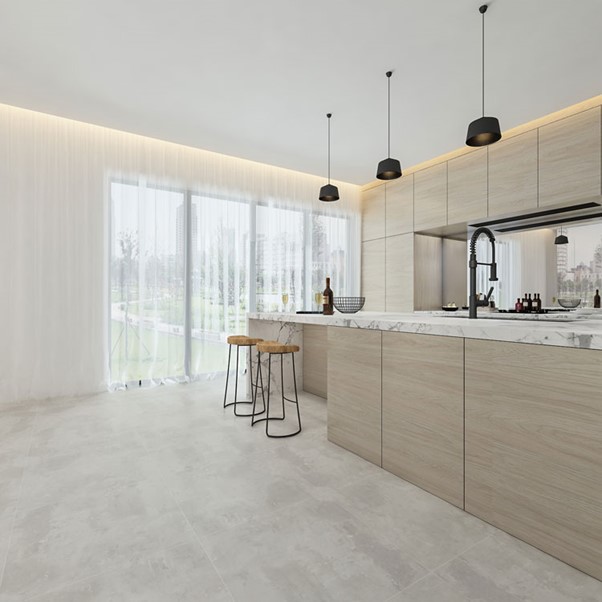 Porcelain tile, as mentioned earlier, are similar to ceramic tiles, yet they take water resistance and durability up a few notches. Porcelain tiles are one of the most durable kitchen floor materials. It's so strong that it can be used in high-stress environments and in commercial kitchens. Porcelain tiles have less than 0.5% water absorption rate. Porcelain tiles are also low maintenance. Cleaning them requires sweeping and mopping with a damp rag. When taken good care of, these tiles can last for several decades.
3. Travertine Tile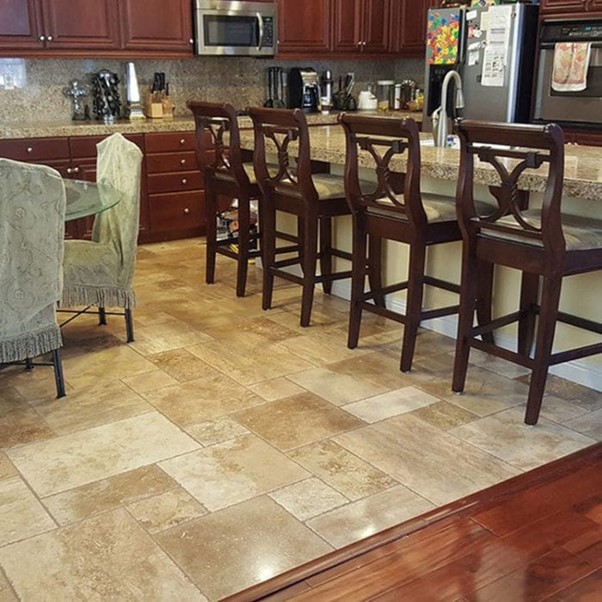 Travertine Tile is a flooring material, and it's becoming extremely popular in the kitchen. Travertine is a limestone type and has a natural charm that adds a rustic, subdued look to the whole interior. It's most commonly available in earth tones like rusk, tan and brown. Interestingly, these tiles are considered high-end luxury material. Though Travertine tile flooring does need care and maintenance, it has the potential to last decades. If you spend the right time caring for it, there is no doubt it can last a lifetime. Another reason why travertine tiles are so unique is that they are eco-friendly. It's 100% biodegradable, completely recyclable, and used in its natural form.
4. Slate Tile
Natural slate tiles are loved by the majority of home remodelers and renovators because of its natural beauty. Using this material for your kitchen flooring for a contemporary look reminds you of the world's natural wonders. Slate flooring is an interesting kitchen flooring option because every single tile is different from the other. No two slate tiles ever look the same in the world.
When it comes to style and looks, slate tile scores high in terms of functionality, it's durable and strong, standing well to scratches, cracks, chips, and more. However, slate tiles are resistant to water damage and stains. To increase its lifespan, these tiles require proper, regular maintenance. The biggest negative aspect of this flooring material is its price. These tiles are very expensive, especially the top-grade ones.
5. Marble Tile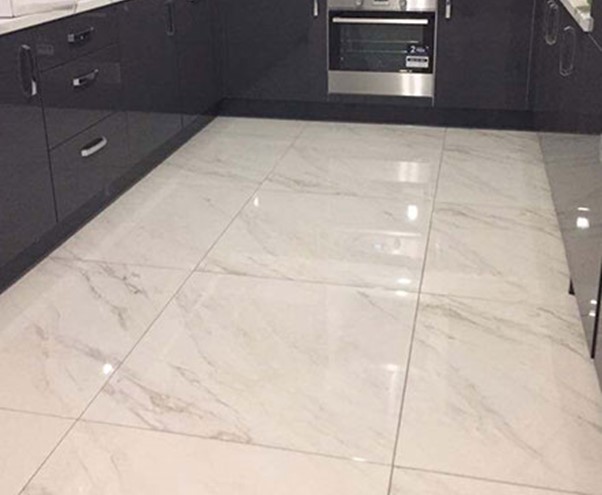 All modern kitchens have marble tiles as there are not many materials that do quite the job like this one. Marble tiles are, without a doubt, breathtakingly beautiful. It's long been a staple of ultra-luxurious and high-end kitchen where chic style is equally as important as the overall functionality. Highlights of marble tile are the wide variety of available colors available, and highly-polished appearance allows individual colors to shine even more dramatically and brightly.
However, before you decide on having marble as your preferred choice for kitchen flooring, you also need to know a few drawbacks as well. Despite being a highly-valued material, marble tile can be very slippery when wet. Marble tiles are also very susceptible to staining and scratching. To increase their lifespan, periodic resealing is required. The cost of marble and installation is very high, especially if you a complex design like a mosaic.
6. Onyx Tile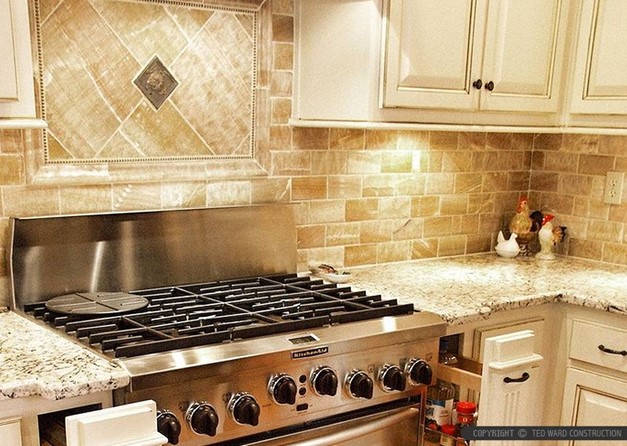 Another type of natural stone is Onyx that looks impeccable when used on the kitchen floors. Even though it is considered one of the most luxurious-tile materials, it is rarer than marble and granite. If you want a truly exotic look for your kitchen, these tiles would be perfect for you, hands down.
However, despite the sheer beauty, it is not the most highly considered tiles for the kitchen. The material is quite soft and not resistant to scrapes and scratches when exposed to regular use. Like all things in the world, if you provide them with proper maintenance, the lifespan can be expanded. In addition to regular resealing, onyx requires regular cleaning with special care for damage prevention.
7. Granite Tile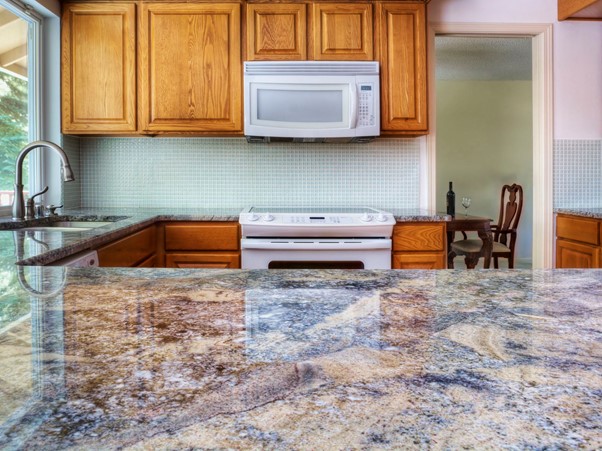 The best thing about granite is that it's available in different colors. The material usually has a mottled, natural pattern, and when granite is polished, it adds more brightness to the color contained in each tile. Another benefit of using granite tile is durability. It is one of the hardest natural stones to be used in the kitchen flooring. Granite is also stain-resistant and has the ability to uphold heavy impacts. A good choice for high-traffic kitchens that get a lot of wear and tear.
One downside of granite is when it is polished, it gets slippery. If you consider granite for your next kitchen project, be careful and consider other options, especially if you have little kids at home. Compared to mid-range kitchen tiles, granite tiles are slightly more expensive.
8. Quartzite Tile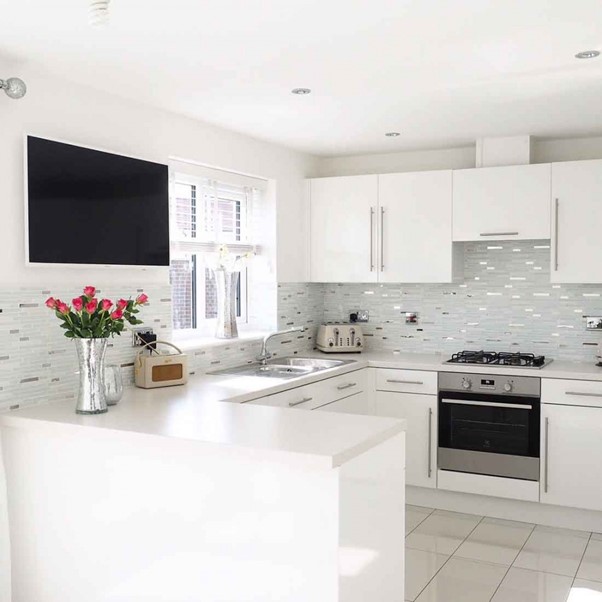 Quartzite or quartz has been a popular choice for kitchen floors for a long. The attractive flooring material is known for its opulent, shiny look. The elegant charm of quartzite has, makes it a popular modern kitchen tile material. Quartzite has a non-porous structure, which is mainly why it's so notable. The water absorption rate is also low, which adds more days, increasing the tile's longevity.
Another benefit of quartzite is material strength. The natural stone holds up to heavy impacts and scratches. Cracking or chipping is common. Lastly, quartzite is cost-effective compared to other types of natural stone tiles. It gives off a luxurious appearance without any major upfront investment. Like other smooth surfaces, shiny types of floor tiles, quartzite gets slippery when wet.
9. Cement Tile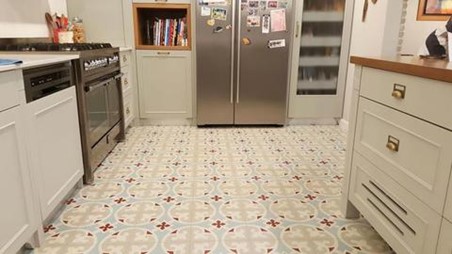 Not a very common kitchen tile choice, cement is still considered as a great choice for the kitchen. The material looks minimalistic, stark in several ways. A variety of color and design options give you more flexibility compared to other tiles in terms of how the finished product turns out. Cement tile flooring is the perfect balance of the industrial and modern design.
Like all materials, cement also has a fair share of setbacks. Chief among these is that it's porous, prone to scratching, and easily stained. We recommend hiring a contractor to increase the lifespan of this tile. You must do proper care and maintenance. Since the cement is not the most durable material, it needs to be installed by a professional. Cement is a mid-range tile, which means it's not very expensive but not that cheap as well.
10. Pebble Tiles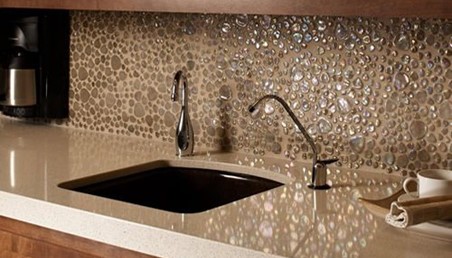 If you want a high-end and hip look for your kitchen, pebble tiles will be a perfect choice. One of the trendiest options available is that pebble remains a popular kitchen flooring option for a long time. The highlight of this floor is definitely its contemporary style. The tiles are made up of small pebbles (hence the name). These pebbles are mined naturally from the stone, and no two tiles ever look the same.
Like the sandstone tile, pebble tile isn't very smooth. Instead, the individual pebbles create a more textured finish. It also has the perfect amount of slip-resistance that helps prevent accidents.
Conclusion
If you have a major renovation or home remodeling project in mind, we highly recommend considering these options to give your home the look and aesthetic appeal it deserves. Take time before you decide which tiles will perfect for your home. After all, you are investing hundreds of dollars into it. Some tiles have special features for harmonious interior design. Once the right tiles for the kitchen have been selected, it is best to have them laid by a professional. Only with correctly laid tiles will your new kitchen shine in the most beautiful way possible.
Designation: Founder & CEO
Bio: A graduate of Ohio State University with an MBA in Business, Mike Belk has been in the tile and stone industry for over 20 years. Mike is the owner and founder of Belk Tile. He has become one of premier tile experts in the nation. Not only does Mike love every aspect of his job, he strives ensure your experience is the very best. He runs a successful blog and, when not immersed in the world of tile, is an avid golfer and wine maker. Mike enjoys interacting with customers and wants to hear from you today. Make sure to check out his podcast of Tile Talk by Mike Belk.
---