Posted by Mike Belk on Jul 26, 2023
Are you aware that the color of grout can make or break the visual impact of your tiles? It's true!
The perfect grout color can enhance the overall aesthetics of your tile installation. The wrong choice can lead to disappointment.
In this guide, we've shared practical tips and expert advice on how to select the perfect color grout for tiles. Read on and explore ways you can bring your tile project to life.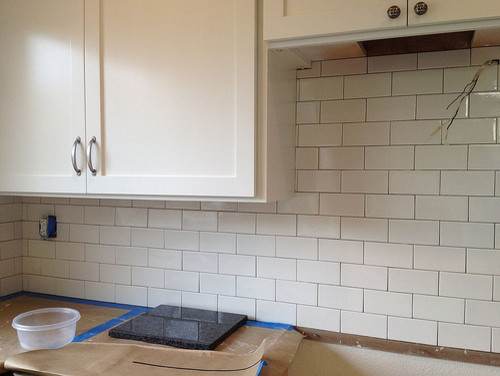 The Role of Grout in Tile Installations
Grout is an essential component of any tile installation. There are several types of grout, but it all serves the same purpose. Grout fills the gaps between tiles, providing stability and preventing moisture penetration.
You might wonder if you even need grout. If you're installing tile in a dry space with an extremely narrow amount of space between tiles, you could get by without it. Now, you're feeling a sense of relief because applying grout isn't the most enjoyable part of installing new tiles.
Before you opt for a no-grout tile project, please note that any job done without grout isn't likely to last. You may end up with cracking, uneven tiling, and the collection of debris between tiles.
Beyond its functional role, grout also plays a crucial role in enhancing the visual appeal of your tiles.
By choosing the right grout color, you can do one of two things. Either create a seamless blend or a contrasting effect. It depends on whether you want to highlight the individual tiles.
Enhancing Aesthetics: Why Grout Color Matters
The color of the grout you choose can dramatically impact the overall look and feel of your tile installation.
Light-colored grout creates a clean, spacious look. It can make a small space appear larger. In contrast, dark-colored grout adds depth and richness, which makes the tiles pop.
In 2023, a rising trend in decor is the seamless, uniform, monochromatic look. To get this look, choose a grout color that matches the tile.
By handpicking the grout color, you can create a harmonious visual balance between the tiles and the surrounding decor. Don't underestimate the power of grout color in transforming the entire look of your tile installation.
Factors to Consider When Selecting Grout Colors
Several factors come into play when matching grout colors with your tiles.
First, consider the material, size, and style of the tiles. Different tile materials and sizes may require specific grout colors to enhance their beauty. What works well for floor or wall tile, might not be the ideal grout color for backsplash tile.
Next, think about the overall style and mood you wish to create in the space. Contemporary or traditional, each style demands a different grout color approach.
Finally, consider the level of maintenance you're willing to undertake. Light-colored grout shows stains and dirt more easily than darker colors.
By thinking about these factors, you can make an informed decision on the perfect grout color.
Should You Blend or Contrast With Tile Color?
One crucial decision to make when choosing grout colors is whether you want a contrasting or blending effect. There is no right or wrong answer here because much of your decision depends on preference.
If you're hoping for that seamless, uniform look, choose a color that blends with the tile. Blending allows the eye to focus less on the tile joints and more on the design of the tile.
There's a trick to picking the perfect blend. Squint. If the grout disappears, you've got a match!
Maybe you don't want invisible grout lines. In that case, choose a color one or two shades lighter or darker than the background of your tile. This is a subtle move that draws the eye to the shape of your tiles rather than the grout lines.
A contrasting grout color can add visual interest. It highlights the individuality of each tile.
Some tile designs need a shout-out to truly shine. A contrasting grout color can help draw attention to the unique features of your design and layout.
A deep blue tile, while gorgeous, can be a bit much. It's easy to feel like everything, including you, blends into the background. Your grout color can change that! Go with a bright white grout and your tiles will stand out.
Imagine what you can do with plain, white subway tile by using black grout. The look is still clean and crisp but with a modern, graphic twist. Next, we'll take a closer look at picking the best grout color for subway tile.
Selecting the Perfect Grout Color for Subway Tile
Subway tile never goes out of style. It's chic, simple, and classic. The look you achieve with this timeless tile depends on the grout you choose.
White is one of the most popular colors for subway tiles. You can't go wrong with matching white grout. It helps keep the look of the design fresh.
If white-on-white sounds a little boring, think texture. The texture of the white grout will reflect light differently than the white tile. You won't lose the unique shape and pattern of the tile.
Sure, you'll see a contrast, but it's minimal. That means you can use other design elements in the room without causing competition with the tile.
What if you want the tile to stand out?
Go with a mid-range grout. Gray, tan, and greige are the colors that accent the pattern in your subway tile. If you choose the lighter shades of these colors, the tile will stand out, but not so much that it distracts from the overall design of the room.
Don't be afraid of drama!
Subway tile doesn't have to be quiet and neutral. Using dark grout makes white or light-colored tiles get noticed. If you've chosen a dark subway tile, a light grout color also adds a dramatic flair.
It's true that black paired with white can create too much drama. Your tile can still create a bold statement. Just choose a dark gray or brown grout.
What About Wood Look Tiles?
People who love the aesthetics of natural wood floors, but don't want the upkeep, have discovered wood look tile. Usually made from either porcelain or ceramic, these tiles combine the timeless look of hardwood with the durability of tile.
Wood-look tiles come in a range of colors and finishes. Natural wood tone samples, oak, birch, and walnut offer a classic look. Gray wood tiles create a modern, contemporary look.
You can also find wood tile in whitewashed or weathered finishes. One brightens spaces, while the other adds rustic charm.
If you want to add depth to a space, dark-colored wood tiles offer a dramatic contrast. They can also create a cozy, intimate atmosphere.
It might seem like choosing the right grout color for wood tile would be a challenge. It's not if you follow these guidelines:
Light Gray
A light gray grout can create a subtle contrast with wood plank tiles. Light gray provides definition without overpowering the natural wood tones.
Beige
Opting for beige grout can help create a cohesive look, blending well with the warm hues of wood plank tiles. It offers a softer contrast while maintaining a natural aesthetic.
Taupe
Taupe grout can bring out the earthy tones in wood plank tiles. It adds depth and warmth to the overall appearance.
Light Brown
Choosing a light brown grout can mimic the color of the wood. You'll enjoy a seamless look that allows the tiles to take center stage.
What if your wood tile has a lot of variations?
In this case, you'll want to choose a grout color that makes a seamless blend between the wood and grout. A mid-tone grout does the trick.
When you want each tile to stand out, but don't want to emphasize the grout, go with a grout color similar to the tile color.
Another way to create contrast between each tile is to choose a grout color that is the same as the darkest part of the wood. You can get the same effect when you pick a color that is the same as the lightest part of the wood.
Pros and Cons of Different Color Grout for Tiles
Choosing between light and dark grout colors deserves careful consideration.
Light grout, such as white or beige, is versatile. It can create an airy and open look. It also tends to hide dirt and stains better.
Note that light-colored grout may require more frequent cleaning to maintain its pristine appearance. Dark grout, like gray or black, can make tiles pop and add depth to a space. It is also less likely to show discoloration over time.
One disadvantage of dark grout is that it can highlight imperfections in the tile. Dark grout can also draw attention to unevenness in the tile installation.
Visualizing Grout and Tile Combinations
It's one thing to picture what your grout and tile combination will look like in your mind. The reality of the finished product may be significantly different.
That's where grout samples and small mock-ups using your chosen tiles come into play.
Place the grout samples against the tiles and observe how they interact. Pay attention to how the grout color affects the overall look of the tiles.
Look at the mockups in different lighting conditions. Most people understand that light matters when choosing paint colors. Natural daylight, incandescent, fluorescent, or LED lighting can all impact the appearance of grout colors.
Don't forget to seek inspiration from design magazines or online resources. See how others have paired grout and tile color.
Visualizing and exploring combinations will help you choose the right grout color.
Let the Experts at Belk Tile Help
Selecting the right grout color for tiles may take some extra time, but it's time well invested. By considering factors such as tile material, style, and the overall atmosphere you want to create, you can make an informed decision.
Whether you opt for a seamless blend or a contrasting approach, the right color grout for tiles will enhance the overall beauty of your project.
Belk Tiles would love to be your partner in choosing the perfect tiles. We invite you to shop from our eclectic selection of floor and wall tiles today. You'll be wowed by the array of colors, patterns, and styles.