Posted by Mike Belk on Jun 18, 2023
Nowadays, there are vast tiles available in the market for flooring. Today, we will discuss one of the best flooring options for your new home or apartment if you value wood-related aesthetics and prefer wood tile flooring.
Wood-look tile flooring has gained immense popularity in recent years, offering a perfect blend of durability and aesthetics. This innovative flooring option mimics hardwood's natural beauty while providing tile's practical benefits. This article is one of the complete guides for those who like woodwork in their special places. We will provide you with all details about the wooden flooring. So, if you are still here, then you must want to know about wooden tiles. We will completely guide you about wood-look tile flooring. Let's have a deep jump on wood tile flooring.
What is Wood Look Tile Flooring?
Wood-look tile flooring, also known as wood-look porcelain tile, is a ceramic or porcelain tile designed to simulate natural wood's appearance. Another name for this type of tile is wood-look tile flooring. Tile producers have created products that seem like different wood species because of technological advancements. These products have realistic grain patterns, knots, and color variations. These tiles, which normally come in the shape and size of rectangles, allow you to create various wood flooring designs, such as herringbone or plank patterns. There are also many other design options for your floors. Because wood can allow you to make vast designs by consulting and working with professionals, so don't worry. Wood tiles can make your flooring as good as you want.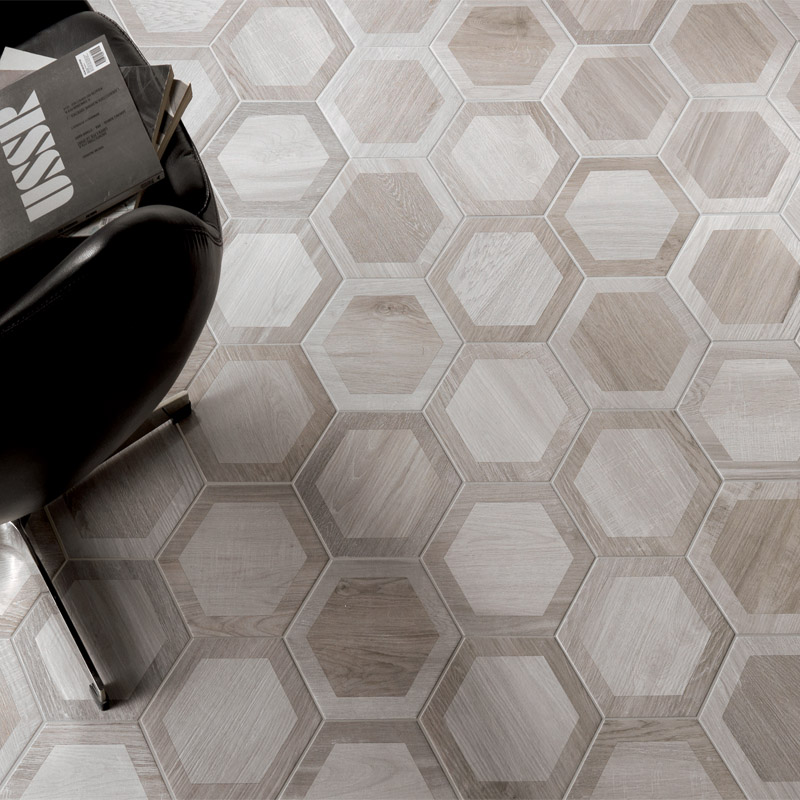 Options in Wood Look Tile Flooring:
Many types of options are available in wood, like tiles for flooring. Various options appeal to preferences and design aesthetics when considering wood-look tile flooring. Let's discuss the pros and cons of each of the available alternatives. So let's discuss which category you will find best for your house.
Ceramic Wood Look Tiles:
These tiles are composed of clay and minerals and rectangular to resemble natural wood slabs closely. These tiles offer a broad selection of styles, colors, and patterns, allowing homeowners to achieve the desired wood flooring aesthetic at a reasonable cost. Even though they may be less resistant to heavy impact and foot traffic than porcelain tiles, ceramic wood-look tiles are still a durable option for moderately trafficked areas. However, due to their low density and sensitivity to water damage, they are not recommended for high-humidity areas.
Pros:
Ceramic wood look tiles are generally more budget-friendly compared to others.
An attractive choice for cost-conscious homeowners.
Ceramic tiles offer diverse styles, colors, and patterns, allowing you to find the best fit for your design vision.
Cons:
They may be more likely to chip or crack than other materials.
Due to their lower density, ceramic tiles are not recommended for outdoor or high-moisture areas.
Porcelain Wood Look Tiles:
Porcelain wood appearance tiles are extremely durable and resistant to scratching, moisture, and erosion. They are appropriate for high-traffic locations and may be utilized indoors and outdoors. Due to its outstanding longevity and tolerance to high-temperature swings, porcelain wood appearance tiles provide a flexible flooring solution that blends the natural beauty of wood with the useful advantages of porcelain.
Pros:
Porcelain wood look tiles are highly resistant to wear, scratches, and moisture.
They are suitable for high-traffic areas, including commercial spaces.
They can withstand extreme temperature variations, making them a reliable choice for various environments.
Cons:
Porcelain wood look tiles generally come at a higher price than ceramic options due to their superior durability and performance.
The density and hardness of porcelain tiles can make the installation process more challenging.
Professional installation is often recommended to achieve optimal results.
Distressed Wood Look Tiles:
With its faded and worn appearance, distressed wood effect tiles have a charmingly rustic appeal. These tiles offer a distinct texture and personality, which makes them perfect for homeowners trying to create a warm and welcoming ambiance. They are a sensible option for high-traffic areas or households with kids and dogs because the distressed surface helps hide indications of wear and tear. However, the rustic style might only work with some design plans, especially for a more modern or minimalist appearance.
Pros:
Distressed wood look tiles provide a weathered, aged appearance, adding character and a cozy ambiance to your space.
The distressed finish helps conceal scratches, dents, and other signs of wear and tear.
Cons:
The rustic aesthetic of distressed wood look tiles may not suit modern or minimalist design schemes.
The texture of distressed wood look tiles may vary, resulting in an uneven feel underfoot.
Traditional Wood Look Tiles:
Traditional wood-look tiles replicate the elegant traditional values of hardwood floors. They enable homeowners to create a classic and elegant aesthetic because they are offered in various forms and finishes. These tiles have a flexible design that complements several interior design styles, from traditional to transitional. The same touch and warmth from real hardwood may not be replicated by typical wood appearance tiles, despite how closely they resemble real wood.
Pros:
Traditional wood look tiles emulate the classic beauty of hardwood, bringing a sense of elegance and sophistication to your space.
These tiles can allow for greater flexibility in design choices.
Cons:
While traditional wood look tiles closely resemble real wood, they may not replicate the exact texture and warmth that natural hardwood provides.
The grout lines between traditional wood-look tiles require regular cleaning and maintenance to prevent dirt and grime buildup.
Exotic Wood Look Tiles:
Exotic wood-look tiles replicate the luxurious and distinctive appearance of uncommon wood species. These tiles give every room a hint of richness and a design focal point. Homeowners can appreciate the beauty of exotic woods without causing deforestation or harming endangered animals by using exotic wood appearance tiles. The higher cost of these tiles must be taken into account, and they must also fit with the general design scheme of the room.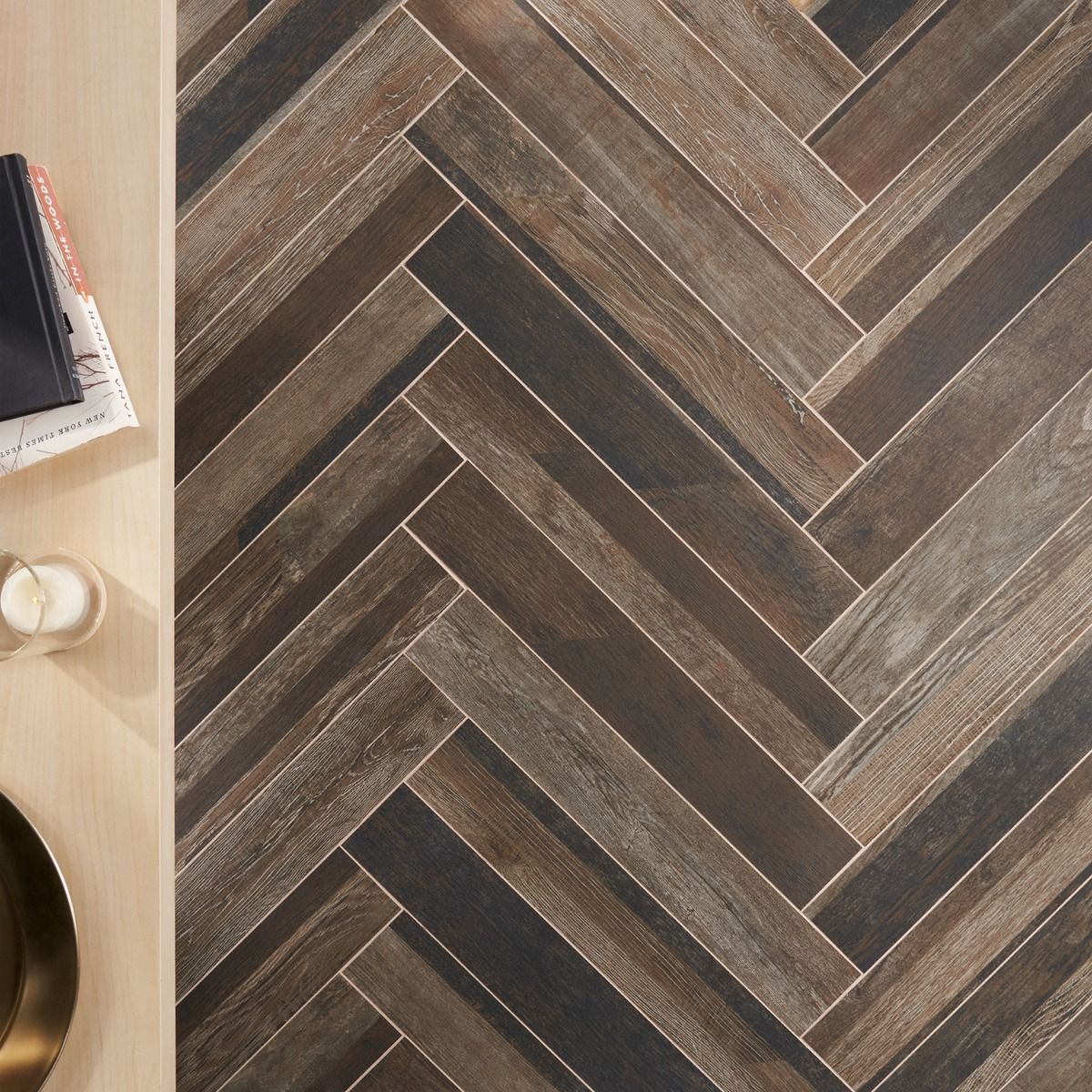 Pros:
Exotic wood look tiles capture the allure of rare and high-end wood species, bringing a touch of luxury and uniqueness to your space.
By opting for exotic wood look tiles, you can enjoy the beauty of exotic woods without contributing to deforestation or harming endangered species.
Cons:
Exotic wood-look tiles are frequently more expensive.
Selection Of The Suitable Wood-Look Tile Color:
There is plenty of color and design options when purchasing floor tile. You can choose a tile hue to match every room, from light beige to deep mahogany to camel brown. The trick is to pick a hue that will stay consistent with your decor and overpower the room. Choose matte porcelain tile in soft, neutral colors like beige or gray if you want a more natural appearance. Consider options like dark brown wood appearance porcelain tile if you want to make a statement.
Make sure you choose an option you adore because this tile should last many years.
Other Wood Flooring Options That Are Budget-Friendly:
As previously mentioned, numerous floor coverings can be manufactured to resemble real hardwoods. Are you looking for something a little less expensive than kiln-fired tile? Consider luxury vinyl, laminate, or cork.
Remains of flooring are another choice. The high-quality materials that are left over from larger goods are available at Floor Factors at all times. This frequently includes tile and hardwoods, which you may purchase at a small fraction of their usual cost.
Conclusions:
Because it combines the ageless beauty of wood with the durability of tile, wood-look tile flooring is an excellent alternative to conventional hardwood flooring. This is because wood-look tile flooring simulates the appearance of wood. Even though it does not have the same look and feel as real wood, it is still a good alternative for homeowners looking for long-lasting flooring that requires little upkeep because it has several benefits. You can give your room any appearance because of various styles and finishes.
Consider your needs and preferences when choosing if wood-look tile flooring suits you. Wood-look tile flooring can be a great choice if you want something long-lasting, easy to clean, and versatile in design. If you prefer the appearance and feel of real wood and are prepared to maintain it regularly, hardwood flooring is preferable.
The decision ultimately comes down to your preferences, your budget, and the requirements of your house. You may gather crucial information and decide to suit your living space needs by speaking with a flooring professional.