Posted by Mike Belk on Jul 26, 2023
Experts agree that if you use on-trend tile styles, hard surfaces can improve your home's appeal and add more value than carpets. Looking to give every room in your home a makeover?
Floor tiles are the perfect way to bring life and style into any room of your house. Whether it's a kitchen, bathroom, or hallway, there are so many great tile flooring ideas.
Create an elegant look or modern feel with ease or even an inviting space for family gatherings. There are many options to make any room in your house look like a palace.
Start exploring the best mosaic tiling options, unique patterned designs, and ceramic tile flooring today. Learn about floor tiles for all rooms to help you find the best flooring solution.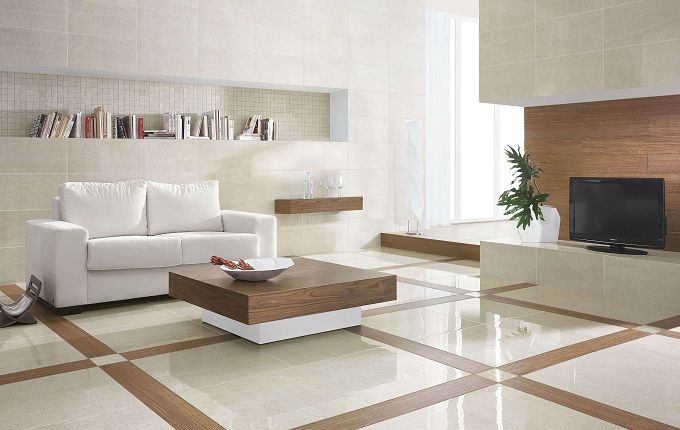 Advantages of Using Floor Tiles
Floor tiles are a great way to add style and sophistication to any room. Not only do they look great, but they also offer many advantages:
Tiles are easy to clean and maintain all you need is an occasional mop or sweep
They're durable and can last for years with proper care
Tiles don't absorb moisture from spills
Different types of floor tiles come in numerous colors, textures, and patterns to match any decor
Tiles are also resistant to fading and staining
Floor tiles are also an eco-friendly option as they don't require harsh chemicals or solvents for cleaning and care
Exploring On-Trend Tile Styles
If you are looking to create an instant upgrade, consider the latest tile trends. There is a great selection of floor tiles for every room in your home that will help you create the perfect look.
For example, if you are looking to give your kitchen a modern makeover, try classic subway tiles or bold geometric designs. In bathrooms, opt for large-format tiles or a mix of tile sizes to create an interesting look. In bedrooms, you can choose from wood-look tile, stone tile, vinyl tile, and more to get the perfect feel for your space.
Bathrooms and Kitchens
Tiles are perfect for bathrooms and kitchens, as they can stand up to water and moisture. You can find wall tiles for your shower walls, kitchen backsplash, or countertops that will add a luxurious touch.
Living Spaces
A tile is also an excellent option for living rooms. Go for a unique look with patterned tile or choose something more neutral if you prefer a timeless look. You can also create an accent wall with ceramic or porcelain tile that will instantly update any room.
Hallways and Laundry Rooms
Tile is a great choice for hallways and laundry rooms, as it can withstand the wear and tear of everyday traffic. Choose from a wide range of colors to create an inviting atmosphere or opt for neutral tones to achieve a more classic look.
Different Floor Tile Materials
If you're considering using floor tiles, one thing you'll want to think about is the material. Thankfully, there's a wide range of materials suitable for every room of the house and aesthetic.
Ceramic and Porcelain
These are two of the most popular options for their durability and range of colors and patterns. Porcelain is the denser, stronger option, while ceramic is more affordable.
Stone Tile
For a natural look, try stone tile. It is available in either polished or rough finishes and provides a great look for traditional décor.
Vinyl Tile
If you're looking for value, vinyl is an economical option. It comes in a variety of colors and textures to match your style.
Wood-Look Tile
Wood-look tile is a great way to add character and warmth to any room. It offers the beauty of wood but with the durability of tile.
Ceramic vs. Porcelain vs. Stone Tiles
Ceramic and porcelain tiles are both made of clay that has been fired in a kiln. Ceramic tile is generally lower-priced than porcelain tile, but it can also be more easily scratched or cracked. Porcelain tile is denser and stronger than ceramic tile, making it less susceptible to damage.
Stone tiles come in many varieties such as slate, marble, quartzite, travertine, and granite. They offer durability and natural beauty to any space, but they are generally heavier than other types of tiles so you'll need to reinforce your floor before installing them.
Stone tiles also require more upkeep as they must be sealed regularly to protect against stains or moisture damage. Additionally, stone can be more expensive depending on the type chosen.
Choosing the Perfect Flooring
Although any of the above types of tile could be used in any room, there are some considerations you will want to make before committing. Here's our professional opinion of what type of tile works best in each room.
Kitchens and Hallways
The floors in kitchens and hallways endure a lot of wear and tear. Therefore, these floors require extra durability.
While wood is a popular aesthetic option, it is not very durable. Wooden floors are more susceptible to dents compared to other materials. Additionally, foot traffic can easily damage the finish of wood floors.
Porcelain tile is a great choice for high-traffic areas because it is scratch-resistant. It can even withstand light objects falling on it, like utensils. It comes in a variety of styles to suit any decor, such as traditional-looking tiles for a 20th-century house or faux ash planks that look like real wood.
Cleaning tile is also easy, requiring only vacuuming and mopping, and it will last a lifetime.
Bathroom & Laundry Room
The floors in these rooms are not affected by heavy foot traffic or constant sunlight. However, they are susceptible to liquid damage. Water from bathing and drips from showering, plus overflowing toilets can cause harm to the flooring.
If you prefer real wood, you should still consider porcelain tile for your bathrooms and laundry room. The tile is durable in wet areas and allows for modern, curbless shower designs. To prevent slipping, opt for a textured tile rather than a highly polished one.
Dining, Living & Reception Rooms
Furniture, pet claws, and stiletto heels can all damage wood floors, which are usually used in these areas. However, wood does make common areas cozy.
Although solid wood is the most aesthetically pleasing, it can be susceptible to damage. It also needs more maintenance than tiles.
A good compromise is to find a porcelain floor but with a wooden effect. That way, you can benefit from the resistance of a porcelain tile, but the aesthetics of wood. Porcelain tiles that look like wood come in a variety of different designs, such as distressed planks or stained oak. They are also available with features like embossed textures to give them an even more realistic feel.
Enclosed Porch or Sunroom
If your porch isn't well-covered, the floor will likely be exposed to harsh sunlight and rain. Additionally, a concrete subfloor may limit your flooring options since you can't nail planks directly into it. You may also need to consider storage for recreational equipment and the effects of freeze-thaw cycles if the porch is a multi-season room.
Porcelain tiles are a highly durable material that can withstand most of the wear and tear in rooms like the porch. These tiles come in different designs that imitate wood, stone, and even handmade ceramic tiles.
This makes them a great choice for casual settings. However, if your porch is not fully protected from the weather or has no heating, it's important to choose tiles rated for outdoor use in your area.
Bedroom
Using wood-look tile in rich tones is an effective way to add warmth to the bedroom's tiles. Manufacturers have improved their ability to create tiles that resemble oak, birch, walnut, cherry, pine, and other kinds of wood, with various stains. When these tiles are shaped like planks, they can look very realistic.
Wood-look tiles come in a variety of sizes. Generally, larger-sized planks make the room appear more spacious, while smaller planks create a cozier atmosphere. The texture of these porcelain tiles can also be adjusted for a more rustic or polished finish.
Floor Tile Ideas
Here are our top suggestions for the most on-trend floor tile ideas you can try in your home. They could work in any room of the house.
Patterned tiles create a feature wall or floor with patterned tiles to add texture, color, and interest
Geometric designs embrace geometric shapes such as hexagons, diamonds, and triangles for an eye-catching design
Faux wood uses porcelain wood look tiles to achieve the natural appeal of hardwood without the maintenance
Mosaic tileschoose colorful mosaic tile patterns for a unique decorative effect
Vintage herringbone - bring an old-world feel to any room with classic herringbone tile layouts in muted tones
Looking for a Great Selection of Floor Tiles?
Floor tiles are a great way to add warmth, texture, and color to any room in your home. Whether you're looking for patterned tiles, geometric designs, or faux wood, there's something to suit every home style.
If you're searching for the best selection of floor tile ideas, look no further than BELK Tile. With an extensive range of styles available online in their online shop. They have everything you need to create the perfect floorscape.