Posted by Mike Belk on Jul 08, 2019
Without a doubt, mesmerizing patterns and vibrant colours have become the current trends of today's decorative tiles. That is why you will find homeowners everywhere snapping up the tiles creatively in order to express their preferred taste of style. The main reason is that these decorative tiles have a dramatically artistic way of transforming every aspect of your home.
This ranges from backsplashes, bath surrounds, table tops, to stair risers and floors among others. You will be surprised how the decorative tiles can transform what you know as an ordinary surface in your home to the very highlight of the room. Hence, the decorative tiles are just what you need to bring in such a vibe of style in your home.
Actually, you will be surprised to discover the wide array of designs, shapes and sizes you have with decorative tiles. Therefore, you get to create that unique look in every room of your home. While some of these decorative tiles could be standalone tiles, others always work best when fit together to form an exciting pattern.
All in all, before getting started on all this decorative path, you need to take a minute and consider the lighting patterns in every room. Take note of the darker spaces and strategically use interesting accents to make such areas look more alive. Above all, make sure the style, texture and colour combination of the tiles you choose is right for your intended setting.
13 Exciting Ways of Adding Style to your Tiles
1.Enhance the Entrance
Most homeowners will agree with me on this, tiles are always the best choice if you want to create the ideal hallway's grand entrance. They make an excellent and sturdy choice since they will hold up well with heavy traffic. More to that, they also have an endless list of colour choices and patterns.
However, you need to understand that wet tiled floors could be dangerously slippery. That is why it is advisable that you consider using a doormat with rubber underside. This is the best way to prevent any accidental slips.
2.Consider Spectacular Graphics
In most cases, your goal design and budget can at least help to guide you on the decorative tile styles to choose. For instance, when you need to cover a very large area, spectacular graphics tile could do the trick.
You can create a crisp backdrop on the floor of your home office with geometric black and white tiles. Besides that, you can surround the floor with all white shelves. This will present you with a chic outlook enough for hosting even client meetings.
Also, you can boldly use graphic black and white tiles for the kitchen backsplash. The backsplash could be extended to the adjacent wall. In such a case, you could use very thin grout lines. This will help the tiles to appear uninterrupted in a fancy and amazing way.
3.Featured Indoor and Outdoor Wall
There is more than one way to create the focal point in your home. And one of them is to create more room for tiles on the statement walls. In such cases, you can consider using colourful and cool tiles that will create an impression of your personality. Having such a tiled feature wall in your home could make the ultimate focal point.
You could also create such a focal point by using a tiles extension from a bedroom wall to the patio outside for instance. Maybe with a sliding glass door to separate the two. The repetition of the same tile pattern in the outdoor patio and indoor bedroom wall enhances a certain type of flow that makes the room feel more classy and expensive.
4.Expand the Possibilities
Most people perceive decorative style tiles as a thing for backsplashes. However, you need to expand the possibilities. You could extend the decorative tiles used for the backsplash to the island snack bar in your kitchen.
Hence, it gives you a dynamic yet durable surface that can withstand scratches and shoe scuffs. You will agree with me that most of the tiles designed for backsplash purposes are made to withstand scratches and any forms of dings.
5.Still a Goldie in Flooring
If there is one decorative tile style choice that will never get old is the use of tiled floors. Besides offering a beautiful walk on in any room of your house, they offer a durable surface that will serve you for quite some time.
More to that, the tiles are easy to clean. For that reason, you don't have to worry about staining and aggressive scratches. Also, the tiles stay pretty cool under the feet even when the room temperatures are too much.
All in all, if you live in a brisk fall or winterish climate, you can consider finding tiles that have a material perfect for the radiant heating system. This ensures the floor remains warm even when the temperatures are very low. Imagine getting out of the shower during winter then stepping into a warm tiled floor. Isn't this a heavenly feeling?
6.Be Creative with the Fireplace
Sometimes you just need to think outside the box a little to get the ideal tiled designs in your home. For instance; you'd be surprised what you can do with a clean-lined fireplace. Especially one that extends all the way up to the ceiling. This creates the ideal canvas for you to play around with diverse tile colours, shapes and patterns.
This is where you choose your favourite tile patterns then you get to mix and match the designs in a fun way. You want the fireplace to be the focal point of the room, right? Well, then don't be afraid to experiment even with some bold colours and patterns. You'll be surprised how that will create an interesting contrast, especially in a neutral colour painted room.
7.Breathe Some Life to Your Backsplash
It might seem quite a normal thing to have tiles on the backsplash. However, spicing up the backsplash could give a completely new vibe to your room. Imagine getting some patterned tiles in a warm colour. This will be definitely a richer and more interesting choice for the kitchen backdrop.
You will notice that this will make things more fascinating when you get to use solid hue tiles. And you can make this even better by adding some rustic floating wood shelves over the tiles. This will increase the warm and rustic feeling in the room.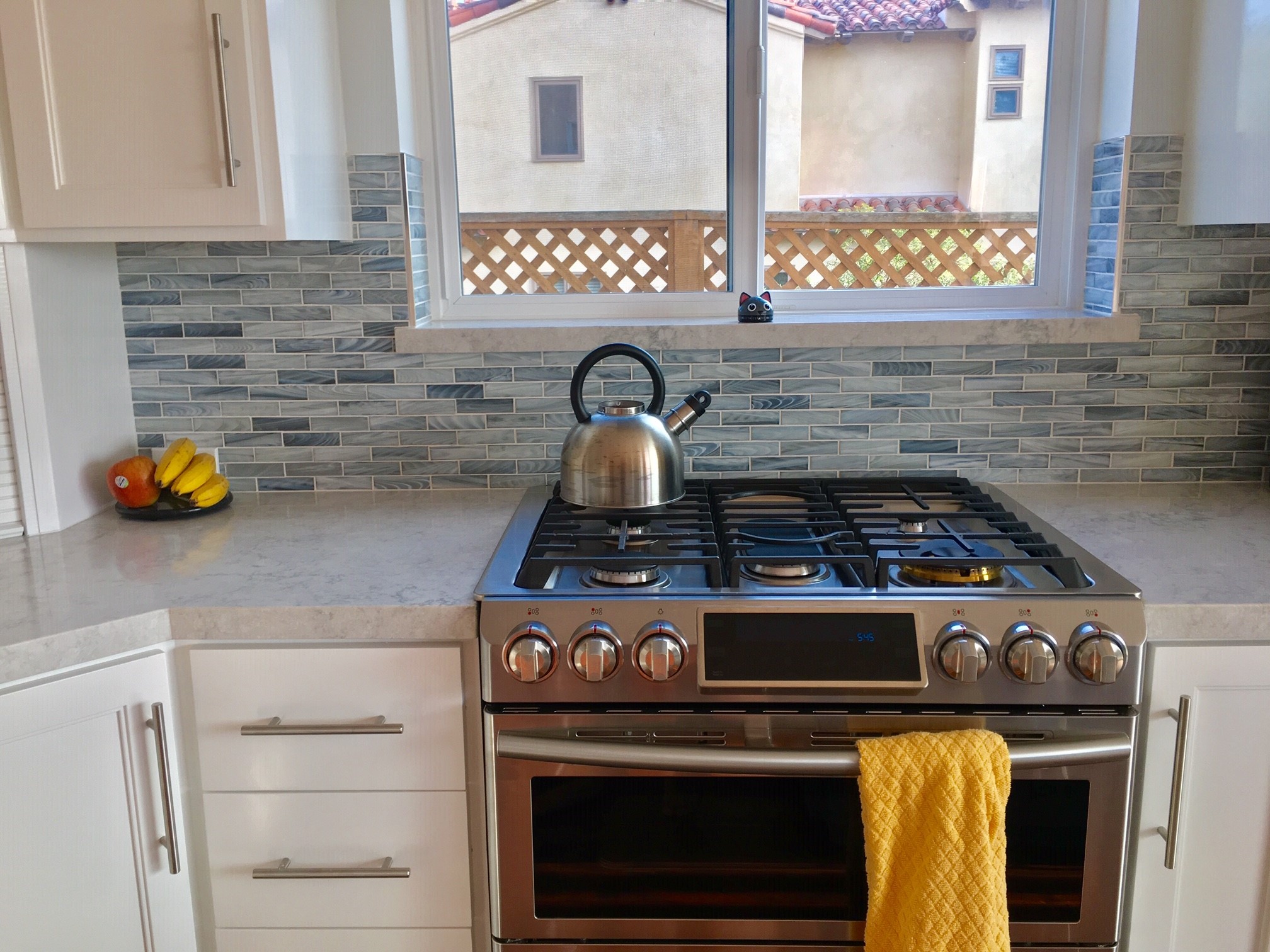 8.Do Something with the Entry Staircase
This is something most people don't know but you can make your entry staircase more memorable to your guests. In case you are wondering how to achieve this, then try out the decorative riser tiles. And maybe you could also decide to go a bit old school and have each one of those riser tiles feature different patterns.
In most cases, it's better if you go for those hand-painted tiles that tend to create an ascending patchwork of style and colour to greet anyone who goes through the front door. The good thing with riser tiles is that they are highly durable and the paint doesn't get scratches easily. All in all, these riser tiles cannot withstand the rigours required on the countertops and floors. This makes them only good for random accents.
9.Try Out Some Vintage Look
Where everyone goes wrong is thinking that every decorative tile they use needs to come out of the shelf. Well, not all the decorative tiles that you use need to be new. You will be surprised what you can do with some classic accent tiles. They will bring a worthwhile timeless charm to your targeted part of the room. For instance, the fireplace.
These vintage decorative tiles can be acquired in antique stores, garage sales, estate sales among others. The best thing is that you only need a few of these to enhance the look. Let's say maybe a few mismatched or broken tiles will do the trick.
More to that, you can use vintage tiles more as relief tiles. In case you are wondering what this is, relief tiles are used to add a uniquely striking accent to the tile designs. In most cases, this is done with some raised or recessed patterns.
All in all, if you are going to use these vintage look tiles, you need to up your cleanliness game. The texture of these tiles makes them relative tough to clean. For that reason, they are always better for accenting a wall design than maybe ornamenting the floor.
10.Strike that Band
In most cases, you might feel like it's the number of decorative tiles that you use to make the difference. Well, as much as there might be some truth to that, sometimes it's not always about the quantity. Sometimes it's about how you use the tiles that you have.
For instance, you can create a band of grey, white and black tiles on the countertop shelf of either the kitchen or the bedroom. This without a doubt will introduce an eye-catching pattern that will be the highlight of the room.
In such a case, however, the cost of labour and installation process might be too much. That is why you need to look for mosaic tiles that are already assembled then secured to mesh sheets. This way, you will save on time and cost of installation too.
11.Jazz Your Bathroom Up
The other great way of adding unique style to your tiles is by repeating the same tile colour and graphic on the walls and floor. Especially with the black and white tiles, this tends to create a fresh and modern look that you will never regret. This look is ideal, for instance in the small city apartment bathrooms.
You can also maybe break the tile patterns with a complementary pattern on the small shower circle. In this case, you could also use a full glass enclosure that helps to highlight the surface. This display serves as the ideal focal point for the bathroom.
12.Add Some Shimmer with Shinning Tiles
In some instances, the shimmer in the decorative tiles is the jewel you need to make a difference. The iridescent glass tiles will bring in those dramatic dimensions to the backsplash in your kitchen. Although glass tiles are more of old school accenting designs, there are also modern patterns and styles that will fit into your modern home design.
Besides that, there are certain aspects of the glass tiles too that will be a plus for you. For instance, glass tiles tend to be non-porous. This means that they are very easy to maintain and clean. However, most of the glossy tiles are likely to have scratches very easily.
For this reason, such tiles are not the best for countertops or even floors. This means that, if you have to use glossy tiles in your designs, you can only use them for accent walls. There is more than one way in which you can incorporate the style designs.
It can either be in a row or band on the backsplashes, stair risers or even walls. The best thing is that there is a wide array of designs, shapes and colours that you can choose from. In fact, you can also get some of the heat-moulded varieties that come with creative three-dimensional textures.
13.Abstract Designs
When it comes to creating patterns with decorative tiles, your only limitation is your imagination. For instance, you can make something creative at the same time classy with a mixture of earthy colours in different shapes. It can either be circles, rectangles or even squares.
The end result with such abstract designs will probably give you a design that reminisces an abstract painting. All in all, such tiles design needs careful installation. And since some of the tiles used in this case may intersect, you need to invest highly on the labour costs.