Posted by Mike Belk on Oct 21, 2016
The kitchen is probably regarded as one of the most important areas in a house. It's just like the heart of the house. A house is not complete without it. It is one of the first areas a potential house buyer checks out when choosing his or her new home.
When the buyer first comes in the kitchen, those elegant stone countertops, sleekly painted cabinets and those exquisite backsplash tiles may compete for his attention. Yes, those tiles for kitchen backsplashes that just have a really simple yet very much important function in the kitchen do grab anyone's attention and are fully appreciated especially if those tiles are unique, stylish and attractive.
A backsplash is just some sort of covering placed on the wall behind a kitchen countertop, sink or stove to protect the wall from water, grease and any other liquid splashes, and also to make cleaning much easier. Just imagine how much damage a kitchen wall could get without a backsplash protecting it. It makes the kitchen easier to maintain, too.
Homeowners and designers often choose to use tiles for kitchen backsplashes because they are easier to install and provide more design flexibility. Considering the role that the backsplash plays in the kitchen, it is important to set the bar high for choosing tiles to use for it. When it's time for you to choose, just don't forget to consider these reasons: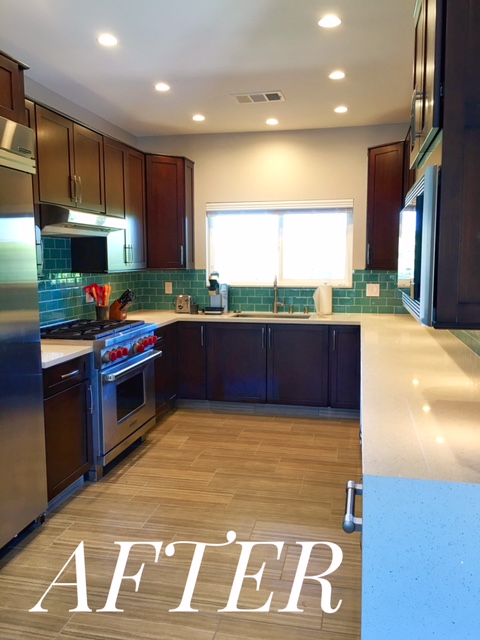 1)To give your kitchen the character it deserves
The use of tiles for kitchen backsplashes is undeniably very common so chances are you may have used the same tile as your neighbor. Your kitchen backsplash may look like a copycat of someone else's because you used the same tiles or even the same tile pattern. If your backsplash is no different from the others, then it's just plain and boring. Your kitchen will have no character at all. It doesn't stand out from the rest.
But of course, you don't have to reach that point. There is a wide variety of tiles for kitchen backsplashes to choose from especially now that remarkably beautiful kitchen backsplashes have become a trend in home design. With choosing a unique and stunning tile for your backsplash, your kitchen will effortlessly radiate its very own character.
2)To make your kitchen more inspiring and invigorating
The kitchen gives off an impression as being the busiest area among the rest of the house. But it doesn't mean being in the kitchen will not leave you feeling inspired and invigorated. Just the right selection of tiles for kitchen backsplashes may do the trick.
Light and neutral tile colors and minimalistic tile patterns will make your backsplash look easy on the eyes and make your kitchen give off that cozy feel to it. Looking at pastel colored tiles and quirky tile patterns may unleash your creativity and give your kitchen a bold statement. Whatever your preference is, it is not impossible that your stay in the kitchen will be a relaxing and refreshing experience.
3)To have a more durable and long-lasting backsplash
It is always good to see a beautiful kitchen backsplash but it will be nothing if it does not serve its main purpose and that is to stand through wear and tear. Durability of a kitchen backsplash must always be considered before aesthetics.
The quality of tiles for kitchen backsplashes must always be checked before buying and installing them. Consider what the backsplash constantly goes through. It is always up against moisture, heat and dirt especially if your kitchen is a busy one. There is no good in having a beautifully designed backsplash that will not last for even a year.
Always keep in mind what your backsplash is for, the reason why you need to have it in your kitchen, its true function. Kitchen backsplashes are not just some decorative elements in the kitchen. It serves a very important purpose and that is to protect your kitchen wall from wear and tear. So when choosing tiles for kitchen backsplashes, make sure that they are of the best quality to make the most out of its function. They need to be durable, decorative and low-maintenance.
5)To make your kitchen the center of attraction
The living room is the center of the house because it is where most people gather and entertain that is why it is only suitable to place the focal point there making it the house's center of attraction. But if you want to try something new, why not make your kitchen the center of attraction instead? Grab your guests' attention by having a backsplash with that wow factor. That can be achieved by using tiles for kitchen backsplashes that really stand out. Make the backsplash the focal point of your kitchen.
6)To create a timeless piece of art using your backsplash
Trends are constantly changing and it gets faster as time goes by. Sometimes, it could get hard to keep up. There is nothing wrong with keeping up with the latest trends but sometimes constantly changing your backsplash design could get too expensive. It's not practical anymore and not worth your time and money. Maybe instead of keeping up with the latest trend, you could set the trend of having a timeless piece in your kitchen and that is in the form of a backsplash.
The key to having that timeless kitchen look is by selecting tiles for kitchen backsplashes that have that quality. Choose a tile that has a mix of a classic and modern vibe for a backsplash that will stay as a conversation piece through the coming years.
Reasons for setting the bar high for tiles for kitchen backsplashes are not limited to the previously stated reasons. Building a character, making a statement, sparking creativity, emphasizing a focal point, assuring durability, and maximizing function are just some of the many other possibilities to set the bar high for your tile.
Whatever the reason is, it's all up to the people who live in that house to make their kitchen their own. The backsplash is just one small element. In the end, every kitchen backsplash tile placed on the wall would achieve its maximum potential if it's given a personal touch. Just like a house will never be a home without happy homeowners living in it.
Designation: Founder & CEO
Bio: A graduate of Ohio State University with an MBA in Business, Mike Belk has been in the tile and stone industry for over 20 years. Mike is the owner and founder of Belk Tile. He has become one of premier tile experts in the nation. Not only does Mike love every aspect of his job, he strives ensure your experience is the very best. He runs a successful blog and, when not immersed in the world of tile, is an avid golfer and wine maker. Mike enjoys interacting with customers and wants to hear from you today. Make sure to check out his podcast of Tile Talk by Mike Belk.
---