Posted by Mike Belk on Jan 24, 2023
Your bathroom needs an update. Right now, it's not a place where you can relax after a long day or give yourself a spa treatment after you've had a hard week.
But total bathroom renovations can get quite expensive. The average price can fall between about $6,000 and $16,600, depending on what projects you're trying to tackle in your renovation.
However, there are a few ways that you can transform your bathroom without spending a fortune. New bathroom tile can give your bathroom a whole new look for much less than a total renovation.
In most cases, you'll have to pay for the tile itself as well as the labor cost if you have a professional install the tile. But you can also save on the installation because many tiles are easy to install yourself, so it's a great project for a DIY homeowner.
If you're looking to give your bathroom a refresh, get inspired by these ten bathroom tile ideas.
1. Highlight the Shower
Interesting tiles can be a great way to draw attention to a feature in the room. Use the tile to highlight one of the most relaxing spaces in the bathroom: the shower. Use a different tile in the shower than you do in the rest of the bathroom to create a focal point.
You can do this by using two different colors. White in the rest of the room and bright color in the shower will instantly draw attention. You can also change the shape and size of the tile from space to space.
Rectangular tiles in the bathroom and round tiles in the shower will create visual interest, as will choosing smaller tiles for the shower and larger ones in the rest of the bathroom. Play around with unique combinations to create a custom bathroom design.
2. Go Up to the Ceiling
Who says that tile has to stay on the floor or on the wall? You can continue the tile up to the ceiling for a unique design feature.
With this design idea, however, you want to be careful about overwhelming the space with tile. You won't want to tile the entire ceiling as that might be too much tile.
Instead, choose a section of the bathroom to highlight, such as around the vanity, in the shower, or around the tub. Then make a feature wall with tile and continue the tile up to a portion of the ceiling.
3. Pebble Tile Reflect Nature
Pebble tile is exactly how it sounds. These are small, organically shaped tiles that mimic the look of pebbles found in nature.
Traditionally, they come in natural colors in shades of brown, tan, gray, and white. But there are also variations that include all-white tiles.
Using these tiles will bring a natural element to your bathroom. Connect with nature and create a very serene atmosphere with this type of tile. Traditionally, these tiles look great on the floor of the shower, but you can also use them throughout the bathroom.
Pebble tiles are also a great way to add texture to a bathroom design. And paired with other natural tones like wood, they'll create a stylish, nature-inspired space.
4. Dark and Moody
Light and airy has been a trend for many years. But, currently, a dark and moody aesthetic is on the rise for interior design. Using deep, vivid colors creates a visually interesting and unexpected space.
Don't be afraid of using dramatic colors like black to create a designer focal point. Black looks sleek and modern. And being a neutral, it can be a timeless option that will remain beautiful for years to come.
To add a little color, consider dark blues, greens, reds, and purples. Pair them with other dark features around the bathroom, like dark wood and accessories.
5. Go Graphic
If you're looking for a way to add more pattern to the space, consider a bold, graphic tile. Printed tiles will make your bathroom stand out from the crowd.
Consider geometric prints for a more modern look. These look great on the floor of the bathroom.
There are other modern printed tiles with graphic and organic shapes. Art deco-inspired prints like shells, diamonds, and arches have been trending as a fun way to incorporate graphic designs.
Or you can also look for traditionally printed tiles that have floral motifs. You can also look for printed tiles that, when put together, create a larger image that's similar to wallpaper.
6. Combine with Wallpaper
Speaking of wallpaper, combining it with tile will create a beautiful look. Wallpaper can add a pop of pattern and color in a soft way that complements the look of tiles.
Consider putting tiles halfway up the walls and putting wallpaper on the upper half of the wall for a modern take on wainscoting. The key to combining these two elements is balance.
You want to choose a wallpaper and tile that complement each other but aren't exactly matching. If the wallpaper is heavily printed and colorful, you may opt to choose a tile that is neutral and isn't printed. But that doesn't mean you can't do color on color. Pull an accent color from the wallpaper for the tile.
7. A Bold Pop of Color
For some people, an all-white bathroom isn't relaxing; instead, it can feel sterile. That's where a fun pop of color comes into play. Tiles are available in nearly every shade, so you're sure to find one that matches your interior aesthetic.
Green is one of the most trendy colors of the moment and has a timeless look because it's inspired by nature. The same can be said about shades of blue. But if you're looking to go bolder, think outside the box when it comes to color.
Pink bathrooms are fun and bright. Using a lighter or muter pink will prevent the tile from looking too childish. Shades of yellow and orange can bring a vibrant touch to your bathroom.
8. Mix and Match Monochrome
If lots of bright colors aren't your style, you can still make a monochrome design interesting. If you choose to decorate in all one color, change up the tile to make it more visually interesting.
For example, choose a mix of rectangular, hexagon, and circular tiles all in the same color or shades. You could use large rectangular tiles on the floor, the hexagons on the wall, and the circular tiles on the floor of the shower.
Even with all the tiles being the same color, the mix of shapes will prevent the tiles from running together. It'll create a definition that looks planned out.
9. Herringbone is Elegant
Create an elegant and spa-like atmosphere by choosing a herringbone layout. Herringbone creates a V-shaped weave. It's a traditional pattern that creates texture and movement. Plus, it's gained popularity in recent years, so it has both traditional and modern appeal.
You can do this by laying subway tile in a herringbone pattern or choosing a tile that's already laid out in the pattern. To achieve an elegant look, opt for a white or gray marble or wood-look tiles.
This pattern looks beautiful on the floor, wall, and shower of the bathroom. It can add movement and pattern in a stylish and subtle way.
10. Add Height
Make the room look taller by adding long, linear tiles. Opt for long, skinny rectangular tiles. While they're simple, they're also incredibly modern and timeless, which means your bathroom will stay in style for years.
To highlight the height of the ceiling, stack the tiles vertically rather than horizontally. The vertical lines will draw the eye up, creating an illusion of more height. Stack them straight rather than offset to create long, unbroken lines.
Ribbon tile is also a popular way to add height. These are long, super skinny tiles meant to run from the floor to the ceiling. They're great for accenting an area of the bathroom.
11. Inspired by Retro
Get inspired by retro bathrooms and bring them into the modern age. Retro bathrooms often feature penny tiles on the floor. Penny tiles are small, round tiles that have a timeless elegance for them. Black and white basket weave and black and white checkered tiles both have a retro feel to them.
On the walls, square times are often found in retro bathrooms. Square tiles feel retro while still remaining modern and timeless. Bright colors like yellow, pink, and teal were popular in retro designs.
Contrasting tile borders are another retro trend that you can bring into a modern bathroom. Use other retro elements like your fixtures to bring in more of the retro vibe.
12. Glamorous Marble
Create a glamorous bathroom by bringing in glamorous materials. Marble is a natural stone that exudes luxury, so it's perfect for creating that glamorous feel in a bathroom.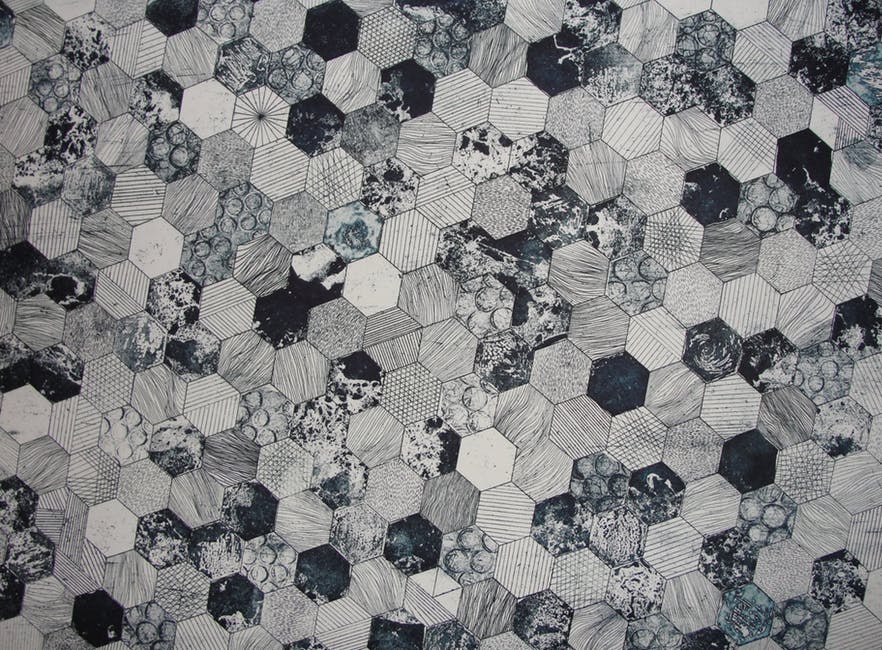 Use large marble tiles on the floor of the bathroom or a large slap of marble to highlight the shower. You can also use marble tiles on the wall and the vanity around your sink.
White marble is classic and timeless, as is black marble, however, it's a little more moody and interesting. In both, you'll want to consider the veining, which can create unique patterns throughout the tile. Colored marble, like green and red, can make a statement when used in an intentional way.
13. Try Something Seamless
Seamless tiles can look very sleek and chic. They create the look of one continuous piece of stone across the entire floor or wall. This can look very luxurious when done well.
To create this look, choose large, solid colored tiles and a matching grout. This combination helps blend one tile into the next and gives the appearance of a seamless sheet of tile.
You can also look for tile that's meant to be seamless, meaning the tiles sit close together without showing a lot of grout in between.
14. Focal Point Floor
In interior design, you want the eye to bounce around. That means creating interesting details throughout the room. You can make the floor a focal point by choosing an interesting tile.
Choose a fun color or unique shape and run it across the floor of the bathroom. You can also add features like inlay or borders to add something unique to the space. Be sure to balance out the rest of the design by ensuring the rest of the room doesn't clash.
And don't be afraid to get creative by choosing something different or unexpected to make your floor stand out.
15. Stylish Terrazzo
Terrazzo has had its moment where it's been trending recently. But the material has been used for centuries. Terrazzo is considered a composite material made from chips of natural stone like marble, granite, and quartz or pieces of glass mixed in with a cement binder.
Terrazzo creates subtle pops of color throughout the tile. You can find neutral color schemes or ones with bolder shades, so you'll be able to match your interior style.
Because terrazzo can be quite subtle, it can be a great backdrop to the rest of your bathroom design. It can also be combined with other colors and styles of tile to create a unique and visually interesting look.
A New Oasis With Bathroom Tile
Whether you want to update a powder room or a primary bath, new bathroom tile is the best way to give the space a transformation. Bright colors, interesting shapes, and fun patterns will all make your bathroom look like a professional had a hand in the design process.
Installing tile on the floors, walls, and in the shower gives a bathroom a brand new look. Tile is also a great way to infuse some of your personality into your home design. You'll transform your space and create a room that you'll love to relax in.
Allow Belk Tile to help create an oasis that you'll love. Browse our selection of bathroom and shower tiles and let us create something beautiful for you.