Posted by Mike Belk on Dec 13, 2022
Your Guide to Laundry Room Floor And Wall Tile
Oh, laundry. Others believe it benefits their health, while others see it as a necessary evil. Whatever your point of view, we believe that making the laundry room more appealing will make doing laundry a lot more enjoyable.
If you're going to be there for an extended period, you might as well make it a pleasant place. Learn how to make your laundry room more functional by researching floor tiles and backsplashes. Continue reading to learn more about the best products and get new ideas for tiles used in the laundry room.
Ceramic Tiles:
If you're unsure what tile to use in your laundry room, consider installing ceramic. Ceramic tiles are a great choice if you're looking for a durable and low-maintenance flooring option for your laundry room. Ceramic tiles are impervious to water, so spills or leaks won't damage them. They're also easy to clean, so you won't have to worry about dirt and grime buildup.
Ceramic tile is long-lasting and straightforward to clean. It is inexpensive, not damaged by water, and is very simple to clean. Furthermore, because you will be working with dirty clothes and towels in the laundry room, ceramic tile is an excellent choice for flooring because it inhibits bacteria growth.
Ceramic tiles come in a wide range of sizes, patterns, and colors, allowing you to find exactly what you're looking for. Furthermore, it is capable of imitating natural ways such as marble!
Why Should You Use Ceramic Tiles For Your Laundry?
Water Resistance:
Given the frequency of liquids and spilling water in laundry rooms, water resistance is arguably the essential factor to consider. Liquids such as accidentally spilled detergent drips from clothes hung to dry, leaky washing machines, and sink splashes can harm materials not designed to withstand moist environments.
Fortunately, if properly laid down and installed according to the manufacturer's instructions, ceramic tile can produce a waterproof surface.
Slip Resistance:
Because of the numerous liquid hazards that could occur, water resistance is critical for the surfaces in your laundry room. Because of these dangers, slip resistance is a wise choice. Choose from various slip-resistant ceramic tile selections that do not sacrifice design to give yourself peace of mind.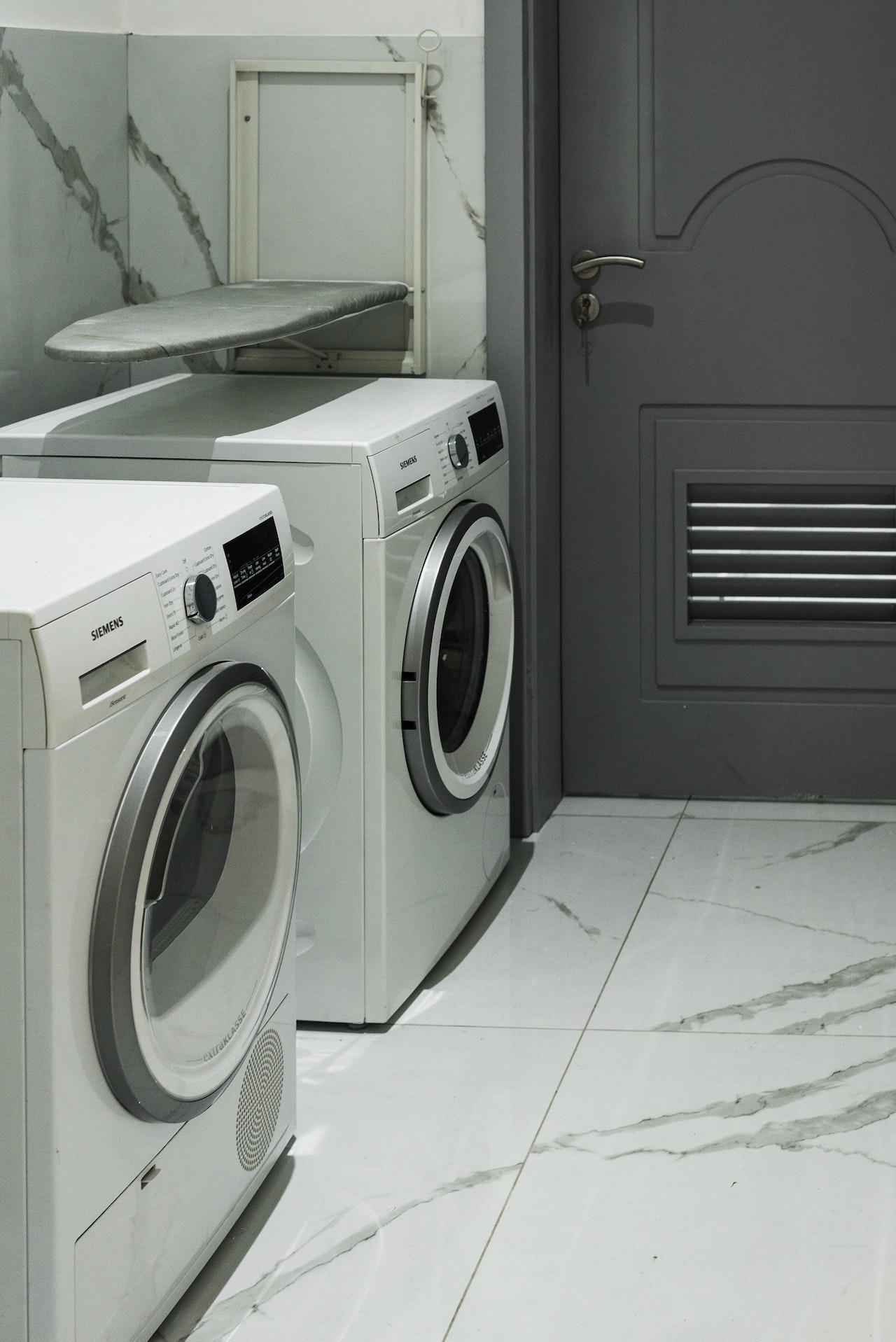 Germs Resistant:
Soiled socks in laundry baskets, used rags, and other items contribute to unsanitary conditions in laundry rooms, which can lead to bacterial resistance. Ceramic tile helps keep your space clean and germ-free because it inhibits the growth of mold, bacteria, and mildew growth.
Stain Resistant:
Because mud and dirt are likely to be tracked daily, stains and scratches are crucial in mudrooms and laundry rooms. Ceramic tile is strong enough to withstand the wear and tear of daily use and the weight of your washing machine and dryer. Furthermore, it is not easily chipped, scratched, scuffed, or stained.
Easy To Clean:
Cleaning the laundry room should not be difficult; it should make your life easier by having a layout that makes cleaning your clothes and linens easier. Furthermore, the laundry room should not be difficult to clean. The good news is that ceramic tile laundry rooms are straightforward to maintain: A simple wipe with water is all required.
Fade Resistant:
Even if you have to use harsh chemicals like cleaners or disinfectants to remove particularly stubborn messes or thoroughly clean your flooring, the color of your tile will not change. The color of the ceramic tile is baked into the material, so it will not fade over time.
In addition, ceramic tile is available in what appears to be an infinite number of design options, and it can be installed virtually anywhere within your laundry room. You can select from various colors, patterns, organic designs, sizes, shapes, and even different textures.
Porcelain Tile:
Ceramic tile is typically considered the superior material for laundry rooms, even though porcelain can also be an excellent choice in this application.
Porcelain tiles are a terrific alternative if you want a traditional tile option for your laundry room. Porcelain tiles are long-lasting and simple to maintain, making them suitable for high-traffic areas such as laundry rooms.
You can choose the perfect tile to complement your laundry room's design among the many available hues and patterns.
It offers all of the benefits of ceramic tile and a few extras. Ceramic tile is water resistant, whereas any liquid cannot penetrate porcelain. As a result, the porosity is lower than ceramic's, and there is no water absorption.
Ceramics is less durable than porcelain, which can withstand everyday wear and tear. One thing to remember is that the price may occasionally be slightly higher than for ceramic. Because installing tiles can be intricate, either option will necessitate the assistance of a trained professional during the installation process.
Beautiful Backsplashes:
There are many different backsplash tile options available for laundry rooms. The most popular choices include glass, ceramic, and stone tiles.
Glass tiles are a great option because they are easy to clean and maintain. On the other hand, they can do incredible things in the laundry room.
Some people believe that backsplashes are only used in the kitchen. Even if you don't have a sink, they can protect your walls from residue, spills, and splatters caused by dirt or cleaning agents.
You could use tiny porcelain or ceramic tiles or glass in this area. When used as a backsplash, glass tile performs similarly to ceramic or porcelain. You shouldn't have to worry about water damage as long as the grout lines are sealed because it's easy to clean and difficult to stain.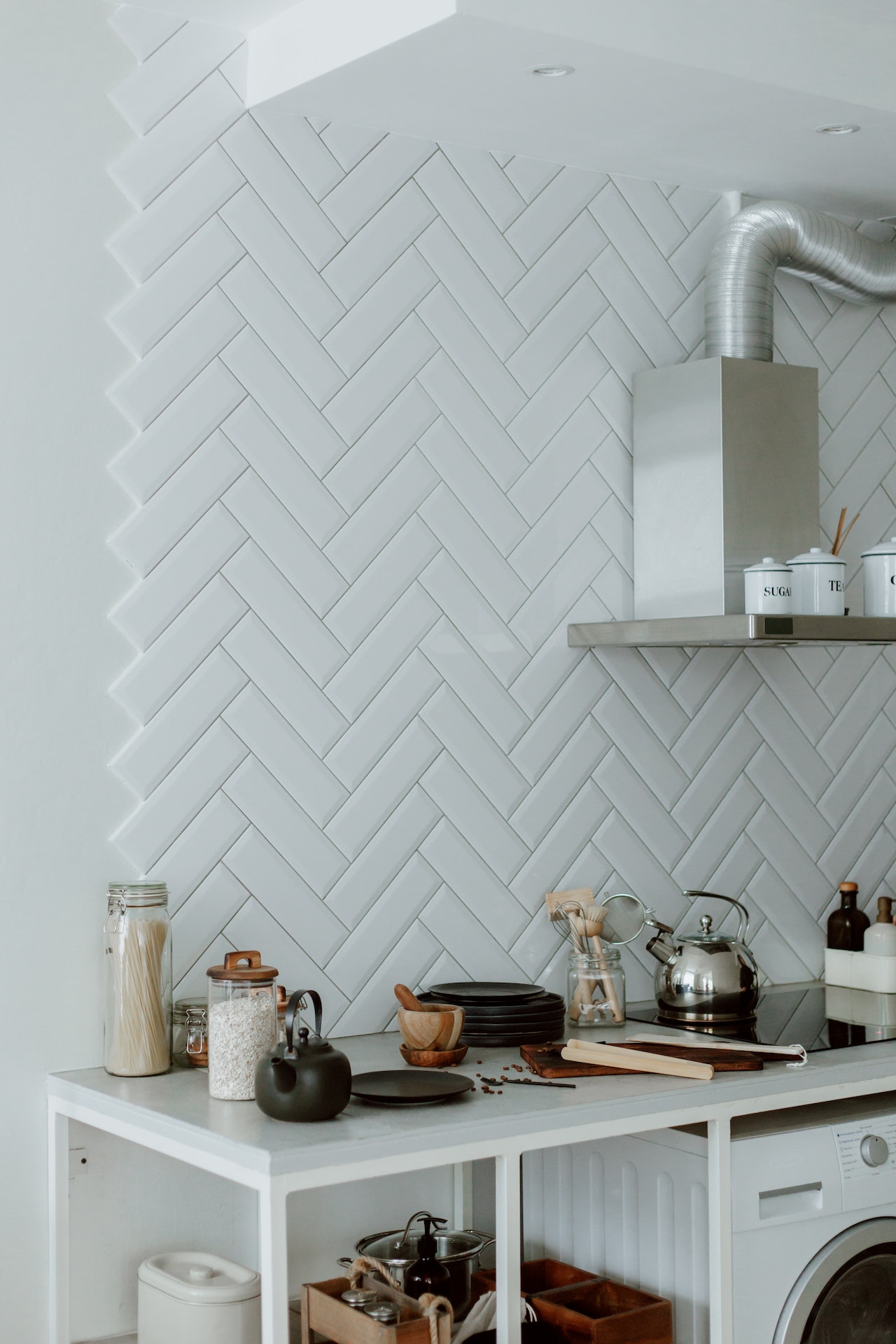 Finally, aesthetic taste and personal preference will determine the best backsplash material. There are numerous sizing and form options for less transparent materials like ceramic and porcelain. Glass, on the other hand, has a light glow to it and can be translucent or semi-transparent.
Laundry Room Activities:
The laundry room should not be treated as an afterthought. Experiment with color, pattern, and texture combinations to make the most of this space. The floor and backsplash are both available in a variety of colors.
You can use your creativity in the laundry room by experimenting with different design styles that you might not use in other areas of your home. Why not experiment with vibrant emerald green or eggplant purple floors?
If you like the look of colorful tiles but don't want to use them on your floors, you can always use them as a backsplash. The laundry room benefits from adding a colorful backsplash, which also looks stunning when placed above a porcelain sink, mainly if it is located in a dark area of the house.
You won't have to worry about the room appearing cluttered as long as the flooring is a simple color. Finally, don't be scared to try different textures. Even if you don't want to use color, the natural or artificial gradients and bumps in tiles can add sophistication to a space.
FAQs:
Should you tile behind the washer and dryer?
Yes. Tiling behind the washer and dryer is still a good idea. It's highly recommended. If you use suitable materials, tiling behind the washer and dryer will not cause any issues. Whether installing a new washer and dryer or adding a new addition to your current ones, you will be well served by tiling behind them.
Is a backsplash necessary in the laundry room?
A backsplash is necessary for the laundry room to prevent water, or any other liquid or solid matter, from splashing back onto you or your clothes while doing the laundry. You must have seen people doing laundry in the movies.
They must be doing their laundry in the bathroom! A backsplash is necessary for the laundry room because the back of the washer is open, and water splashes out. It can happen to anyone. To keep the working area clean, you need to look for laundry room backsplash tiles when you renovate your laundry room.
Do you tile under laundry cabinets?
Yes, I do tile under a laundry cabinet. I think it is the most economical way of creating a larger space. If a laundry area is small, it is worth spending money on built-in cabinets. A tile floor is easy to clean and wipe down. We can put a rug on top of the tile, which can protect the tile from water and wear out.
How do you lay tile in a laundry room?
The laundry room is an excellent place to start if you want to install tile in a small space. It is one of the most accessible rooms to tile, especially if it's on a half-bath scale. Before you begin tiling, it's also a good idea to add an extra layer of baseboard or toeboard.
First, lay out the tile pieces and decide on the pattern. You may guide the components as you place them with a straight edge. Cut around the edges with an angle grinder to make the piece fit better.
Use a tile roller to press the adhesive into the substrate. Wearing a dust mask, eye protection, and gloves are a good idea when doing this. Also, be sure to use a pattern, so the tiles line up.