Posted by Mike Belk on Apr 07, 2017
It's a staple of the real estate industry: Kitchens sell houses.
Along with the bath, they're the most-inspected rooms in a house. And the most lived-in.
So an investment in an updated kitchen can significantly increase a home's value.
And even if you're not selling, the kitchen should be a pleasure to spend time in.
The question is, what to update?
The answer? Maybe you should consider kitchen backsplash tiles.
Setting a Focal Point
Whether or not you're selling, it's a fundamental principle of home design that a well-designed room usually has a focal point.
Often, it's the first thing you see when you walk into a room.
It gives the eye a landing place, and it provides an organizing principle for the rest of the room's design.
In the kitchen, appliances, cabinets, and countertops are all candidates to be a focal point.
But appliances are expensive, and you may already have contemporary appliances.
Cabinets and countertops are expensive and installation can disrupt your lifestyle.
Kitchen backsplash tiles, on the other hand, offer a perfect focal point along with a number of other benefits.
They're functional. They help protect walls from water, grease, stains and mildew.
They're durable. Tile, glass, and metal all will last a long time with relatively little maintenance. Stone is also durable but, because it's porous, it must be resealed periodically.
Depending on the material, they can help cut down on cleaning.
Their prominence on the wall behind a sink or stovetop makes them ideal candidates for a kitchen focal point.
They come in styles, colors, and materials to suit virtually any budget.
Should you decide at a later date that you want to make a change, kitchen backsplash tiles can be relatively easy to switch out.
Bottom line: If you're thinking about updating for any reason, kitchen backsplash tiles make a lot of sense.
As you think about where to go from here, remember that the possibilities are almost unlimited.
For example, think about some of these approaches.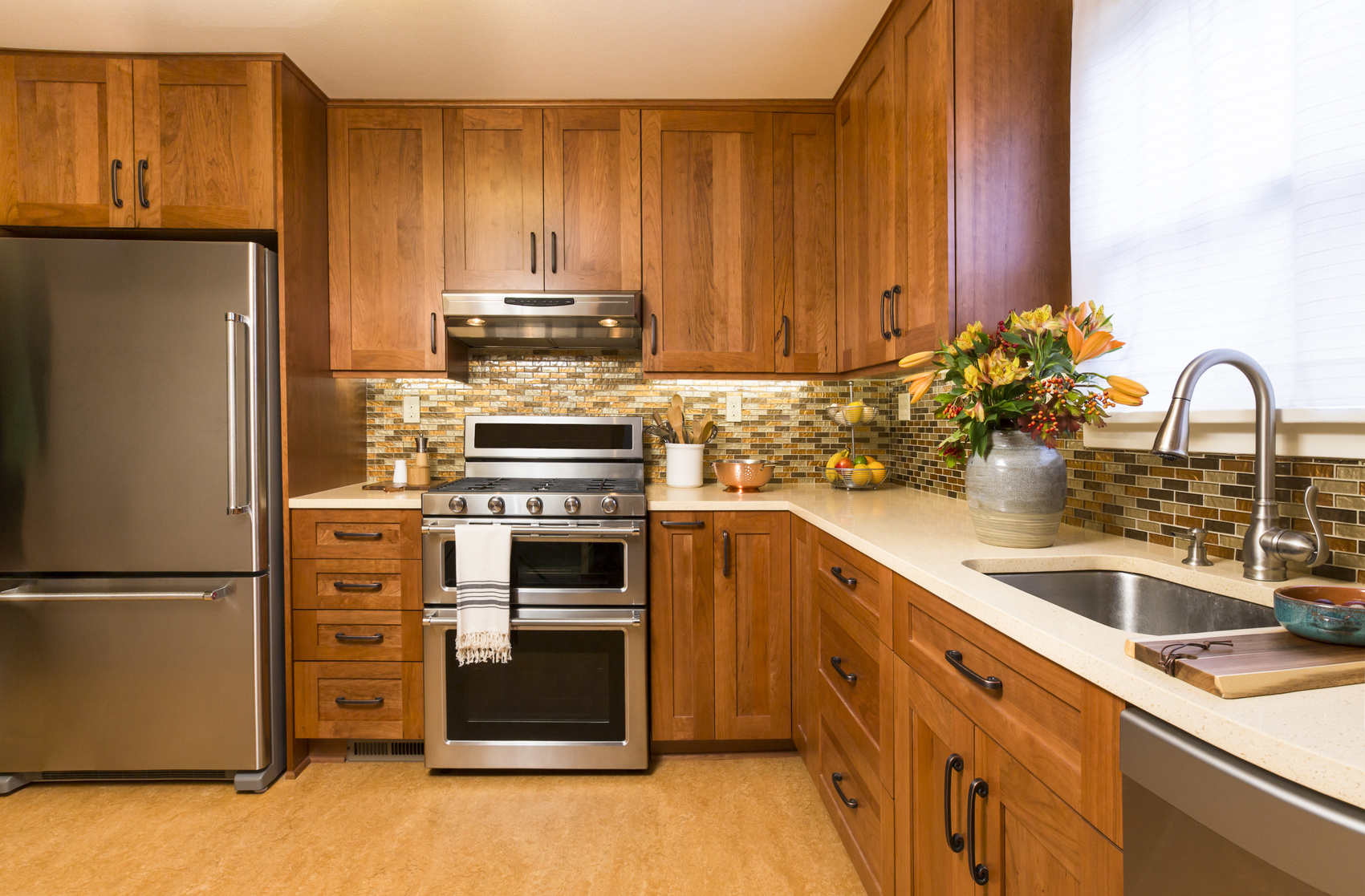 Think Higher and Wider
Most backsplashes start at countertop level. But the height is up to you. Some people tile around their windows right up to the ceiling. Some stop at the base of their upper cabinets.
By the same token, you don't have to confine your backsplash to the area immediately behind the sink or countertop. A backsplash extending around the room can make its own design statement and pull the room together.
And if your kitchen is small, extending the backsplash around the room will make the room appear bigger.
Think Colorful
Colorful doesn't have to mean patterned. Consider a quilted effect or a random look with a backsplash made of an assortment of compatible colors.
Think Patterns With Color
Regular patterns - herringbones, plaids, geometric designs - can add visual interest. Thinking colors in combination with patterns can give you a look as bold or refined as you want.
Think Grout
It comes in colors for a reason. In fact, the right color grout can have a dramatic impact on a backsplash, accenting and highlighting your design or blending harmoniously with it.
Think Focal Point for Your Focal Point
Your kitchen backsplash tile pattern doesn't have to be uniform. Backsplash plaques, framed by other tiles, can provide a focal point for your focal point, adding visual interest.
Think Mixed, Not Matched
In redesigning a kitchen, many people start with the countertop, making it the focal point and relegating the backsplash to a supporting role.
But if you're updating only the backsplash, that may not be possible.
In either case, countertop and backsplash should complement rather than compete with or run into each other.
Think Texture
With or without color, textured tiles can add visual interest and drama to your kitchen backsplash.
Think Darker
Kitchen backsplash tiles don't have to be bold or bright. Especially with wood cabinets, darker tiles can add warmth and drama to your kitchen.
Think Neutral
Your kitchen may already have a focal point, or you may be planning other updates in addition to the backsplash. A neutral backsplash can accentuate your cabinets, appliances or other kitchen features.
Think Retro
Subway tiles were first introduced in New York subway stations about a century ago and quickly became fashionable in homes. They're no less popular today.
In addition to the reflective, easy-to-clean traditional rectangle, subway tiles are now available as hexagons for added visual interest.
And don't imagine that "subway tile" means "white." The tiles come in a wide variety of colors and finishes, including metallic.
Think Angles
Just because everyone else applies their kitchen backsplash tiles in straight horizontal or vertical patterns doesn't mean you have to. Rotating tiles from the horizontal or vertical can add interest and even a sense of movement to your backsplash.
Think Materials
Ceramic tiles may have tradition on their side, but you have lots of other options:
Glass tiles come in a variety of patterns, colors, and styles.
Stone tiles can add character and dignity to your kitchen.
Metal accent tiles in gunmetal, antique copper and stainless steel look beautiful and are extremely durable.
Think Waterjet Glass Tiles
Most people think of tile in terms of traditional, regular geometric cuts. But waterjet tiles add a world of possibility. Waterjet machines cut glass into precise and intricate patterns that can't be duplicated with traditional tiles.
They can give your kitchen a unique, unexpected and elegant look.
Think Combinations
Your backsplash doesn't have to be uniform in materials, pattern or price. For example, consider using fewer, more expensive glass or handmade ceramic tiles as accents for less expensive tiles.
Feeling creative? Maybe mosaic is the way to go. You can pick a design or have one created to your specifications.
If your kitchen backsplash is one of the best ways to update your kitchen, it's also one of the best opportunities to have fun with your design. You're limited only by your imagination and budget.
Now that you've learned all about kitchen backsplash tiles...
It's time for you to start thinking about incorporating a backsplash into your kitchen. If you need a hand in thinking about your options, please contact us. We'll be happy to help.