Posted by Mike Belk on Feb 02, 2017
Kitchen Backsplash Plaques are the Perfect Focal Point
You always hear about the importance of having focal points in your living room, but what about your kitchen?
The job of a focal point is to immediately capture and draw in attention from incoming guests.
In your living room, that focal point may be an impressive mirror, a piece of artwork, or a stellar view if you're lucky.
But when it comes to your kitchen, you can create one or more focal points with just kitchen backsplash plaques alone.
Focal points don't have to be a stationary object either, such as a chandelier or a designer sofa. You can also create focal points with texture, color paneling, and patterns too. That's why tiling and backsplash plaques are ideal for creating strong focal points in your kitchen.
That's why tiling and backsplash plaques are ideal for creating strong focal points in your kitchen.
And the best part? New kitchen backsplash plaques won't cost you an arm and a leg, unlike a complete kitchen overhaul.
If you're curious about what a new backsplash can do for your kitchen, keep reading because we're dishing on our favorite trends in kitchen backsplash plaques right now.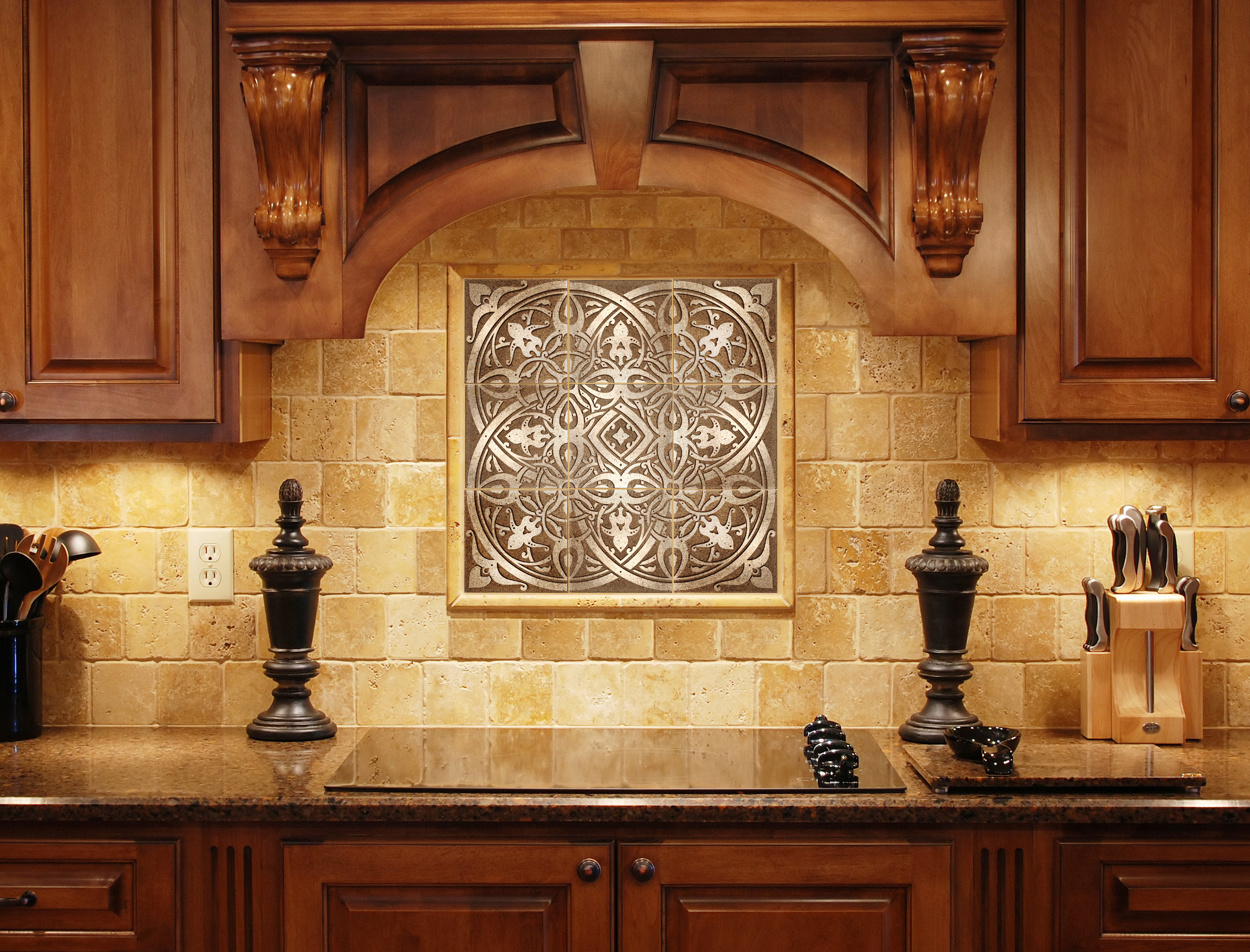 Tell A Story With A Mural
It's no secret that we love backsplash murals.
They add personality to your kitchen, plus, they make fantastic focal points too.
Just like adding artwork to your living room, adding a kitchen backsplash mural is a great way to draw attention to your new kitchen.
Your kitchen is all about food, family, and good times. Consider these kitchen backsplash plaques for your focal points:
Cast metal harvest themed plaques complete with corn, grapes, and wooden food crates.
Silver "royal" theme plaques featuring chalices spilling over with fresh produce.
Mediterranean themed mural plaques with olive trees, pottery, and an ocean view.
Kitchen murals showcasing families eating or food preparation.
Murals that depict classic still lifes of bread, fruit, meat, poultry, and other classic foods.
Kitchen plaques with sunsets, landscapes, and celestial night sky themes.
Want to tell your own unique story?
You can use a variety of ceramic and metal tile inserts to create a totally unique mural that's all your own.
Antique Chic
One of our favorite backsplash designs is simple white subway tiles.
Subway tiles pair well with a range of colors and kitchen wallpaper, but they can also look too repetitive without a strong focal point. That's why your subway tiles need an eye-catching plaque to look their best.
There are a lot of plaque styles you can use. But right now, we're loving the look of classic subway tiles juxtaposed with antique kitchen backsplash plaques.
These are some of our favorite trends happening now:
Bronze cyclone plaques and backsplash inserts
Inca style bronze plaques
Ancient Maya style silver plated plaques
Textured metal pyramid motifs
Metal olive trees
Silver leaves and grapes plaques
Your kitchen doesn't have to have just one focal point either. Go crazy and add two or even three antique backsplash plaques to your subway tile motif.
The Cubist Look
Master painters like Picasso, Georges Braque, and Paul Klee put Cubism on the map.
But the renowned art style also makes for amazing kitchen decor.
Cubism motifs are typically denoted by strong geometric shapes, cubes, sharp lines, and bold color.
We love the cubist styles we're seeing in today's modern kitchens, and your backsplash is the ideal setting to make a strong focal point with cubist style tiling and backsplashes.
Need some inspiration for cubist kitchen backsplash plaques? Check out the top trends we're seeing in kitchens right now:
Tiled reproductions by cubist masters
Stainless steel cubed backsplashes
You can also create your own cubism inspired kitchen backsplash plaques by purchasing a variety of tile designs and arranging your own pattern.
Keep It Cool With Stainless Steel
We saw some awesome stainless steel cubist trends, but the possibilities for stainless steel doesn't end there.
Stainless steel is not only modern and sleek, but it's also a safe and sanitary option for your kitchen.
Stainless steel kitchen backsplash plaques are perfect for bachelor pads, minimalist home plans, serious foodies, and urban lofts. It also pairs well with vintage motifs to create that classic "new-meets-old" style.
Check out these awesome stainless steel designs to make your backsplash pop:
Quilt stainless steel backsplashes can create that "executive chef" look.
Alternate between ceramic and stainless steel tiles to create an attractive backsplash.
Keep it simple with just plain rectangular stainless steel plaques
"Raised" stainless steel tiles and plaques.
Even More Kitchen Backsplash Plaques To Consider
There are so many great backsplash plaque ideas that we couldn't leave out these honorable mentions.
Glass backsplash plaques work well with different textures and mediums. Try adding a couple of glass plaques to a backsplash full of shiny subway tiles to create that "high-gloss" look.
Glass plaques also look great with stucco backsplashes, terracotta, and Spanish motifs too.
We're also seeing a lot of reclaimed wood backsplashes lately. Reclaimed wood can be anything from old heirloom furniture to salvaged boat wood. These types of kitchen backsplash plaques would look fantastic in any nautical themed kitchen.
Ceramic has always been a go-to source for backsplashes, but for good reason. You can find everything from Japanese-inspired designs to fun bubble motifs the kids will love!
Of course, natural stone plaques made from marble, granite, and limestone are ideal for rustic homes, bungalows, and those family cabins in the mountains.
Next Steps
Once you have your materials and design plan in tow, you can finally install your new kitchen backsplash plaques.
And believe it or not, installing your new backsplash isn't as hard as you may think.
While it never hurts to hit up the tile experts for extra tips, you can take matters into your own hands and install your own kitchen backsplash plaques right at home!
Once you're a master at DIY backsplash installation, creating focal points in your kitchen will become a piece of cake.
Designation: Founder & CEO
Bio: A graduate of Ohio State University with an MBA in Business, Mike Belk has been in the tile and stone industry for over 20 years. Mike is the owner and founder of Belk Tile. He has become one of premier tile experts in the nation. Not only does Mike love every aspect of his job, he strives ensure your experience is the very best. He runs a successful blog and, when not immersed in the world of tile, is an avid golfer and wine maker. Mike enjoys interacting with customers and wants to hear from you today. Make sure to check out his podcast of Tile Talk by Mike Belk.
---