Posted by Mike Belk on Sep 29, 2017
Have you ever walked into a kitchen and been overwhelmed by the boring white subway tile backsplash? While subway tiles can make a kitchen look incredibly welcoming, they are almost always labeled as bland.
We don't like the idea of a bland kitchen, and neither should you! Your kitchen should be a cheerful place for your family and friends to gather.
To help combat the boredom of subway tiles, we've compiled a list of ten non-subway tile kitchen tile ideas for your next kitchen renovation.
10 Non-Subway Kitchen Tile Ideas You will Love
Herringbone Tile
Herringbone seems to be on everyone's kitchen tile ideas list.
An elegant and versatile design, herringbone creates clean lines for the eye to follow. Many herringbone backsplashes you'll find are monotone, adding to its clean appearance.
However, some designers have branched out and created designs with two or three colors. If you plan to use a two to three-toned herringbone backsplash, try to keep your counters and cabinets neutral. The contrast will help your backsplash pop and get noticed!
Fish Scale Tile
You don't need to live in a coastal region to have an excuse to buy this next kitchen tile idea. Fish scale tiles have been making a huge splash in the kitchen design scene for their whimsy and eye-catching shape.
These tiles come in a number of materials, including glass, terra cotta, and marble, leaving plenty of options for your specific taste. There is no one set way to have fish scale tiles in your kitchen. Some kitchens feature a single color in their fish scale backsplash while others opt for a tri-colored theme to make their kitchen look like a fish's tail.
These lovely tiles might also go by the name fan tile or scallop tile, so keep that in mind as you shop.
Penny Tiles
In recent years, penny tiles have been making a comeback in the form of tiled floors, showers, and kitchen backsplashes. Penny tiles provide a bold yet downplayed feel to a kitchen and add a touch of elegance.
There are many ways you can use penny tiles in your kitchen. A light neutral adds to the overall clean feeling in a kitchen while venturing into a colored penny tile can help tie your hardware and cabinetry together. Penny tiles also add a bit of texture if your kitchen is fairly sleek.
Arabesque and Lantern Tiles
If uniform polka dots aren't your thing, arabesque and lantern tiles might be for you.
The arabesque shape arose from Islamic art, which does not allow the artist to portray living things. Instead, artists came up with the arabesque shape to depict vines and flowers.
These lantern-shaped tiles are perfect for creating spaces to which you want the eye to be drawn, whether it's your kitchen backsplash or a tiled floor.
While these look great in a single color, the real magic happens when you have two solid colors mixed with a patterned tile.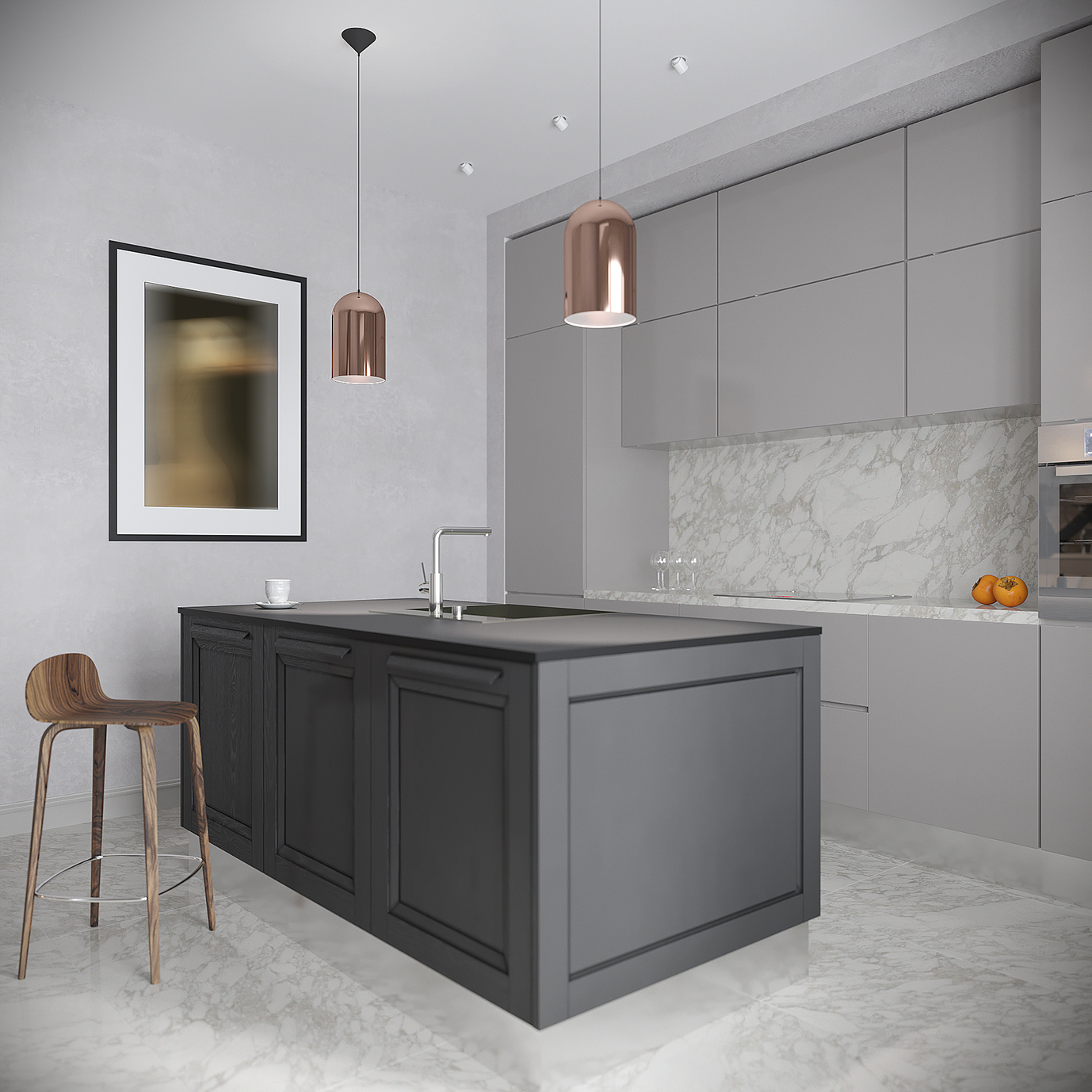 Square Tiles
We know, this sounds plain, but square tiles are extremely versatile and don't have to be boring. Here are some square kitchen tile ideas you'll really love.
Like a penny tile backsplash, small square backsplashes in one color can tie together different parts of your kitchen or serve as an accent piece. If you upgrade a few sizes, you are opened up to a world of checkerboard and plaid backsplashes.
Because square tiles are so versatile, they're easy to incorporate throughout your entire home to tie everything together.
Azulejo Tiles
Azulejo refers to a method of tile decoration that is popular in Spain and Portugal. The technique itself is Egyptian, but the Portuguese popularized the method and made it into an art form.
Azulejos are vibrant and colorful. When used in architecture, they typically depict a story, but for use in the home, they usually have a geometric design.
If you're looking for a real pop of color and interesting focal point in your kitchen, definitely consider using azulejos. In most cases, you'll likely have to go through an importer of Portuguese goods to find these colorful tiles.
Distressed Wood
Ok, no, distressed wood is not tile, but it makes a great backsplash. Having a wood backsplash brings a rustic and homey feel to your kitchen and can even make you feel like you're in a small cabin in the woods.
When selecting wood to use for your backsplash, you can go with new wood and distress it yourself, or you can take a trip to your local reclaimed lumber yard to see what they have on offer. You'll never know when you'll find a diamond in the rough.
Geometric Tiles
Next on our list of kitchen tile ideas are geometric tiles which extend beyond simple parallelograms.
Geometric tiles allow you to easily create optical illusions and gradients on your walls. One such optical illusion can be created with diamond-shaped tiles that are popular in Scandinavian countries.
To level up, you can now purchase textured geometric tiles which add tons of dimension to an accent wall like a backsplash.
Oval Tiles
Oval tiles are a bit like penny tiles because of the uniformity they provide a backsplash. These tiles can easily be passed off for penny tiles when you're not looking carefully but will be a real conversation starter when your guests realize what shape they actually are.
If you think you need to keep the ovals lengthwise, you are wrong. Installing them vertically can help elongate the wall and provide the optical illusion that there's more space under your cabinets.
Copper Tiles
These showstoppers might only seem like they'll cost you a pretty penny when, in fact, they are a great investment for your backsplash. Copper tiles are stain resistant, durable, and anti-bacterial.
Of course, it takes a very specific kitchen to accommodate a copper tile backsplash, so it's best to consider this if you're doing a full kitchen renovation.
Remember, your kitchen should look however you want it to. If you think you'll pick a tile from our kitchen tile ideas list, we'd love to hear your comments in the box below!
Designation: Founder & CEO
Bio: A graduate of Ohio State University with an MBA in Business, Mike Belk has been in the tile and stone industry for over 20 years. Mike is the owner and founder of Belk Tile. He has become one of premier tile experts in the nation. Not only does Mike love every aspect of his job, he strives ensure your experience is the very best. He runs a successful blog and, when not immersed in the world of tile, is an avid golfer and wine maker. Mike enjoys interacting with customers and wants to hear from you today. Make sure to check out his podcast of Tile Talk by Mike Belk.
---