Posted by Mike Belk on Apr 15, 2019
When is it appropriate to remodel your kitchen?
If you are considering remodeling the kitchen, know that it can be a very big project. There is the planning, the budget and the fact that many times your kitchen will be unusable for some time. So you really want to make sure you're ready to take the step. Our team at Booher Remodeling Company wants to help you make your decision considering these four signs that it may be time for your remodeling.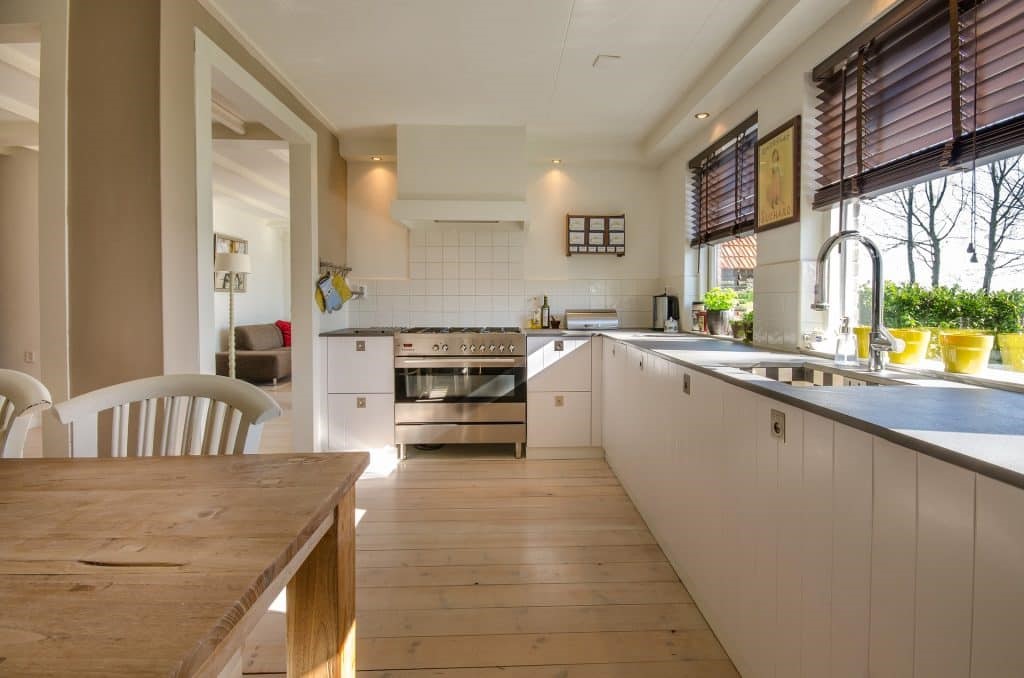 When you are preparing your meals, are you frequently struggling for counter space? Are your cabinets overflowing and are you storing kitchenware in other parts of your home? If any of these things is true, a kitchen remodel that increases counter space and storage could be right for you.
2. Cleaning is difficult
If you have tile countertops with deep grout lines or mottled linoleum tiles that never look clean, know that trying to keep your kitchen clean can be a nuisance. In these cases, you may not even need a full renewal; you can simply replace the offensive finishes to make your cleaning routine easier.
3. Your appliances are obsolete
Older appliances can really increase your energy bill. If you suspect that your appliances could run out of budget, this Energy.gov calculator can help you determine how much you are paying so they continue to work every month. Over time, the new appliances would be worth only in the monthly savings.
4. The value of your home is at stake
Maybe you're fine with your current kitchen. The style is obsolete or unusual, but you have become accustomed and do not necessarily need more. However, if you plan to sell your home for sale soon, this could be a problem for potential buyers and could actually lower the price of your home. If this is the case, a consultation with a kitchen designer is probably in order because an economic renovation of the kitchen could actually save you money in the long run.
Use of glass tiles for backsplashes
At one time, kitchen and bathroom backsplashes were usually just extensions of any material used on the countertop. If ceramic tiles were used in the counter, they were often chased along the wall to form the backsplash. The same is true for laminate, granite, marble or solid surface countertops. The splash back can also simply be left as a painted wall.
For some time now, glass tiles are trendy for backsplashes. Glass tiles tend to capture and reflect light in an almost luminescent way, illuminating often dark spaces. In addition, the glass is easy to clean.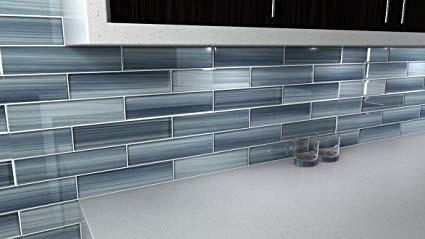 Is the glass backsplash in fashion?
You may be wondering if the use of glass tiles in one way or another will withstand time and is not safe. The glass tile backsplashes are very fashionable and left to last for another twenty years. In terms of styles, it is advisable not to worry too much about current trends, as fashion can change just as it can last.
Proper use of glass tiles
Whether it's mosaic sheets of tiny 3/4 inch by 3/4 inch tiles or larger sheets of 2 inch by 2 inch or 4 by 4 inch tile, glass tile mounted on leaves in lattice will be easier to install for DIYers.
Rather than cutting tiles with a wet saw, you can use suitable scissors. The tiles attached to the grids are self-spacing, without the need for spacers to establish the grout lines.
Individual glass tiles can be interposed with other materials, such as traditional ceramic or stone tiles, to offer a more aesthetic design. In addition, by alternating materials, you will save more money.
You can also use only glass tiles as a border!
Continue the backsplash to the ceiling
Designers of kitchens and bathrooms are increasingly recommending extending the backsplash walls to the ceiling. Particularly in spaces without natural light, the luminescence of glass tiles can illuminate a room.
Use a contrasting grout
Backsplashes, especially in kitchens, may be stain sensitive. Glass tiles are easy to clean, but grout lines are another matter. Using a contrasting darker grout rather than a traditional white grout may be a good option.
Consider recycled glass
If you care about the environment, buy tiles made from recycled glass. Increasingly available at online retailers, recycled glass tiles are a "green" choice that can also be truly unique in appearance.
4 tips to choose your kitchen backsplash with confidence
What a beautiful elegance in your decoration that having a backsplash in your kitchen!
What a great feature to protect your walls from splashing.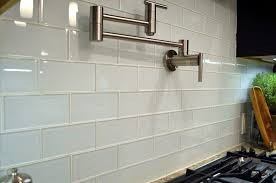 And what a joy to choose the style that suits your personality, the finish of your kitchen, the utility you make and your budget!
Here are some helpful tips you can have in mind in order to choose and decide on the kitchen backsplash you need.
Do you want to do a kitchen renovation?
When it comes to renovating or designing your kitchen, a backsplash is an accessory where you can have fun making your choice.
In many cases, your kitchen cabinets are a practical decision while your countertops are a useful choice, but the backsplash is often a finishing issue in kitchen renovations.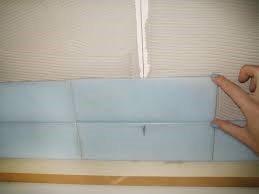 Imagine a beautiful kitchen without backsplash and a kitchen with a backsplash, and you will understand.
Go out in a party and you will notice a woman wearing a beautiful black dress or a man in a black jacket. A backsplash gives the same impression of your kitchen.
In addition, your backsplash must also adapt to every occasion, your personality and your use.
Tip # 1: Practical Considerations before Choosing
What matters most to you about a backsplash? Do you find it more important that it is easy to clean or more important than it is beautiful?
The ceramic or porcelain tile backsplashes offer many options and thus have an excellent choice to satisfy your desires.
They are impervious to stains, so you do not have to stress yourself with splash of spaghetti sauce or deep fryer oils.
Tiles or glass tiles are also a very good choice because cleaning is easy and fast. A single blow of sponge and your tiles come back in their pleasant state to look at.
In addition, beautiful natural stone backsplashes are riskier because they are often porous. In addition, they are difficult to clean.
Polished backsplashes in natural stones such as limestone, slate and can crumble and stain with grease. Their waterproofness and protection must be redone at least once a year.
If you are someone who often likes to cook, then be careful with tile tiles that have a lot of texture because they are stacked or rough. Grease can find places to stay and be difficult to clean.
Tip # 2: What is your favorite style of backsplash?
Square or rectangular ceramic backsplashes are the most popular. But instead of the standard two-by-six-inch white tile, you can choose glass tiles in a classic kitchen style or an installation using small ceramic tiles or large natural stone tiles.
Homeowners looking for contemporary kitchen style could place the tiles vertically rather than horizontally below the places for cooking and cover the other walls with tiles placed horizontally.
If you install stacked tiles to create a three-dimensional effect, remember that they are difficult to clean, but are becoming more popular.
There is a certain interest for people who want glass backsplashes, especially tinted glass. A large piece of glass is measured and placed on the backsplash of your kitchen, holes are cut out for switches and outlets, and the back of the glass is painted according to the color you choose.
The backsplashes are also bigger and bigger. Indeed, instead of having a backsplash over the counter and below the cabinets, many homeowners choose to go to the ceiling. This appears as if your cabinets are placed on a tiled stonewall and creates an appearance of grandeur.
Tip # 3: What is the best tile?
If your kitchen is small, you may want to consider having a magnetic backsplash made of sheet metal or corrugated iron. People like to use every little space in their kitchen and then, they can "stick" their knives on the backsplash or other magnetic accessory.
The mirrored backsplashes that are gaining popularity, bring to your kitchen, a little more prestige while reflecting the light of a dark kitchen, and create a greater effect. Cleaning is easy with vinegar.
If you have a large kitchen, you can consider a basic tile with a colorful mosaic style that can create a busier and therefore less empty effect. Single tiles work well in a kitchen with lots of windows.
While hundreds of colored tiles are easily available, they should not put too much color in the backsplash. If you like bright colors like yellow, red or orange, then choose a more monochrome or architectural backsplash to avoid you adjusting, if you change your personal taste in the future.
Tip # 4: What is the cost of a backsplash?
The price of a backsplash is according to your choice. Ceramic tiles can cost $ 2 per square foot or $ 100 per square foot when it comes to hand polished natural stone.
One way to save is to mix different types. You can use in your kitchen, a backsplash with affordable prices and insert in, glazed tiles to create a random pattern.
Some homeowners splurge on the backsplash above the cooktop, because it's often a focal point, and then spend less on the rest of the wall
Where to buy kitchen backsplashes
Many home improvement centers and big box stores offer many choices of materials for your backsplashes at excellent prices.
However, as a consumer, you often do not have wholesale prices that are only available if you have a supplier account with them.
When you want to know how much you want to pay for your backsplash, consider this: A skilled renovator can provide you with cheaper materials that look like high quality.
What matters are not necessarily the materials used, but the way they are used!
At BELK Tile, we offer you the wholesale prices and not the "big price" for the backsplashes that interest you among the business suppliers we have.
So you can have a higher quality at a better price as well as a kitchen renovation service different from the others.
Using Subway tiles – from the Bathroom to kitchen
It has been featured for years on the cover pages of home decor magazines. Timeless, it is the favorite of kitchen and bathroom metamorphoses. On the back of the counters or on entire wall sections, this small glossy tile has become a true icon of modern and designer housing: it is of course the "subway" tile!
It's been more than 100 years since the subway tile dresses our interiors. First seen in the early 1900s on the walls of the New York subway, it has since become increasingly popular. Today, it adorns the walls of the most prestigious subways, from London to Paris, via Montreal.
Rectangular, three inches by six inches, this classic ceramic is a safe bet to metamorphose its interior at a low cost. In fact, subway tiles retail to as little as $ 2.50 per square foot, making it an excellent choice to reinvigorate its interior for all types of budgets. Here's how to integrate it into two of the busiest rooms in the house.
The "subway" tile in the bathroom
The beauty with the subway tile is that it blends well with other materials and integrates easily with different environments. It's white and immaculate, but did you know it's available in a wide variety of colors and textures?
Imagine a soothing turquoise reminiscent of the most beautiful tropical lagoons, and let yourself be transported!
Fan of classics? No problem! The combo white subway tiles and black walls is simply divine. Our color of the year, the black cast iron , will bring comfort and tranquility to your bathroom.
The "subway" tile in the kitchen
If the first function of the kitchen backsplash is to protect the wall from splashing, it is undeniable that it also plays a major role in decoration. According to the magazine Chatelaine , "the backsplash is like a jewel or a tie. Well chosen, it makes all the difference. "
For a simple and friendly look, plain and colorful subway tiles are to be preferred. A nice yellow back splash brimming with optimism and appetite. Small advice from us to you: laying tiles vertically rather than horizontally has the effect of lengthening the room.
Pro Tip: Make sure to choose a color palette that livens up your appetite and conversation! Discover which ones here.
Let us help
Ready to remodel your kitchen? We are ready to nose-dive with you into this. Speak to our expert design team and watch your dream come into reality. Contact us today.