Posted by Mike Belk on May 30, 2019
Well, they say that it's always the little things in life that matters. And I guess I totally agree with that. For instance; you'd be surprised how much the great detail in kitchen backsplashes can transform the aesthetics of the entire kitchen space. This might seem simple at first but at the end of the day, it adds a unique depth as well as dimension to your kitchen space.
Glass tile backsplashes are a great option for any kitchen. The glass is capable of reflecting light hence making the whole place feel brighter and more alive. Even in the dead of a horrible winter. That is why this is just what your kitchen needs. However, now that today we have a plethora of gorgeous backsplash options in the market, it can be quite hectic figuring out where to start.
All in all, there is no need to worry as we have your best interests at heart. We simply want you to have the best glass tile backsplash for your kitchen. To outlast this trend though, it's best if you go for the neutral glass tiles as they will easily adapt to a wide array of your future décor style. In this article, therefore, we have broken down our top picks that will aid you to navigate the vast world of glass tile backsplashes.
Nowadays, glass tile backsplashes are all over the place. Even the top home remodelling magazines won't be left behind on this controversial topic, and that's for a reason. We will simply share with you incredible glass tile backsplash ideas that will add that sleek modern touch to your kitchen space.
Using Glass Tile for Backsplashes for your Kitchen
The main purpose of tile backsplashes in your kitchen is usually to protect your walls from all sorts of liquids and in most cases water. However, nowadays, the glass tile backsplashes are also used for décor purposes besides your kitchen renovation. These tile backsplashes define the basic style of your work area hence radiating your personality which in turn reflects on the mood of your workspace.
When it comes to the glass tile backsplashes there is a wide array of style and designs that you can choose from. The most important thing is choosing the style that best fits your needs. Also, you need to understand that the tile backsplash that you choose for your kitchen has to blend with your already existing kitchen décor.
There is always something about creating harmony from the countertops, work area, walls to the floor. This collaboration makes everything in your kitchen including the texture and colour selection improve the outlook of your kitchen.
1.The Glass Tiles Backsplashes are Best for Accents
To create a unique theme in your kitchen, you can use individual glass tiles then intersperse them with other materials. More of a mix and blend situation. Such materials may include; stone tiles or even traditional ceramic.
This helps to create a jewel-like accent to your kitchen although still within the field of the backsplash. This way, you will be able to incorporate these expensive designer glass tile backsplashes without straining your pockets too much.
Glass tiles are indisputably the best option that you can have if you want to create a bold statement design in a very utilitarian space.
2.Glass Tiles in the Borders or Band
Using glass tile backsplashes in the band and border is the other great customizable way of incorporating the glass tiles in your kitchen. Here you can use a couple of individual mosaic strips, stone or ceramic backsplash tiles or any other materials.
In this case, the glass tile backsplashes can be used as either the interim accent band or even as a border for the top section of the backsplash. Simply, when you reserve the glass tile backsplashes for the band treatment or band, the ideas are unlimited.
This is perfect especially if you are looking for a way to create a sense of uniqueness or you want to express your personality.
3.Extending the Glass Tile Backsplashes to the Ceiling
When it comes to glass tile backsplashes, then you can get anything you want in your kitchen. For instance, in the past year, there has been a new trend where the kitchen designers are extending the tile backsplashes all the way to the ceiling.
Normally, most people would go for the counter-top all the way to the cabinet height tiles. However, with this common trend, people have gone radical and incorporated the full height tiles in kitchen spaces that lack in that natural lighting feeling.
In this case, the luminescence of the glass tile backsplashes helps to brighten the room. Besides that, this full-height tile backsplash creates a much more focal point in your kitchen that will, without doubt, grab your attention.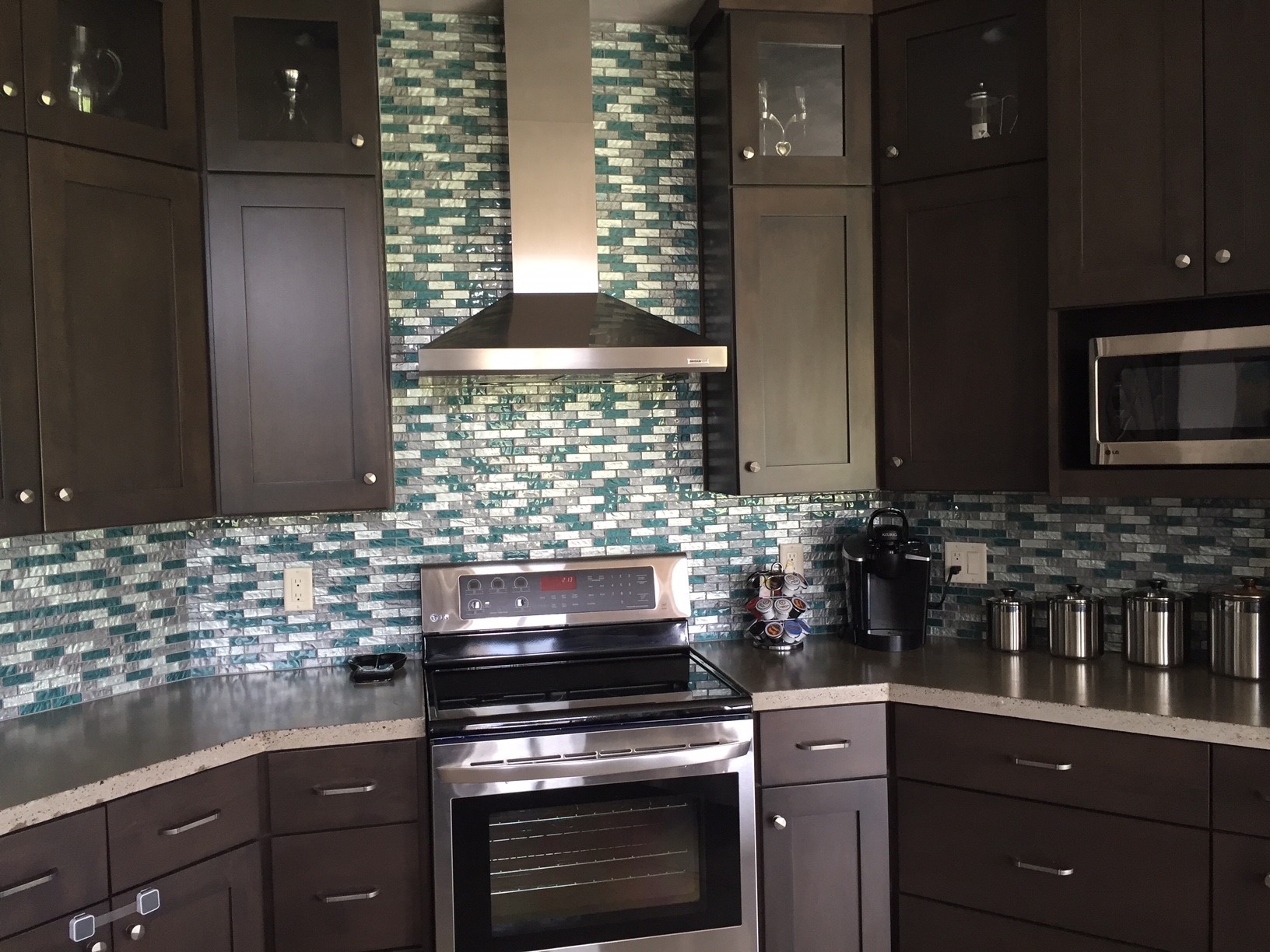 4.Use either Very Big or Small Glass Subway Tiles
At times the unusual can bring a whole new effect to your interior décor. And this is the same case that applies to glass tile backsplashes. You can combine the aspect of tradition with trendiness to bring in a whole new flavour to your kitchen.
For instance; you can replace the standard sizes of subway tiles in your kitchen with either tiny mosaic tiles or very large individual tiles. And in a case where you are trying to pull out this classic look with subway tiles, the glass tile backsplashes are always the best in creating the variations that you need.
All in all, this only works best when you have glass tile backsplashes with bevelled edges. Nonetheless, this is not something that you can DIY. You need a professional contractor in order to get the best out of this unique blend.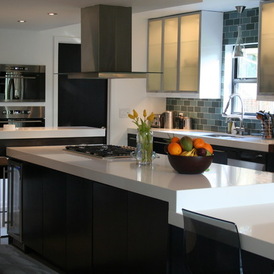 At times you may have the idea to incorporate something classy and cool in your kitchen but you have no idea where to do it. Well, there is no need to worry anymore. One of the best places to incorporate this incredible glass tile backsplashes is the area just above the cooktop.
This is one of the best areas in your kitchen that you can add the full inset panel that is made of the glass tile backsplashes. One of the main advantages of using the glass tile backsplashes in this area is because they are very easy to clean.
The other great advantage is that the use of glass tiles in this location of the kitchen helps to highlight the cooking range. Hence, creating a unique accent in your cooking area. Also, if you like it, you can place the glass tile backsplashes on the space just behind the sink. This is also another place that will benefit from the easy to clean characteristic of the glass tile panels.
6.Experiment with Some Contrasting Grouts
Backsplashes are always a very great addition to your kitchen. The only problem is that some backsplash materials are very highly susceptible to stains. That is why glass tile backsplashes are always the best option. To start with, they are very easy to clean. All in all, this is not always the case when it comes to grouts.
That is why instead of using the traditional white grouts in your kitchen you at least try and switch things up a little and use darker contrasting grouts. For instance; you can pair the traditional subway glass tile backsplash with darker grouts. This will not only ease the cleaning tasks but also offer a quirky contrast that you will never regret.
7.Recycled Glass can also be an Option
The good thing about the glass tile backsplashes is that they are also sensitive to environmentally conscious people. Hence, you can also get some recycled glass in the shops that you can use to build on your backsplash ideas.
Although this sounds like an odd choice, the 'green' choice of glass tiles is equally as good in appearance. The fact that they are 'green' doesn't compromise the quality of their appearance. Without a doubt, you will love what you can do to your kitchen décor with these eco-friendly glass tile backsplashes.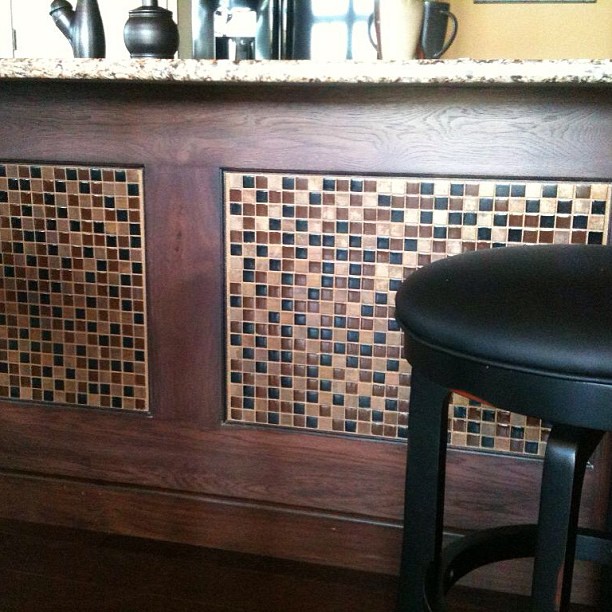 8.For the DIYers, The Mounted Glass Backsplash Tiles are the Best
Most interior décor enthusiasts are DIYers. That is because they always want the chance to bring in something new with their wide range of creative ideas. In that case, if you are a DIYer and you want to add Glass tile backsplash to your kitchen, then glass tiles that are mounted on the mesh will be definitely easier for you to install.
This applies to both larger sheets of tiles and the tiny sheets in mosaic. That is because, when you have the tiles mounted on sheets you won't have to cut them with wet saws in order to fit the available spaces. Instead, we will use the tiles that are attached to mesh sheets since they are self-spacing. Therefore, you will not be needing any spacers to create the grout lines.
9.Mixing and Matching the Tile Colors with Surrounding Décor
This is something that I mentioned earlier in this article, but I'll still insist on again. Achieving harmony with your kitchen's interior décor is a very essential thing. And that is why it is a very important part of choosing the ideal backsplash for your kitchen. Besides just installing the glass tile backsplash, you still need to think about how these tiles will go with your floors, walls, cabinets, countertops, as well as other kitchen appliances.
For instance; in most cases, you will notice that kitchen backsplashes go well with white themed cabinets. There are two main things that you need to pay attention to when using the mix and match to decorate your kitchen.
One, the design you choose should at least match with the surrounding of your other decor. In this case, you may notice that grey cabinets are the best fit for blue glass tile backsplashes. Also, black countertops are a great companion for white tiled backsplashes.
The other very crucial thing is that the tile design could be completely contrasting with existing décor in your kitchen. This is also known as the stand out style. With this type of glass tile backsplash, it means that the tiles will steal away all the attention to themselves.
The best option for this stand out type of tiles are the hand-painted tiles or the mosaic tiles. Or even something more daring like bright blue glass tile backsplashes against a white countertop, cabinet and walls.
10.Imitation is a Sincere Way of Flattery
Like I said earlier, when it comes to glass tile backsplash, then you can achieve anything you want. In this case, maybe there is a beautiful pattern that you have either seen on fabric or in prints around you. You can use the same idea to create some form of backsplash in your kitchen using glass tiles.
I know such a thing requires a considerable amount of time and energy to transfer the artwork into the guide you will use to cut off the tiles. All in all, the best thing about this is that the work will pay off as you will have your unique artwork in your kitchen that you will see every day.
The imitation idea is the most creative form of backsplash tile ideas that you can ever have. If you are worried about the grout getting a little grimy, then you can always whiten it with a suitable colourant.
In Summary…
For most people, glass tile backsplash might seem like a very unusual choice especially for the kitchen. All in all, they are quite a popular choice for people who spend a lot of time in their kitchen.
Also, the glass tile backsplash is a great choice for people who want the easy to wipe backsplash tiles. Generally, I'd say that glass tile backsplashes are an ideal choice as they have low maintenance needs, and at the same time, they are stains and spills resistant.
Designation: Founder & CEO
Bio: A graduate of Ohio State University with an MBA in Business, Mike Belk has been in the tile and stone industry for over 20 years. Mike is the owner and founder of Belk Tile. He has become one of premier tile experts in the nation. Not only does Mike love every aspect of his job, he strives ensure your experience is the very best. He runs a successful blog and, when not immersed in the world of tile, is an avid golfer and wine maker. Mike enjoys interacting with customers and wants to hear from you today.
---