Posted by Mike Belk on Mar 19, 2020
Give Your Kitchen or Bathroom That Classic Style with Beveled White Subway Tile
In the early 1900s, the New York City subway stations used white brick tiles for the walls, and this gave birth to the classic subway tile we often see in kitchens, bathrooms, and other areas. This tile is easy-to-maintain, that's why it has become popular in restaurants and homes. Today, you can see variations of this classic tile including the beveled white subway tile .
Another reason why the white brick shape is popular is due to its versatility. It can be used in areas wherein simple, clean lines are preferred such as baths, and kitchens. Modern versions of the subway title have become more popular over the years and with the basic 3 x 6 pattern, this tile has been showing up more than ever in a lot of home designs.
And what's not to love in the classic subway tile? Its timeless look and feel, and low-maintenance feature makes it the tile of choice for most homeowners. But what if you want to add a little extra to the already beautiful white brick style? There are some beveled subway tiles styles you might want to consider. To fire up your imagination, here are some ideas to inspire and motivate you into thinking of your design.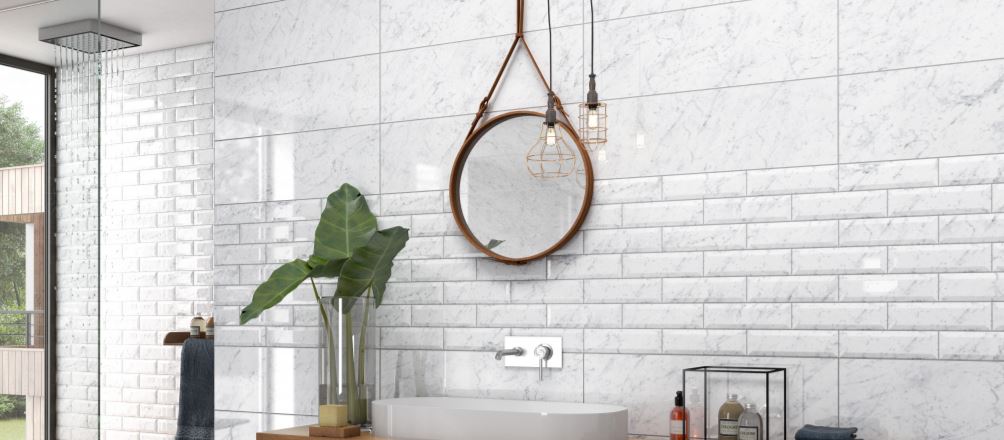 Give It Some Color
There's no arguing that white is still the most preferred shade for the subway tile. But a bit of color wouldn't hurt, right? It's a good thing these tiles come in a wide range of bright solids as well as neutrals. If you've gotten bored with the subway tile design in an area of the house, incorporating color will give it a fresh, modern look.
If you're not into solid and shocking primary or secondary colors, replacing the white brick style with gray, biscuit, or other neutral shades should be enough to update the look of the room. Then again, some people like making statements with bold and bright shades.
Adding drama and sophistication to your bath or kitchen areas is also possible with some modern schemes currently available for these subway tiles. To add even more color depth, you can also change the color or shade of the grout to give the area a trendier look without even changing your tiles. Instead of settling with white grout, for example, you can break up the brick-joint pattern flow using a darker shade for the grout.
Dark-colored grout outlines the individual tiles and emphasizes them, resulting in a more modern, updated look. It might be a deviation from that classic white subway tile look, but it's a change that is more than welcome.
Add Texture Using Beveled Subway Tile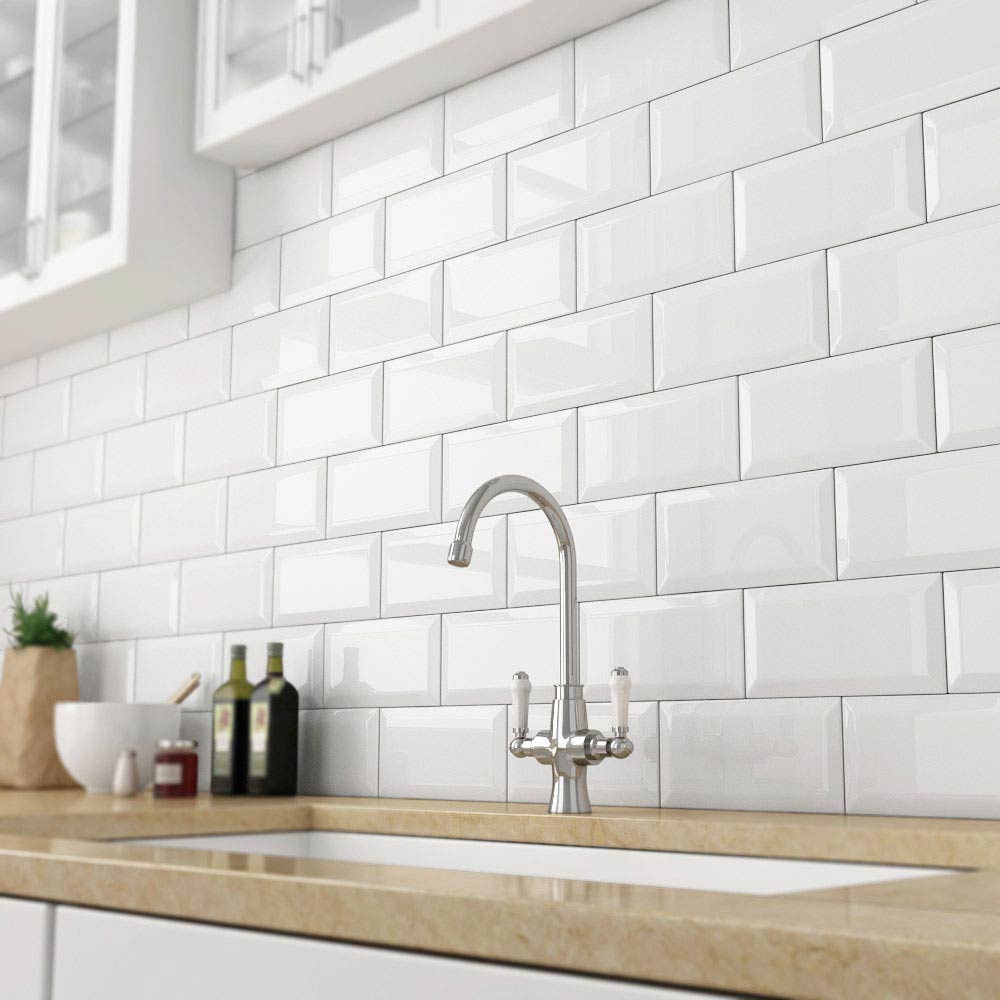 Beveled tiles can also be used in both bathroom and kitchen designs, serving as wall décor, shower, or backsplash. The difference between the original, flat subway tile compared to a beveled one is that slight slope at the edges. This slope is often subtle and shallow, adding just the right enhancement by increasing the design's depth. It also adds some texture to the tile arrangement, making the tiles pop and more noticeable.
Subway tile beveled, similar to the classic subway tiles, also come in a wide range of color options. The beveled-edge adds more depth to the walls adorned with these tiles. You may want to use it to project a modest change from the original, classic white tile style. The use of beveled-edge tiles also creates completely new patterns and combined with color arrangements, the walls in the room are sure to pop out with life and freshness. The options are only limited by your imagination.
Play with Different Tile Patterns
The common brick-joint pattern might look good, but it can be better by placing the tiles in unique arrangements to produce a variety of interesting and exciting new patterns. For example, instead of placing the tiles horizontally, which is the most commonly used arrangement, making a vertical pattern will make the sink-to-ceiling backsplash look more spectacular. It also has the added benefit of the illusion of height, so the walls will appear taller than they are. You can incorporate a dramatic look by arranging 3 x 6 bricks into a herringbone or chevron pattern.
Mix and Match Colors
It's always a challenge to mix and match colors but if you plan, you can come up with a multi-colored design that you can use in any setting. For example, placing rows of black (or any dark color) beveled tiles on a plain white wall will break the neutrality of a simple, small bathroom.
For bigger rooms, extended kitchen backsplashes, and showers, vertical or horizontal stripes composed of contrasting neutral shades (like darker almond or beige colors) will add depth without necessarily overwhelming the room itself. Placing a border of colored beveled subway tiles at chair rail height is also a good option.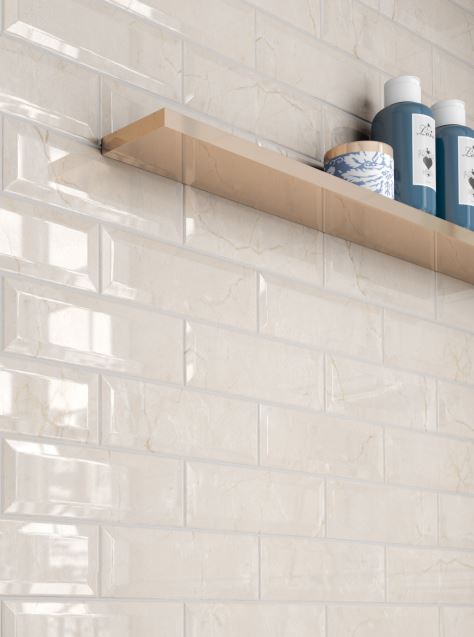 Select the Right Tile Finish
When you are using beveled subway tiles for your design, another factor that you should consider is the finish. Classic subway tiles often have that shiny, glossy finish, which tends to reflect light. Recently, though, subway tiles with matte finish have also become popular. If you want that understated look for your accent wall or backsplash, matte-finish beveled subway tiles are the way to go.
Use it on Your Kitchen Backsplash or Bathroom
If you want to update your old, boring kitchen backsplash, using beveled subway tile white color will make it look great. White beveled tiles, when combined with white cabinets, will create that seamless flow leading to the countertops. The beveled edge of the tiles will give the arrangement some depth, avoiding that monochromatic look that may seem too stark or flat for your space. Using colored beveled subway tile can also effortlessly add life to a dull, all-white kitchen.
(:1f539:) Do you have to grout Beveled Subway tiles?
Beveled Subway Tiles are just like regular subway tiles and you do need to grout them. Some beveled tiles will have lugs on them or pre determined grout joints when installing.
(:1f539:) What size bevel subway tile will be best for backsplashes or shower walls?
This is a tricky question to answer. Using a 3 x 6 is common, however, there have been some 3 x 12 to hit the market and in some great colors as well to use. It is all personal preference on size yo use. The 3 x 12 would be good for larger areas.
(:1f539:) Will the Bevel Subway Tiles stay in style?
The popularity of the bevel subway tiles are not as in demand as a regular or flat subway tile, however, they are still popular and used quite a bit in today's designs.
(:1f539:) How hard will it be to clean bevel subway tiles?
Cleaning bevel subway tiles will not be any harder to clean. Using a simple solution of soap and warm water will work. As long as the grout is sealed it should be simple to clean as well.
Bathrooms look great with simple, clean lines, which make subway tiles the perfect choice because they also protect the walls from humidity and dampness. You can use beveled subway tiles to frame the shower or segregate bathroom sections. If you want to make a small area brighter, using the beveled white subway tile from floor to ceiling works well.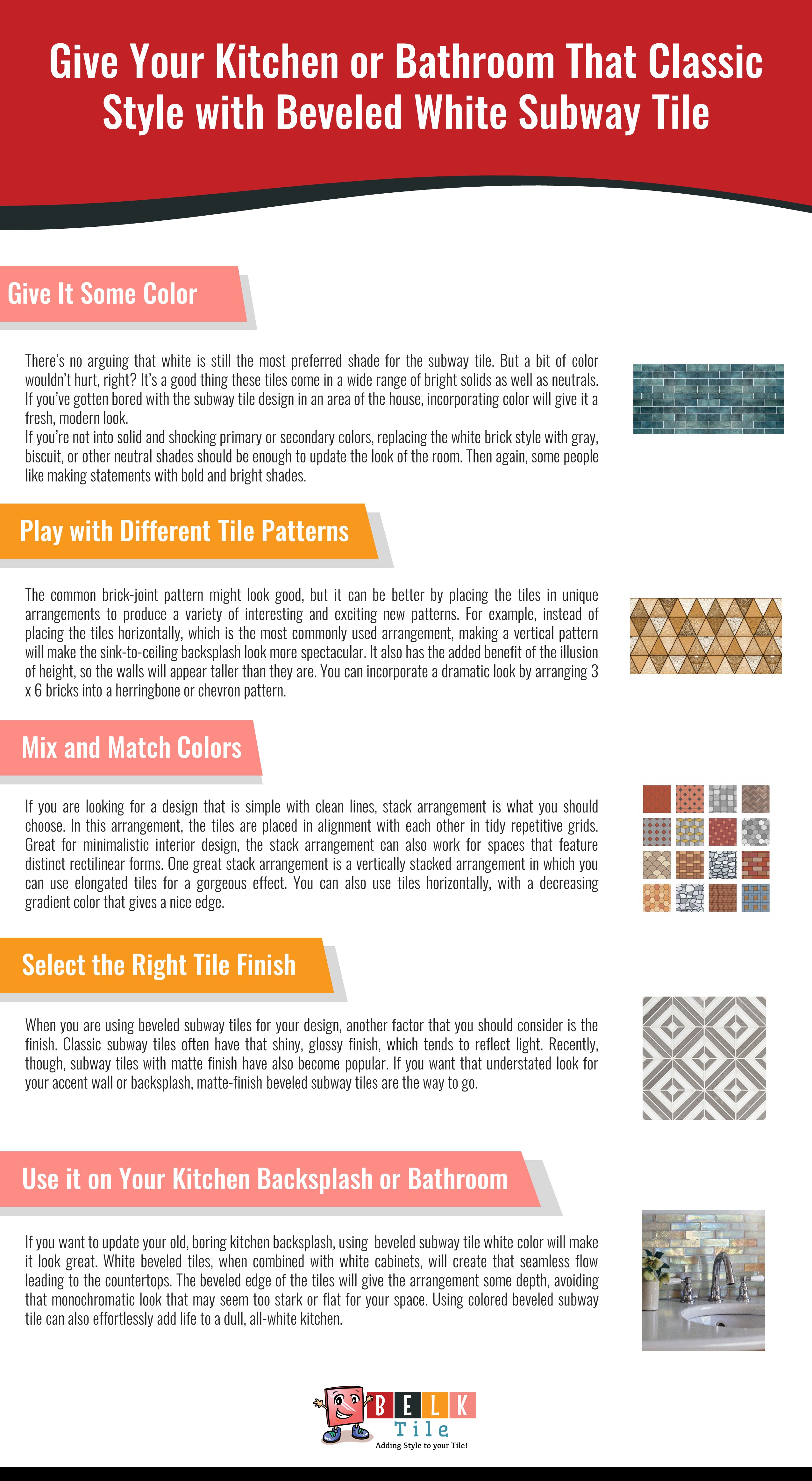 Share this Image On Your Site