Posted by Mike Belk on Jul 31, 2019
Designing your home is one of the vital necessities to enjoying your space. It takes more than one part to get it right. You will have to put in a lot of effort just to your desired look. Thankfully, with the new and improved glass tiles backsplashes, this is something you will get easily. Stick around and I'll show you more.
When it comes to deciding the best tiles for your home, there are endless possibilities, especially with styles, patterns, shapes and colors. It's easy to get lost on the type of tiles to settle for. It's no surprise that the process can be a little overwhelming in cases where you are simply exploring the different designs.
However, getting the chance to understand the patterns will help you get what you are looking for. Shapes and patterns have a way of speaking to anyone staring at them. It doesn't matter the material used. That said, the shapes of your glass tile backsplash will determine the overall look of your interior décor.
As you already know, a glass tile backsplash is becoming one of the most common interior decors of our time. That's because of their impeccable quality and their astounding beauty. The downside is that you really need to understand the pattern you need. Otherwise, you risk ruining the entire décor.
All in all, this article will give you the chance to understand glass tile shape and how it will affect your design. Shall we get started?
The Different Glass Tile Backsplash Shapes
At Belktile, we have all imaginable different glass tiles backsplashes shapes that you can think of. The shape of these tiles will be able to accentuate the look of your home. So you will have to take your time in this section. Here some of the incredible shapes of glass tiles backsplashes:
1.Diamond Glass Backsplash Tiles
These are a common tile choice especially when it comes to mosaics. Diamond tile shapes are easily available in most hardware stores. Hence they give you the chance to choose the specialty versions that fit your taste and needs. The popularity of the diamond glass backsplash tiles goes a long way. Especially due to the fact that they can be easily stacked alongside each other.
For this reason, they are ideal when you want to create either very small or very big spaces. Also, with these shapes of tiles, you will be able to provide a more geometric layout to your home. For the DIYers, you can easily achieve this diamond tile pattern by simply turning the regular standard tiles to a 45-degree angle.
The thing with diamond shape is that they are more flattering to the eyes as compared to the casual straight tile design. Also, the unique diamond shape creates a sense of class that you will not achieve with the standard tile shapes. On top of that, these diamond glass backsplash tiles are available in a wide array of colors to accentuate your home. Mostly used as the kitchen backsplash.
2. Hexagon Glass Tile Backsplash
This is also another great shape of the glass tile backsplashes. The hexagon glass tile backsplashes are available in different shapes and sizes. One of the most common hexagon shapes is the North Shore Series Hexagon Shell and Stone Mosaic that are fixed together to give you that sophisticated look.
This is also a great option if you want to achieve a mosaic look in the end. That's because it comes with a great diversity in shape and variety. What's more, it brings life to any boring room.
The beauty of this shape is when you decide to go for the hex tile bathroom. This tile will add more dimensions and an extra touch to the overall color of your washroom. This type of tile is popular for bathrooms, kitchens and even living room designs.
You also have the chance to create a bit of variety of hexagon shapes by using backsplashes with different colors. But ensure you keep within the glass tiles to have a bit of uniformity in the material of your tiles. However, other interior designers will encourage you to use a blend of porcelain and marble to add flair to your interior décor. All in all, it's all up to you to decide what works best.
3. Arabesque

Glass Tile Backsplash
Over the past years, the popularity of the arabesque glass tiles has increased significantly. This glass tile shape is ideal for adding a great deal of dimension and artistry in your dining area, kitchen and bathroom. The foliate, ornate and tendril patterns of can all be placed together interchangeably in order to form a repetitive mosaic of beauty and colors.
The arabesque shape of tiles is not fixed. Simply, anything that intertwines with itself is what is considered as the arabesque. This shape of glass tile backsplash is common with tiles that adorn the walls of the kitchen and dining area. They are mostly in neutral, white and solid colors.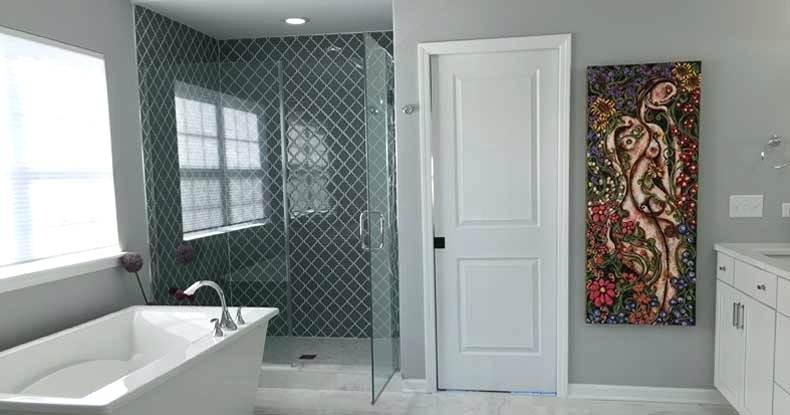 Since backsplashes are becoming an in thing today, hence there is no better way to enhance the classiness of your home than arabesque glass tile backsplash. The one reason why I love the arabesque tiles is that they are a very versatile glass tile shape. Hence, you can play around with the shapes and colors until you get the best fit for you.
Hence, you still have so much room to keep things fun and a little traditional at the same time with the arabesque glass backsplash tiles. Especially with the embossments and groove, in these arabesque glass tiles backsplashes.
Arabesque Mosaic Tile Backsplash; Also, you will be surprised that the arabesque glass tile backsplash can work as a mosaic pattern. The arabesque mosaic tiles best suit the kitchen backsplash as well as the flooring but in different colors and textures. Actually, this is something that has risen to popularity over a couple of the past years.
Beveled Arabesque Tile Backsplash; on the same note, the arabesque tile backsplash is also available in the beveled arabesque. This shape features unique curves and edges that are upward facing. This adds a certain unique 3D effect to the room, something that many homeowners surely appreciate. A very good way to elevate the backsplash idea in your home and at the same time give it some vibrancy. Just the ideal way of adding dimension to your tiles without being too extra.
4. Subway Glass Tile Backsplash
This is actually one of my favorite glass tile shapes. I love how simple the pattern is yet still maintaining the level of style in most backsplashes. The subway glass tile is a contender among the most common shapes in the glass tile industry.
You also have the chance to get a little creative with this shape. If you are in love with nature and you would like to bring the outside world into your home, then you can go for the Jaspen Series glass subway tile. It will take you by storm and at the same time, this glass tile will easily blend with your interior décor.
The subway glass tiles also come in different colors hence you don't have to worry about the color blend. At Belktile, there's always something for you.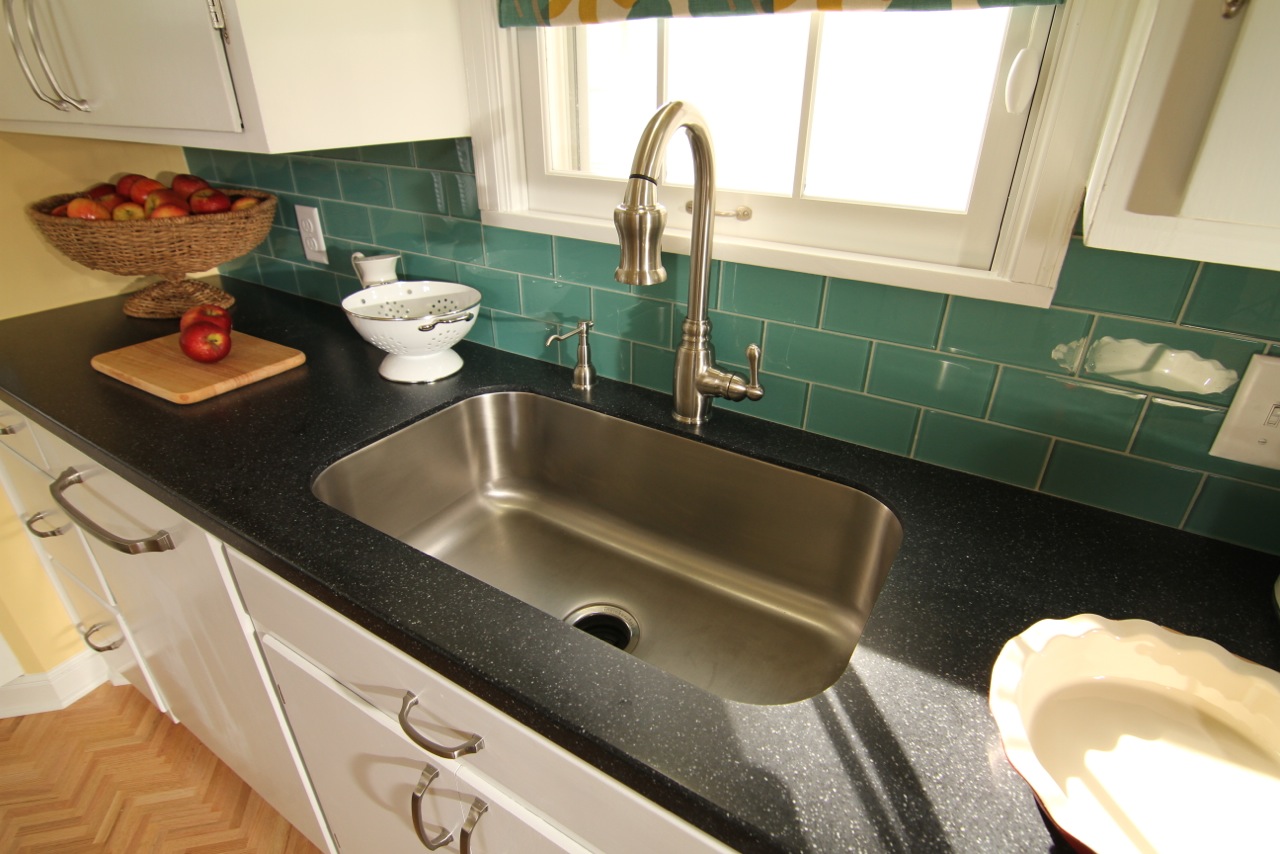 The liner bar is also another great shape that can improve your home. It comes in different colors including the glass liner whisper grey that will help you achieve any shape you like. Simply arrange them in a specific pattern and you get the overall shape from the pattern.
This is especially good for any person hoping to DIY his or her interior glass tiles. However, before you get your tools, ensure you know how to cut or simply nail a glass tile. Otherwise, the whole process might end up being too expensive for you.
Also, you need to ensure your glass tile colors match with your overall theme in the house. That will help you get that designer home even without having to hire an interior decorator.
6. The Lantern Glass Backsplash Tile
The lantern backsplash tile is an interesting shape that has hints of this and that. Somehow similar to the ogee tiles but with some hints of the arabesque. This tile has a very classical shape that mimics a lantern.
Similar to the arabesque tile, this one too can be beveled. This gives it a unique pattern and shape. In most cases, you will find the lantern mosaic tiles are ideal for a kitchen backsplash.
The contrast in the colors and textures in this tile adds more dimension to your rooms. Actually, this lantern glass tile can be suitable for a full kitchen or even backsplashes. Definitely a worthwhile investment for someone who is looking for something unique and at the same time fun.
7. Border Glass Backsplash Tiles
This category of tiles is majorly used only in spicing up the installation and as part of the accent tiles in your home. Normally, these border glass backsplash tiles have a narrower length that is in most cases is used to finish the edges.
When it comes to the border tiles, they can take just about any form. The only point of difference is the texture, color, and size. Most people will refer to these border glass backsplash tiles as trim tiles. You will love how they will bring out a seamless job to your entire layout.
8. Uniform Brick Glass Backsplash Tiles
The uniform brick is also another glass tile backsplash that will definitely improve the overall look of your home. This shape majorly entails using the glass tiles backsplashes to form a brick-like shape that will add details to your overall look.
Additionally, this shape comes in different colors that you can use to complete your home. Add that with the excellent finish in glass tiles and you will have a design that's to die for. This design is especially good in completing the overall look in your kitchen, bathroom or even living room area. But in most cases, this design is used in the kitchen and bathroom.
To add a bit of flair to this design, you can choose to change the shape of the entire pattern and form something unique.
9. Hexagon Mosaic Glass Backsplash Tiles
This a little different from your normal glass tile but this design is worth mentioning. That's because it will give you an eclectic look and also comes in a stylish finish. On top of that, this design can include a range of colors, for instance, the Dentelle Series Heavenly Lagoon Glass Mosaic. This gives you the creative freedom to add more colour to your interior design.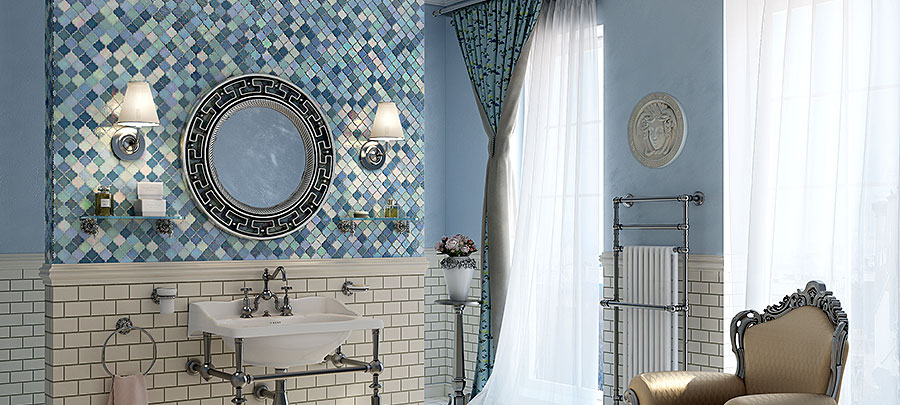 If you want an artistic home, then this is probably the best design for you. The hexagon Mosaic glass tile will ensure you have that royal palace feel and the shine of this glass is simply incomparable. You can use this design on the floor or wall of your home. It's simply eye-catching.
This design works well with your playroom, living room, kitchen or even bedroom. You can place the tiles on the door, floor, and window among other places. All that's limiting this great design is your creativity. Get the chance to explore how wild your designs can get with this incredible glass tile.
In Summary…
When shopping for your next glass tile backsplash to accentuate your home, you will notice that there are different patterns and shapes of glass tiles. The shape of tile that you choose will mostly depend on your personal preferences as well as the existing aesthetics of your rooms.
All in all, there are the conventional shapes that best fit the kitchen and bathroom. In this case, for instance, the arabesque makes quite a great selection for kitchen backsplash tile. On the other hand, the octagon glass tiles are great for bathroom floors. All this is aimed at adding more light as well as improving the aesthetics of every room with more vibrancy.