Posted by Mike Belk on Dec 14, 2020
Porcelain tiles offer unique benefits for all kinds of construction or renovation work. Find out why you should use porcelain formats and some amazing ideas to beautify any space in this article. We often get confused when choosing tiles. Any porcelain tile is great for paving any exterior, interior, or surface. However, large porcelain tiles offer much if you are considering them for your new design project.
Why Porcelain Tiles?
Porcelain tiles are made from a higher density paste, which is less porous and harder than that of conventional ceramics. This quality gives it very high durability that allows it to withstand temperature changes and humidity. It can be used indoors as well as outdoors, for both residential and commercial projects. For the exterior, however, only a grade 5 may be suitable because it will better resist the abrasive agents used in winter.
Porcelain tiles are best known for their easy maintenance and have come a long way. Today's options are more than just practical and can have effects like stone, marble, and even wood. You can create a narrative within the tile application. Porcelain tile is known for its usefulness and durability when it comes to wet spaces. These tiles can effectively prevent you from slipping. Its design element is perfect to beautify any living space from the living room to the entryway. We will see some creative ideas to beautify your indoor spaces with porcelain tiles.
Brutalist Style
If you are a fan of the brutalist style, porcelain format tiles are your best ally. The brutal and primitive character of the Brutalist style, which frequently uses materials from the past, fits perfectly with the technical characteristics of the large porcelain tiles, as well as its wide range of applications. To follow this trend, we recommend pieces with a minimum size of 100x100 cm, as well as their use for paving spaces, facades, worktops, cupboards, and, in short, all types of surfaces. Years ago, you could hear that large format tiles were more complicated to place than traditional tiles. However, these issues have been left in the past thanks to innovative installation methods that make tiling quick, easy, and straightforward.
Rectangular Herringbone Style
What's cheaper than a solid color ten × 20 porcelain tile? And yet, if you decide to place it in a herringbone pattern instead of in its usual brick format, you will achieve a very dynamic and modern effect. This type of placement tends to be more aesthetic with rectangular tiles. The most common style is to place them diagonally, but you can also create a spike. If you also add a black grout and choose taps or partitions of the same color, you already have a very modern bathroom! This option also allows you to play with the tile-paint combination if you decide not to tile the entire wall, creating an amazing effect.
Chevron Style
If you want perfect chevron aesthetics, you can do it with tiles specially prepared for it. These come with the sides diagonally. It squares perfectly by joining with each other forming a straight line in the middle. These types of tiles are usually somewhat more expensive than normal rectangular ones. Although their usual placement is usually horizontal, they are very decorative and unique when placed vertically either in the same color or in subtly different shades. Another way to play with them is by mixing contrasting colors between them (either interleaved or in two different planes), or mixing it with grout or paint in a similar way to the previous case.
Try It Out For Facades
Porcelain stoneware can offer great techniques to cover facades, not only for its size but also for the strength and durability benefits it provides. It works wonders for minimalist and modern rooms, as well as siding and exterior paving.
Porcelain Formats Are Trendy
If you want to be up to date and keep up with the dictates of fashion, you should use porcelain formats. You will find a solution to create beautiful and unique spaces. With porcelain format tiles, you can unify spaces and easily integrate with other types of porcelain stoneware, such as more vintage hydraulic tiles, to design original and modern pieces.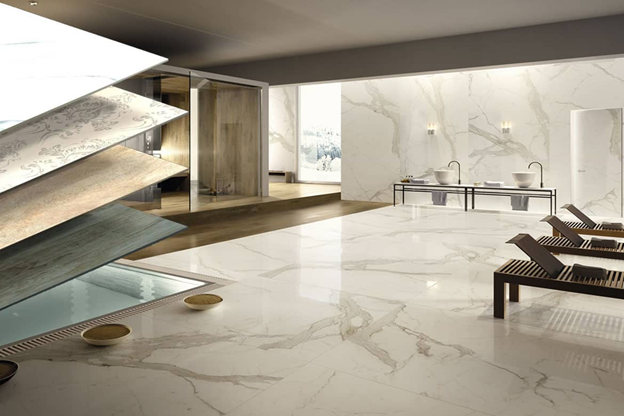 Subway Tile
If you love the Nordic or industrial style, don't hesitate to choose a subway tile with a glossy finish for your kitchen. This style of porcelain tiles is ideal not only for their resistance, hygiene, and easy cleaning but also for their character. They create endearing, simple environments with a touch of order. For a more contrasting effect, you will be right if you opt for the glossy black metro tile. This type of tiles is perfect with furniture and wooden accessories in honey color.
Patchwork Effect
This technique has been gaining more and more followers, thanks to the visual beauty that its porcelain manages to convey. The patchwork is achieved by placing a set of different pieces of tiles in the same space in terms of design and color, which ends up creating an exclusive and very personal collage on the wall. This season takes a risk and goes a step further—bet on mixing it in the kitchen with a checkerboard floor. The effect will be impressive.
Zigzag Tiles
Another great way to place a rectangular tile is to do it in a zigzag, with the base horizontal. In the background, it is like a "diagonal spike, but when placed horizontally, the effect is a kind of checkerboard in the most beautiful tetris.
Geometric Shapes and Textures
Classic and almost monochromatic combinations are still the preference to decorate. We can make a design in which we place the tiles in the kitchen in such a way that they create contrast with each other. At the same time, we will give it a movement because it will create abstract forms. It will give us a result like the one we see in photographs.
Experimenting with figures that end up forming a mosaic is a growing trend. To achieve this, choose a tile with geometric shapes, such as hexagons. It will give you a touch of character that moves between eclectic and contemporary style. Experimenting with textures is also in fashion. If you opt for white porcelain, you will get a kitchen that is trendy but also very elegant.
Join the Dirty-Chic Style
Decadent, elegant, and authentic are some signature characteristics of this trend. If you want to adapt your kitchen to the dirty-chic style, choose an aged-looking porcelain tile for the floor. It looks worn by time, but with the point of originality that the mosaic gives it. The result is simply spectacular.
Mosaic Designs
They are one of the most original options for bathroom tiling. In this case, the wall is a blank canvas for design, be it abstract, realistic, or geometric. The small size of the tiles allows for accurate representations of photos and images because they are almost like pixels. Using small glass cubes, they create installations like these that never cease to amaze us.
Classic Elements
Try a whimsical multi-tone floral design with Bohemian Touch. Small mosaic tile designs are an original and ingenious choice for bathroom tiles. This intricate design offers a mosaic that features a very traditional Asian motif. People love it for its exceptional indoor and outdoor porcelain mosaics. When the porcelain tile is larger, it requires a smaller number of sheets, which facilitates its assembly and minimizes the time spent on it.
Triangles
It is much less common, perhaps because the triangle as a format has a more aggressive meaning than the rest or because it tends to be associated with the ethnic style. The truth is that it is still a little exploited format and, therefore, can be very decorative. Sometimes, we can also join the bases of the triangle together, creating the optical illusion of a rhombus or a hexagon when the design is made up of triangles.
Organic Forms
There is another type of tile with organic shapes that cannot be included in a particular denomination. They are tiles that recreate designs that are reminiscent of Mudejar mosaics and that are usually more associated with classic or Arabic-style bathrooms.
3D Formats
Quite popular in recent times, the 3D tiles are pieces that create different impressions on the walls. Therefore, they are usually more recommended on bare walls that do not carry sinks, taps, or accessories.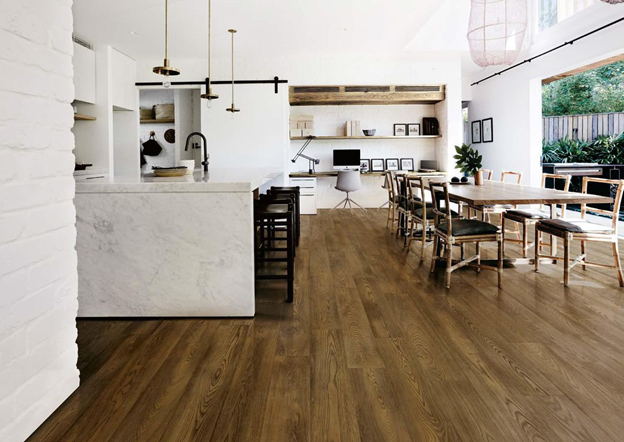 Warm Texture
The tiles with reliefs and textures give more depth and dynamism to the walls. That is why even though you use the traditional white color, its design stands out in the space and serves as a perfect canvas to highlight the decoration of the kitchen.
Romantic Flourish
Floral patterns are still a favorite when it comes to kitchen tiles. Thanks to their decorative design, they offer us a feeling of warmth and provide a great decorative element.
Flowers have the power to give life and warmth to space. This design creates a mixture of patterns achieving a balance in the distribution of colors and shapes.
High Contrast
Intense colors are already used in the kitchen, and it is increasingly common to see vibrant shades like red. To saturate the space, we can choose to combine it with other colors, such as the white of the blind that raises the contrast of the space, combining with the neutral tones of the rest of the furniture. Thanks to this game of well-combined tones, it makes us feel less saturated by the dimension of the space.
Elegant and Serene
A rather elegant option is to mix medium tiles of the same range but in different shades. Neutral colors such as gray or beige work very well in a space that does not want to be too flashy, but instead opts for simplicity. Play with a range of grays on a simple and tastefully decorated wall.
The neutral tones of the wood on the shelves highlight the elements that adorn it, and some chairs in pastel tones make a round design due to the composition of their pieces.
Grayish Theme
This design seems to merge with the entire space, since the range of gray and white of what play at being stones, blends perfectly with all its surroundings. For this very neat space, the advantage of having tiles on the floor is that apart from the very particular design they may have, cleaning is extremely easy.
Combine
There are tiles in a single color and others that are decorated – don't you know which one to choose? Don't worry – you can choose both. There is always the possibility of combining them. You can use the smooth tiles for most of the space and place the decorations in the part you want to highlight and achieve a different decoration. You can even combine tiles of different colors.
Italian
Italian-style design requires spacious rooms with high ceilings. In the interior, the zoning of space by furniture, color, and lighting is considered. Italian style porcelain tiles can be used in bedrooms and bathrooms.
Conclusion
Porcelain tile has become a popular option for wall and floor design. It is a highly durable material that comes in different sizes, shades, and textures. There are porcelain tile models that look like wood, stone, and granite. Today, it is safe to say that porcelain tiles and stoneware represent the advanced technology applied to tiles in interior design. These products are made from high-quality clay mixture, quart, and feldspar. The resulting mixture is pressed under high pressure on special equipment, after which the product is dried and fired in an oven at the highest possible temperature. At the same time, the raw material begins to bake, forming a solid, monolithic material. The result of the process is obtaining a non-porous, especially durable material that has its particular pattern throughout the entire depth.
Designation: Founder & CEO
Bio: A graduate of Ohio State University with an MBA in Business, Mike Belk has been in the tile and stone industry for over 20 years. Mike is the owner and founder of Belk Tile. He has become one of premier tile experts in the nation. Not only does Mike love every aspect of his job, he strives ensure your experience is the very best. He runs a successful blog and, when not immersed in the world of tile, is an avid golfer and wine maker. Mike enjoys interacting with customers and wants to hear from you today. Make sure to check out his
podcast of Tile Talk by Mike Belk.
---