Posted by Mike Belk on Feb 22, 2021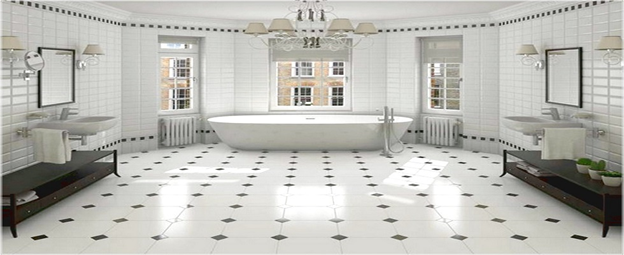 Tiles are still the material of choice in the bathroom when it comes to wall and floor design. Because tiles are durable, waterproof, hard-wearing, hygienic, and easy to care for and, thanks to their thermal conductivity, can even be laid over underfloor heating.
The bathroom tile – An Everlasting Trend
Are you in the process of planning the bathroom, or would you like to redesign the wet room? We will reveal some tips about what to consider when buying and installing tiles! We will look at the current tile trends in the bathroom in this article!
The production of the tile
The term tile is used in a variety of ways. In general, it is understood to mean plates of various sizes made of ceramic. They are used as floor and wall tiles, both indoors and outdoors.
The raw material for the production is clay. Numerous naturally occurring minerals, including quartz, kaolin, and feldspar, are added to this. The shaping is formed either by crushing endless ribbons or pressing them into molds provided for this purpose. The hardness of the tile comes from the subsequent firing process at around 1,000 degrees. And the tile for the bathroom is ready!
The tile color: A Treat For The Eye
The tile gets color from the additives' oxides or a unique glaze. The manufacturer applies this to the raw ceramic tile, which connects in the second firing process. Unique patterns are usually printed, glazed, and fired again.
Be careful when choosing dark tiles! These often make the bathroom look gloomy. Also, limescale residues can be seen more clearly than with light tiles.
Tiles in the bathroom of a new building are hard to imagine without as flooring. When designing the wall, the tiles can either cover the entire walls or only halfway up or in certain areas like shower or sink. But what should you pay attention to when choosing bathroom tiles for a new building?
MATERIALS
Today bathroom tiles are made with various materials, each of which has advantages and a price. The type that best suits the budget, style, and advantages we are looking for should be selected.
Ceramic tiles: These are the most common tiles. They are easy to maintain and inexpensive.
Porcelain tiles: These are similar to ceramic tiles, they are easy to maintain, but their price is higher.
Glass tiles: They are easy to maintain and clean. They give a unique style and are of excellent quality. However, its price is high.
Stone tiles: Ideal for decorating rustic-style bathrooms. However, it is an expensive material, and it spoils sooner because it stores more moisture.
Tiles porcelain stoneware: This material provides a very warm touch to the bathroom and can also be found in numerous textures.
BATHROOM LIGHT
If the bathroom has little natural light or does not have a window, it is advisable to choose tiles with gloss and light colors that create a bright atmosphere. On the contrary, if a lot of natural light enters this room, there are few restrictions, and darker colors can be chosen. If you opt for a dark color for a bathroom without natural light, be sure to place a white led light on the ceiling to counteract the darkness.
BATHROOM SIZE
The spaciousness of the bathroom should also be taken into account when selecting tiles. If it is small, it is best to opt for tiles in light colors (white, beige, soft gray…) or warm colors that make space appear larger. Also, the tile can be chosen based on the height of the room. If the ceiling is low, it is better to tile vertically. If the ceilings are high, it is best to put it horizontally to widen the space.
STYLE
The style of the tile is not only determined by the material but also by the finishes. Many imitate wood, marble, and other textures. The choice of tile can make our bathroom acquire different styles:
Classic and timeless: Using marble-style porcelain tiles or cement tiles.
Rustic style: These are tiles with stone, granite, slate, or wood finishes.
Nordic style: They have straight lines, light tones, and minimalist design. White tiles can be combined with touches of wood on furniture or countertops.
Modern style: These tiles come in gray tones and can match taps and partitions with metallic details.
Cement style: One of the current trends in bathrooms is cement tiles.
TILE AND COLOR DISTRIBUTION
Although the most common bathroom option is to choose a single tile for the entire bathroom, there are many other options to decorate it. You can choose a wall and put a type of tile with a different color and material from the rest of the bathroom. It is not only aesthetic but can also be practical. In narrow bathrooms, if the side walls are light-colored and the one at the bottom of a dark color, the room will appear more spacious.
On many occasions, it is the shower wall that is chosen to be different. You can choose to place some smaller and darker tiles of different colors with drawings. The important thing is to highlight this area of the bathroom that will be seen through the screen.
Another widespread option is to separate the top from the bottom. It can be done by placing a border between the two halves of tiles or tiling only part of the wall and painting the rest with waterproof anti-splatter paint. If you don't dare to leave a part of the wall without tile, you can always choose to tile the two halves with different sizes or colors.
Pay attention to the quality of the tiles for the bathroom
When choosing suitable tiles for the bathroom in a new building, it should be ensured that the tiles comply with the Euro standard. The tiles meet at least specified minimum requirements about water absorption, abrasion resistance, frost resistance, dimensional tolerance, evenness, and compressive and flexural strength.
Ensure that the bathroom tiles are non-slip
Tiles in the bathroom should be exceptionally non-slip because non-slip tiles can prevent slipping and serious injuries. Tiles with profiled or micro-rough surfaces are ideal for the bathroom because they ensure a secure stand. Floor tiles should be extremely slip-resistant, especially for floor-level showers.
Select suitable materials for the tiles in the bathroom
Ceramic tiles, which are available in various colors and sizes, are considered classics among bathroom tiles. Tiles made of earthenware are ideal as wall tiles because they are only light in weight and have excellent adhesive properties. However, as a floor tile, we recommend stoneware or porcelain as the material is more resilient. Glazed ceramic tiles and tiles with a ceramic seal are particularly resistant to dirt and easy to clean. Unglazed ceramic tiles, on the other hand, have to be impregnated after laying to avoid soiling and are less recommended for bathrooms in new buildings.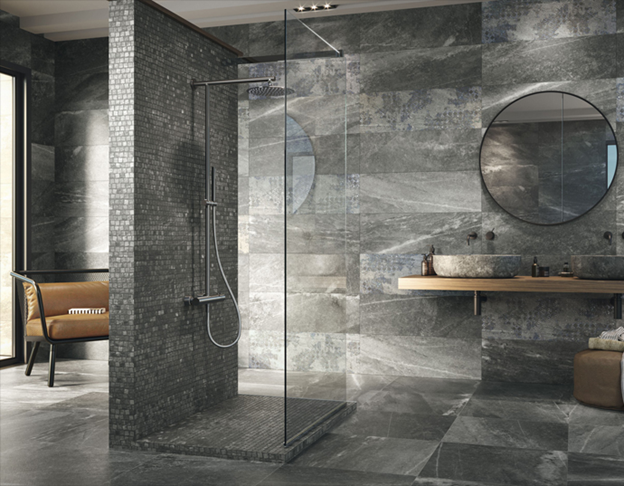 Interior and exterior tiles
Tiles are divided into floor and wall tiles: The diverse material properties result in numerous areas of application and types. Fine stoneware tiles or natural stone tiles are available in the market. Manufacturers either leave porcelain stoneware's surface in its untreated state or grind and polish it after the firing process. Their low water absorption characterizes these types of tiles, which is usually less than three percent. That is why this type is ideal for areas with heavy traffic.
In comparison, earthenware tiles have a much higher water absorption capacity of up to ten percent. They belong to fine ceramics and are only suitable for indoor use. After the firing process, earthenware tiles are covered with a glaze. It results in more excellent resistance to acids and detergents and a smoother surface. It is particularly beneficial for bathroom owners when cleaning!
Take into account the unique features of individual tiles
Suppose large ceramic tiles have completely straight, aligned edges. In that case, the joints can be very narrow and can hardly be seen, which gives the bathroom an exquisite appearance. Solid colored tiles are also particularly recommended in which the entire material is colored, and not just the surface has a thin layer of color. If a tile's surface is damaged by accident, this is less noticeable with solid colored tiles. However, other tile materials like the finest marble are also being used more and more in the bathroom.
Buy bathroom tiles from a batch
The colors of individual tiles can vary greatly depending on the time of production. Therefore, only tiles from one batch should be used for a bathroom. The tiles should also be mixed from several cardboard boxes when laying to achieve a balanced appearance. Color deviations between plain tiles, decorative tiles, step tiles, and base tiles are usually unavoidable due to the manufacturing process.
Select suitable tile formats for your bathroom
The format and the laying pattern play an essential role in the appearance of a tiled room. Large tiles make the bathroom look more modern and extensive, while small tiles in the mosaic style are more suitable for adding playful accents. If the bathroom is relatively narrow, rectangular tiles can be laid across to make the room look wider.
Prefer subtle tile colors for the bathroom
The smaller the bathroom, the calmer the colors should be. Since tiles can only be replaced with a great deal of expense and effort, bright colors should also be avoided in large bathrooms. Instead, timeless, light colors such as beige or gray are recommended. White tiles are also neutral, but they quickly make a bathroom look sterile. Moreover, they are laborious to clean because you can see every hair on them immediately. Fashionable splashes of color should be added in the bathroom with towels and bathroom rugs, which are much easier to replace.
The trend question
Whether wall or floor tiles: There has been a real turnaround in the last 20 years in terms of tile trends. While the mosaic pattern was the tile trend in the 2000s, nowadays, it is far more unusual formats that are popular. In short: the bathroom tile has taken a 180 degrees turn!
Currently, tilers are using the largest possible ceramic tiles in their bathrooms. Tiles with a height of two and a half meters seem absurd at first but are no longer uncommon. Such large-format tiles are particularly suitable for the shower area wall for practical reasons because they make cleaning a lot easier. A smaller number of joints means there is less attack surface for bacteria or mold. At the same time, it ensures an excellent seal to the floor and walls.
Extra tip: Have the tiles laid by a professional
Be it extra-large tile formats or the smallest mosaic tiles, laying tiles requires a lot of know-how and experience. If tiles are not laid correctly, the floor can be uneven, and there is a risk of injury. If the material is mishandled, large tiles can also easily break, which requires expensive replacements. The tiles can also come off the floor if the sub-floor has not been adequately prepared, and the correct laying technique or the correct tile adhesive has not been selected. That is why it is better not to lay tiles yourself but by a professional.
Conclusion
Anyone looking for suitable tiles for the bathroom in a new building should take enough time and consider various aspects. After all, replacing tiles is time-consuming and expensive. Consider the tiles' quality, slip resistance, the right material for wall and floor tiles, the manufacturer's batch for a uniform color image, and the tile format that matches the room. Some tiles have special features for harmonious interior design. Once the right tiles for the bathroom have been selected, it is best to have them laid by a professional. Only with correctly laid tiles will your new bathroom shine in the most beautiful shine over the long term. Many factors determine the best tile for each bathroom and the style we want to give. The size or light of this room also has a say in selecting the best tile.

Share this Image On Your Site
Designation: Founder & CEO
Bio: A graduate of Ohio State University with an MBA in Business, Mike Belk has been in the tile and stone industry for over 20 years. Mike is the owner and founder of Belk Tile. He has become one of premier tile experts in the nation. Not only does Mike love every aspect of his job, he strives ensure your experience is the very best. He runs a successful blog and, when not immersed in the world of tile, is an avid golfer and wine maker. Mike enjoys interacting with customers and wants to hear from you today. Make sure to check out his podcast of Tile Talk by Mike Belk.
---