Posted by Mike Belk on Mar 22, 2021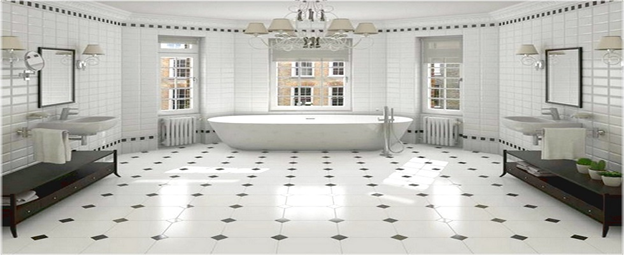 Once you've decided where you'll be installing your bathroom and how you're going to organize the room, it's time to get down to business. But how to do it? We offer you a comprehensive plan to follow when renovating your bathroom.
Place the water inlets and outlets
Are you starting from scratch? After the installations for electricity and ventilation, install the pipes for sanitary water and heating. The shorter the networks, the better. Remember it. Warning: never impose a 90° angle on your pipes. Otherwise, you risk causing plugs, for example, with clumps of hair. And if that plug is out of reach, you will have no choice but to reopen your floor.
Do you want to replace an existing bathroom completely? You must start with a demolition phase: remove existing appliances, tiles, ceilings, and the floor. Once the space is completely bare, you can replace the electrical network and renew the water inlets and outlets. Are the existing pipes damaged? Consider replacing them. Here again, the fewer detours you make, the better it will be for your water.
Another tip: take pictures of the pipes once they are installed to know where they are. It comes handy if you ever have to reopen the floors.
Work on your walls and ceilings
You have two options for a bathroom: water-resistant plastering or water-repellent plasterboard. It will prevent mold, humidity, and cracks. If you opt for capping, call a professional. It's a very technical job. It is more expensive than plasterboard. However, an advantage is that the capping is practically indestructible. In case of renovation, structures can be a great asset. You will not lose much space.
Are you going to put tiles on a wall or in your shower? Preferably use waterproof plaster cement as plastering. It is even more water-resistant than traditional plaster and is particularly recommended for the shower or the bathtub. Be careful to watch for cracks that will appear after some time on the joints of the tiles and will eventually alter the waterproofing of the wall.
Another way to ensure waterproofing is to use a water-resistant fabric. In this way, water will not be able to circulate under the floor. It is particularly recommended for walk-in showers with a drainage gutter.
A word of advice: check that you are not suffering from humidity problems before tackling the finishing of your walls.
Cover floors and walls
Always pay attention to the health of the soul, especially during a renovation. Are you thinking of installing underfloor heating? Entrust this work to a specialist. There are different types of floors to consider for your bathrooms, such as cork, concrete screed, wood, laminate, tiles, and marble. Do you have a preference? Check the advantages and disadvantages of the manufacturer or distributor.
Poured floors, for example, have no joints, are waterproof, and will not be too slippery. A concrete floor is only waterproof from a certain thickness. You will need to install a waterproof basement if you want to use concrete for your shower floor. Cork is also waterproof, but you need to renew the surface coating more often. You must also pay particular attention to wood installed in a bathroom.
What about your walls? You have a choice between tiling and painting. The latter is the cheapest and is the solution requiring the least labor. After a few years, you will be able to offer a new color to your bathroom. However, if you are thinking long-term, tiling will be your best bet.
Tiling increases the feeling of being in a bathroom. It is also possible to combine the two. Place the tile on the walls of your shower or bathtub and paint the ceiling and other walls in the room.
Otherwise, you can opt for an acrylic finish on your shower screen. It is a seamless, easy-care material for your shower area. Finally, there are different materials offered in the form of panels that are specifically adapted to shower enclosures.
Do you have a preference for the floor? Check with the manufacturer or distributor for the advantages and disadvantages. Your bathroom is almost finished.
Place and install your sanitary ware
Your bathroom is almost completed. It would help if you permanently placed your bathtub, your shower, your sink, and possibly, a toilet. You should also check the correct installation of your faucets. It is a job for a plumber unless you have the necessary skills. All you have to do is enjoy your new bathroom.
Here's what to consider when renovating your bathroom
If you are renovating your bathroom, you are doing it for aesthetic and comfort reasons. You want a beautiful bathroom that is also functional. However, there are many practical aspects that you should not lose sight of, especially if it is a renovation.
When designing your bathroom, you must take into account the current location of the supply and waste pipes. You will already avoid a lot of work. Also, consider your privacy. Do you want to focus on the light without sacrificing your privacy? You can use roller blinds or arrange your bathroom in such a way that there is no direct view of your tub or shower.
Lighting
For general lighting in the bathroom, the range of solutions is very diverse. Do you want recessed spotlights in the ceiling? You can provide a false ceiling and integrate spotlights.
Use of Space
Bathrooms are often small, because of which you might face certain limits. Seniors tend to opt for a large shower with a built-in seat and do without the tub. Even if you already have a bathtub, a shower area can still be handy, right? Its size should be proportional to the space of your bathroom. The comfort it provides is really worth it!
The number of sinks is a personal choice. Consider your lifestyle. If you and your partner are going to work at the same time, two sinks are certainly not a luxury. But of course, space must allow it.
Wellbeing
The first question you should ask yourself: is my bathroom big enough to fit in a wellness area? An infrared cabin occupies at least 5 x 5 feet, a sun bench easily 6 x 6 feet. Not to mention a jacuzzi or sauna. In a regular bathroom (so to speak, already relatively small), the wellness area is not a good idea. You will instead be better off planning another space elsewhere, as long as it is already equipped with the necessary pipes. When your children leave the house, a room will likely become available.
Floor
While wood flooring isn't necessarily a problem in a bathroom, avoid it. Above all, do not use natural stone in the bathroom: it is sensitive to soap and becomes very slippery. A suitable solution is ceramic tiles. Prefer dark and large-format tiles for ease of maintenance. It resists scratches and stains much better.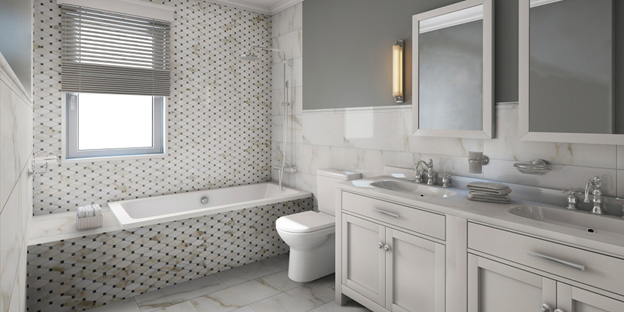 The principles for renovating your bathroom
Harmonize shapes and colors
Avoid white on all walls and floors
Favor the atmosphere with decorative effects
Don't hesitate to add plants.
Over-size the mirror for a small bathroom
Choose powerful lighting (over 3000 lumens) and neutral white (over 4000 Kelvin).
Structure the decoration and give it a personality with useful geometric patterns.
Think of decorating walls and floors together, especially when testing samples or producing a 3D plan
The flooring of a bathroom requires care for its maintenance and resistance to humidity.
Tiles, a sustainable investment for your bathroom
By choosing tiles as your bathroom covering, you are investing for the long term. The tile does not get damaged as it is stable and resistant in all circumstances. It withstands all the most significant impacts, scratches, and temperatures, accident, and fire.
As tiles are resistant to humidity, this material is ideal for bathrooms, which are exposed to high moisture daily. It would be best if you chose quality tiles.
Ease of maintenance
Your bathroom will be ultra-easy to maintain with tiling. A little vinegar or baking soda with water will be enough to preserve the cleanliness and the shine of your coating, unlike the parquet, which absorbs humidity and can develop bacteria.
Tiles for all styles of bathrooms
The tiling is also a choice of excellence by its design. There is a multitude of sizes and colors of tiles that will match the desired style for your bathroom. The tiles can imitate other materials such as wood or can create original and creative effects with different possible patterns. You can personalize the decor of your bathroom and create a unique ambiance only by choosing the tiles.
A suitable material for the floor and the walls
Tiling can cover both the floor and the walls of your bathroom. You can place the same tile on these two areas or tiles of different shapes and materials for the shower, walk-in shower, and bathtub walls. Whatever the pattern, the tiling is adaptable to all surfaces of your rooms.
Easy to lay
Tiling also offers the advantage of being easy to install. It can be placed on multiple supports such as an existing floor during a renovation. It can also be laid indoors and outdoors and withstands the most intense conditions. A professional in the sector will carry out a quick and efficient installation on the floors and walls of your home.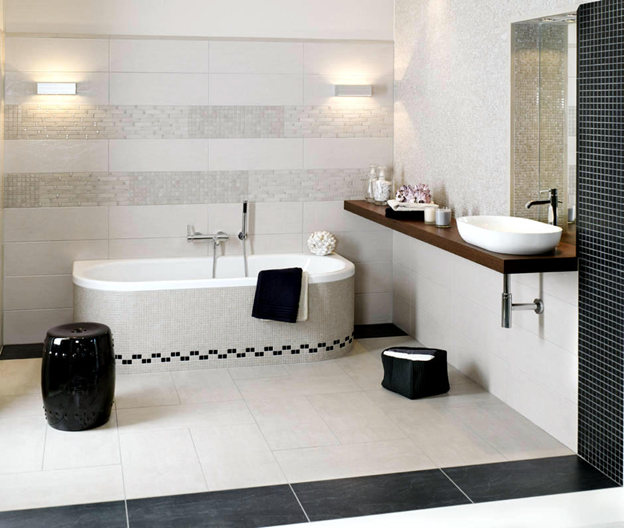 Wall tiles
It is the ideal coating for the bathroom and the most efficient in quality/price ratio.
The advantages of wall tiles
Completely waterproof: Water resistance is the first criterion of a material's performance in a bathroom
Excellent mechanical characteristics
Resistance to heat and temperature variations
Resistance to stains (cosmetics), chemicals, scratches, and leaching
Easy to maintain and resistant to the most aggressive cleaning products
An unparalleled variety of compositions, patterns, materials, and colors: XL tiles, a mosaic of glass, leather effect tiles, wood effect, and slate effect
The joints can be colored.
The different types of wall tiles for Bathrooms
Natural stone (granite, slate, quartzite, marble, etc.): Solid, high-end aesthetics and limited in choice of materials and colors
Full-body porcelain stoneware: shaped like a block, ultra impact-resistant, and available in large sizes
Glazed Ceramic Tiles: Impact-resistant, easy to maintain, very shiny, exists in small sizes, and a wide variety of colors and textures
Polished stoneware and stretched stoneware: With the appearance of stoneware consist of a stoneware wear layer fixed on a cement base and offer characteristics similar to full-body porcelain stoneware, with slightly lower resistance
The earthenware wall tiles: Can be a fragile and great variety of colors
Mosaic: The vast possibility of creating patterns with a wide variety of appearance and colors
The Advantages of Floor Tiling
Tiles offer the best value for money for bathroom flooring. They are:
Waterproof
Ultra-resistant to shocks and scratches
Easy to maintain and resistant to cleaning products
A range of choices of colors and shapes
Stable colors: the tiles will not tarnish or fade
Non-slip: its non-slip classification will be rated from A to C
Large formats (up to 24 x 48 inches)
Tile joints
Plan the width of the joints of your tiling. We recommend a minimum width of 1/16 inch for reduced joints in tiles with rectified edges and a standard width of 1/8 inch. If you opt for a tile imitating a material (wood, concrete, natural stone), use an ultra-thin joint provided that the tiles are rectified.
If the most common colors are white, beige, pearl gray, or cement gray, you can also dare the color for the joints of your tiles:
Adapt the color of your joints to your tiles
Avoid white, which would give a "grid" effect to your decoration, unless you play with contrasts (black tiles or an intense color)
Choose joints with a lighter shade than the tiles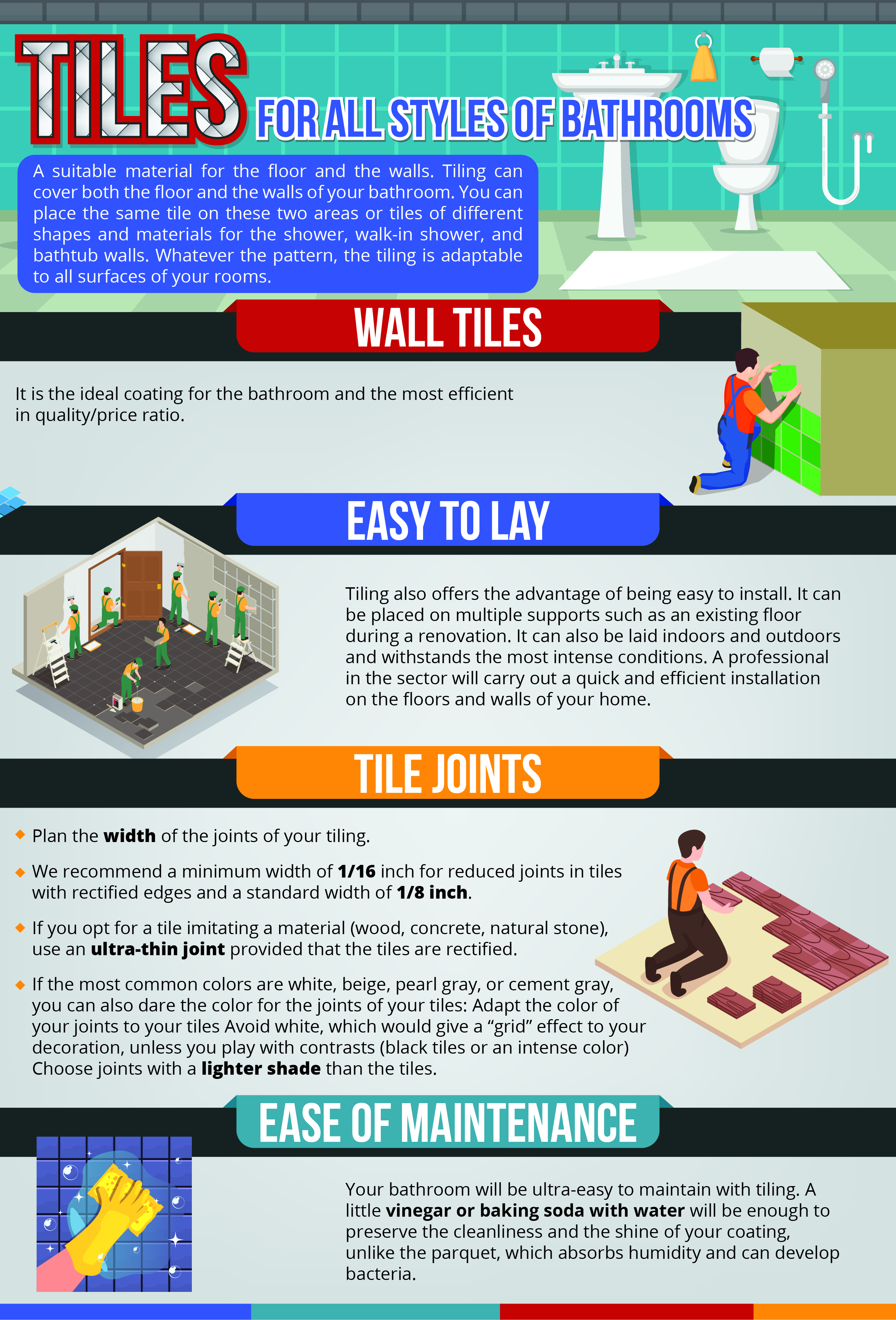 Share this Image On Your Site
Conclusion
Tiles are by far the most popular material for covering a shower screen. That makes sense because tiles are durable, moisture resistant, and easy to maintain. These are all essential points in the humid environment surrounding the shower.
Designation: Founder & CEO
Bio: A graduate of Ohio State University with an MBA in Business, Mike Belk has been in the tile and stone industry for over 20 years. Mike is the owner and founder of Belk Tile. He has become one of premier tile experts in the nation. Not only does Mike love every aspect of his job, he strives ensure your experience is the very best. He runs a successful blog and, when not immersed in the world of tile, is an avid golfer and wine maker. Mike enjoys interacting with customers and wants to hear from you today. Make sure to check out his podcast of Tile Talk by Mike Belk.
---