Posted by Mike Belk on Nov 25, 2017
Are you looking to upgrade your kitchen? Why not? Kitchen is an important part of a household. It's a place where a lot of time is spent, cooking and even eating (in open kitchens). A stylish kitchen adds to the beauty of your house, and its value. While upgrading your kitchen may mean going from installing a new chimney to redoing your kitchen floor. An important part of your kitchen is the backsplash area. A backsplash is the panel installed behind stove or sink, to protect the wall from splashes. A nice way to do your kitchen backsplash is to re-do it with white kitchen backsplash tiles. Yes, tiles are a great way to do your backsplash paneling. They are easier to manage and clean. Plus they last for a longer time. Using white kitchen backsplash tiles, is not only practical but it also adds a great cool and calm vibe to your kitchen. Here are a few reason for why you should consider installing white kitchen backsplash tiles to your new kitchen.
1.SIMPLE AND CLASSY:
If you are not a fan of too much bling, and like to keep things simple and classy, white is the perfect choice for you. Nothing says simple and classy like white kitchen backsplash tiles. White tiles are available in different fashioning and also plain white forms. You can choose whichever you fancy more, and turn your kitchen in to a masterpiece.
2.CREATES AN ILLUSION OF MORE SPACE:
While other darker colors may make your kitchen feel like crowded, white creates an illusion of wider space and makes your kitchen space look roomier. They reflect more light and are bright, so your kitchen looks larger than it really is. So if you are working with a smaller space, white is your "go to" choice. Don't think twice and just go for white kitchen backsplash tiles.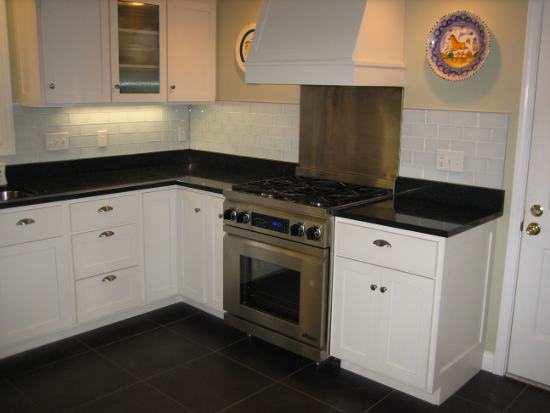 3.HYGIENICALLY GOOD:
Yes, you heard me right. A kitchen is a place in your house that needs to be cleaned every day. The dark colored tiles may cover up stains or dust, and not need to be cleaned daily. However, that is bad for your kitchen hygiene. White tiles get messy real quick and you will be motivated to clean them regularly. This in turn will keep your kitchen space cleaner and tidier. Cleaning white kitchen backsplash tilesregularly, will increase their lifetime as well.
4.BLENDS RIGHT INTO EVERY KITCHEN INTERIOR:
While you may need to give a lot of thought to which color you want to choose to match or perfectly contrast your kitchen's interior, white goes with everything. You can never go wrong with white kitchen backsplash tiles. These look good with wooden interiors, metallic interiors, plain concrete interiors and all other kinds. Plus you will get a great classy look, as discussed previously.
So there you go; now you would be convinced that white kitchen backsplash tiles are the right choice. Try them in your kitchen and share your experience with us in the comments section below.