Posted by Mike Belk on Jul 26, 2023
Tile is one of the best ways to add a unique decorative element to your home. With a variety of styles, colors, and motifs, you're guaranteed to find a style that perfectly fits your home's style.
Another way you can make tile a feature in your space is with a unique pattern. Tile patterns can instantly make plain tile feel like a design statement. Use these different tile patterns on the wall or floor of your home.
The majority of these tile patterns work best with elongated shapes, such as rectangles or hexagons. However, there are some patterns that also include squares, round, or other, more uniquely-shaped tiles.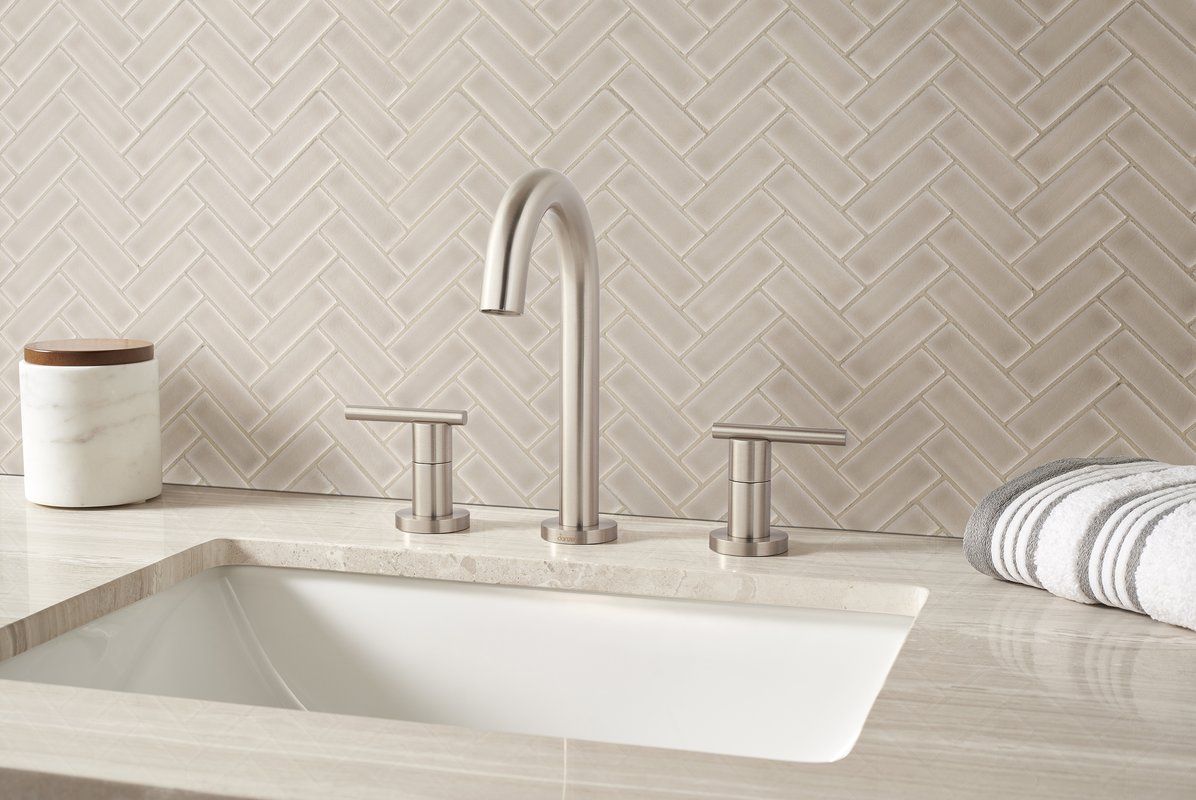 Herringbone
A herringbone tile pattern uses V-shaped rows with tiles set at 45-degree angles. It's best used with rectangular tiles; both small and large sizes will work for this pattern.
Herringbone is a classic pattern that often evokes elegance and old-world charm. But it can also look more modern and sleek when choosing the right materials and tile size.
This pattern is also a favorite way for many homeowners to dress up classic subway tiles. It's an easy way to create a graphic design without having to buy fancier tiles.
In order to show off the pattern, use a grout color that contrasts with the color of the tile.
Herringbone is a favorite to use as a backsplash tile in the kitchen. However, it can also provide a unique pattern for floors, especially in living rooms and foyers.
Chevron
A chevron tile pattern is similar to herringbone; however, the tiles meet to create a point rather than stack to create a point. The tile has a mitered 45-degree joint that creates arrow-like shapes in the pattern.
There are tiles fabricated specifically for a chevron pattern. However, if you do find a rectangular tile that you love but doesn't have the 45-degree edges, you'll have to cut the tile or have them cut.
Where herringbone is more elegant and sophisticated, chevron is more modern and funky. It's a classic design with tons of movement that easily creates a unique feature in the space.
Chevron can lean in a more classic direction by choosing black and white tiles or can have a more modern look by using color within the design. This tile pattern is often used as a backsplash or shower tile, as well as around a fireplace.
Stacked
Stacked patterns create a basic layout but can still have an incredible impact on the room's design. This tile layout sees tiles that are directly placed on top of each other so the edges line up.
This tile layout is favored among modern interiors because it creates clean lines and adds a simplistic elegance to the space. Tiles can either be stacked vertically or horizontally, each with its own design benefit.
Horizontal stacked designs can emphasize a room's width, making it appear larger. Vertically stacked designs put emphasis on height, especially with tall ceilings.
Stacked layouts are most often used with rectangular tiles. However, you can use square tiles to create a grid, which can evoke a retro look.
Because the design is so simple, choosing a stacked layout is a fun opportunity to use a unique tile. Eye-catching colors and interesting textures can enhance this simple layout.
Offset or Staggered
An offset or staggered pattern is often akin to the way bricks are laid. In a classic offset pattern, the edge of one tile is placed in the center of the tile below it.
This pattern is versatile, so it works well with classic subway and rectangular shapes as well as more non-traditional tile shapes. It's a clean layout that can lean both traditional and modern.
There is also a one-third offset pattern where the edge of one tile sits about a third of the length of the tile below it. This creates a diagonal effect when looking at the design as a whole.
Offset patterns work well with handmade or texture tiles as well as designs that include multiple colored tiles. Tiles made to look like wood also look great in an offset pattern.
This pattern is often used on floors as well as surrounds for fireplaces. It can also work well as a pattern on shower walls.
Pinwheel
Also called a hopscotch pattern, a pinwheel layout uses two different sizes of square tiles. Smaller square tiles sit at the corner of larger tiles and are slightly offset, creating an overall look of a spinning pinwheel.
This tile layout is a subtle way to add a little more interest to a space. You can use the smaller tiles as a way to infuse an accent color or use a tile of a different material to add more texture to the space.
Pinwheel layouts are most popularly used as bathroom flooring, though they can obviously be used anywhere in the house. And because of the intricate layout, it's best done by a professional or someone with experience.
Basket Weave
As the name suggests, a basket weave pattern resembles the structure of a woven basket. In this design, it looks like the tile is weaving in and out of each other.
The mosaic pattern uses two tile shapes, a longer rectangular shape, and a small square, to create the design. The rectangular shape can have straight edges or can curve in to look more like a piece of woven fiber.
A basket weave pattern leans traditional, adding a bit of charm to the space. However, it can also look more contemporary and modern with the right finishes in the room.
Basket weave tiles add a soft texture and a unique movement to the room. Many homeowners prefer adding this as a bathroom floor tile or sometimes as a backsplash in the kitchen.
Diagonal
Sometimes called a diamond layout, this tile pattern puts the classic stacked grid pattern on a diagonal, usually at a 45-degree angle. This pattern uses square tiles, which often makes it appear to be a design of stacked diamonds.
Diagonal and diamond layouts can make the space it's in appear larger or wider when placed on the floors. This is especially true when using larger tiles to create the pattern.
Many homeowners also like using this pattern on the walls as a backsplash or shower surround. The pattern is also often used as accent tiles, such as behind the stove or in a recessed shower shelf.
Using this pattern in combination with other tile patterns creates a bit of subtle interest and still allows you to use the same color tile as the rest of the room.
Random
Random tile layouts have more to do with color and motif than it does with the pattern. A random layout can utilize any of the above layouts, but have a more carefree placement of individual tiles.
This can be a way of mixing multiple colors throughout the design. The same can be said for motifs and textures, dispersing or grouping them in whatever creative way you see fit.
A random layout is a great way to create something bespoke and distinctive, making for a design that looks customized.
You can use this pattern with a tile of any shape or size. Playing around with these elements can help further that customized design you may be after in the design.
Random patterns are easily incorporated anywhere in the home. Be ready for this to create a statement wherever you use this layout.
Things to Consider When Choosing a Tile Pattern
The variety of tile patterns provides you with plenty of choices, but it can also be overwhelming. As you make tile decisions, there are a few things to consider along the way.
Take into account scale, for example, which has to do with the size of your tile. Smaller tiles can look busier, while larger tiles can provide a sleeker design.
If you have small, busy tiles, neutral colors may look best. A larger surface can be a great opportunity to play around with colors, shapes, and motifs on the tile. You may also mix sizes to create a unique pattern.
Where you plan to place the tile can also have an impact on your tile decisions. You may choose to have large tiles on the floor or go with something with a little more of a statement for the walls.
The color of grout can also make an impact, as darker grouts will often show off a pattern more by highlighting the tile it surrounds.
Elevate Your Home with Tile Patterns
Search through inspirational images of home design, and you'll often see rooms with beautiful tiles. These simple design details can make a major impact, whether they're in a bathroom, kitchen, or foyer.
However, when it comes to making the tile a true feature of the space, choosing the right tile patterns is just as important as choosing the right tile. Luckily, you have plenty to choose from to get exactly the look you want.
Ready to transform your home with stunning tiles? Shop Belk Tile's selection of kitchen backsplash tile and more today!