Posted by Mike Belk on Jul 25, 2023
More homeowners than ever are installing tiles in their homes. The US imported nearly 41 million square feet of tile in the last quarter of 2022 alone. That is an increase of 46.1% from the final quarter of 2021.
If you have tile or are planning to install tile in your home, you clearly are not alone. But have you considered what kind of tile edging you need? Many homeowners fail to consider trim and edging when choosing the right tiling.
That is a major mistake! Tile trim and edging have many benefits, from offering a more polished and professional look to improving the safety of your home. And these are not the only benefits to think about.
What is tile edging, what are the benefits of using it, and what types can you choose from? In this guide, we will answer these questions and tell you how to find the best tile trim for you. Keep reading for everything you need to know.
What Is Tile Edging?
Edging tiles or tile trim is a type of tile used to finish the edge of a larger tiled area. They provide a smooth, clean edge to cover any sharp ends or unfinished parts of tiled floors, wall tile, backsplashes, and any other tiled area.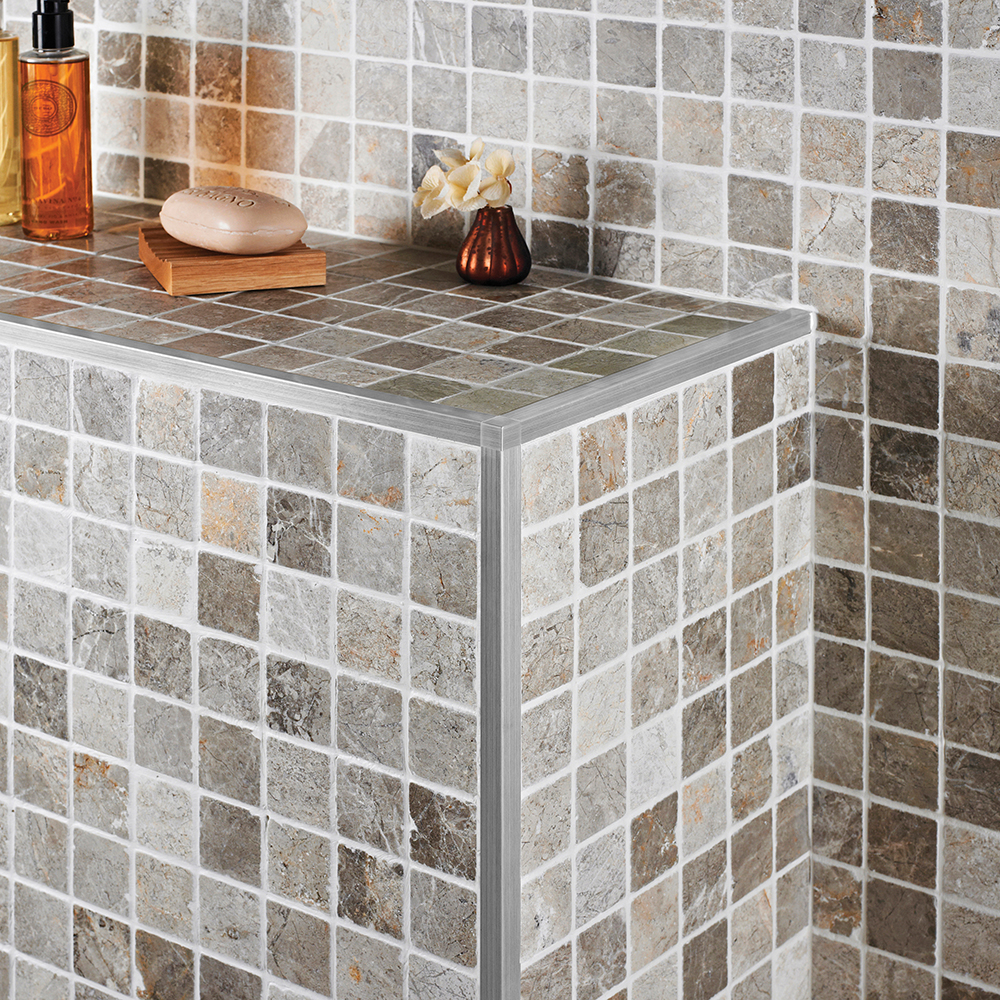 Tile trim is not always necessary, but it does come with some benefits. What benefits are we talking about? We are talking about a few of them next.
Benefits of Tile Trim
Some tiled areas do not have tile edging. So, you may be wondering: what are the benefits of adding trim to your tile? Tile trim offers the following benefits:
Prevent your tile from getting damaged
Keep you and your loved ones safe from injuries
Reduce tile cleaning and maintenance efforts
Get a high-end tile look and increase your home's value
Provide a complete, finished look for your tile
Without tile edging, the raw edge of your tile will show. Raw tile edges are not only unsightly but also difficult to clean, easy to damage, and potentially unsafe.
You may feel like investing in tile trim is not worth it. But you will save money on maintenance and tile replacements over time. As we mentioned, your home's value will benefit, too.
5 Types of Tile Edging Materials
When it comes to tile trim, you have options. Tile edging comes in just as many materials, shapes, sizes, and styles as traditional tiles. We will talk about five of the most popular types of tile trim materials next.
1. Stone Trim
Stone trim is an excellent choice for granite and marble tile countertops, backsplashes, and more. It is also ideal for other types of stone tiles, including limestone, travertine, or slate.
You could even use stone trim with non-stone tile. Imagine a marble edge to your minimal subway tiles. Or think about how nice a slate edge would look with a concrete countertop.
Using stone offers a lot of benefits, too. Stone comes from natural sources, is incredibly easy to clean and maintain, and keeps your home cool. This material is also highly durable and will add a lot of value to your space.
2. Porcelain Trim
Porcelain is a man-made material. Manufacturers make porcelain tiles from clay and other natural materials that are exposed to high temperatures (2,300°F to 2,400°F). It is similar to ceramic tile, which we will talk more about next.
Using porcelain edging is a great choice for contemporary-style homes. It can also work well for more eclectic and artsy homes. After all, manufacturers can make porcelain tiles in a wide array of shapes, colors, and styles.
This material is particularly beneficial for backsplashes. It is less porous than other types of tile, meaning it can stand up to a lot of water. Porcelain tile edging can also stand up to the great outdoors, so it's great for exterior areas.
3. Ceramic Trim
Ceramic and porcelain are highly similar materials. The biggest difference is that ceramic manufacturers do not heat this material as high. The way ceramic tile trim is made has implications for its water resistance and durability.
Compared to porcelain, ceramic is much less water resistant. It is also softer than porcelain, which makes it more susceptible to damage. On the plus side, ceramic is far more affordable than porcelain tile trim.
Though it does not come in as many varieties as porcelain tile, ceramic edging comes in multiple colors. You can even find tile trim that mimics the look of wood or stone for a higher-end look.
4. Plastic Trim
Plastic tile trim consists of polyvinyl chloride (PVC). Vinyl tile is commonly used on floors. Some homeowners also choose plastic tiling for backsplashes because it is affordable and very water-resistant.
Like plastic tiling, plastic tile trim is also budget-friendly. It is the best choice if you want to save money on your home renovations. Manufacturers can also make plastic trim in an impressive variety of shapes, styles, and colors.
Plastic's impressive water resistance means this type of edging works well in showers, behind sinks, and on floors. There are even peel-and-stick varieties for a rental-friendly home update.
5. Metal Trim
Metal tile is a more modern invention consisting of stone and metal. Whether your home has this unique type of tile or not, metal trim is another affordable and durable choice for your home.
You can add some glitter and shine with tile edging. There are simple edging choices for more minimalistic styles. Or you can find etched metal trims to add a luxurious and futuristic vibe to your home.
Of course, metal may not be the best choice for showers or backsplashes. After all, metal is prone to rust. However, you can get a waterproof coating for your metal tile edging to keep your tiled area looking newer for longer.
Types of Trim Tile Configurations
Material is not the only thing that distinguishes one type of tile trim from the next. There are also different types of trim tile configurations that suit specific parts of your tiled area.
Learn about some of the most common tile edging configurations next.
Radius Trim
Radius trim works perfectly for corners. This type of tile trim is heavy-duty and impressively durable. For that reason, most homeowners choose radius trim for tile in high-traffic areas.
V-Cap Edging
V-cap edging has an L-shape to fit over the outside edges of tiled areas. It will cover the unfinished edge of your tile to make for easier cleaning. It provides a professional look for DIY tiling jobs.
Base Tiles
Base tiles are decorative tiles that sit at the base of a wall. They come with a curved lip at the base that connects to the floor tiles. Manufacturers can create base tiles in many different colors and styles.
Tile Borders and Accent Tiles
The other tile trim configurations we have talked about so far are mostly practical. Borders and accent tiles are all about style. These types of trims add textual or color contrast to the rest of the tiled area.
Bullnose Tiles
Bullnose tiles are long, thin tiles with curved edges. They work well for sides and corners. Plus, they are suitable for all types of tiled areas, including walls, backsplashes, showers, tub surrounds, hallways, and much more.
How to Choose the Best Tile Trim for Your Home
Now that you understand the basics of the different types of tile edging, it is time to choose the right trim for your needs. Here are some tips for doing just that:
Consider your home decor style and choose a tile trim material to match
Ask the manufacturer if they can make trims to match your tile
Use peel-and-stick tile trim to test out unique designs
If you can't decide on the right trim, no worries. It is easy to add trim after tiling as long as you use spacers to ensure everything is even. That way, you have more time to make the decision that is right for your space.
For advanced tips on how to install tile trim and edging, watch this short instructional video:
Add Style to Your Tile With Belk Tile in Lewis Center, OH
Tile edging and trim add the finishing touch to your tiling. You can find trim in just as many materials and styles as regular tile. The best choice for your home depends on your design style and unique preferences.
Are you searching for a one-stop shop for all your tile needs? Belt Tile has the most extensive tile and tile trim inventory in Lewis Center, Ohio. Shop our tiles and tile trims online today!