Posted by Mike Belk on Nov 16, 2020
Cement tile is probably the star of all tiles. It is trendy, and we can use it both on the walls and floor for unique design patterns. In this article, we will share a comprehensive guide to cement tiles for designing your living spaces.
A Growing Trend
Cement tiles appeared in the mid-19 th century and flourished during the 1900s. They reached their peak at the beginning of the 20 th century. Gradually, we started seeing them in homes, businesses, or public places. From the 1950s, they disappeared, and tiling trends took over. They are made from a mixture of cement, sand, and marble powder. Today, they are available in colorful patterns and contemporary artistic fashions. You will see them adorned with mosaics, flowers, geometric shapes, and even animals. Some opt for perfect connections between each pattern, and others prefer to assemble different tiles for a colorful and creative patchwork. They perfectly embody an ideal retro floor in both authentic and modern styles.
How to choose your cement tiles?
Cement tile is a wall covering that is trending for decorating the home. It gives personality to any room in the house. From the living room to the bathroom to the kitchen, cement tiles reconcile vintage and modernity.
What is a cement tile?
The cement tile is manufactured from white cement, water, white powder of marble, sand, and colored pigments. This traditionally hand-made paste is then poured into molds with various patterns, then compressed using hydraulic presses and dried for several weeks. Cement tile is very resistant, and its many patterns make it a very creative material for decoration. Wall cement tiles must be laid on a perfectly level wall with plaster, plasterboard, cement, or breeze block. Cement tiles adapt to any room in the house regardless of the humidity level. They find their place in a kitchen as a backsplash, in a bathroom to frame a sink, or to perfect the decoration of a walk-in shower.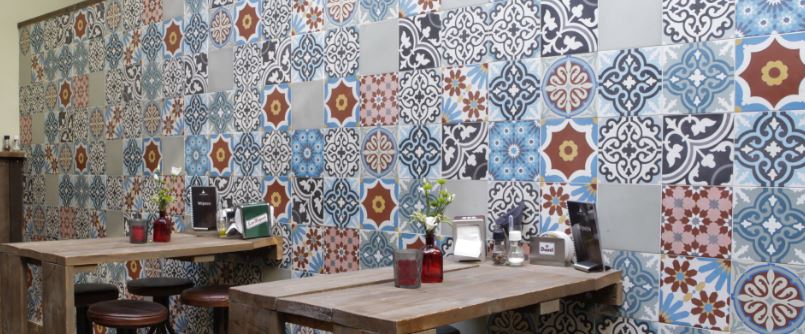 Cement tiles: Alternatives For Floors
The cost of manufacturing a cement tile makes its price quite high. Moreover, it is not suitable for laying on the floor. However, there are alternative solutions. The replicas of cement tiles are less expensive but guarantee the same possibilities in terms of decoration.
Resistance
These tiles are highly resistant to wear and can be installed in high-traffic rooms such as the hallway, living room, kitchen, or bathroom. In glazed stoneware, they are quite similar in terms of patterns and colors. Their contrasting colors have excellent durability over time since they are tinted throughout; when they develop a patina, they retain an undeniable charm and elegance.
This floor covering makes it possible to delimit the space in the house, but also within a single room by highlighting a piece of furniture, the space in front of a fireplace, or kitchen space.
Cement Tile Imitation PVC Coverings
PVC imitation of cement tiles also offers a lower-cost solution. In the form of slabs, blades, or rolls, they have a different texture but keep up with the decorative aspect.
Styles of Cement Tiles
Cement tiles offer many possibilities in terms of patterns and colors and give free rein to creativity in interior design. The patterns are varied and range from the simplest to the most sophisticated, including plain, two-tone checkerboards, interlacing, rosettes, and arabesques. It is possible to combine the patterns, sizes, and shapes of cement tiles to create a unique decoration. Shades of shapes mingle with shades of color for a vintage, classic, graphic, or colorful style. Traditional or contemporary in style, cement tiles make it possible to design a unique decoration of vintage, retro, and modern design style.
The different criteria for choosing a cement tile
Besides the style and the location, here are the criteria that need particular attention when choosing your cement tiles.
The thickness of the tile
This thickness should be considered for the correct junction with nearby materials. The imitation cement tile floor and wall tiles are thicker, like traditional tiles, and therefore more resistant. The dimensions of a wall cement tile are traditionally 20×20, but there are larger or smaller variants.
The many geometries available – including square, rectangular, octagonal, or hexagonal – allow you to play along with the shapes and create a highly decorative patchwork.
Which cement tiles for which room?
Cement tiles are installed in all rooms of the house, regardless of the passage or the humidity. However, it should be covered with a waterproofing treatment when it is placed in a damp room, to overcome its porosity.
Installation and maintenance of cement tiles
Laying cement tiles
Proceed on a wall or floor that is as level and clean as possible. First of all, you have to make a layout. The style can be:
Traditional: This involves making a screed of wet cement mortar.
Adhesive mortar: Spreading a thick layer of adhesive mortar can make it possible to catch up with any unevenness on the surface.
In any case, it is inadvisable to hit the tiles with a mallet and soak them in water. It must undergo a waterproofing treatment during installation to protect the cement tiles from water, oils, and grease. Once a year, treatment with wax, varnish, or resin is recommended. Daily maintenance is easy to do with water and black soap. You must avoid using bleach, white vinegar, or any other cleaning product.
Cement Floor Tiles: Pros And Cons
Over the past few years, the Moroccan style has become very popular in interior design. Luxurious oriental patterns that it offers can impress anyone. Cement tiles are most often used to create a beautiful pattern. However, this finishing material is far from a novelty. It was used several centuries ago for cladding floors and walls in the luxurious castles of the sultans and other wealthy inhabitants of the East. Later, the love of chic appeared in the US. Many years have passed, and the palaces decorated with this material continue to amaze the eye with their appearance. It represents the durability of the cement tile and many other advantages.
Features
Even though this finishing material has undergone some changes over the years, its composition remains the same. After mixing all the ingredients, the resulting mixture is poured into special molds. Then a colored pore filler with a fine-grained structure is applied. Thanks to this, the material does not allow water to pass through, which is a great advantage. To add brightness, manufacturers apply acrylic paints in saturated colors to the tile surface, the most common of which are red, yellow, brown, and graphite. You can find tiles in other shades in stores.
Benefits
Cement floor tiles have many advantages that explain their popularity:
The material is highly durable and wear-resistant. The surface has a long service life, which can reach a hundred years. It is evidenced by the preservation of castles and palaces of the last century.
A tile made of a cement mixture is quite resistant to negative natural phenomena. These tiles do not get affected by sudden changes in temperature, moisture, or UV radiation. That is why cement tiles can be installed not only in rooms and hallways but also in places with a high level of humidity (in bathrooms and kitchens).
Many are pleased with the ecological purity of this material. It applies not only to the finished product but also to the process of its manufacture. In recent years, this has become a decisive factor for many when choosing materials for home decoration.
The attractive appearance of the tiles is due to its processing with a special composition and polishing. They also give it the ability to repel dirt and liquids, which greatly facilitates the process of cleaning the surface.
The cement material is perfectly combined with other types of finishes, which allows you to make the interior refined and original.
A big advantage of cement tiles is their affordable price.
However, this material also has some disadvantages. For example, the surface of some types of tiles is very slippery. It can be dangerous is you cover the entrance to the room with such material in winters. For some, the disadvantage is the gradual fading of the cladding. Although the tiles age evenly and even beautifully, not everyone likes it.
Styling process
The sequence of laying cement tiles is similar to the principle of working with natural stone. However, work should be carried out only when the rest of the repair is completed. First, you need to make sure the surface is leveled and dry. Also, if there is a warm floor, it is important to check the heating 30 days after installation.
It is recommended that all parts be stacked as close to each other as possible so that they look neat. It is impossible to level the cement tile with a hammer or grinder, as such tools can spoil the quality material.
You need to apply a special tile adhesive to the surface to be laid. Then it is worth lubricating the seamy side of the plates with it and carefully laying each element. It is important to make sure you have the correct amount of adhesive (too much or too little can affect the result). After 24 hours, the floor is washed and greased with a special solution of beeswax, which forms a water-repellent film.
In addition to finishing the interior, this material can be used to clad outer areas. But in this case, it is important to consider the requirements for the base – it must be waterproofed.
The use of tiles in the interior
Thanks to the Moroccan style trend, cement tiles have become an integral part of many homes. This finish looks great on the floor in the hallway in combination with a beautiful console and mirror. A vase of flowers in an oriental style will be a great addition to the composition.
Many people cover the floor in the living room or dining room with this material. In combination with the appropriate furniture and soft sofas, the whole room can be filled with the spirit of the East, luxury, and wealth.
In private houses, cement tiles are used to decorate not only the floor but also the walls in the bathroom. If you light scented candles with lavender while swimming, you can feel like you are in Morocco. However, such diverse patterns are not to everyone's liking. If you want to design a bathroom in an oriental style, you can decorate its walls with white tiles. The very same bath can be built into the opening, lined with cement tiles. To make everything look organic, you can choose accessories in a similar style, such as beautiful candlesticks or mirrors.
If you are not very fond of the patterned finish, you can choose a solid color tile in two or more colors to lay on the floor. A single-color coating will look more concise and bold.
Treat and Maintain
When released from manufacturing, cement tiles are matte, porous, and easily absorb stains. Therefore, it is essential to pass a pore filler after installation. The tiles must be dry. Otherwise, the wax will not penetrate sufficiently. You can apply semi-pasty white wax with a rag in two very thin layers spaced a few hours apart, then polish with a clean, dry cloth.
Once a year, the tiles must be treated to protect them, waterproof them, and enhance/satin their colors. It is better to carry out this treatment in summer when the tiles are very dry. Operation on the wet ground may cause very small black spots, which nevertheless disappear a few months later. The stains are first removed with a very fine abrasive, then any dust residue is wiped off. Wash with a mop and soap. There are several different treatments to choose from according to your tastes and possibilities.
With wax: This is the ideal treatment. Generously apply a liquid and colorless marble wax, which waterproofs the cement and gives it a satin sheen.
With linseed oil: This option is perfect for waterproofing floors. But it changes the color of the tiles by yellowing them slightly, especially white and pastel tiles. The floor then takes on a rustic appearance.
Pore filler: Apply the product with a brush or a sponge in two to three coats depending on the brand, following the manufacturer's instructions. The pore filler deeply waterproofs and protects the tiles against stains.
By crystallization: This can only be done by an experienced professional. It makes cement tiles shine like enamel.
Style and Personalization
Cement tiles acquire their beauty as they age, unlike vitrified tiles that never get the marks of time. Their raw appearance allows them to blend harmoniously into old interiors, where they seem to have always been there, as well as into contemporary interiors. They are elegant, sometimes original, and, by their vintage and authentic spirit, they give a soul and nobility to a house.
Conclusion
Cement tiles could be the perfect choice for your interior design project. If you are looking for something that lasts and offers an evergreen beauty, cement tiles are your best bet. It can be a great investment and gives you an experience that you will not forget.
Designation: Founder & CEO
Bio: A graduate of Ohio State University with an MBA in Business, Mike Belk has been in the tile and stone industry for over 20 years. Mike is the owner and founder of Belk Tile. He has become one of premier tile experts in the nation. Not only does Mike love every aspect of his job, he strives ensure your experience is the very best. He runs a successful blog and, when not immersed in the world of tile, is an avid golfer and wine maker. Mike enjoys interacting with customers and wants to hear from you today. Make sure to check out his
podcast of Tile Talk by Mike Belk.
---