Posted by Mike Belk on Jul 14, 2017
Does your kitchen feel dated?
Backsplash tiles serve as the focal point of any kitchen design. That's why updating your backsplash can give your outdated kitchen a fresh and elegant look.
Worried about the cost? Replacing your kitchen backsplash doesn't break the bank.
But where do you begin once you've decided to update your kitchen's backsplash? With so many choices of height, shape, and tone even this simple kitchen remodel can feel overwhelming.
We're here to help.
Here are the best backsplash tiles for an elegant kitchen.
It's Not All About Shape
The first thing you think of when you think backsplash tiles is shaping. Will you choose subway tiles or mosaic?
But there's more to a backsplash than shapes and styles (which we'll discuss soon). The materials available for your new kitchen backsplash provide almost endless opportunity for a remodel.
Looking to go the traditional route? Glazed ceramic tile is your go-to choice. Tile is flexible and customizable, coming in a variety of shapes, colors, and sizes.
If you're not crazy about ceramic, you could try out a glass backsplash. Glass stands up against water. Ceramic and porcelain lack in this area.
Your glass backsplash comes in many colors and finishes. You can choose to make it a continuous part of your design, or make it pop like an accent piece.
Clean-up is always a breeze with glass backsplash tiles.
Looking for a more earthy option? Natural stones like travertine, limestone, and granite act as beautiful kitchen features.
Natural stone requires more maintenance than its counterparts but keeps your kitchen looking elegant all year.
Make sure you seal your natural stone backsplash every year to prolong its life and keep your kitchen looking fresh and beautiful.
Now that you know about the material you can use, let's move on to some elegant backsplash design options!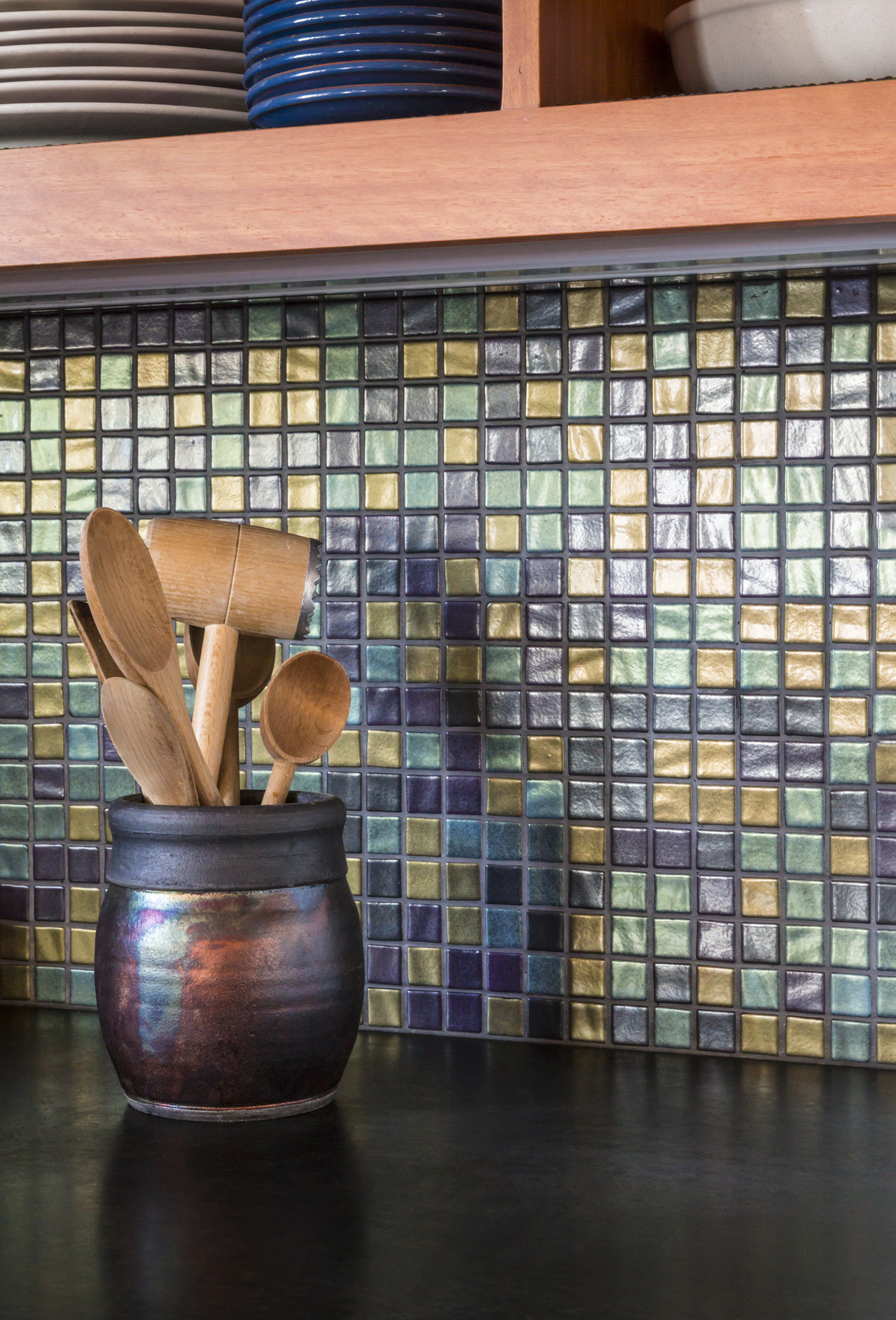 Stylish Backsplash Tile Designs
As you know by now, you can make an immediate statement to your kitchen by adding or updating a backsplash. So where will you begin? Check out these awesome designs for inspiration!
Subway Tile
Subway tiles are used all over the United States. This type of design screams timeless and classic. They're named for their resemblance to the tiles used in subway stations.
Subway tiles prove durable, able to withstand even the hardest wear and tear your kitchen activities can offer.
You can assemble your subway tiles so that they fit virtually any design. The materials, patterns, and colors available in Subway tile can work in a retro, in-your-face design, or an elegant, contemporary kitchen.
A great way to capture a contemporary feel with subway tiles is to stack them your kitchen's ceiling. This is an excellent alternative to the classic arrangement.
Mosaic Tile
Mosaic backsplash tiles come in glass, marble, ceramic, slate, pebble and stainless steel. That's why we regard mosaic tile patterns as endless.
Homeowners who love to DIY flock to mosaic tiles. The ease of install alone is enough to celebrate for days to come. They come in mesh-backed sheets easily applied to any kitchen space.
Be careful or go wild as mosaic tiles in bright colors can detract from your design, or act as a beautiful focal point. The choice is up to you.
Patterned Tile
Looking for a kitchen showstopper? Bold, patterned backsplash tiles will serve you well. Big or small, customize these patterns any way you wish.
Like subway tiles, consider placing a patterned tile to your ceiling for a backsplash that pops.
Herringbone Backsplash Tiles
A herringbone tile pattern means texture, texture, texture. Herringbone backsplash tile adds an upscale feel to your kitchen.
You can achieve the herringbone look with subway tiles, too. Play with color to add personality to this look and make your kitchen your own.
Hexagonal Tile
Looking for a more interesting geometric design? Hexagonal tile is a favorite for elegant, Victorian kitchens.
Hexagonal tile looks great with vintage accents such as appliances. If you want a kitchen that invokes an era, go for hexagonal tile.
Tin Tile
Tin tiles prove durable. They last when exposed to water and heat. They're available in a variety of colors.
They're also versatile. From polished to distressed finishes, tin tiles add the perfect amount of flash to any kitchen design.
These tiles look exceptional when paired with stainless steel and dark woods in your kitchen. Can you say elegant?
Tiles With International Influence
Elegance doesn't mean that your kitchen can't bring in the influence of a culture you love, or a place who's architecture you dream about.
You can experience these feelings every single day by incorporating backsplash tiles with international influence.
Consider a tile with a Moroccan lantern shape. These tiles still prove sleek and elegant while adding an extra element to your kitchen.
You can choose to make your international shapes and styles blend into the kitchen by choosing subdued colors. Your backsplash will draw the eye into your kitchen, creating interest without overpowering any other elements of your design.
Tiles Inspired By Nature
Want to add some serenity to your kitchen? Play with different colors and materials to echo nature.
If a calming backsplash is your kitchen dream, use pale palettes paired with glass tiles to imitate the look of water. Placid colors carry an air of calm.
This type of backsplash tile softens your elegant kitchen, making it inviting and serene.
Let your imagination run wild. Think about the colors and textures of your favorite outdoor spots. Imitate them at home for an elegant kitchen with depth.
There you have it! The best backsplash tiles for an elegant kitchen remain within reach.
If you're looking for a quick facelift to your kitchen, replace your backsplash. The customization options fit any kitchen or homeowner personality. You won't regret your decision anytime soon.
If you're feeling adventurous, try combining two or more tile designs and materials discussed in this article.
Want to learn more about how backsplash tiles of all materials and styles can change your kitchen? Check out our extensive selection!