Posted by Mike Belk on Jul 26, 2023
Did you know that the North American ceramic tile market has a value of $20.36 billion as of 2020? The value will increase as more people seek ceramic tiles for their ease of maintenance and durability. And subway tiles form part of the tiles that are in high demand.
Subway tiles are a good way to add visual interest to a space. They also reflect light, making a space appear brighter. You may want to get them for their timeless appeal.
If you're considering getting subway tiles, do your research to find the right tiles for your needs. There are many different factors to consider in your search. Either way, here's what you should know to create a beautiful and stylish space with them.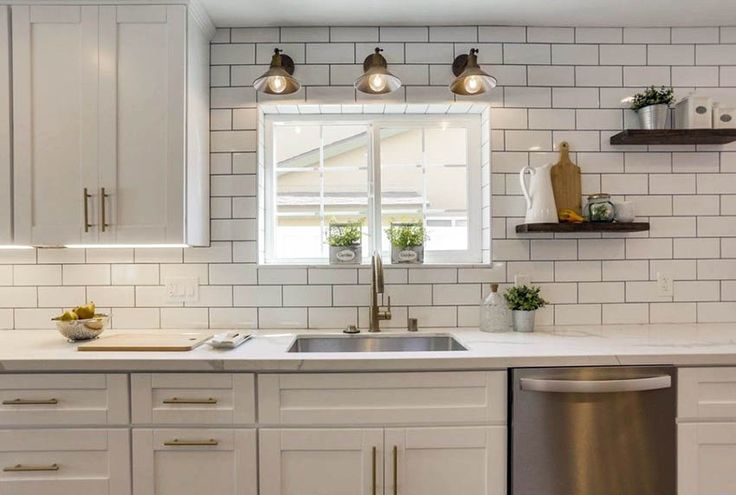 What Are Subway Tiles?
Subway tiles are a type of ceramic or porcelain tile typically 3 inches by 6 inches in size. They stand out for their simple, clean design and versatility. You can use them in showers, backsplashes, floors, and countertops.
The tiles originally formed part of the New York City subway system, hence the name. They quickly became popular for their durability, affordability, and timeless style. Today, subway tiles are one of the most popular types of tile on the market.
Subway tiles are still popular in 2023, in addition to being a classic choice for backsplashes and floors for many years. Among the few reasons they are still popular is their classic and timeless design that always stays in style. They can also withstand intense wear and tear, are relatively affordable, and are available in different tile finishes, patterns, and colors.
Advantages of Using Subway Tiles
Subway tiles are a great choice for homeowners because of their many advantages. They contain various materials, including ceramic, porcelain, and glass. These materials are all very durable and versatile.
You can use them on backsplashes, floors, showers, and countertops. They come in various colors and sizes, making it easy to find the perfect look for your home. With a smooth surface that doesn't collect dirt or grime, they only need a mild soap and water solution to clean.
Subway tiles are a relatively affordable option for tile. They are often less expensive than other types of tile, such as marble or granite. Their classic look never goes out of style.
Twists on the Classic Subway Tile Pattern
The traditional subway tile often comes in a 50 percent offset pattern, but there are many other twists. For example, you can use a one-third offset, a one-fourth offset, or a standard horizontal grid. You can also turn the tiles on their side to create a vertically offset or stacked pattern.
For a more dramatic effect, you can rotate the tiles by 45 degrees to create a diagonal pattern. Another popular option is to use a herringbone pattern. Lay the herringbone tile at different angles to create different effects.
No matter how you install it, the subway tile is a versatile and stylish decor element for any room. Create unique and eye-catching looks by experimenting with different tile patterns. Find a pattern that works for you to give your interior space a classic feel.
Subway Tile Installation and Maintenance
When installing subway tiles, you first need to prepare the wall. Keep the wall clean, smooth, and free of cracks or holes. If the wall isn't level, you will need to install a backer board before you start tiling.
Use a level to mark the top row of tiles on the wall. Then, use a chalk line to mark the rest of the rows. Afterward, use a notched trowel to apply a thin layer of mortar to the wall.
Press the tiles onto the mortar, ensuring they're level, and use a wet tile saw to cut tiles to fit around obstacles or to create specific tile layouts. With all the tiles set, use a grout float to apply the grout on the joints and then wipe away the excess grout with a damp sponge. Seal them once the grout is dry to protect them from moisture and staining.
Subway tile maintenance requires relatively little effort. To keep the tiles looking their best, wipe them down regularly with a damp cloth and seal them every few years. Also, repair any cracks or chips in the tiles as soon as possible.
Applying Grout on the Subway Tiles
Grout is a cement-based substance used to fill gaps between tiles. It helps to seal the tiles, making them watertight.
There are two major types of tile grout: sanded grout and unsanded grout. Sanded grout is ideal for larger grout lines, while unsanded grout is ideal for smaller ones. When choosing grout for subway tiles, consider the tile color options, the width of the grout lines, and the type of grout.
For a more noticeable grout, you choose a contrasting color. And if you want a less noticeable grout, choose a grout color that's close to the color of the tiles. Once you choose the grout, mix it according to the manufacturer's instructions.
You will also need to consider the width of the grout lines. If the grout lines are narrow, use unsanded grout. But if they're wider, use sanded grout. Sanded grout is more durable than unsanded grout but requires more effort to clean.
Where to Install Subway Tiles
Since subway tiles have a classic feel and are versatile, you can use them in various places in your home. They are a great choice for kitchen backsplashes because they are durable and easy to clean. You can use them as bathroom backsplashes since they are moisture-resistant.
Subway tiles can create a beautiful and functional fireplace surround. They are also ideal for entryways when you want to create a stylish and welcoming space. Use them to line the walls or to create a backsplash behind a console table.
The tiles are a great choice for laundry rooms because they are easy to clean and can accommodate the wear and tear of a busy laundry room. And no matter where you choose to install them, always choose the right size tiles for the space.
Use spacers to keep tiles evenly spaced. Grout between the tiles using a grout color that complements them and seals them after grouting to protect them from moisture and staining.
Creative Ways to Use Subway Tiles
Subway tiles are a classic and versatile tile that you can use in various ways. You can either change the color or sprinkle it with different colors. Use colorful tiles to give your space a fun and modern twist.
And if you can't choose just one color, sprinkle tiles of a different color into your subway tile design randomly. You can pair subway tiles with patterns or natural looks like marble, granite, or wood. Use them to create a mosaic effect for smaller spaces, such as backsplashes.
Larger-than-average subway tiles are a good option for larger spaces like showers. You can also combine different sizes of subway tiles to create a unique look. Changing the dimensions and adding some texture can add a unique touch to your space.
Other creative ideas include beveling, adding tile accents, and coloring the lines. With so many creative options available, there are endless possibilities for using subway tiles. So, get creative and have fun with it.
Frequently Asked Questions About Subway Tiles
Whether you're considering subway tiles for your kitchen backsplash or bathroom walls, these answered FAQs are here to address all your queries. Learn more below.
What Are the Different Types of Subway Tiles?
Many different types of subway tiles are available, including ceramic, porcelain, glass, and marble. Ceramic subway tiles are the most common type and are available in a wide range of colors and finishes. Subway tiles made of porcelain are more durable than ceramic tiles and are useful in high-traffic areas.
How Do I Choose the Right Subway Tiles for My Home?
When choosing subway tiles for your home, there are a few factors you need to consider. These factors include the size of the space, your home's style, and your budget.
Should I Install Subway Tiles by Myself?
If you have no experience with tile work, it is best to hire a professional to install the tiles. This way, you'll prevent mishaps in the tile installation.
Do Subway Tiles Offer Great Value for Money?
Subway tiles can offer great value for money, depending on the type of tile you choose and the size of the space you are tiling. Ceramic subway tiles are the most common type and are relatively affordable. Porcelain subway tiles are more durable and can last longer but are also more expensive.
Get Subway Tiles for Your Home Today
Overall, subway tiles are perfect for homes because they are versatile, classic, durable, easy to clean, and affordable. They also offer a variety of finishes and pattern possibilities, making them a great option for any style of décor. You simply have to find the perfect fit for your home.
When substance and style work together, the result is a stunning look and combination. BELK Tile is just that since it offers people the substance and style of tile solutions designed for offices, homes, and rental properties.
Check out our subway tile designs today to bring to life any interior space.