Posted by Michael Belk on Apr 04, 2014
If you are getting bored about how your home looks like, then maybe it's high time for you to add something new to the house. Stone tile mosaics are a good example of how you can instantly add some spunk and some life to your house. Not only are each mosaic tile unique, you can also be sure that they are well-crafted and that they will add a brand new feel to your house.
A Variety of Designs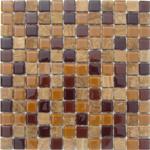 When it comes to stone tile mosaics, there truly is a variety of designs to choose from. From different base colors such as Cream, Gray, Black, White, Peach and different patterns, you will surely be able to find something that is perfect for you and for the theme of your house. You can even have some customized for you. They can also make any space look unique, so when the time comes that you think you want to sell your house, then you can be sure that it will get sold at a great value because of the design of your house.
Easy to Maintain
Once you install these tiles, you do not need to worry about constant beautification or remodeling, especially if it has been installed well. These tiles are quite sturdy All you have to do is clean it every once in a while, and that's it. They can last for a long time because they are made from stone and as you well may know by now, stones are sturdy and have been on earth ever since the beginning of time. And that's why you can be sure that these tile mosaics will be able to stand the test of time. Plus, they are also water-proof and chemical safe, proving that there's really not much to worry about.
Very Versatile
Aside from the fact that you can have stone tile mosaics customized, you can also have them installed as backsplashes in outdoor or indoor settings. This way, you can be sure that your house will look good inside and out and that it will be the envy of many. The tiles are also unaffected by humidity and stays lustrous and sturdy through time.
Try it Now
If you want a clean and beautiful house, then try installing stone tile mosaics. Not only could they add some beauty to your space, you can also be sure that you would not have to spend a lot of money and yet, your house will stay wonderful at all times.