Posted by Mike Belk on Jul 26, 2023
When you think about tile, does your mind immediately go to the kitchen or bathroom? While this material can look great in those traditional spaces, it's also a show-stopper for your exterior!
If you're designing a patio or garden space, you can easily incorporate gorgeous outdoor tiles to create a beautiful and inviting area. From bright and bold to understated and stately, there are many different styles and textures to choose from.
Today, we're breaking it all down and sharing some of our best outdoor tile ideas for you to consider!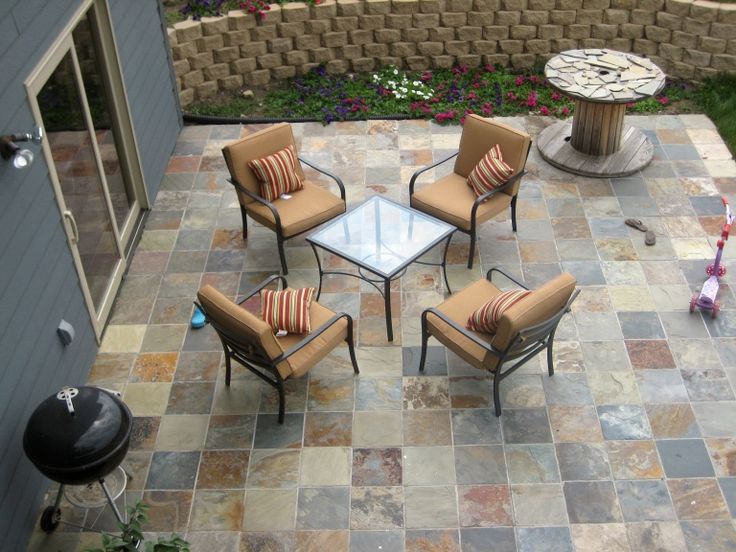 Choose Patio Floor and Wall Tile
You might not think too much about the type of material you use for your patio floor. After all, as long as it's durable and will hold up against the weather, it should get the job done, right? Not quite!
When you put time and attention into your exterior floor surface, it shows. While you could easily pour a concrete slab and call it finished, consider how much more beautiful and elegant your patio would look with tile, instead.
At Belk Tile, we offer a range of durable tile that looks stunning on patio floors and walls. One example is the Gentle Dwelling: Avion Bright tile. Resistant to scratches and stains and easy to clean, this tile gives you the look of concrete but in a more rugged, sophisticated design.
Available in 6" x 6" nominal cuts, it's the perfect way to dress up any outdoor spot. Once installed, you'll also find that its neutral tone creates the perfect backdrop for you to accessorize! Add in a colorful rug, your patio furniture, and a few throw pillows, and you're ready to entertain.
If you want a patio floor tile with a little more color, check out Mesa Court, also by Gentle Dwelling. Featuring the same stain and scratch resistance, this tile is more of a golden tan, with slight undertones of gray blended throughout.
Once you find a floor tile you love, don't be afraid to take it upward. Tile looks great on a wall or barrier, offering you privacy and enhancing your exterior at the same time.
Create a Checkerboard Design
Want to play up the visual appeal of your patio? While you want a strategically designed, functional outdoor space, you also want it to look great and feel inviting.
If you have your eye on two different colors of tile, why not combine them into a checkerboard pattern? While this design obviously looks best with any colors that complement each other, it's especially classy and timeless with black and white options.
Make sure your tiles are the same size, and lay the pattern out before you install it to see how everything will fit together. While checkerboard floors are mostly reserved for the interior of your home, you can easily translate the look outdoors.
Enhance Small Tiles With Herringbone
Love the look of small patio tiles for your exterior, but aren't sure how to use them? We suggest laying them in a chic herringbone pattern! As long as you choose tiles that are rectangular in size, you can choose ones that are as big or as little as you want!
From 3' x 6', all the way up to 8" x 34", we can do it all. You can learn more about our herringbone floor tile patterns on this page. Plus, when you install your design outside, you don't have to worry as much about the size of your room being spacious enough for your desired layout. There's more space to explore, which means more room to get creative.
Embrace Bold Patterns
Are you ready to think a little outside the box? If you want your patio or garden area to pack a powerful punch, why not bring in some design interest with your floor tile?
This is a great space to display your personal style and showcase some artistic appeal. Look for colors and patterns that you're naturally drawn to, including geometric, floral, or chevron patterns. You might even decide to go with a more abstract look!
If you're looking for a splash of color without a busy design, we suggest starting with Huckleberry Cove, by Gentle Dwelling. Featuring rich hues of blue and green, the colors are perfect for the outdoors, mirroring the sky above and the grass below.
Deck Out Your Pool
The interior of your pool is a great spot to add outdoor tile! You can use smaller squares right along the waterline, to add a sleek designer look to the installation. There are no rules on how bold or simple you should go with your pool tiles, so feel free to choose colors and patterns that speak to you.
Then, you can continue that same time along the edge of the pool deck, outlining the structure and bringing all of the decorative elements together. If you go this route, remember to install slip resistant tile in those places, as people will be coming in and out of the pool with wet feet.
We have a wide collection of pool tiles to choose from in our online shop. If you're looking for a blue tile that will blend in beautifully with the water, take a look at Natural Beauty: Eternity Pool. Like all of our outdoor tiles, it resists scratches and stains and is built to hold up for years.
While those tiles have a conventional square shape, you may prefer pool tiles that are a little more elongated, with the look of a classic kitchen subway tile. If this is the case, you'll love our New England Series tiles. From the slate blue of the Cape Cod collection to the neutral gray of the Vineyard Patio set, there are plenty of options to consider.
Brighten a Path
Do you have a paved walkway that leads from your garden to your patio? What about from your patio back indoors? If so, decorate the border with a mosaic of bright and colorful tiles!
This is an economical and easy way to beautify your walkway. When everyone knows where to step, it also makes your patio area safer.
Create a Fancy Fireplace
There are few things cozier than sitting on a patio on a chilly night, sticking close to a fire. If you're lucky enough to have a fireplace incorporated into your outdoor entertaining area, have you considered what you'll surround it with? Traditional wooden mantles won't work outside, as they're not built to hold up against rot, decay, and the elements.
Instead, we recommend outfitting yours in tile! We offer lots of fireplace tile ideas on our website, though they're primarily designed to work indoors. When you take this look outside, be sure to look for weather-resistant tiles that can hold up against the inevitable wear and tear.
You want to make sure the one you choose will not only look great, but will resist heat, scratches, weather damage, and more. A tile such as Gentle Dwelling's Algonquin Prime is a good place to start. It has an abstract pattern that incorporates shades of blue and tan.
If you prefer smaller tiles around your outdoor fireplace, we can also help with that. Check out our Hearth Palace Penny Round Matte Grafito tiles, for example. Made from recycled glass, these tiles create a mosaic that looks fantastic on any patio, especially when the sun illuminates it!
Take a Hint From Nature
When designing your outdoor patio or garden spot, take a look at all of the elements around you. Chances are, you'll see towering trees, grass, and open sky, as well as your flowers and shrubs.
If you're not sure how to choose the best tile materials for outdoor use, allow nature to be your guide. Stick with earth-toned neutrals and natural stones, designed to blend seamlessly into the space rather than distract from it.
Our natural stone tiles are meant to be a timeless fixture for any spot in your home. They're always in style and will never go out of fashion. Add them to your patio floor, your walls, or an accent feature such as your fireplace.
Slate tiles are an especially beautiful choice, here. Not only are they waterproof, but they're also sturdy enough to withstand even the most adverse weather conditions without changing color, shape, or quality.
The only natural tiles that we'd recommend keeping indoors are travertine and limestone. These tiles are naturally porous and can be susceptible to cracking if the temperature plunges below a certain point, even if you seal them. Keeping those exceptions in mind, other types of outdoor tile that would work and look great on your patio include:
Granite
Sandstone
Marble (walls only)
Put These Outdoor Tile Ideas to Work
As you can see, you're not limited to installing tiles only in traditional spots. They'd make a gorgeous addition to your patio or garden area.
The key to turning these outdoor tile ideas into a reality is to lead with your personal preferences. As long as you choose tiles that you love and that you know will hold up against the elements, you can't go wrong!
As you browse, we'd love to help. Check out all of our tile collections online or sort by application to narrow down your choices! Your perfect outdoor oasis is just a few clicks away.