Posted by Mike Belk on Feb 08, 2018
Kitchen remodeling won't be complete without backsplash tiles. They not only protect the walls in the cooking area, but they also make the kitchen an attractive working space.
In the past, a typical kitchen backsplash tile would be decorated with fruits and vegetable prints. As the years go by, the designs undergo many changes, mostly in the materials used. Now, one can see glass, wood, bricks, metal, mirror, and natural polished stones for backsplash designs. Various textures and shapes have also been incorporated, making the kitchen backsplash tile more creative and attractive.
At the onset of 2018, interior designers have also introduced the newest trends in kitchen remodeling and backsplash designs. Here are several of these trends, plus a modern take on old favorites.
Large Subway Tiles
Subway tiles normally measure 3" x 6", but some homeowners think a larger size might give the kitchen a little spunk. Still, homeowners believe kitchen backsplash tiles should be easy to maintain. Thus, the change to 4" x 8" size does not automatically mean there would be heavy graphics on the tiles. The idea for large tiles is to create an illusion of bigger space.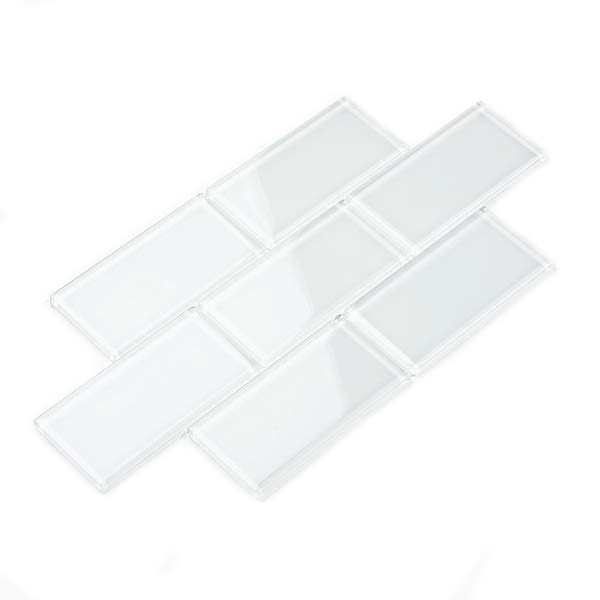 Backsplash Tiles to the Ceiling
Expect homeowners to install ceiling-high kitchen backsplash tiles to create a focal point in the kitchen, highlight a specific area, or construct a huge pattern. Ceiling-high backsplashes brighten up the kitchen, especially if these are white tiles.
These tiles can also distract one's attention from cabinets and cupboards to the illusion of open space created by the backsplash. But they don't have to be boring; one can add patterns, colors, and textures for an interesting look.
Metallic and Mirrored Tiles
Mirrors and metallic finishes give kitchen backsplash tiles a subtle yet modern elegance. Mirrored finishes provide a reflective surface that becomes more beautiful when struck by natural light. Sunlight also brings out a dramatic effect on the finish and brightens up any kitchen.
Those who dislike glossy surfaces might opt for the metallic finish. Metallic tiles resemble real metals and provides a strong and industrial feel to the kitchen. This feel can be enhanced when the metallic backsplash is extended to the ceiling.
Unique andWhimsical Patterns
Patterns always add oomph to kitchen backsplash tiles. They also create a focal point and add a refreshing feel to the kitchen. Many homeowners are particular with the patterns they choose because the latter can be a reflection of the owner's personality.
Trendy patterns include Moroccan fish scale, herringbone, laser cut, and chevron. Graphic prints in big and bold colors are also making a comeback. However, balance is the key to avoid creating an overwhelming look on your backsplash tiles.
Interesting Colors and Finishes
Neutral colors are common among kitchen backsplash tiles. However, 2018 welcomes all colors – from vivid and splashy hues to luxurious and sophisticated black. Use contrasting and complementary colors for a look that is put together.
One could also choose certain colors for a special effect. For instance, yellow backsplash tiles add a sunny and optimistic touch to the kitchen. Blue tiles, in contrast, give a homey feel. For instant warmth that also incorporates oriental aesthetics, intersperse white, red, and blue tiles.
Interesting finishes are likewise welcomed this year. Some tiles have a weathered finish for a vintage look, while some tiles mimic the surface and texture of natural stones. Rustic finishes are becoming popular as well.
Glossy Black Upcycled Bricks
Jon de la Cruz, a San Francisco-based kitchen designer used upcycled bricks and painted them in glossy black to mimic the look of black pepper, a well-loved ingredient. One can copy this look by looking for grey and black tiles.
Blue Craze
Various designers and homeowners have taken to blue shades to beautify their kitchen. One could imitate Palm Beach and choose blue Moroccan tiles as contrast to oak cabinetry. Blue and white tiles also provide a classy design when set as backdrop to brass furniture.
Minimalist Tiles
The adage "Simplicity is beauty" never goes out of style. Pristine tiles can be played along with other shapes to add elegance to a small galley-style kitchen.
Green Backsplash Tiles
A more romantic take on kitchens is the use of olive green tiles. They look good with medium brown cabinetry and cream marble countertops. For a funkier looking kitchen, lime green is the better option. The tiles look balanced amidst white tiles and stainless steel sinks and countertops.
Recycled Wood Mosaic
Who says the kitchen should only have ceramic tiles? Kitchen backsplash tiles can be combined with salvaged materials. Mosaic tiles can also come from an antique boat wood. The material is safe because it is moisture-resistant.
Hardwood also works as backsplash. Moreover, it offsets the cold feel of the concrete floor and stainless steel appliances.
Paper Backsplash
One trend that never goes out of style is the use of paper materials alongside marble tiles. Gleaming white tiles can be installed to make a pattern against floral wallpaper. Another option is to use blown-up photos for a quirky and personalized design. These photos can be used as prints against grey tiles.
Small-Scale Patterns
Use glass mosaic tiles to create a dramatic flourish and small-scale patterns for your white kitchen. Neutral shades look good with white cabinetry and stainless steel appliances.
Vintage and International Designs
Revisit history in one's home with small, old-fashioned subway tiles that are used as background for white oak cabinetry. Using Spanish or Moroccan tiles, on the other hand, adds a distinct look to any kitchen, instantly brightening it.
Accents from Nature
Natural accents immediately give a refreshing feeling. Earthy tones and green shades, especially when lit by the sun, make kitchen space airy and large. Aquamarine backsplash tiles are relaxing to look at, as if one were in a real riverside.
Patterns within Patterns
Combining tiles with different patterns can be overwhelming only when balance isn't achieved. Putting together finely speckled tiles and those with coarse texture, as long as they have complementary colors, will always look stylish.
Shimmering Tiles
Shimmering mosaic tiles create an interesting focal point, but should blend in with the colors of cabinets and appliances. With just the right amount of natural light, shimmering tiles won't get too distracting. Instead, they will soften the overall look of the kitchen.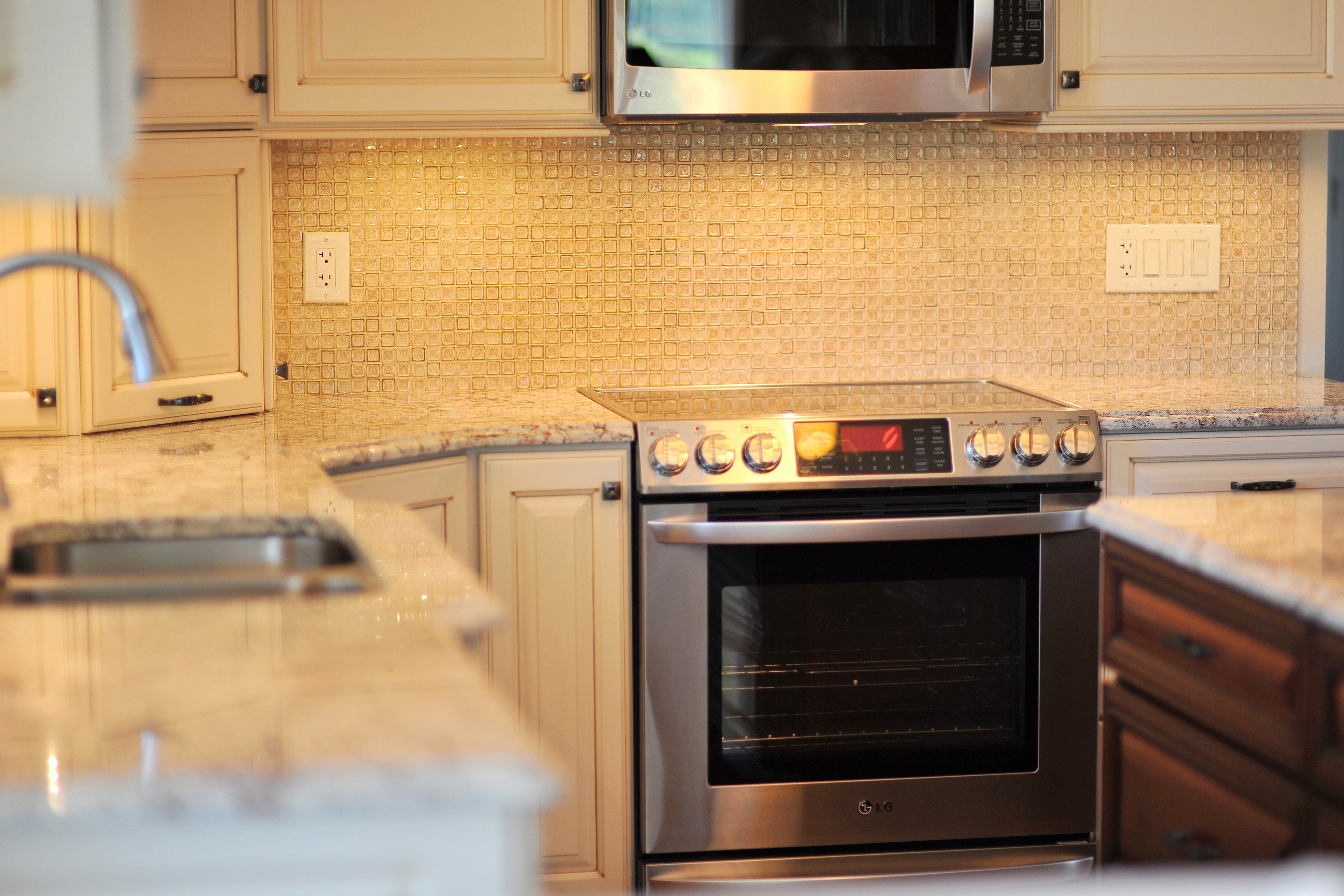 Visually Arresting Insets
Insets add an interesting and artsy touch to backsplash. Drawing from a rich palette, for instance, can give a punch of color to white or light grey kitchen backsplash tiles. Insets can also be composed of a totally different pattern or beautiful graphics. One can also put artwork (i.e. stained glass art) to replace the tiles in the inset.
Handcrafted Backsplash Tiles
Handmade tiles add a homey feel to a kitchen. Most country homes use handcrafted tiles because of their unique style and charm, which is present in almost all DIY decors.
Square Mosaic Tiles and Glass Marble Tiles
Square mosaic tiles and other geometric patterns highlight focal points in an otherwise too simple kitchen. They also add texture to flat walls. Adding glass marble tiles around the square tiles make the whole decoration streamlined.
Chocolate Ceramic Tiles
These brown tiles make any kitchen look sophisticated. They have a smooth and glazed finish that looks good with any color of cabinetry.
East Meets West
Combine oriental and Western aesthetics by installing Moroccan tiles and adorning the kitchen with French décor. These two countries are known for having rich cultures, which has inspired their most beautiful designs. They likewise provide visual interest to kitchens with neutral colors.
Pennies
Penny tiles look good in bathrooms, but they look equally gorgeous in kitchens. It would be fun to play with the details and use contrasting colors with pennies.
A Streamlined Look
Create a more streamlined look in the kitchen by using the same material used in the backsplash in countertops. Use durable stones that are scratch-resistant and easy to clean.
Rough Textures
Porcelain tiles that are polished to look like natural stones give off a cool vibe to kitchens. Grey backsplash porcelain tiles are great for winter motifs.
Vertical Tiles
For edgier designs, ditch elongated horizontal tiles and go for vertical ones. Large or small sizes make no difference, however. To pull this off well, highlight a focal point or use a various colored tiles.
Creative Floor Tiles
One of the top trends in 2018 is combining a variety of tiles, thus creating an eclectic style. Try these combos: vinyl and marble, mirrored and laminated tiles, wood and ceramics. Matte tiles and earthy clay are also becoming popular now.
Writeable Surfaces
Transform tiles with chalkboard paint and make them writeable. This concept is famous among restaurants. Writeable surfaces also make it possible for homeowners to inscribe reminders and other notes. Lit lovers can also inscribe their favorite quotations from books.
Embossed Metal Ceiling Tiles
Metal ceiling tiles make kitchens look futuristic. Use interesting patterns and alternate sizes to create an ultra modern design.
Organic Materials
The rise of organic and eco-houses have also made people interested in adding and using organic materials as backsplash tiles. Some of these materials are pebbles, natural stones, and bamboo.
Zellige Tiles
Zellige tiles hail from Morocco. These colored and glazed terra-cotta tiles are also made of organic materials. Zellige tiles are popularly used in two-toned backsplashes.
Cashmere Tones and Millennial Pink
Beige tiles are proof that this neutral shade isn't going away soon. Beige doesn't have to be boring, though. They can be glossy and textured.
On the other hand, Millennial Pink tiles have been gaining many likes on Instagram and Pinterest. The beauty of these tiles lies in their elegant look – they're not too feminine and would look good even in a guy's kitchen.
Terra Cotta Tiles
These tiles used to be the rave in the 70s. The modern take on them, however, is combining them with pastel hues, or installing large hexagonal tiles.
Cheap DIY Kitchen Backsplash Tiles
For homeowners on a budget, buying new kitchen backsplash tiles could be a problem. The solution, however, is to "create" their own tiles and designs. That way, they can still make their kitchens pretty. Here are several tips to transform kitchens without breaking the bank.
1. Break regular tiles into smaller sizes.
2. Combine edgy and sophisticated tiles. (The result is a motley pattern)
3. Paint maps on subway tiles.
4. Recycle mason jars and create mosaic glass tiles out of them. An alternative is to use old and broken dishes.
5. Attach removable fabric onto the tiles. (This is perfect for people who want to change their backsplash tiles every now and then)
6. Apply decals on tiles.
Diamond Tiles
Diamonds are a girl's best friend, and could be the best friend of any kitchen designer, too. Square tiles can be arranged to form a diamond background.
Picture Frame Tiles
Use subway tiles as backdrop to highlight picture frame field tiles. Nevertheless, any size, pattern, or color is perfect for this design.
Scallop Tiles
Scalloped tiles are quite new this year. They look simple yet they brighten up kitchens. Although they look like fish scales at a distance, they are great for minimalist aesthetics.
Majolica Tiles
For a cozy kitchen, majolica tiles are the best. To match their rich, deep reddish brown tones, use bronze and brass fixtures in the kitchen.
Patchwork/Quilt
Similar to eclectic designs, patchwork tiles use different textures, colors, and patterns. However, they often compose a theme or a bigger image. While patchwork tiles add character to kitchen space, the challenge is to mix and match the right tiles and patterns.
Quilt-style backsplash designs likewise include using irregular shapes and formats. Combine round, diamond-shaped, and hexagonal tiles for a striking effect.
Imitation Wood
One can give his kitchen a rustic feel without using actual wooden tiles. Imitation wood tiles can bring out a relaxing Zen atmosphere. Like ordinary tiles, imitation wood can also be broken down into small sizes or irregular formats.
Custom Shapes
Create personalized tiles and go beyond elongated or square-shaped ones. Try oval tiles for a retro look, or cat ears (or the shape of cat ears) for a funkier kitchen.
Laser Cut
Laser cut tiles may be pricey, but they have elaborate designs that can stand out in any kitchen. The materials that can be cut are marble, quartz, or silver-backed glass.
Scandinavian Diamond Tiles
Not the ordinary diamond-shaped tiles, these kitchen backsplash tiles create a timeless look, and show beautiful lines and movement. Diamonds have a lasting appeal. To achieve a classic and classy design, use only one color, preferably white. Two-toned tiles (pure white and ecru) adds visual interest and can be used to create a radial pattern.
Black on Black
Some homeowners may find this design blah and boring, but others simply love the classy look of black backsplash tiles amidst black countertops and cabinetry. To lighten the kitchen a bit, use white curtains and white ceramic décor.
Mixed Metals
Patterns and colors aren't the only ones that can be mixed and matched. This technique works for metals, too. Stainless steel appliances look good together with brass handles and fixtures, plus metallic backsplash tiles.
Antique Mirror Tiles
Antique mirror tiles give off a vintage house vibe, and yet make one's kitchen look glam. One could choose from arabesque, subway, or square shapes.
Patterned Cement
Perhaps not everybody's favorite, but patterned cement tiles are highly durable. These are perfect for homeowners who want to jazz up their cooking area without spending a lot on materials.
Colorful Glazed Tiles
According to Orlando Soria, a designer, homeowners will be interested in glazed handmade tiles and color combinations. He adds that the trend this year is to use light colors with bold ones, or choose a lot of gray and blue shades.
Parquet
Try a fresh layout patterns on backsplash by installing tiles and arranging them into parquet patterns. It's another way of creating a high-end personalized design without drilling a hole in one's pocket.
Granite Backsplash Tiles
Granite tiles are elegant and easily available in the market. Use granite tiles on countertops and install them up to the walls to save on new materials that should have been used for other kitchen areas.
Honed Travertine Tiles
The unique texture of these tiles softens any kitchen space, and becomes the balancing element if one's kitchen has a lot of stainless steel and brass appliances.
Metallic Accents and Red Flames
This design is artsy and highly suggestive of intense cooking preparations. Tiles can be painted in cayenne pepper hues, and metallic accents can line the "flames" to give the graphic a unique spark. This art can be used as inset, and the rest of the backsplash tiles can be in rich and varying tones of red.
Conclusion
Kitchen backsplash tile trends come and go, but there are designs that remain popular over the years. The important thing in kitchen remodeling is to achieve balance in the use of patterns, shapes, and colors. Even the eclectic style requires carefully chosen tiles. With hundreds of ideas for kitchen backsplash designs, one will never have a dull looking kitchen ever again.
Designation: Founder & CEO
Bio: A graduate of Ohio State University with an MBA in Business, Mike Belk has been in the tile and stone industry for over 20 years. Mike is the owner and founder of Belk Tile. He has become one of premier tile experts in the nation. Not only does Mike love every aspect of his job, he strives ensure your experience is the very best. He runs a successful blog and, when not immersed in the world of tile, is an avid golfer and wine maker. Mike enjoys interacting with customers and wants to hear from you today.
---