Posted by Mike Belk on Jan 18, 2018
How to Install Glass Mosaic Tile in a Pool
There is no better way to make your pool standout from the water crowd than with decorative tiles. Whether it is a residential or commercial body of water, glass mosaic tile installations can bring your pool to new luxurious levels.
The tiles will shimmer in the customized pattern you've designed as you invite people to relax in your pool.
The best part about the tiles is that they come in every color, pattern, and size you could dream of. Are you a travel fanatic? Bring home a mosaic tile pattern from your favorite foreign country to have installed in your pool.
Not only will that make for a custom and exclusive tile design, they'll be a great conversation starter at your next pool party. The tiles are long lasting and will give you pool the ultimate high-class aesthetic.
But how to choose which tiles will stand the test of time and how do you care for them? How do you install them and what's the best application?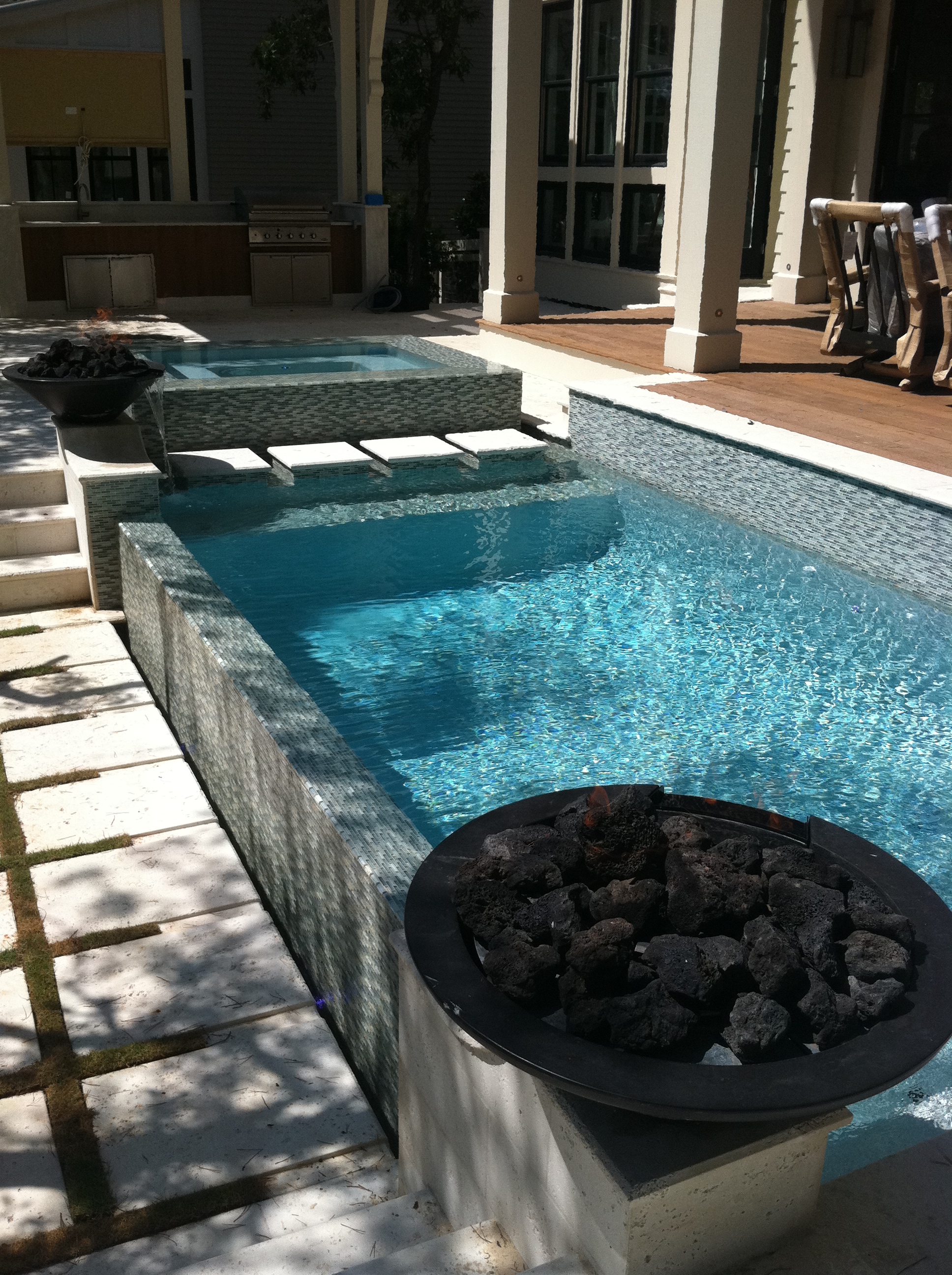 Have no fear, the guide to installing mosaic pool tiles is here:
(:1f539:) 1. What is your First Choice?
Luckily, in 2018 technology has advanced in a way that makes things easier for most installation processes. You no longer have to set each individual tile in your pool. Now you can buy sheets of glass mosaic tile that are bonded to individual tiles with a paper facing.
This, of course, will be removed before you grout. If you are looking to cover a very large area with tiles, then you should definitely consider the sheeting option. If you've traveled abroad and found small, unique tiles that you want to incorporate, then go with a pattern that is loose and spread out.
Otherwise, use the sheets with an open-weave mesh that will hold the tiles together as one while letting the adhesive stick to the backs of the glass mosaic tile. Just because it will be easy to install, doesn't mean there aren't complications that come with sheet tiles.
The water-based glue that is on the mesh backing could possibly re-emulsify once the tiles are under water. If that happens, the tiles will definitely detach and sink to the bottom of your beloved body of water. Have no fear, there's a way to avoid it!
All you need to do is make sure you have a conversation with the manufacturer of your chosen tiles. The can inform you that your chosen glass mosaic tile sheets and the method by which they are mounted are totally waterproof and ready to be submerged.
(:1f539:) 2. How to Cut your Glass Mosaic Tile Out?
Next, it's time to do some cutting. You can do this yourself if you are the one installing it. Otherwise, leave it to the pros.
If you have chosen a tile pattern that will require parts of different sheets, then just cut the paper, mesh holding, or the plastic sheeting that is holding the tiles together. You should use a new, sharp utility knife to do so for exact cutting.
If you need to get really specific and detailed with your design and cut certain tiles out (and add one of your foreign treasure glass mosaic tile travel pickups), then consider purchasing a specialized glass mosaic tile cutter.
These cutters are the best option for detail-oriented designs because they will eliminate the risk of shattering the small tiles as you cut. Other cutters like scissors or even a sharp utility knife won't do you any favors when it comes to cutting the individual glass mosaic tile pieces.
Now that you have the proper cuts int he perfect dimensions for your tile, it's time to set them. This is the most fun and artistic portion of the job.
(:1f539:) 3. How to set up your pool tile install?
First, you'll definitely need polymer modified mortars. There are specific mortars that are very compatible with glass mosaic tile. This will ensure you get a really strong bond on your tiles when you place them.
However, it is important to remember that your chosen mortar just might affect the appearance of your glass mosaic tile. If you have selected a clear or translucent option, the mortar might end up having an effect on the overall appearance or color of the tiles.
Most mortars will produce a really nice sheen and will offer your selected tiles consistency in appearance. They will let your tiles reside in their natural luminous appearance. It is wise to do a mock-up first, just to make sure that the final appearance (including the mortars) is exactly the color combination you're looking for.
When it comes to set up and prep, doing a trial run will make sure you don't end up with a color or design scheme that's both already in place, and something you don't love. During your trial, you might notice that mortar ridges can be seen through the clear glass tiles.
The good news: you can stop them from marring your beautiful glass mosaic tile sheets. All you need to do is use the flat side of the trowel and do your best to flatten the ridges of the mortars before you put the tile in place. You can even back-butter the tile to ensure you have a matching, consistent appearance with good coverage.
If you do decide to back butter the tiles, you will notice that when you set them some extra materials will ooze out through the grouting joints. Clean out the joints when you can before the ooze hardens, as the longer you wait to do so, the harder the job will be to remove it.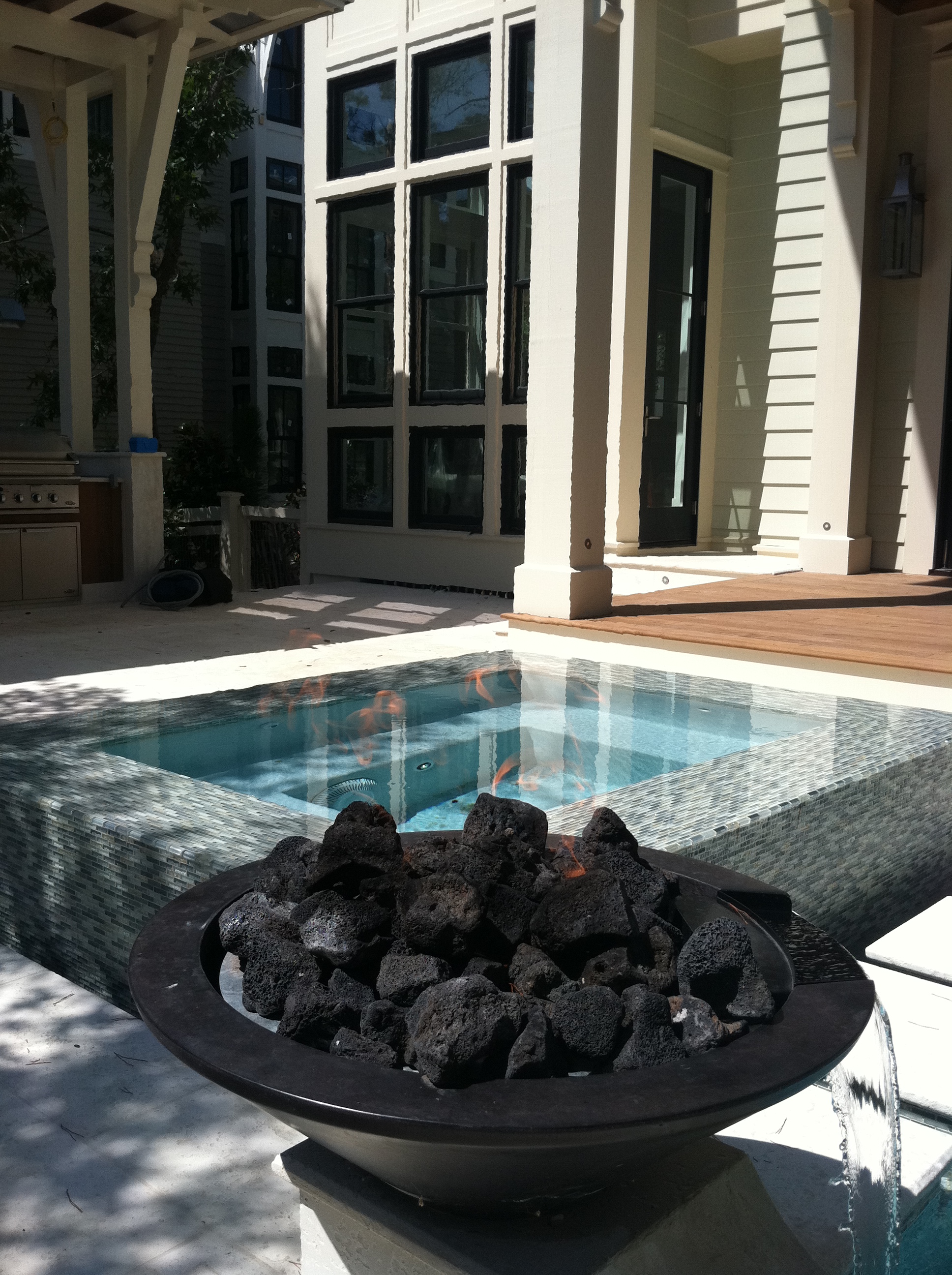 4. Cover It
After you have put your beautiful mosaic tiles in place, you need to cover them. You don't need to cover the tiled areas individually. Simply covering the entire pool will do just fine.
By covering the pool, you are going to give the tiles and the adhesive time to fully cure. The reason for covering the pool is so you eliminate temperature and humidity from affecting the tiles while they cure. Covering the pool will also ensure wind, rain, and other adverse weather doesn't destroy all the work you've just done.
Wind, snow, and rain will not only ruin the adhesive that's drying, it will bring dirt and unwanted materials into the drying grout. Deciding not to cover your pool will leave your work open to potential natural damage while it is still curing.
Covering the pool will protect your work from the sun as well. Sun can bleach grout if the UV reach it while still in a wet stage. This will completely change your color design and desired aesthetic.
You won't be able to go on with the process and start grouting if the glue hasn't completely dried. Once you have covered your pool for at least a day, you can check it to make sure all of it is dry. Then, it's time to prep for grout.
5. Wet Space
Believe it or not, now that your tiles are dry, you need to get them wet again. Yes, though it seems counterintuitive, this will help when you begin to grout.
Simply moisten your tiles with a wet rag or sponge. Cover all of the tiles evenly with a damp finish. This will be incredibly helpful as you begin to coat your tiles with the grout mixture with a rubber grout float at a 45-degree angle.
It will make it very easy for you to scrape, or wipe away the excess grout from the surface of your tiles. If the tiles are very dry, the grout will dry quickly in places you don't want it.
Easy ways to grout glass mosaic pool tiles:
6. Pout and Grout
Yes, the most difficult and time-consuming part of the entire process of installing a glass mosaic tile is here. The grouting. First, remove your glass mosaic tile from the paper sheets or tile tape before you begin to grout.
Next, make sure that all of the tile faces don't have any residue from the adhesive backing on them. Some glass mosaic tile options are more prone to scratches if you are using a rough or sanded grout, so make sure you follow the manufacturer specifications when using the grout with the tile.
If you believe your tiles will scratch easily, then use a grout that doesn't have any sand in it. It is also important to use grout that is suitable for a swimming pool. You might think that sounds obvious, but you'd be surprised how many people use a grout option that isn't really meant to be consistently submerged in water.
A ready-to-use grout will make for a very easy installation process. There are new designs that come in silver, crystal, and bronze that will give your mosaic design aesthetic some extra pizazz. There are multiple color and style options when it comes to grout, so happy choosing!
7. Scrub-A-Dub-Dub
Finally, the tedious grouting process is over. Congratulations, you've made it through the most difficult and time-consuming aspect of the entire process. Now, let it sit for about 45 minutes.
Next, grab a soft, wet cloth and scrub your tiles so they will be free of any remaining grout residue. It is important not to use a wire or hard brush for this part of the process, as they will scratch your glass tiles.
Simply get a damp cloth or use a microfiber cloth, and scrub the surface of the tiles. This will ensure your tiles are free to sparkle without any grout on them for the remainder of their days. You can then leave the tiles to completely cure for 24 hours.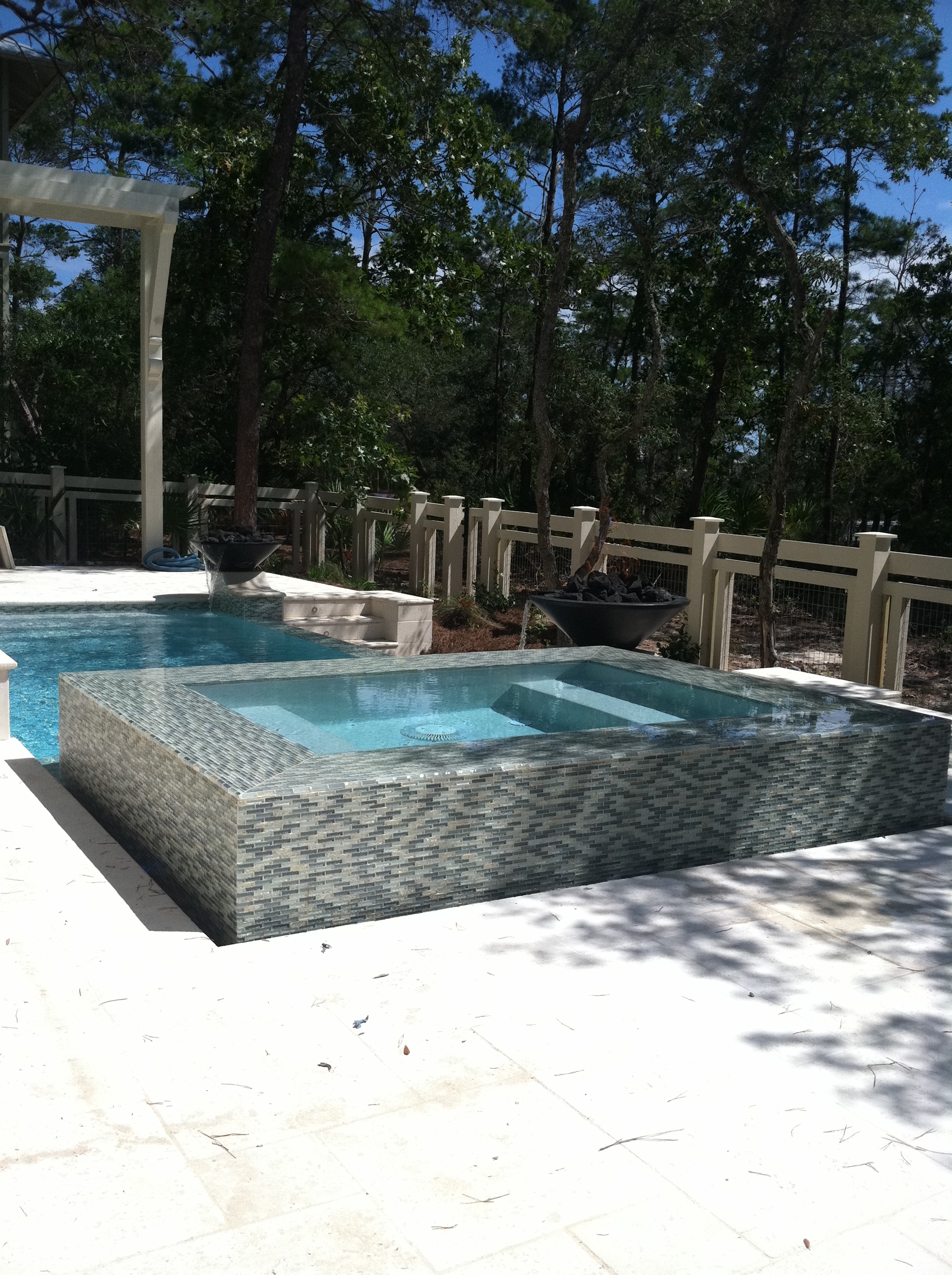 8. Caulk Talk
You might be feeling a little "caulky" now that you've done such a beautiful job and your tiles are in place and cured. However, you aren't done yet. It's time to do a little caulk work.
You can now inject caulking into all of the expansion joints in your tile work. Simply use a caulking gun, and make sure you fill in every single joint evenly. This can be another time-consuming task, but it will certainly be easier than the grouting process.
Then, much like you did during the grouting process, use a damp rag and wipe away the extra caulking. When caulking, use a gentle hand. There is no reason to be heavy-handed and squeeze lots of caulk into every joint.
A little goes a long way with caulking. This will save you both clean up time, and money by stretching your caulk all the way along your walk. The extra caulk does need to be removed immediately so it doesn't dry on the tiles.
9. Wait For It
Voila! Your pool is done. Furthermore, you have a beautiful pool with a beautiful glass mosaic tile design that is sure to wow your pool crowds.
You're probably as excited as a kid on Christmas to jump into your custom pool. However, you'll need to practice some patience. You should wait at least 20 days before filling your pool up with water.
Waiting 20 days will allow your pool tiles to fully cure. This will ensure they stay in place through years of sun-drenched pool parties. When you are ready to fill it, there is a special protocol to follow.
You should fill the pool at the rate of 1-inch per hour. Though it might seem like a slow process, this is the best option for both water economy and pool pressure. Once your pool is full, jump in, and enjoy.
Last but not least, ENJOY your new glass mosaic tile pool!
10. Take Care
Luckily, mosaic tiles are pretty low maintenance once they are in place. They are naturally resistant to stains and great grout will keep them in place. Monitor your tiles, and make sure you clean them on a semi-regular basis to make sure calcium deposits haven't built up.
Though some people might be tempted to bead blast their pools and their tiles, try to avoid this. Bead blasting will scratch the tiles and can potentially remove grout and adhesive compounds. There are many great options for pool cleanliness that won't harm your beautiful tiles.
Tiles are the best way to customize your home. They can be used in a variety of ways to add design and color. For the best tiles for your pool, bath, or kitchen, contact us today!
Designation: Founder & CEO
Bio: A graduate of Ohio State University with an MBA in Business, Mike Belk has been in the tile and stone industry for over 20 years. Mike is the owner and founder of Belk Tile. He has become one of premier tile experts in the nation. Not only does Mike love every aspect of his job, he strives ensure your experience is the very best. He runs a successful blog and, when not immersed in the world of tile, is an avid golfer and wine maker. Mike enjoys interacting with customers and wants to hear from you today. Make sure to check out his podcast of Tile Talk by Mike Belk.
---