Posted by Mike Belk on Jul 26, 2023
Recent studies show that sitting near a fire can boost both your mental and physical health. They spur a relaxation effect because of the sensory experience that fire presents. We've evolved over the centuries to associate flames with warmth, safety, well-being, light, and social connection with those around us.
Having a great fireplace in your home can ensure that you get the R&R you deserve. Read on to learn some fireplace tile ideas that will let you make the most of your hearth and the benefits it can bring.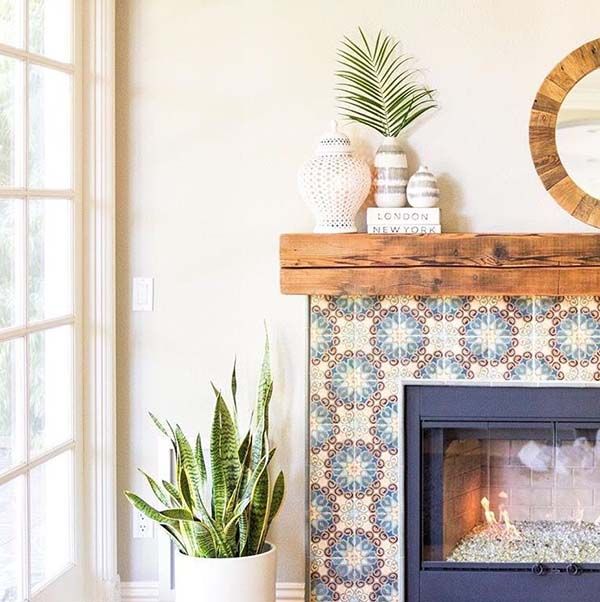 Tile Options for Fireplace Surrounds
There are several factors to consider when choosing a fireplace surround. Material is an important one.
Ceramic is one common option that's heavily heat resistant and durable. You can get it in tons of different styles including etched ceramic with a lot of texture. There are also a lot of simple ceramic tile options in solid colors for those who prefer minimalism.
Glass is another great material that's both long-lasting and reflective. Its transparent surface gives your space a translucent and modern look. Glass also is one of the most interesting materials because you can get tiles with swirling patterns, textile patterns, and clear layers.
These are far from the only options, but they're definitely among the best!
You also will want to consider tile shape and color. There are tons of shape options including long, thin subway tiles. They're in style and give your space some much-needed texture when installed at uneven intervals.
Square, rectangular, and diamond-shaped tiles are also classics that never go out of style.
When it comes to color, you can choose from a wide range of calming blues and joy-inspiring yellows. You also can opt for neutral blacks, whites, and grays for an antique and traditional aesthetic. Metal surrounds also make copper a great neutral choice.
Tranquil Random Brick
If you're looking for something effortlessly elegant, our Tranquil Random Brick series is a great option for antique decor. The tiles come in various random sizes so that you can create a uniquely-textured, interestingly-spaced fireplace surround. No two surrounds will ever be arranged in the same configuration, which adds a one-of-a-kind feel that you're sure to love.
Despite their neutral hues, these tiles are extremely complex because of their patterns. While some have the appearance of naturally-speckled stone, others have floral patterns and swooping engravings. They're complex, appealing, and sure to attract the eye of those who enjoy the look of a traditional fireplace with a Victorian feel.
Antique Copper
A simpler old-time option lies in our Antique Copper surround. Made from stain-resistant metal, this minimalistic subway tile comes in even rectangular shapes. The surface has simple swirling patterns but maintains a consistent look.
Its neutral brown hue makes it a great option for both contemporary and antique fireplaces. You can't go wrong with this tile regardless of your decor scheme.
Magical Forest Crystal Lagoon
While many people design their fireplaces to be reminiscent of roaring hearths in the 1800s, others prefer a more modern look. Luckily, you don't need to look further than Magical Forest tiles made from patterned glass.
These scratch-resistant tiles are perfectly fit for fireplace surrounds and have patterns reminiscent of beautiful stones. They look like geodes, aquamarine, and blue topaz swirled together in a natural and translucent fashion.
One of the best things about these tiles is their blue hue. Fireplaces are commonly associated with calm relaxation, and the color blue has the ability to instantly make people feel at ease. This is scientifically proven, so blue patterned fireplace surrounds can help you to create a cohesive vibe in your living space.
Dentelle Series Heavenly Lagoon
If you want to feel the serenity of blue tiles while also playing with shape, Dentelle Series Heavenly Lagoon Glass Mosaic might be an awesome choice.
These tiles have an oriental-inspired antique feel. The sides of each tile are rounded like a half-circle while the bottom billows out and tapers off into a pinched point. They make for unique fireplace surrounds because of their eye-catching nature and old-timey feel. You can make your hearth appear modern while still paying homage to those who enjoyed fireplaces in eras past.
We also offer an Aquatica Series Atlantis tile for those who want a more standard diamond shape. This tile has the same beautiful hues as our Dentelle Series option with additional shimmering tiles.
Effortless Hexagons
If you're a homeowner dedicated to a fully modern look, honeycomb tile might be perfect for your fireplace surround. A common backsplash shape, these hexagonal tiles look like a beehive when put together in an effortless pattern. They come in tons of colors including calming blue and yellow hues that remind you of busy bees.
We offer an Effortless Hexagon style in a simple warm white hue.
Because of the smooth, creamy surface, these tiles are great for those opting for minimalism. They have some interesting texture around the edges but largely keep the viewer's attention on the crackling flame inside the hearth. The lack of distraction means that your family and guests can more easily enjoy the fire without anything to draw the eye away.
Random Circles
Our Random Circles surround style is another great modern look that adds some unique appeal. Unlike geometric options, these circles are bubbly, airy, and light.
They don't fit together seamlessly because of the varying disc sizes. Instead, the beige and cream circles sit beside each other in interesting configurations. They're united by a clear background that makes the surround cohesive and easy to clean.
There's nothing quite like this option, so it's definitely something to look into if you're a fan of nonconformity.
Hearth Design and Materials
While fireplace surrounds are diverse, you can't just choose anything that you like. You'll need to match it to the design of your hearth itself.
For example, if you have a traditional fireplace with a wood-burning flame, you're likely going to want something with an antique look. This means rustic copper, simple glass in neutral hues, or ceramic options in vintage styles. Oriental-inspired patterns are all the rage here because they're a throwback to imported designs in the Victorian era when fireplaces were the home's primary heat source.
Gas fireplaces come in tons of styles, so your surround is going to depend on the specific nature of your hearth. While some of them look like traditional wood burners, linear fireplaces are all the rage in 2023. These hearths are long, thin, and sit close to the ground.
Subway tiles go extremely well with linear hearths because they match the shape. You may want to have a thick surround with interestingly-patterned subway tiles that look like geodes or shimmering light. This is a great way to make modern trends intersect with geometric classics.
Electric fireplaces go really well with large surrounds. This is because the hearth exists on a screen, so you'll want an interestingly-textured surround to provide some real texture. Have fun with circular patterns and honeycomb looks.
Installing Tile on a Fireplace Wall
Installing fireplace surround tile can be a challenge, but it's ultimately a fun DIY project. Belk ships fireplace tile all across the continental US for you to install at home. This makes the process less expensive for you and gives you the creative freedom to play with new styles.
Here's a general step-by-step process for what you need to do:
Create a cool layout with your tiles (and experiment until it looks perfect)
Mix the mortar that will set the tile
Spread the mortar evenly over the area of the surround
Lay the fireplace tile in the configuration you decided on
Start in the upper corner and make your way downward
Wipe off the tiles to get rid of any dirt and grime
It's that simple! Just make sure that you clean your fireplace surround regularly. This is an easy process- all you'll need to do is periodically wipe it down with a damp washrag.
For information on specific materials and shapes, check out our installation guides!
Beyond the Top Fireplace Tile Ideas
While there are several aspects to consider when it comes to hearth design, knowing the top fireplace tile ideas is a great first step to making the most of your space. Now that you know some tile options, it's time to begin renovating your home.
Belk Tile is committed to helping you find and install the perfect fireplace wall tiles in any space. We work with homeowners across the continental US to turn their interior design visions into a reality. Contact us for more information about our designs and installation processes.