Posted by Mike Belk on Jul 27, 2017
The days of dull and boring kitchens have already come to an end. Long gone are the days of plainly designed kitchen backsplashes. Nowadays, kitchen backsplashes have become not only functional but also gorgeous and kitchen design trendsetters. There are a variety of backsplash materials you could choose from. They are not only limited to ceramic, porcelain, marble and granite.
One of the most popular backsplash materials today is glass tile. Kitchen glass tile backsplashes typically comes in mosaic form. The tile is not limited to a square shape. It could also be rectangular or even hexagonal.
You could place glass mosaic tiles in your kitchen wall in so many different ways not limited to horizontal, vertical, herringbone or subway tile patterns. These could be some reasons why kitchen glass tile backsplashes gained their popularity in the recent years.
Just like any other backsplash material, glass tiles also have their own fair share of pros and cons. One advantage and probably the most obvious one is that glass tiles have a certain character that stands out from the other materials. Beach glass tile backsplashes are often described as unique, stunning, gorgeous and visually appealing.
Another advantage of a glass tile that it comes in any form, size and shape which opens up for more design freedom. Tile pattern possibilities for kitchen glass tile backsplashes seem endless. Glass tiles also have the ability to make the kitchen look bigger and brighter because of its reflective characteristics. They reflect the light around the whole kitchen which makes it look brighter.
The most important advantage of glass tiles is that they are very resistant to mildew, stains and mold. Kitchen glass tile backsplashes are easier to clean and maintain.
However, purchasing glass tiles can be expensive than other materials such as ceramic. It could be tricky to place them especially if you are on a tight budget. You will need to be more creative on where to place your glass tiles to maximize your budget.
Installation of glass tiles may not be easy for the inexperienced homebuilder. They are very delicate and may break if not cut carefully. It would be best if you hire an expert for the installation of your glass tiles to save your tiles from potential damage and also save yourself from possible frustration.
Kitchen glass tile backsplashes are durable but there will still be a possibility that they can get scratched or cracked. When scratches and cracks get worse, it will not be an easy fix. The whole backsplash will need to be replaced.
The advantages of glass tiles are worth considering. Despite the cons, kitchen glass tile backsplashes are still rewarding to install. There is a solution for every disadvantage, anyway. A glass tile backsplash is just like an oasis in an unappealing kitchen. Having a glass tile backsplash as a focal point seems to make the other areas of the kitchen look better too.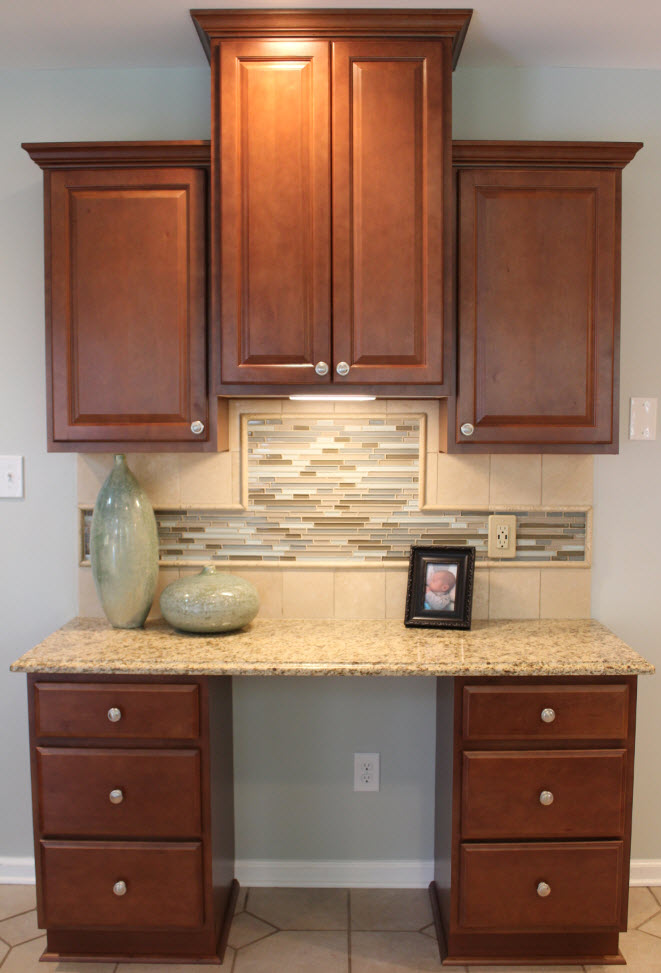 Here are some ways to create an oasis out of kitchen glass tile backsplashes:
1)Take advantage of glass tiles' reflective properties.
Every glass tile is different. Some are made out of clear glass. Others may have a frosted look. Their textures may also vary. Experiment with these variety. Consider how much light you want to illuminate the room. The clear types will be more reflective than the frosted ones.
2)Choose the colors of your glass tiles carefully.
Color plays a big role in any design. It immediately attracts everyone's attention. It can make or break the design. Pick colors that are pleasing to the eyes.
When combining different colored glass tiles, make sure that they blend well together. Given that glass tiles are reflective, also consider how reflective they are when choosing colors.
3)Create bold tile patterns with your glass tiles.
Make a statement in your kitchen by using tile patterns that stand out. Make them unique as much as possible. Glass tiles come in so many different shapes and sizes which creates more distinct and stunning tile arrangements for a kitchen backsplash.
4)Experiment with various shapes and sizes of glass tiles.
Since glass tiles come in a variety of shapes and sizes, there is no reason not to get creative. Why not try combining more than two different kinds of glass tile? A square tile may look good with a rectangular one. It will help give your kitchen backsplash a unique look.
5)Check the quality of your glass tiles before buying and installing them.
Glass tiles are known to be durable and highly-resistant to damage but it doesn't mean that there is no need to check them. All glass tile properties that make them stand out will not matter at all if that glass tile is broken and damaged. Be careful too when installing them to avoid cracks and breakage. Even a slightly cracked backsplash is an ugly sight.
6)Always keep your kitchen glass tile backsplashes well-maintained.
Glass tiles once installed are easy to maintain. They are resistant to stains and mildew. A glass tile backsplash can be easily cleaned just by wiping off any dirt on its surface so maintenance is not much of a problem. Just be careful not to scratch it.
Scratches and cracks are the biggest enemies of glass tiles. If there are too many of them, the whole backsplash will need to be replaced. All creativity, effort, budget and time allotted for installing those glass tiles will just go to waste if you are not cautious with your glass tiles.
Having a beautiful kitchen is one thing. A gorgeous kitchen backsplash is a wonderful thing to see in the kitchen. It draws so much attention. It's the kitchen's focal point. It can become a conversation piece. It makes the kitchen look so much better. What more if you have kitchen glass tile backsplashes which is really a trend right now?
Whether glass tiles are in or not, you could still use them. They will stand out depending on how much creativity you have applied to them. When you decide to use them, just be guided by its different characteristics so that you can make the best kitchen backsplash out of them.