Posted by BELK Tile on May 30, 2014
Copper Tile Mosaic Tile Backsplash
Copper mosaic tile has a refined look that goes well with modern, traditional, country-inspired, and minimalist interiors. Copper tiles are versatile and can be used both indoors and outdoors. You can even use them in fire pits and fireplaces. Copper tiles are either machine-cut from solid copper or hand-cut, as in the case of artisan-hammered copper tiles. They don't crack, dent, or chip. Over time, they produce a gorgeous patina.
Build a wall of penny copper mosaic tile.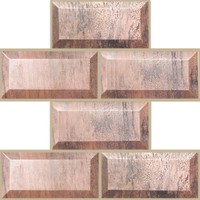 This project will completely change the look of any room and make it worthy of a magazine cover. Copper mosaic penny tiles will give the room a sparkle and an air of elegance. Limit the look to just one wall of the room. However, if you're the adventurous type, go ahead and cover your entire kitchen or bathroom with it. In the kitchen, it will look great with white or exposed brick walls, marble or granite countertops, and a clean and simple layout. Strategically-placed lighting will really make the copper glow while open shelving will keep the focus on the mosaic. A wall of copper mosaic penny tiles will also look great in the bathroom, hallway, living room, and dining area.
Use copper tile backsplash with natural elements.
The industrial sheen and color of copper tiles create a beautiful contrast with outdoor-inspired design components such as stone and wood. Combine copper tiles with stone or slate in a rustic, country kitchen or outdoor entertainment area. Mix copper with marble for a timeless, cultured look in the bathroom. Pair a copper mosaic backsplash with bamboo countertops.
Use copper wall tile as accents.
Copper mosaic tiles interspersed with other kinds of mosaic tiles create interesting patterns and textures in your kitchen backsplash or bathroom walls. Copper tiles perfectly complement ceramic or glass tiles and, mixed with aluminum mosaic tiles, produce an intriguing, modern look perfect for bars, vanities, backsplashes, and pool areas. You can also use copper mosaic tiles as accent pieces. A dash of copper tile can be just the perfect finishing touch to any wall in your house. Place a strip of copper mosaic tiles in your shower enclosure or around your bathtub. Install a wall of copper mosaic tiles over your bed to serve as a headboard or over the range to create a focal point in the kitchen.