Posted by Mike Belk on Dec 14, 2018
Bring Your Boring Space to Life with Discount Glass Tile Kitchen Backsplash
If you're looking for an excellent way to upgrade the look of your kitchen without spending too much, you may want to consider a discount glass tile kitchen backsplash. Glass tiles have become a popular, but is it the right choice for you?
Glass tiles are generally more expensive than stone and ceramic tiles.
If a ceramic tile can cost between $3 and $7, and stone tiles between $4 and $8 per square foot, glass tiles can cost anywhere from $7 to $30 per square foot or sometimes even more. The good news is you can easily avail of discount glass tile kitchen backsplash from selected suppliers. This will bring down the cost considerably.
Another way to make glass tile installation fit into your budget is to consider using accent borders. You may also want to use glass tiles as an inset to either stone or ceramic backsplash. This will reduce the need for individual glass tiles and the cost that comes with it.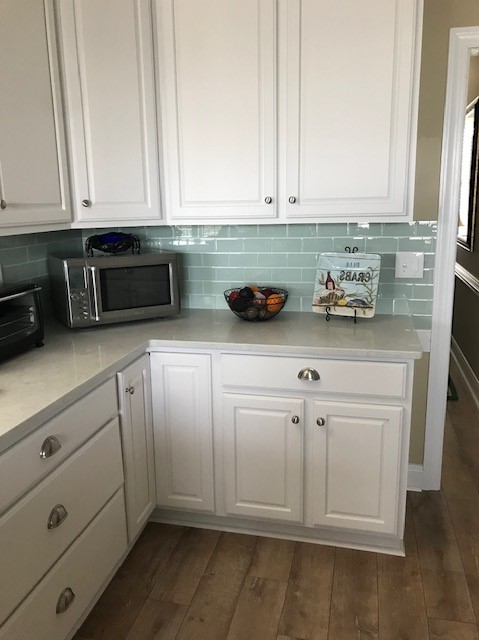 Glass tiles are incredibly customizable.
They can be costly but there is no denying the fact that when it comes to aesthetics, glass tiles are a clear winner. They come in a wide range of transparencies, vibrant colors, and various sizes. The choices for attention-grabbing patterns are endless. You have the freedom to choose the options that speak volumes about your personality. Glass tiles offer an excellent way to transform your kitchen into something that truly speaks about your style. You can be bold and subtle, mix and match colors, and just have fun with it!
Glass tiles are not the best for diy-ers.
These tiles are delicate and they may not be the easiest to handle even for a diy-er with some experience. Installing them can be very tricky. Cutting and grouting them requires ultimate precision. In this case, hiring a professional and experienced in handling glass tiles is a must for a perfect job finish. However, if you do decide to do it yourself, make sure to prepare buying more tiles than your measurements require to make up for breakage and any other potential errors.
Glass tiles can expand your space.
Not everyone can afford a big space. If your kitchen is rather dark and small, a sparkle and shimmer from a glass tile backsplash can make it appear brighter and more spacious. They are able to reflect light and make your kitchen visually more appealing. Glass tiles can easily add interest and depth while ceramic tiles are rather flat and dull.
Glass tiles are not the easiest to repair.
Another drawback to a glass tile backsplash is that when they are damaged, fixing them can be quite a pain. Most of the time, it will require replacing a big portion or in some cases, the entire backsplash will have to be replaced.
The upside however, is that they are also not the easiest to damage. As long as you don't attempt to scratch the tiles with a knife or rub a gritty material against the surface, you can make its shine last long. Avoid scratches and cracks on your elegant glass tile backsplash by using a mild detergent and wet cloth for cleaning.
Glass tile are clean, green and hygienic.
If any of your family members suffer from allergies, you will be delighted to know that glass tiles are incredibly mildew-resistant and stain-resistant. They are not a pain to clean. They are amazingly easy to maintain. All you need for cleaning and making them shimmer is to use a wet cloth with a mild detergent to wipe them with.
Although they are transformative, glass tiles also have their share of downsides. Consider these pros and cons when deciding whether or not it is wise to invest in discount glass tile kitchen backsplash.