Posted by Mike Belk on Jul 26, 2023
Many people choose to renovate their bathrooms after about 5 years.
When it comes to interior design, the bathroom can often take a lot more thought than other rooms. There are plenty of elements that need to come together to create a space you're happy with.
One of the most important design elements is the tiles. Various bathroom tile trends come and go, so it can be difficult to know what you should go with.
In this guide, we'll go over a range of bathroom tile ideas to give you inspiration for your home. Keep reading for more.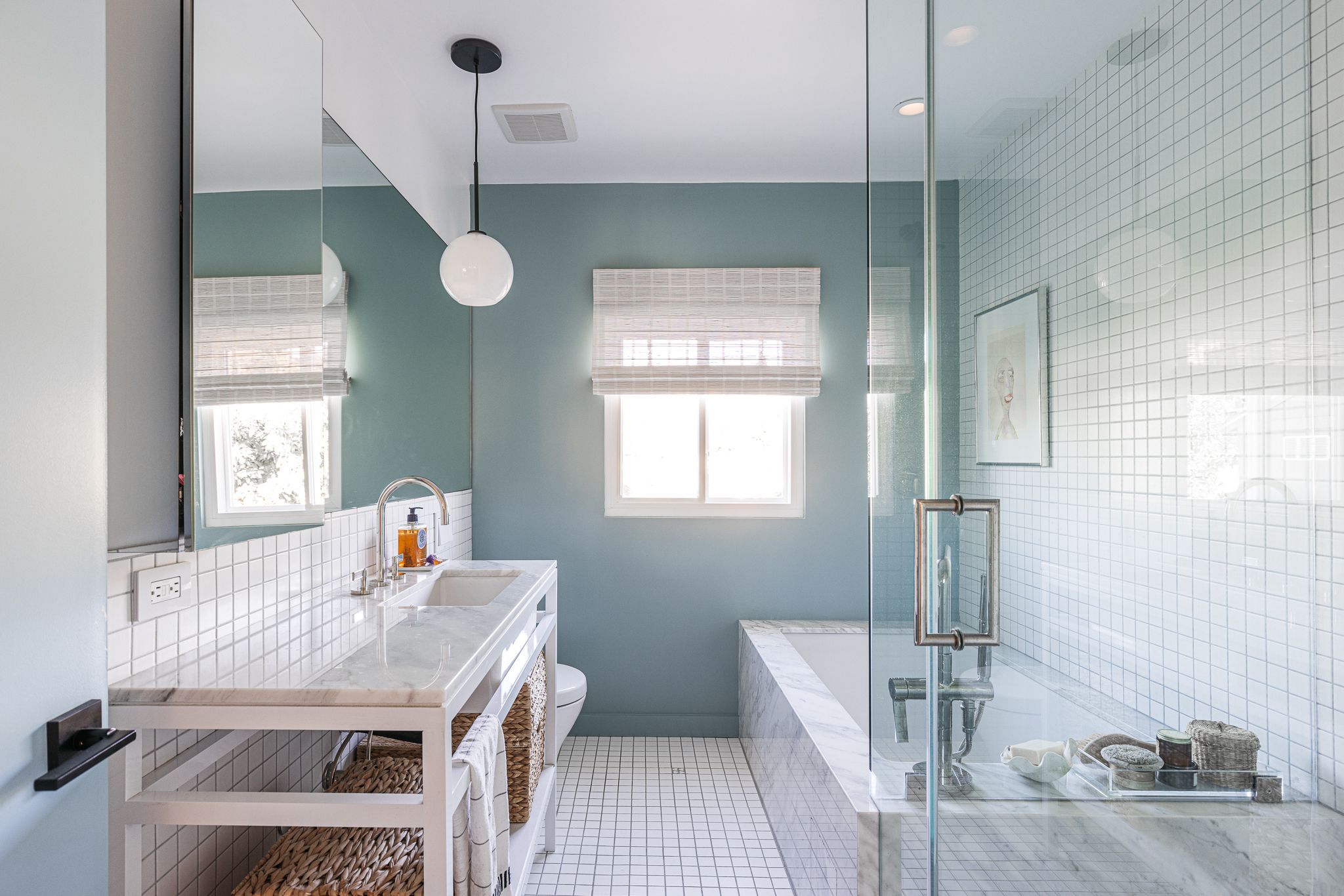 Bold Colors
If you want to create a lively space, one of the best things you can do is use bold colors. This can give an energetic, playful feel, and you can really express your personality.
There are plenty of creative color trends you can expect to see in 2023, such as vibrant orange and bold reds. Bear in mind that it's your bathroom, so while you might want to draw inspiration from current trends, you should also make sure you go with something you enjoy.
Sleek Wainscoting
In the past, wainscoting was often done using wood, but in modern bathrooms, tiles are becoming a more popular choice. You have the chance here to go with the same style of tiles as your flooring, or you can go for a different type to add more character. Consider whether you want to achieve a sleek look that blends things together, or if you want to switch things up.
Mosaic Tiles
Mosaic tiles seemingly fell out of style for a time, but they're making a strong comeback. You can go for a range of styles here.
Small tiles using a single color provide a more modern look. Alternatively, you could opt for more unique shapes and patterns that incorporate various colors if you want your bathroom to stand out more.
Earth Tones
In recent years, sustainability and natural living have become popular trends in all walks of life. In terms of indoor spaces, this has given rise to things like house plants, natural materials, and earth tones.
You can add this kind of aesthetic to your bathroom by using tiles that have colors found in nature. Think brown, tan, beige, green, etc. You can also add other accessories such as plants to enhance this aesthetic.
Geometric Styles
If you're on the hunt for more creative bathroom tiles, geometric shapes can be a great choice. Move away from traditional square and rectangle tiles and instead opt for things like hexagonal or rhombus-shaped tiles. You can match these up with similar wall tiles, or go for something more simple.
Black and White
Just because something has been done before, that doesn't mean it's bad. Black and white bathrooms are a classic choice, but it's something that's never gone out of style.
It works well for simple, subtle designs, as well as more complex style choices. Black and white might not stand out as much as other colors, but it's something you can never go wrong with.
Floor to Ceiling Tiles
There are plenty of bathroom floor tile options, but you don't have to stop there. If you prefer, you can install tiles up your walls, all the way to the ceiling.
This creates a more elevated look, and you can either match the floor tiles or contrast them. Depending on your preference, you can do this on just one wall to create a focal point, or on all of them so that everything matches. Bear in mind that this will cost a bit more, but the results can be well worth it.
Seamless Chevrons
You've probably seen chevron pattern tiles before, but they can still provide a far more unique feel than traditional tiles. This is ideal if you want to keep the colors simple but still add a bit more flair.
Dark for Depth
This isn't something people always realize, but darker colors can help add more depth to a room. You could have light-colored tiles on the floors and most of the walls, then reserve one wall for darker tiles to create the illusion of more space.
The shower wall is a great option for this, and there are plenty of shower tile designs you can go with that can work well with the rest of your bathroom.
Subway in a New Way
Subway tiles aren't an uncommon choice, but you can choose from different tile layouts to make your bathroom more unique. They're a classic type of tile, but laying them in a crosshatch pattern, for example, will give a fresh feel.
Large Floor Tiles
Large floor tiles have become increasingly popular in recent years. They have a certain effect that makes bathrooms feel more spacious. You might find this useful if your bathroom is on the smaller side so that it doesn't feel too cramped.
Monochromatic Tiles
While bold colors and unique patterns can be great if you want to add some character, that might not be the look you're after. Some people prefer to keep things simple, and monochrome tiles are ideal for this.
Using tiles of the same (or similar) colors will help keep things uniform. If you're using both floor and wall tiles, you can choose to vary the sizes if you want to add a bit more visual interest.
Marble Tiles
Marble tiles are a good choice if you want a more elegant design. You can choose from a range of colors and sizes depending on your preference. Couple these with gold accessories such as faucets and light fittings to create a more luxurious feel.
Bold Chevrons
Chevrons are great for taking simple colors/textures and making them more interesting. If you want to, however, you can also go with bold colors here.
Attention-grabbing colors with a unique type of layout are great for making your bathroom stand out from others. It will immediately grab the attention of anyone who walks in there. Making the floor center stage isn't everyone's first choice, but it can certainly create a far more interesting bathroom.
Match Different Tiles
It's common for people to stick to one type of tile, or maybe two that go together well if they want to make things more interesting. For those who are a bit braver, however, you can take things further.
You don't have to follow traditional style trends, and you can really decorate your bathroom however you want. As such, it's always an option to mix and match completely different styles. This means different shapes, designs, textures, and colors.
This is ideal if you want to create a completely unique look. It will add a lot of depth and personality to your bathroom. Just make sure you take the time to think about how everything will look in the end so you don't end up choosing tiles that don't work well together.
Focus on the Floor
You might not have the biggest budget, so you may want to keep various aspects quite simple. When doing this, you can choose to focus on a single area, and the floor can be ideal. Using bold, interesting tiles can make the floor very interesting, which often works well alongside other simple elements.
Neutral Color Palette
Something that many people want (but often don't get) is a bathroom that's both bold and simple at the same time. One of the ways you can do this is to use interesting shapes, but neutral colors. The palette will keep things minimalistic, while the unique shapes can ensure there's still some character.
Small Wall Tiles
Small tiles are a common choice in showers, or sometimes just for flooring. You can switch things up by using them on your walls instead. They can work very well as a backsplash, or just on a feature wall.
Bear in mind that, unlike large tiles, these can make a space feel a bit smaller. This typically isn't an issue in larger bathrooms, but it can be more noticeable in smaller ones, so may not be the best choice if yours doesn't have much space.
Wood Look Tiles
Wooden flooring creates a very warm and homely feel, though it's not the best for bathrooms. Wood can easily absorb moisture, and this could quickly cause issues in a bathroom, hence why tiles are such a popular choice.
What you can opt for, however, are tiles that have a wood look. These provide the same visual appeal as wood but are functionally much better for a bathroom.
Implementing Your Bathroom Tile Ideas
With so many bathroom tile ideas available, it can be tricky to make a decision for your home. Think about what you want whether you want something minimalistic or intricate, subtle or bold. Also consider how much space you have, as well as your budget.
Belk Tiles is a leading tile supplier, and we can provide you with the perfect tiles for your bathroom. Take a look at our Bathroom Tiles page to see some of what we have available.