Posted by Mike Belk on Apr 12, 2021
When you are going to design and decorate your own bathroom, it's very important you choose which materials you'll use for your floors and walls. Your first purpose must be that the materials make your bathroom prettier, last a long time and are budget-friendly.
There are many materials you can find on the market and will help you with this, and they have different colors, textures, shapes and other characteristics. This doesn't mean they're all perfect for you - you have to evaluate some aspects before you choose.
In this article, we will get to know some of these and share what we think it's best to make your bathroom works and looks amazing.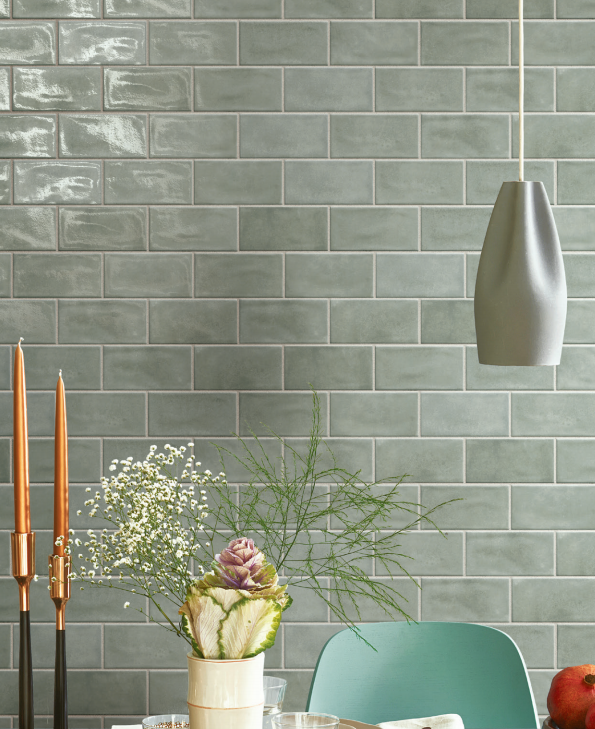 TYPES AND IDEAS TO FIND BATHROOM CERAMIC SUBWAY TILES
If you need to decorate a moist room like your bathroom, there are three main types of tiles you can use for it.
The first two materials we'll discuss are glazed stoneware (also known as classic stoneware) and porcelain stoneware since they're both very resistant to the moist. However, they both have their pros and cons.
Stoneware is a material that's water resistant because of its roughness. It also absorbs stains very slightly, and it resists abrasions and rough changes in temperature.
Nonetheless, it is a very costly material. Besides, it's very difficult to install.
Another option that's frequently recommended is using ceramic tiles, which are mainly made out of red clay, quartz sand and water.
This is the most used material to decorate bathrooms because of its resistance, easiness to clean and maintain, and cost. Likewise, there are lots of types of tiles, including marmol imitations, which are visually appealing, resist more and absorb less water.
Because of its different characteristics, tiles are undoubtedly the most recommended materials to use in your bathroom because they're resistant to impact and moisture.
At the same time, they're easy to clean and you can find them with hundreds of designs and details.
Subway tiles are the most famous among all of them. They always look good, and all throughout history, they've stayed continuous in people's bathrooms. These models are known as vintage and a great option to decorate.
Bathroom subway tiles
These tiles are mainly produced in five different types, which you can combine in various styles.
●Viscous black
●Non viscous black
●Bright viscous white
●Bright non viscous white
●Matte white
Likewise, nowadays there are many types of colors and different finishes, only most of them keep the shape, style and color New York's urban transport system had in 1904.
Subway tiles are a ceramic classic, and they mostly stay unaltered. With changes in time and fashion you can notice that there are millions of options people love because you can always find a good result.
What makes them special?
Subway tiles are known and used worldwide because they're a simple, elegant and resistant material. They're characterized because they have great finishing - they can be matte or bright, you're going to love them anyway.
The best features you should consider when you're decorating your bathroom with tiles is that they must be hygienic, easy to clean, they should last in time and should be easy to install.
This classic for bathrooms will transmit a feeling of cleanliness and rest, which is the best thing a ceramic tile could communicate to people.
These types of tiles have stayed among the most popular designers and architects. They not only use them for bathrooms and kitchens - they also use them for interior design and even to decorate big walls.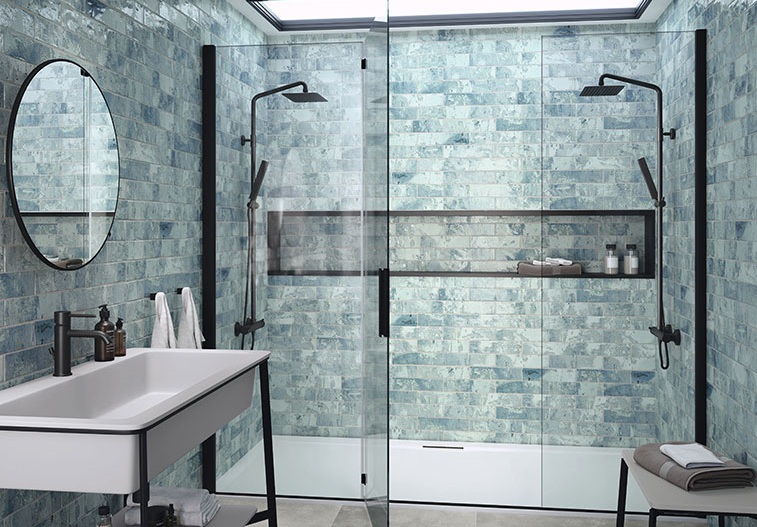 Why use subway tiles?
There are many reasons, but the most important are the following:
●They are budget-friendly for everyone
●You can get hundreds of different designs just by combining colors
●You can use them anywhere in your home, although they're mostly used in bathrooms and kitchens
●They're a very useful material to decorate if you want a vintage, retro, industrial or rustic style
●If you prefer a minimalistic decoration for your bathroom, it's the perfect choice
●Because of its easy installation, installers will usually charge a lower price for doing the work
As you can see, subway ceramic tiles are very versatile. That's why thousands of people pick them for their bathrooms.
Available bathroom ceramic subway tile sizes
All the sixes available for these tiles are another reason why they're used to decorate thousands of bathrooms across the world.
Available sizes are:
- 2 inches by 4 inches
- 3 inches by 6 inches
- 3 inches by 12 inches
- 4 inches by 12 inches
- 4 inches by 16 inches
Undoubtedly, they're a great option for your bathroom. The design you want is up to you. To create a unique bathroom you just have to combine all the different options you have to choose from.
Styles and colors
One of the great advantages of tiles is that you can combine them thousands of different ways. The only limits you'll have are your taste and the character you want to give your bathroom.
Nonetheless, colors play a key part because they distribute attention and space in the area. At the same time, an important factor you must consider is light.
Neutral subway tiles like white, gray and beige are greatly used in bathroom decorations, because they give users a comfy and elegant style.
Using these types of colors will probably make you succeed, especially if you give them a joyful touch when you combine them with other bright color. It makes your bathroom look bigger.
Even though clear colors are many people's favorites when they choose subway tiles in their bathrooms, you can risk it with dark colors and twist the look. In this case, you should always use a clear color too so they contrast everything and balance it out.
A great way to distribute tiles in your bathroom is doing it depending on the areas. That way, you'll limit spaces. For example:
●For the shower, use mosaic tiles with bright or dark colors
●For the floors, you can use clear colors or fade them out
●For the washing area, you can use bright tiles, play around with lines and movements, etc.
If you don't take risks, you can't win. If you prefer so, you can use more elegant colors when you design your bathroom, like black. If you choose this case, you can leave things simple.
Decoration
Regarding the decoration you want for your bathroom, it's important you choose what you like the best. What do you want? Modern, rustic, minimalistic, nordic? There are many options to choose from.
Choosing the style you want will tell you everything about your tile options. For example, if you choose nordic style, you can use white tiles and wooden accessories.
If you want your bathroom to have a classic style, you should combine your subway tiles in a geometric shape. That way, you'll have infinite ways to decorate everything. You'll just have to adapt them however you want.
Which tile should I pick for my bathroom?
This is very important. So, you should reflect and plan this step. For this, you should pay a lot of attention to quality and installment. Likewise, you should aim for a balance between design and functionality.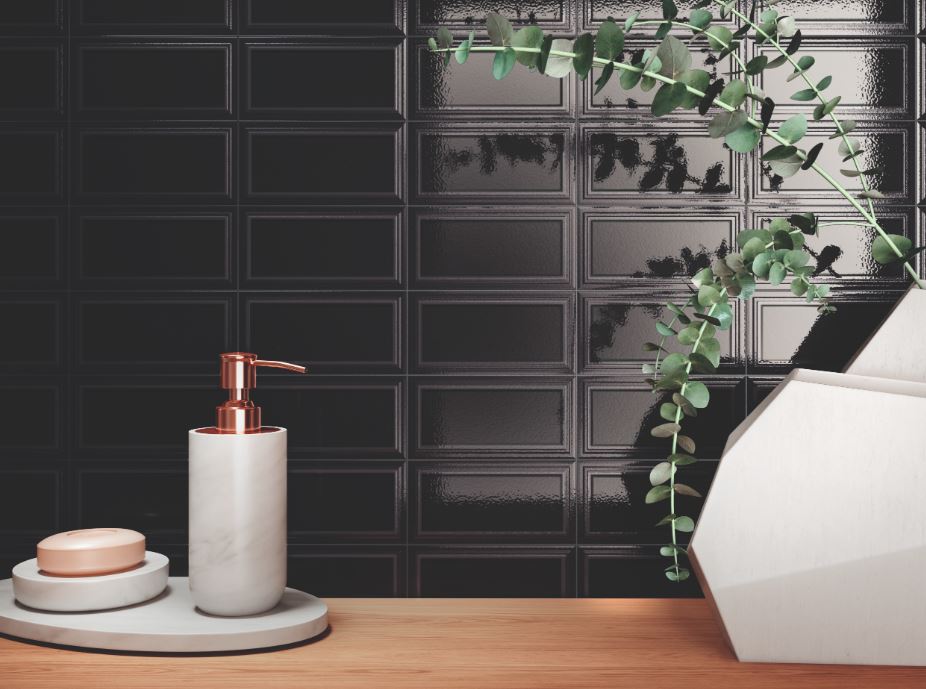 The first thing you should consider is the size of the bathroom. Evaluate if they have high or low ceilings, if they have a long or square shape, etc. You can pick the model depending on these characteristics.
If your bathroom has a window or a source of natural light, you won't have any inconvenience when you pick the tiles. On the contrary, use light colors to get some light and pick brit finishes that help reflect it.
Final thoughts
Picking what you're going to put in the walls or floors of your bathroom is a crucial choice. Even though you're going to use it for a different purpose, it's probably the smallest room in your house so any decoration mistake you make will be completely obvious.
The thing is that bathroom subway tiles are so simple you might think there's not much to do with them at first. However, when you start doing research, seeing examples and experimenting, you'll find a new universe full of thousands of different options.
Then, it's up to you - you get to decide what you want your bathroom to look like.
Even though there are new materials and styles people have incorporated to bathroom design, there's nothing like a great subway ceramic tile to make it more beautiful, quality and elegant.
The key of a beautiful bathroom is knowing how to pick the best tiles, choosing models that are budget-friendly and making sure they make your room look fresh and natural.
When you're decorating your bathroom, everything's possible, you just have to make sure your cleverness is acute so you have a magnificent room.
Subway tiles are very popular right now despite they exist since 1904, the date in which they were designed for the first subway station in New York.
So, getting bathroom subway tiles will not only give it simplicity and style but also history and originality.
Designation: Founder & CEO
Bio: A graduate of Ohio State University with an MBA in Business, Mike Belk has been in the tile and stone industry for over 20 years. Mike is the owner and founder of Belk Tile. He has become one of premier tile experts in the nation. Not only does Mike love every aspect of his job, he strives ensure your experience is the very best. He runs a successful blog and, when not immersed in the world of tile, is an avid golfer and wine maker. Mike enjoys interacting with customers and wants to hear from you today. Make sure to check out his podcast of Tile Talk by Mike Belk.
---