Posted by Mike Belk on Jul 26, 2023
Kitchen remodels are typically the most expensive home improvement projects in American homes.
If you're updating your kitchen, you have a lot of freedom, and it's worth taking the time to decide on a design that's perfect for you. There are multiple elements you need to think about in your kitchen, and they all need to come together well. One particular part that can be hard to make a decision about is your kitchen backsplash.
In this guide, we'll cover everything you need to know about kitchen backsplash tiles. Keep reading for more.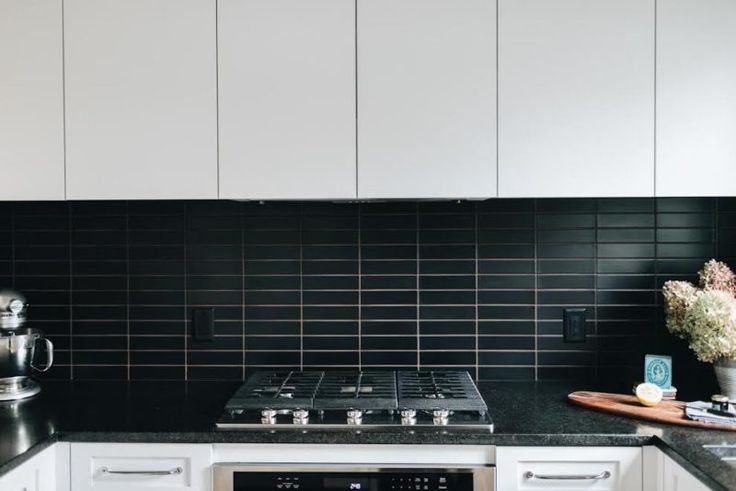 The Technical Considerations of Kitchen Backsplash Tiles
There are plenty of types of kitchen backsplash tiles available and various characteristics that you need to think about. One of the first things to look into is the technical aspects of kitchen backsplash tiles. While appearance is a key factor, you need to ensure the tiles you go with are suitable for their purpose.
Heat-Resistance
Most tiles in your home won't be exposed to high temperatures, but backsplash tiles often will. In many homes, they sit very close to the stovetop, so they can get quite hot.
Even if they're not right next to any cooking appliances, kitchens can get very warm in general when in use. You need tiles that can sustain high temperatures without issue.
Water-Resistance
Water is something that you won't be able to keep off of your tiles all the time. Cooking and cleaning can both get your tiles wet, and other liquids such as drinks could get spilled on them. You need water-resistant tiles if you don't want any problems here.
Long-Lasting Colors
Whatever color choice you make, you'll want your tiles to hold this color for a long time. Look for tiles that won't fade quickly, and make sure you keep them clean to prevent staining.
The Difference Between Backsplash Tiles and Floor Tiles
One of the main differences is the thickness. Floor tiles need to be able to hold the weight of people walking over them without cracking or breaking. They also need to be able to support various kitchen appliances.
This isn't as much of a factor for backsplash tiles. They're typically thinner, which is ideal as they can sit more flush with your wall.
Floor tiles also tend to have anti-slip textures to make them safer. Again, this isn't important for backsplash tiles, so they can have a range of textures.
Factors to Consider
There are plenty of backsplash tiles to choose from. You need to think about your home and how you use it to determine what ones will be best. You can look at several different factors to help you decide.
Your Budget
This is one of the first things to determine. Kitchen renovations are expensive, and you don't want to fall in love with a set of tiles only to later discover they cost too much.
It's best to work out your finances well in advance. You can then look at the cost of any tiles straight away to determine if they're a viable choice or not.
Your Material Choice
The material is a crucial factor, as it will determine the overall look and feel of the backsplash and your kitchen as a whole. It will play a big part in the overall cost, but it's worth noting that the look you prefer may not always be the most expensive. You want to think about the appearance of the material you choose, as well as its physical properties.
Tile Shapes
Typical tiles are square or rectangular, and while there's nothing wrong with these, you can go for something a bit different if you want to create a more unique look. Geometric shapes like hexagons are becoming more popular, or you could even opt for chevrons or wave patterns.
Tiles are also available in a huge range of sizes. Larger tiles tend to make a room feel bigger, with smaller tiles having the opposite effect. If your kitchen is a smaller size, you may want to avoid using small tiles.
Bear in mind that more uniquely shaped tiles may come at a higher cost, so you'll need to take this into account.
Backsplash Layout
On top of the shape of the tiles, you'll need to think about the layout of the backsplash installation itself. In many cases, people choose to tile up to the cabinetry, with the rest of the wall being painted or wallpapered. Some choose just to have one wall tiled which can work well depending on the layout of the kitchen.
You could do this, or you could tile all the way up to the ceiling. This can create a more immersive feel, but as it requires more tiles, it will be the more expensive option.
Compatibility
You might find some tiles you really like, but before you make a final decision, think about how they'll work with the rest of your kitchen. Everything needs to flow together well, so you don't want to design a backsplash that looks out of place.
If you're not changing your entire kitchen, look at the features that are staying, then find something that works well with them. If you're doing a full renovation, you'll have more freedom but still need to consider the various other elements.
Backsplash Tile Materials
There are several backsplash materials you can go with. Ceramic tiles are a classic choice as they're lightweight, durable, and cost-effective. They're also fairly easy to install, which will help reduce labor costs.
At the more expensive end are glass mosaic tiles. Many people opt for these as they offer a great aesthetic that can make your kitchen stand out.
Natural stone is another visually appealing option. You can choose from various types of stone to get a more traditional look and feel.
Backsplash Tile Styles
Aside from the actual material, you can also opt for different finishes. Wood-look tiles create a very unique space. The wood itself has poor properties for use as a backsplash, but wood-look tiles can give the same feel while still having suitable physical characteristics.
If you go for stone tiles, there are plenty of looks available. Marble tiles have a very luxurious look, for example, while slate has a more traditional feel to it. You can often pair these well with countertops and other kitchen features to create an eye-catching finish.
Another popular choice is to go for a patterned look. Some of the options here include:
Chevron
Beveled
Diamond
Teardrop
Basketweave
Brick
Deco
More
These allow you to add a lot of character and bring your backsplash to life. When deciding on the look of your tiles, you also want to think about the grout color. While several are available, they're not nearly as varied as tiles, so it's important to consider them alongside each other.
Backsplash Tile Finishes
Many backsplash tiles are available in a range of finishes. Not only does the finish affect the appearance of your backsplash, but also its durability and how easy it is to clean.
Glazed
These are coated in a slick material that produces a glossy finish. It can add a more luxurious feel and is common on mosaic and glass mosaic tiles.
Polished
These have a highly polished finish that's produced by using a diamond disk to grind the surface of the tiles. These are great if you want a low-maintenance option. They're water resistant so they don't absorb spills too easily and are easy to clean.
Unglazed
Unglazed tiles usually have a single layer of bisque with no additional glaze on them. This provides a matt finish which creates a more simple look that some people prefer.
Benefits of Tile Backsplashes
Some people don't bother with a backsplash in their kitchen, usually because it's simply cheaper to go without. A backsplash offers several benefits, however, that can make having one a great decision. Some of these include:
They protect your walls from water and other substances
They create a more luxurious feel and add value to your kitchen
They're easy to clean and maintain
They seal the drywall which can help reduce the risk of a pest infestation
You have a huge range of style choices so you can find the exact look you're after
You can save a bit of time and money if you choose to have no backsplash, but these benefits are what make them such a popular choice in many homes.
Finding the Right Kitchen Backsplash Tiles for Your Home
With so many kitchen backsplash tiles to choose from, it can be difficult to make a decision. Think about the overall look you want to go for, the level of maintenance you're ok with, and the budget you need to work to.
BELK Tiles is a leading supplier of kitchen and bathroom tiles. Take a look at our kitchen backsplash tiles page to see some of what we have available.