Posted by Mike Belk on Oct 09, 2019
8 Surefire Tips to Get Discount Glass Tile
Thanks to discount glass tile, you can afford stylish backsplash and flooring material. Aside from its beauty, this tile's reflective surface can make a room look brighter and bigger. It's easier to clean as well.
Glass tile is more affordable than granite, marble, and metal. Yet, it's not as economical as porcelain and ceramic. With the following tips though, you can find low-priced glass tiles for your kitchen and bathroom.
1. Measure the area you intend to cover with glass tiles.
Ordering more than what you need is bound to cost you more. On the other hand, you'll end up with an unfinished project if you order fewer. You can buy again but that means additional shipping expense. Imagine if there's no more supply of the same tile design.
You can avoid the said extra costs and stressors by measuring the area you'll cover with glass tiles. Knowing the total square footage of the project will give you a more accurate estimate of the number of tiles you'll need.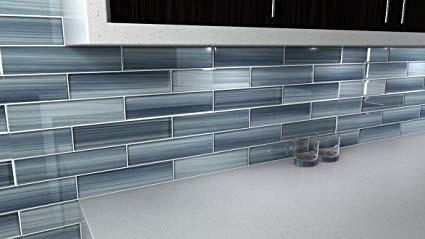 2. Add 10% to the overall square footage of your project.
If you just order the exact number of tiles, you won't have any replacements for those that might break before and during installation. Keep in mind that you'll have to cut tiles that will be installed around switches, sockets, toilets and other things attached to walls and floors.
Thus, you should have extras around. You may only need a handful of those excess tiles during initial installation. However, the remainders will become useful in future repairs.
3. Make sure the glass tile is suitable for your project.
Glass tiles are durable enough as backsplash material. However, not all of them are fit for countertops and flooring. There are reinforced types intended for enduring hits, steps, furniture, and appliances. These glass tiles are pricier but they're bound to last more than the regular ones.
Don't use the more affordable and less durable glass tiles for countertops and flooring. You may save money at first but you're bound to spend more on repairs.
4. Go for standard designs.
If you like custom-made or intricate designs, discount glass tile may not be for you. Low-priced tiles are usually mass produced. They also come in either square or rectangular form. One of the common sizes is 8"x2".
The usual shapes are ideal if you're a minimalist. In case you're worried about the design, keep in mind that you can still experiment with various colors. You don't have to limit yourself with the white, black, and colorless options. Instead of the usual glossy finish, you might also want to try matte.
You can mix and match tiles of different sizes and shapes, too. The grout's color can add up to the appeal of your glass tiles as well.
5. Buy samples before purchasing bulks.
Buying a sample lets you see if the tile's color really fits your kitchen or bathroom. A glass tile piece usually costs around $3 to $5. During clearance sales, some samples are even sold for as low as $1. To make the most out of the shipping fee, get at least five samples from one supplier.
6. Choose sheets over individual pieces.
Buying sheets of glass tiles costs less. The sheets are easier to install as well. However, you will still need a handful of individual pieces for cuttings. A sheet is usually one square foot and in rectangular form. It's made using multiple glass tile pieces attached to a heavy-duty backboard.
7. Avoid placing rush orders.
If you're doing it all on your own, take time to plan everything. Backsplashes, countertops, and flooring materials can either boost or hurt your home's value.
The materials and the installation process can also serve as risk factors for accidents. Thus, you shouldn't prolong storage and start the project as soon as you have the materials.
However, you shouldn't go for rush orders either. Have a schedule for the removal of existing attachments to the walls or floors if there are. In case there's none, take note of the possible delivery week of your glass tile. Make sure you're free on the weekends so you can install them right away.
8. Order all needed glass tiles at once.
By doing so, you'll only pay for shipping once. Even if it's costly due to its quantity and weight, it's less expensive than paying for multiple deliveries. You'll also save time because you can start and finish your installation right away. There's no need to wait and stress yourself in the process.
Affordable backsplash tiles is a great investment. You have to spend more time shopping so you can get the best deals.
<a href="https://www.bloglovin.com/blog/18989651/?claim=5utrhdqubcr">Follow my blog with Bloglovin</a>